It's delicata squash season!! I am so excited. Not sure where my love of delicata came from, but I look forward to it's short availability every year. Below is a round up of my favorite delicata squash recipes.
What is delicata squash?
They call delicata squash the "lazy man's squash" because you don't have to cut the skin off – it's completely edible. It can also be called a peanut squash or sweet potato squash. It's flavor is very mild which is probably why I love it so much – the possibilities are endless! Sadly though it has a short season. I can usually find it from the middle of September until nearly Thanksgiving.
How do you store delicata squash?
Never refrigerate delicata squash. Simply leave on your counter, or in your pantry it can last up to THREE MONTHS! I am shouting that because as it gets to the end of the season, stock up and you'll thank me when you are enjoying delicata squash in January.
Below is a round up of all the delicata squash recipes I've made to date. Let me know if you make any of them!
Delicata Squash Rings
This recipe is hands down one of my favorites. I've done a deep fry, air fry and oven method and the best one is the deep fried version. If cooked at the right temperature and good clean oil, these are crunchy delicious and not greasy. You can find the recipe here.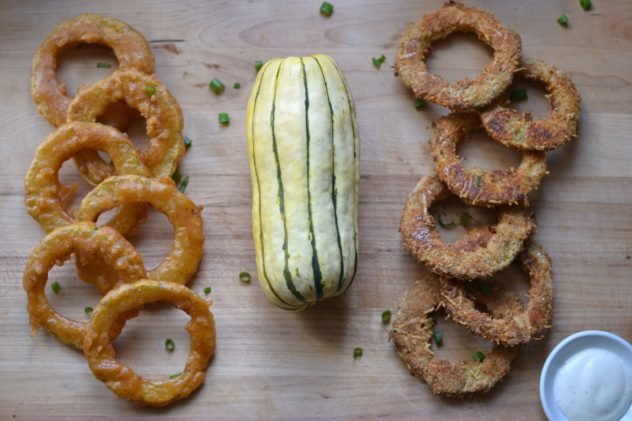 Delicata Squash Pasta Sauce
This one is money! It's creamy, light and decadent all at the same time. If you have an air fryer, cut delicata squash roasts in your air fryer in about 20 minutes. You can find the recipe here.
Delicata Squash Wontons
Hannah and I love Asian food. When I was pregnant with her, I could not stand the taste of red meat and at Asian food probably 3-4 times a week. Fast forward nearly 30 years and Hannah loves Asian food and hates red meat – she blames me for not introducing meat to her when I was pregnant. Ha! These delicata squash wontons are slightly sweet, a bit spicy and great as an appetizer or make it a meal and eat the whole plate. No judgment here! You can find the recipe here.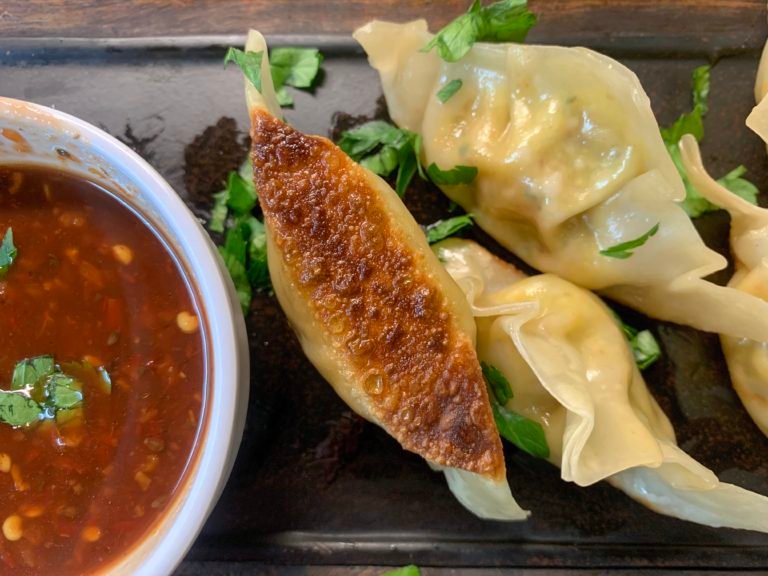 Delicata Squash Ravioli Soup
These pillows of heaven are amazing in this spicy broth. If you can't find Alouette cheese, you can use ricotta cheese. You can find the recipe here.
Delicata Squash Gnocchi
The first time I had gnocchi was when my late husband and I went to an Italian restaurant near the airport. He used to take clients there all the time. I got this giant plate of gnocchi and I declared "I am never going to finish all of this!" I ate every single bite. This recipe is my take on that dish, but adding the delicata squash gives it a bit of sweetness. You can find the recipe here.
Delicata Squash Twice Bake Potatoes
This post was a trip down memory lane! October 12, 2018 I finally reached 10,000 followers on Instagram. That was really my only goal so I could get the swipe up feature! Ha! For the record, I had about 2,000 followers for approximately FIVE YEARS. It wasn't until my skinny pizza dough recipe took off that I finally started to grow. But I never gave up! You will love these baked potatoes – note to self: make these again so I can get better photography. 😂. You can find the recipe here.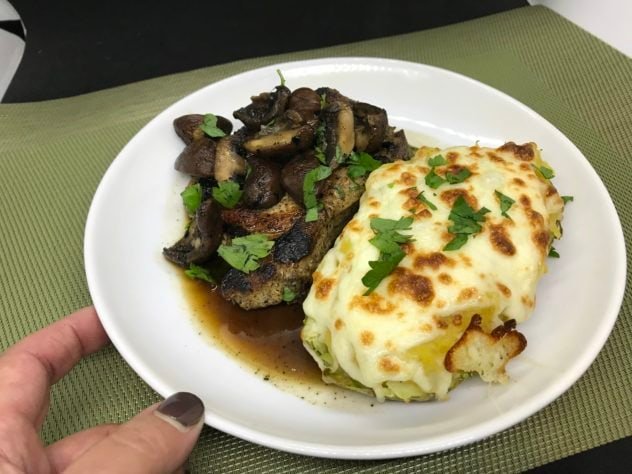 Delicata Squash Hush Puppies
These hush puppies are kind of like a cross between a tater tot and hush puppies – or delipups! Crispy on the outside, fluffy on the inside. So good! When I recreate this recipe (for better photography obviously!) I will try to make them in my air fryer too and update the post. You can find the recipe here.
Pan Seared Delicata Squash
This is the easiest recipe of all – simply pan sear the squash! This dinner was ready in less than 20 minutes. Perfect for a busy weeknight dinner. You can find the recipe here.
Delicata Squash Brownies
Yes, I even put delicata squash in brownies! These are so chocolatey, and not overly sweet. You can find the recipe here.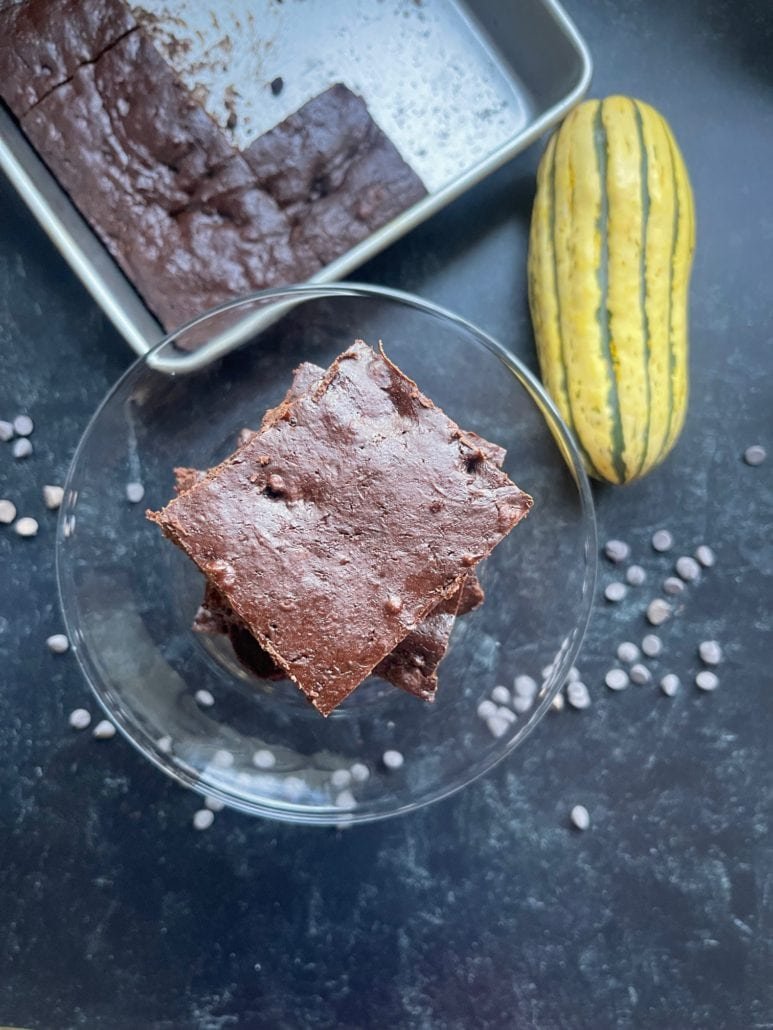 Stuffed Delicata Squash
Natural Heaven's hearts of palm rice really bulked up this recipe without adding any additional points. It's absolutely delicious! You can find the recipe here.
Creamy Delicata Squash Soup
This is the best of both worlds – delicata squash and potato soup! It's rich and creamy, but low points and calories. #winning! You can find the recipe here.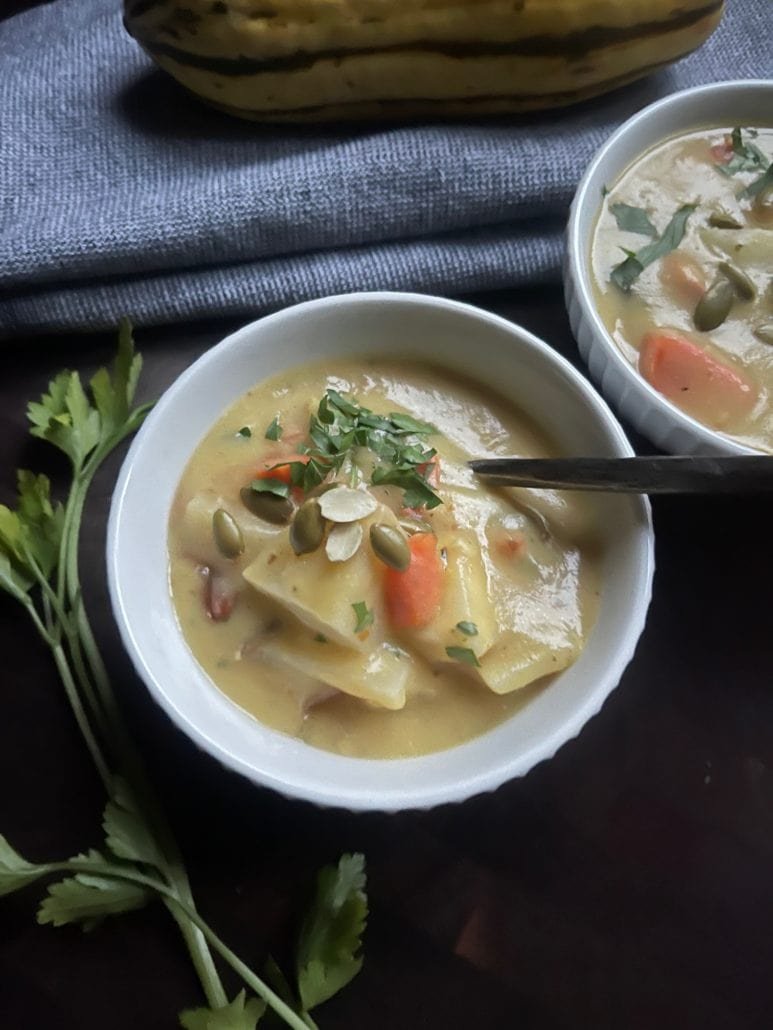 Do you like delicata squash? What is your favorite ways to make it?