Yep! Another delicata squash recipe! Can't Stop Won't Stop. 😂. This stuffed delicata squash clicks all the boxes – easy, meaty and delicious!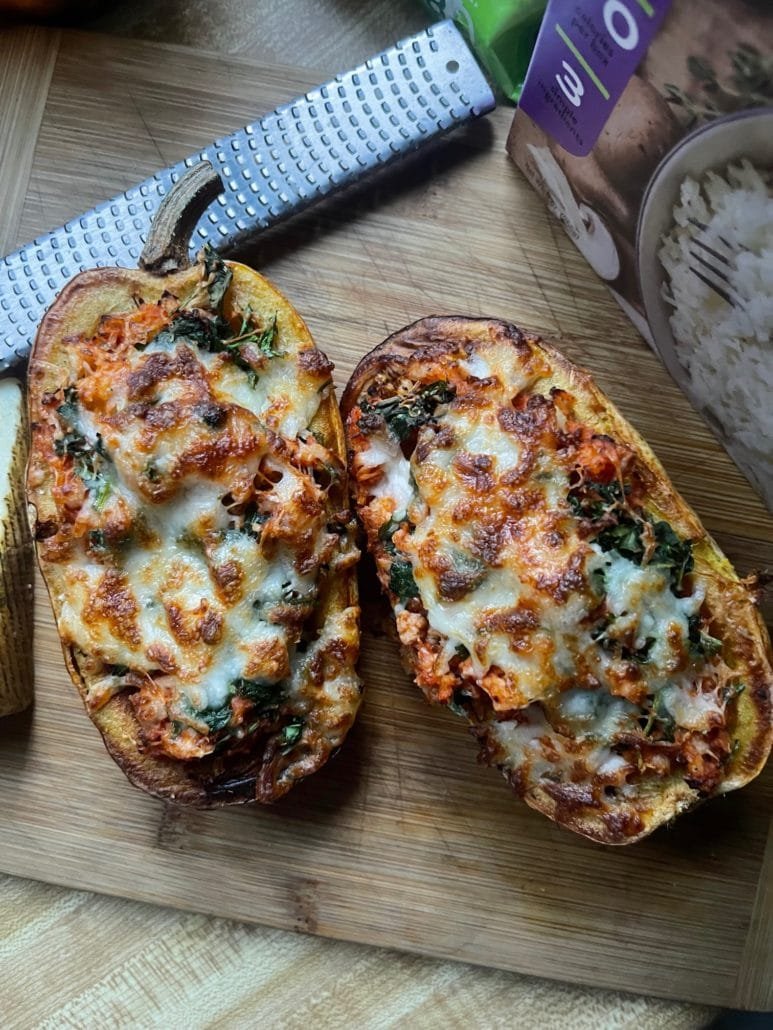 A few years ago I had a zucchini burger slider that went viral on all kinds of keto websites, IG pages, etc. For some reason people thought my blog was keto/paleo, etc. One woman even told me she loved me because now she could eat pizza on a low carb diet eating my skinny pizza dough. I felt so bad when I told her each ounce of dough had 7 grams of carbs!
Is delicata squash keto?
While I am not a nutritionist, but 3/4 cup of delicata squash is only 7 grams of carbs (each half for this small squash was about 1/2 cup). I use Very Well Fit to calculate my nutrition stats, and one serving (which is half the squash) comes in at 197 calories, 10 fat, 4 carbs, 2 fiber and 10 protein. On all WW plans, this is 6 points per serving.
Is the delicata squash skin edible?
Yep! I just sliced and ate it as one, but you could easily just eat the insides if you wanted – the flesh pulls away from the skin fairly easily.
What if I don't have an air fryer? How could I make this?
I've been asked what kind of air fryer I have and it's a Simple Living Products one, but it's several years old. I've never had a problem with it, and it cleans up really well. If you don't have an air fryer, just use your oven! 😁. Just cook for 20-25 minutes whole at 400 until fork tender, then remove and cool slightly. Slice in half, remove the seeds and follow the recipe below, except place the squash under the broiler to brown and melt the cheese.
Tips about delicata squash.
This is a "winter" vegetable, and for some reason has a short season. Usually from the middle of September through mid-November. The good news is that it will stay on your counter for up to three months, so once the season is starting to end, stock up! You can also slice the squash, scoop the seeds out and cut half moons and freeze individually on a cookie sheet for 30 minutes. Then store in a ziptop bag and you can pull out as many as you like and they won't stick together.
In case you missed it – I have a round up of some of my favorite delicata squash recipes. You can check that out here.
By cooking the squash first, the seeds come out very easily.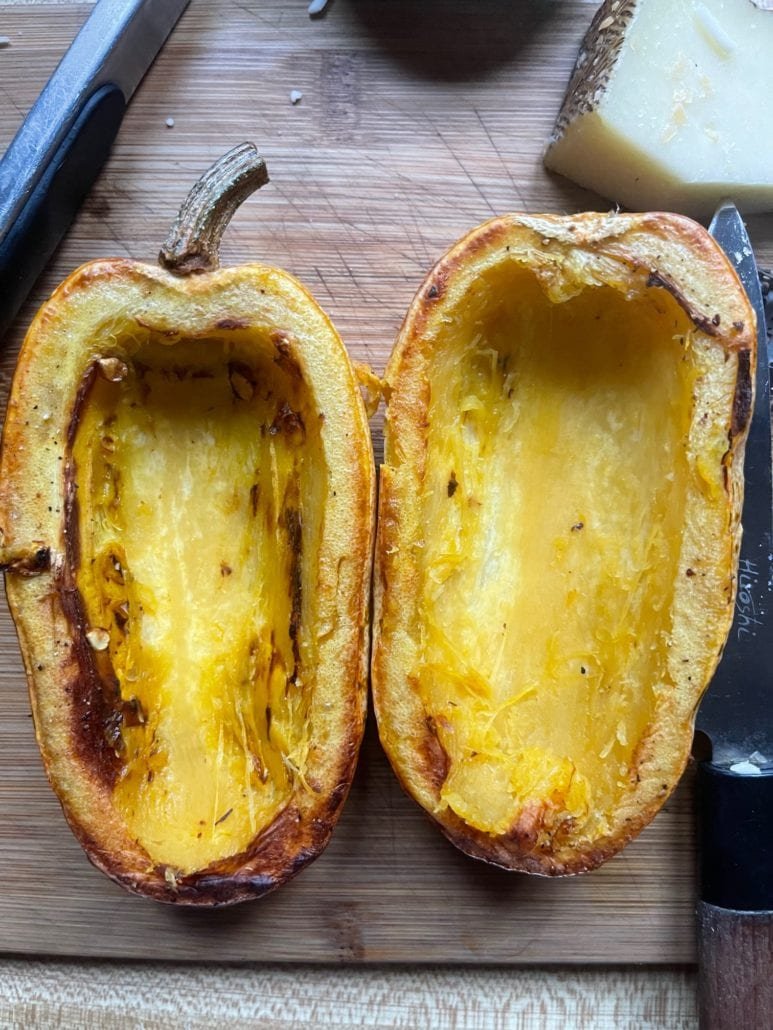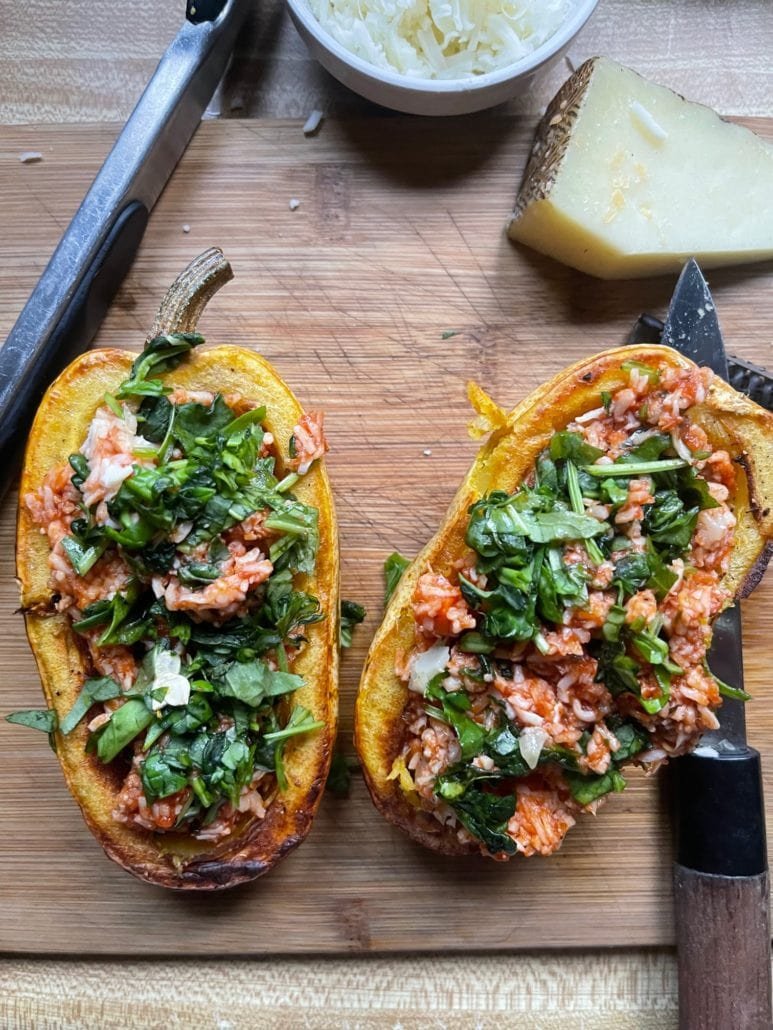 Does Natural Heaven's Hearts of Palm White Rice Taste Like Rice?
Nope! But I absolutely love using it in recipes to bulk up my meals without adding WW points and it's low calorie and low carb. Right now they have a variety pack available so you get lasagna, spaghetti, angel hair, 2 brown rice and 1 white rice in each package so you can check it out. You can check out these recipes that I have already made with various products from this company.
Stuffed Delicata Squash
Yep, another delicata squash recipe! The pork ragu can be part of your meal plan, as I only used 1 cup for this recipe. It's great to use later in the week for a quick pasta night and freezes really well.
Ingredients
For the pork ragu:
8 ounces ground pork
1 cup jarred pasta sauce
1 14.5 ounce can diced tomatoes, pureed
6 ounce can of tomato paste
2 cloves garlic, minced
2 tablespoons Italian seasoning
1 teaspoon crushed red pepper
1 tablespoon dried parsley
For the squash:
1 delicata squash
salt and pepper
avocado oil spray
1/2 cup hearts of palm white rice (I used Natural Heaven brand)
1/2 cup chopped baby spinach
1/4 cup shaved Parmesan cheese
2 ounces part skim mozzarella cheese
dried parsley for garnish optional
Instructions
Heat air fryer to 360 degrees. Add one delicata squash whole, and cook for 15-20 minutes until fork tender.
Let cool slightly.
While that cooks, heat skillet with avocado oil spray. Add ground pork and cook 4-5 minutes, then add remaining ingredients and simmer for 15 minutes. The sauce should be ready about the time the squash is ready.
Cut squash in half. Scoop out seeds. Mix the hearts of palm rice with 1 cup pork ragu, stuff each half, top with chopped spinach and finish with Parmesan cheese and mozzarella.
Cook in the air fryer for 5 minutes at 400, or until the cheese is nice and bubbly.
Notes
Click HERE for the WW points on your plan or to track this directly to your app.
If you count calories or carbs, each half is 197 calories, 10 fat, 4 carbs, 2 fiber and 10 protein.
Please tag me if you make this. I'd love to see it!