Wow is all I can say about these overnight quinoa oats. I never thought of doing that before but I picked up a bag of quinoa over the weekend with no idea for it.
A few google searches later and I saw quinoa as overnight oats. Huh. I wasn't sure I would like the texture of just quinoa, so I added quick oats as well, and let's just say I licked my plate clean.
How do you cook quinoa in an instant pot?
I've mentioned before that I have an electric stove that drives me crazy. It's hard to regulate the temperature because if you boil something and try to reduce to simmer, it still cooks way too hot until it comes down to temperature.
I've been using my instant pot more and more for grains and this was so easy. Simply add two cups dried quinoa (side note, I never noticed that the package says to rinse the quinoa – I've never done that!) to three cups liquid. I used water. Set the instant pot to high pressure for two minutes, then when the time goes off after it's hit the pressure, set a timer for 10 minutes. So fluffy!
To make that jar above for two servings: 3/4 cup cooked quinoa, 1/2 cup dry oats and 1 cup unsweetened almond milk. To my bowl I added a splash more almond milk, added the overnight oats, and added roasted grapes, a drizzle of PBFit and a tablespoon of granola with nuts.
I am calling this peanut butter and jelly quinoa overnight oats, and I've never liked peanut butter and jelly together, but these roasted grapes take it to the next level!
Peanut Butter and Jelly Overnight Quinoa Oats
If you have not tried overnight quinoa oats, but this high on the list of things to make. This bowl kept me full for hours!
Ingredients
2 cups dry quinoa
3 cups water
1/2 cup quick oats
1 cup unsweetened almond milk (or milk of choice)
1/2 teaspoon cinnamon
1 cup grapes
1/2 teaspoon honey
pinch of salt
2 tablespoons powdered peanut butter (I used sugar free PB fit)
2 tablespoons granola of choice
Instructions
In an instant pot, add the quinoa and water. This is more than you will need for this recipe, but cook once, eat twice! Set on high pressure manual for 2 minutes. Once it reaches pressure and beeps, set a timer for 10 minutes. Remove the inner pot to cool completely.
To make two servings: mix 3/4 cup cooked quinoa with 1/2 dry oats and almond milk. Stir and let sit overnight.
While the quinoa is cooking, roast the grapes: put the grapes on a cookie sheet and spray with avocado oil spray. Bake at 400 for 10 minutes. Toss with the honey and salt and let cool.
Make the powdered peanut butter: mix two tablespoons of the powdered peanut butter with 2 1/2 tablespoons water (thin enough to drizzle) and set aside.
To plate: take half of the overnight mixture (if it's too thick add a bit more almond milk) to a bowl. Add half of the grapes, drizzle the peanut butter and toss a tablespoon of granola over the top.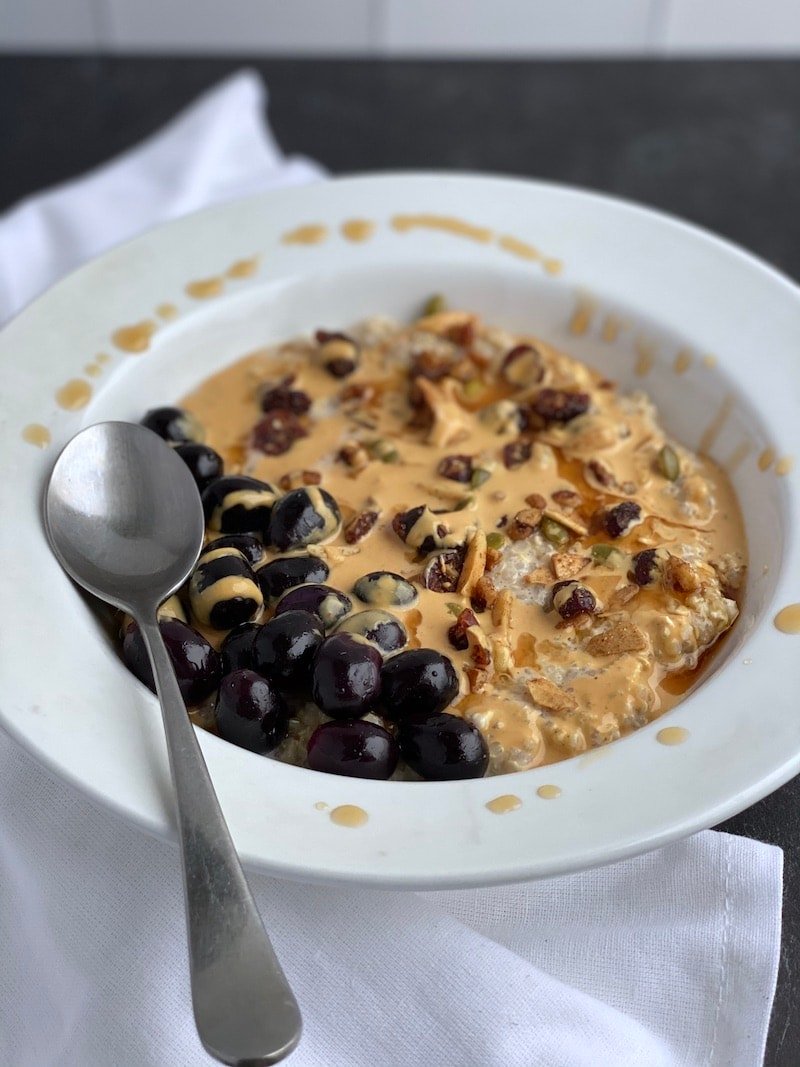 If you want to see some really crappy food photography, check out this post I did in 2010 that added tapioca to overnight oats! I may need to try that again!
Are you an overnight oat fan? I know some people prefer to heat up their overnight oats too. Either way, this is a great meal prep recipe for the week. Enjoy!