You guys – this delicata squash pasta sauce is money!
I saw my friend Courtney make a Pinch of Yum recipe using butternut squash, fried pancetta and sage.
I had none of those ingredients!
But I did have delicata squash – duh! If you've followed me for any length of time, you know my love of delicata squash is deep.
What is Delicata Squash?
I love that delicata squash is sometimes referred to as the lazy person's squash, because the skin is edible and you don't have to peel it like butternut squash.
How do you roast it?
If you have an air fryer, simply cut in half (seeds and all) and cook for 20 minutes at 400 degrees. Once cooled, you can slice in half and easily remove the seeds. I've used delicata squash to make delicata wonton soup, delicata hush puppies, and even delicata squash twice baked potatoes.
Delicata Squash Pasta Sauce
A creamy, slightly sweet pasta sauce that will soon be on your fall menu - so good!
Ingredients
1 large delicata squash, roasted
1 cup chicken broth
1/2 cup unsweetened almond milk
4 cloves garlic
1/2 cup ricotta cheese
2 tbsp whipped cream cheese
1 tbsp Italian seasoning
1/2 tsp crushed red pepper
Instructions
Cut the delicata squash in half. Put in air fryer (or oven) at 400 degrees for 20 minutes, or until fork tender. Cool slightly, remove seeds.
In a blender, add the squash, chicken broth, almond milk, garlic, ricotta cheese, whipped cream cheese, Italian seasoning and crushed red pepper.
Because we still have the skin on the squash, blend the sauce for at least 3 minutes. There is sodium in the chicken broth, so I season to taste with salt and pepper at the end.
Nutrition Information:
Yield:

6
Serving Size:

1 grams
Amount Per Serving:
Calories:

59
Total Fat:

1g
Saturated Fat:

1g
Unsaturated Fat:

0g
Cholesterol:

4mg
Sodium:

240mg
Carbohydrates:

10g
Fiber:

2g
Sugar:

3g
Protein:

4g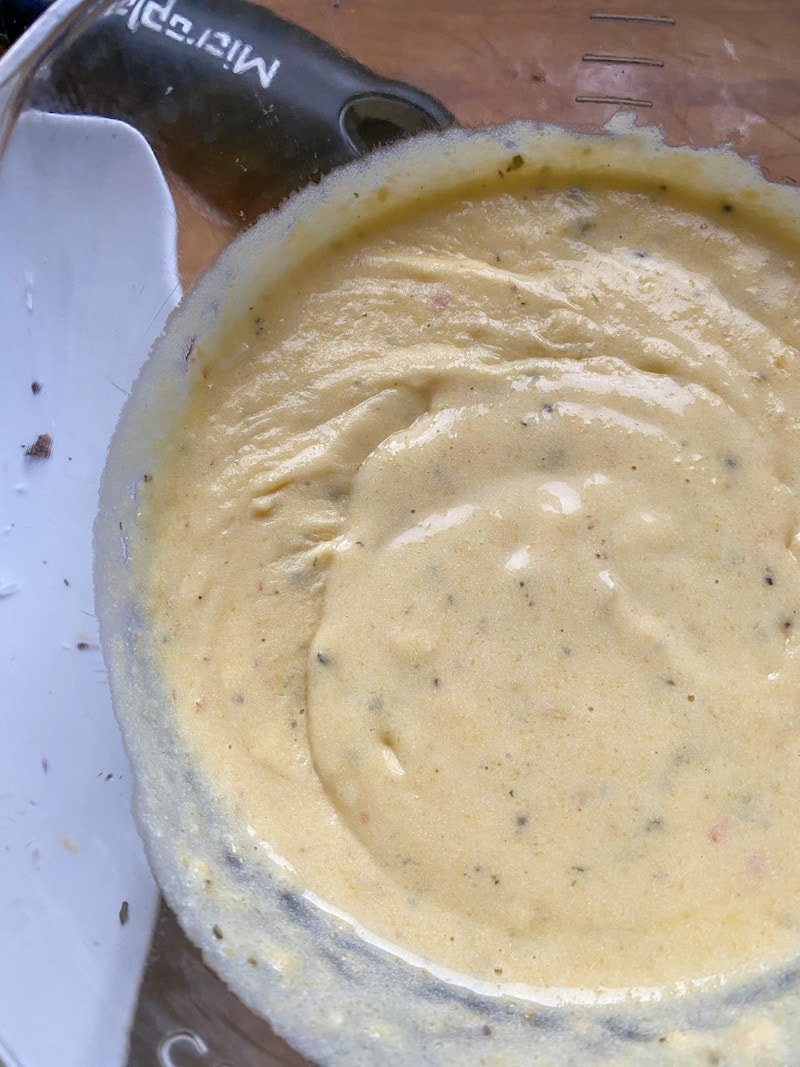 As soon as I made the pasta dish, I immediately thought of macaroni and cheese. Yesterday for lunch I made a mini baked macaroni and cheese. One cup cooked pasta, 1/2 cup delicata pasta sauce, 1 ounce good cheddar cheese. Mixed that together and topped with a tablespoon of bread crumbs and baked in my air fryer at 400 for 10 minutes.
Can you use dishes in an airfryer?
Yep! Think of your air fryer as a mini oven – whatever is oven safe is air fryer safe.
Pinky swear you can convince your family with either the pasta sauce or the mac n cheese. Both are amazing and I am saving my delicata squash seeds to grow my own next spring.
I think my daughter Hannah and son-in-law Jacob are happy to have their own place to live now. If for nothing else not to be subjected to my love affair with delicata squash. I am not sure I have convinced my twin sister either. That's okay – more for me!