You will love this mini zucchini bread recipe. No oil, no butter, yet fluffy and delicious!
Can you make zucchini bread without butter or oil?
Absolutely! Most recipes will tell you to use applesauce in place of butter or oil. But I find that I don't get the right crumb when I use applesauce as a replacement. In this recipe, I used cottage cheese and buttermilk in place of the butter and oil and I pinky swear you won't be able to tell there is no butter or oil in this recipe.
What kind of mini loaf pans did you use?
This question gets asked over and over again when I make mini loaves. I bought this set at Goodwill many years ago, and there is no markings on the pans. They measure 4 1/2 inches by 2 1/2 inches. While I couldn't find an exact match to my set (mine are a tad smaller) I did find this is a similar set that I found online.
Do you need to squeeze zucchini for bread?
This is completely optional. You can tell after you grate your zucchini if it releases a lot of moisture. Too much moisture and your bread won't have the right crumb and your bread will also be a bit soggy. Toss your zucchini into the flour mixture insures that the zucchini will be evenly dispersed in the bread and not sink to the bottom of the loaf while baking. Because of the moisture content of zucchini, it's important to let the loaf completely cool before slicing.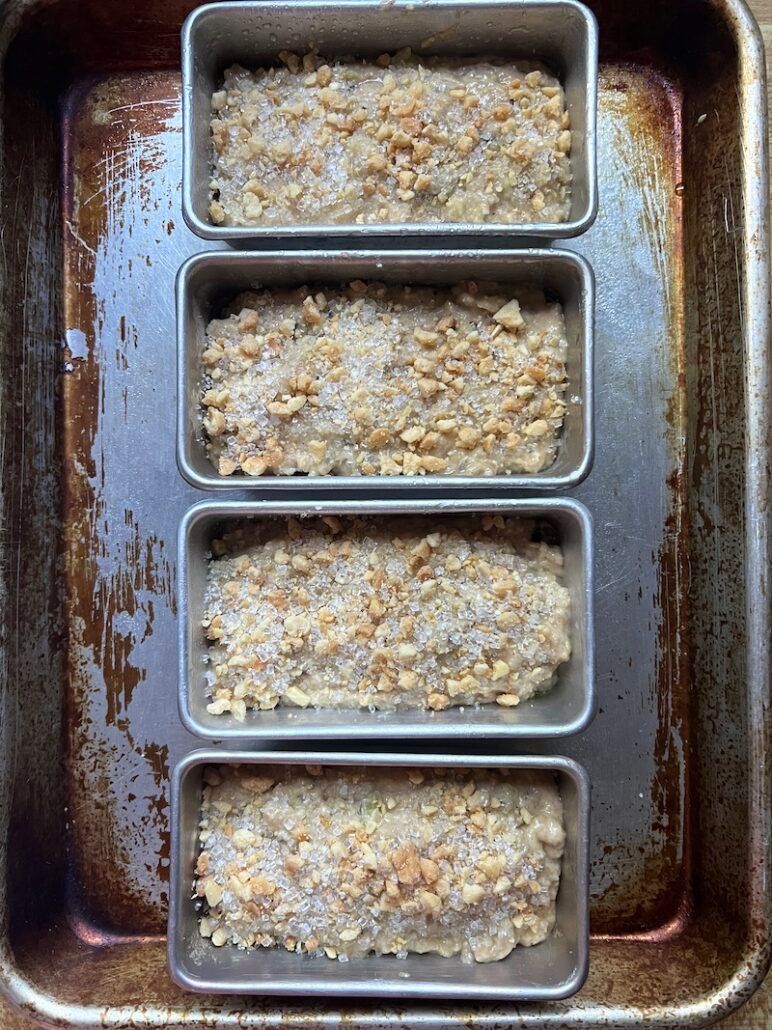 Mini Zucchini Bread
Who doesn't love tiny food? I love these mini zucchini loaves - it's like having your own personal zucchini bread! I used all real ingredients for this recipe - in the notes section I'll have ways to lower the WW points if you choose.
Ingredients
2 cups self-rising flour (all purpose is fine)
1/2 cup sugar
2 teaspoons baking powder
1 teaspoon cinnamon
1 teaspoon salt
2 cups zucchini, shredded
2 large eggs
1/2 cup cottage cheese
1/4 cup whole buttermilk
1 tablespoon vanilla extract
1/4 cup peanuts, chopped (walnuts would be better!)
2 tablespoons decorative coarse sugar
Instructions
Heat oven to 375.
In a large bowl, mix the flour, sugar, baking powder, cinnamon and salt together.
I used an extra large zucchini and it wasn't very wet - so depending on how much moisture your zucchini has, you may need to squeeze a bit dry.
Toss the zucchini into the flour mixture and toss to coat.
In a food processor, blend the eggs, cottage cheese, buttermilk and vanilla and blend until smooth.
Add the cottage cheese mixture to the flour and stir until combined.
Divide the mixture between the mini loaf pans using 1/2 cup of batter per loaf pan.
Mix the peanuts and decorative sugar together and use 1 tablespoon of nut mixture on top of each loaf, pressing down slightly.
Bake for 19-21 minutes. Let cool for 10 minutes before removing.
Notes
This made 6 mini zucchini loaves. I only have four mini loaf pans, so had to make in two batches.
Click here for the WW tracker link.
As written, each mini loaf pan is 13 WW points. Eating half was plenty for me. However, if you want to reduce the points further:
substitute fat free cottage cheese for the regular cottage cheese
substitute Splenda (or any other no calorie sweetener) for the sugar
substitute low fat buttermilk for the whole buttermilk
This zucchini bread is light, not overly sweet, but because of the sugar topping, you get that taste of sugar in every bite. While I wish I had walnuts on hand, peanuts were pretty delicious!
Check out my other zucchini recipes: