This pasta with zucchini and corn is great not only in the summer, but in the middle of November when the temps start to fall.
I deep cleaned my pantry yesterday. If my daughter Hannah were still living at home with me she would have shaken her head.
So get ready for lots of pasta dishes while I use up what's in my pantry!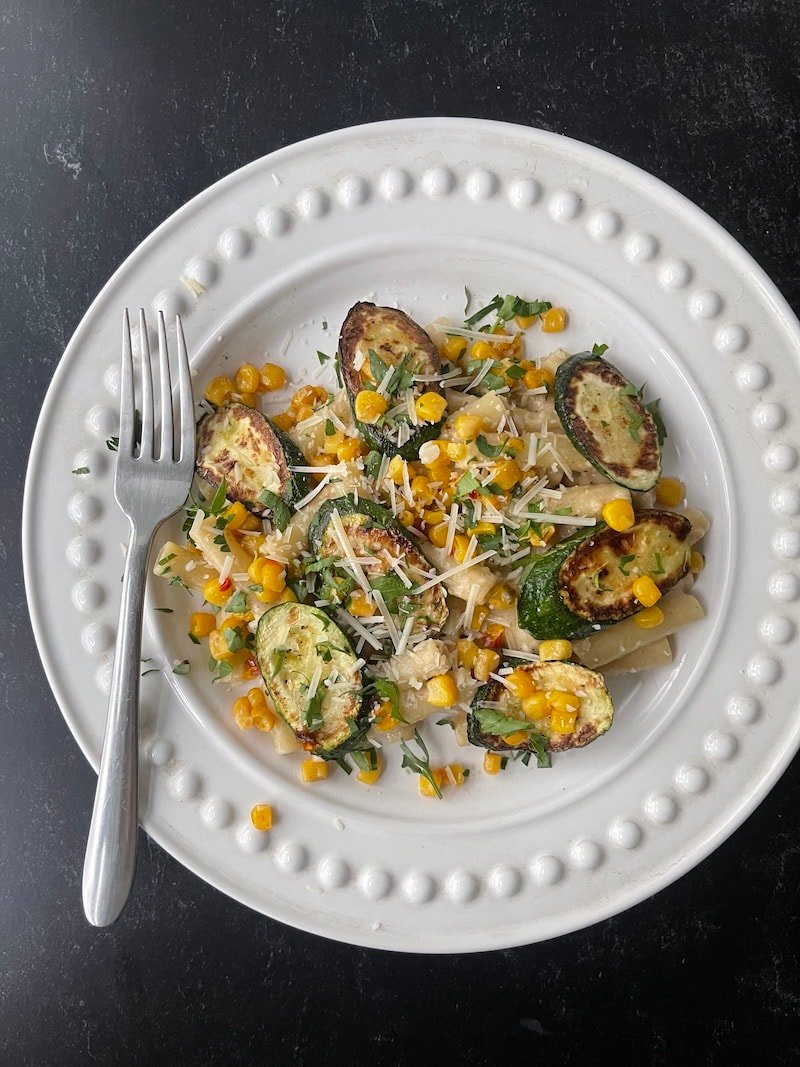 What kinds of veggies can you add to this pasta?
The sky's the limit! My plan this week is to get more veggies in my meals and this is a great way to do that. The sauce is creamy with a bit of a kick from the crushed red peppers. If you don't like spicy you can leave it out.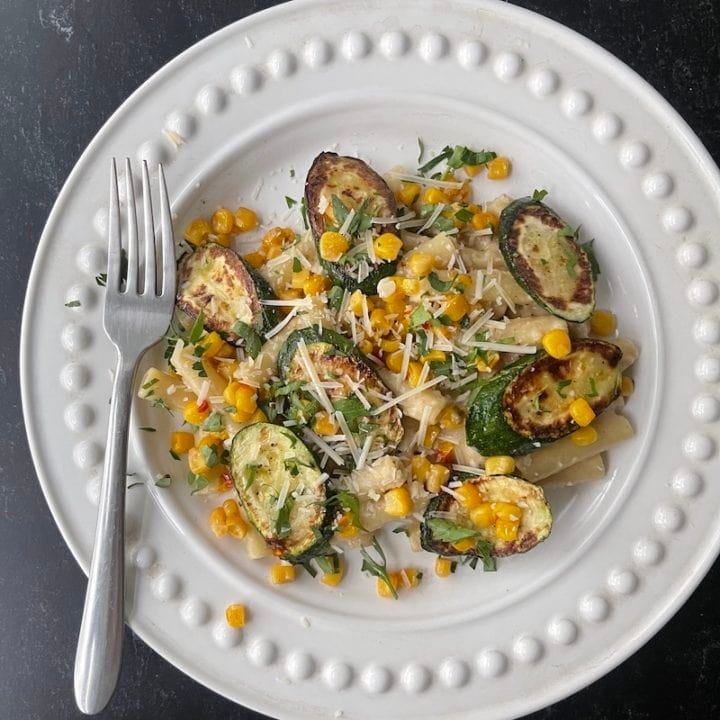 Pasta with Zucchini and Corn
This pasta is perfect to use up any leftover veggies you have at the end of the week. I had one lone zucchini and a half can of corn. This is so light and perfect for a spring or summer dinner.
Ingredients
1 cup cooked pasta
4 tablespoons milk of choice (I used Califia creamer - 30 calories)
1 teaspoon lemon juice
1 tablespoon I Can't Believe It's Butter Light
1 tablespoon flour
1/2 cup corn
1/2 zucchini, sliced
1/2 teaspoon lemon pepper
1/2 teaspoon crushed red pepper
1 tablespoon parmesan cheese
1/2 cup pasta water
1 teaspoon lemon juice
Instructions
Cook pasta according to package instructions, set aside. Save 1/2 cup of the pasta water.
In a skillet, melt the butter, add the flour and cook for one minute.
Add in milk and lemon and stir until thickened, about 4-5 minutes.
In a separate pan, cook the zucchini and corn over medium high heat until charred, flipping the zucchini after a few minutes.
Remove the sauce from the heat. Stir in the lemon pepper, Parmesan, crushed red pepper, lemon juice, pasta water and Parmesan.
Add pasta to sauce and toss to coat.
To plate: Place pasta on the plate, top with the charred zucchini and corn and garnish with parsley and a bit more Parmesan cheese.
Saving pasta water is always a great way to stretch a sauce too – this sauce was just enough to coat all the pasta.
If you love pasta, you need to check out my macaroni and cheese.