These low point banana muffins are still low in points as of 2023!
Back in the day, it wasn't unusual for me eat a giant Otis Spunkmeyer banana nut muffin with a giant Dr. Pepper on my way to work. In case anyone is counting WW points – that would be 18 points for just the muffin – and that was my "appetizer." I'd probably grab McDonald's sausage McMuffin with two hash browns – the one that came with the meal and one extra, just because. Yep, I would eat 42 points (on today's program) before lunch!
But I really puffy heart banana muffins. Like a lot. So I pulled out my recipe builder last night on the WW website, and kept adding and subtracting ingredients until it got to the point value I wanted – 3 – and hoped that in the end my recipe didn't taste like ass.
Being diabetic I have been using cup for cup no calorie Splenda for years. I don't taste an artificial taste at all. My late husband Tony however, knew in a second if I didn't use real sugar. So in an attempt to "trick" him that I used real sugar, I would make a sugar/butter/flour "crumble" on top. Because with each bite he would taste real sugar and real butter. Did it work? Nope! But I love the idea. Life is too short not to have real butter and sugar, am I right?!
The result is this butter sugar crackle on top. The banana muffins are tender and moist. Win win! Best yet? Hannah tried one last night and yelled to me "these are great Mom! Are you taking them to work or can I take a couple for breakfast?" She always gets upset when I make something that she loves and then I tell her that I am taking them to work – she tells me "tell your work people to get their own Mom!"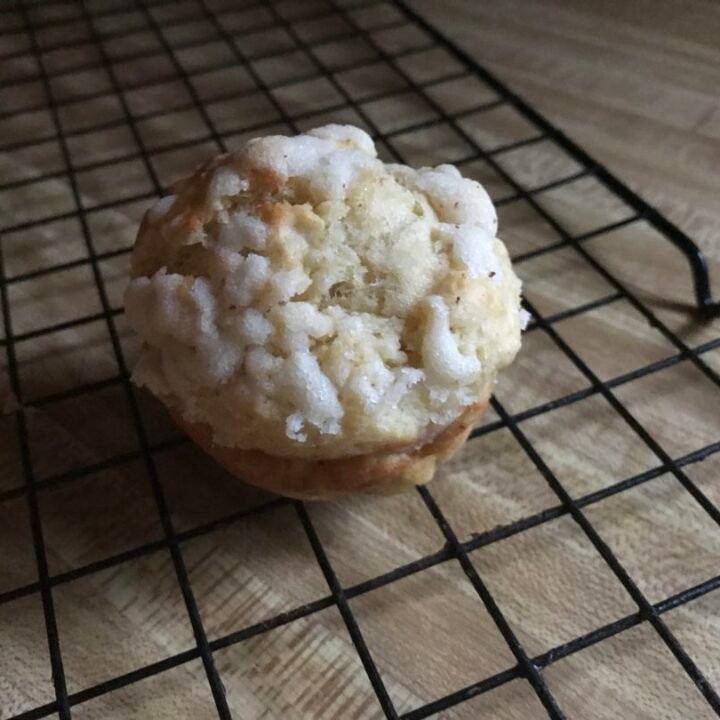 Banana Muffins with Crackle Topping
These are coffee shop style delicious banana muffins with a sweet and crackled topping. Good for meal prep and such a great option when you're craving a moist, sweet muffin!
Ingredients
2 cups flour
1.5 teaspoons baking powder
1/2 teaspoon salt
1 teaspoon cinnamon
1/2 cup no calorie Splenda*
2 ripe bananas
2 eggs
1/2 cup plain Greek yogurt
1/2 cup unsweetened almond milk for the crackle topping:
1/8 cup sugar
1 tablespoon softened butter
1 tablespoon flour
Instructions
1. Heat oven to 475F.
2. Mix the flour, salt, baking powder, cinnamon and Splenda, and set aside.
3. In a separate bowl, mix the bananas, eggs, yogurt, and milk, until just combined.
4. Mix the banana and flour mixture together. Pour batter into muffin tin.
5. In a small bowl, mix the sugar, butter and flour together for the topping. Divide that mixture between all muffins, pressing slightly on top so that it stays in place while baking.
6. Bake for 14-17 minutes. Let cool 5 minutes and then remove from baking tin.
Notes
I bake at 475 to get the gorgeous topping on the muffins, but be sure to check the muffins at about 14 minutes to ensure they are not getting over baked.
To check the points on your WW plan, click HERE!
Nutrition Information:
Yield:

12
Serving Size:

1
Amount Per Serving:
Calories:

135
Total Fat:

2g
Saturated Fat:

1g
Trans Fat:

0g
Unsaturated Fat:

1g
Cholesterol:

34mg
Sodium:

173mg
Carbohydrates:

25g
Fiber:

1g
Sugar:

6g
Protein:

5g
If you love muffins like I do, be sure to check out some other recipes I have – because I have a lot!!
Buttermilk Blueberry Muffins are the perfect tasty breakfast paired with some eggs and fruit. They are fluffy and taste indulgent without the massive amount of WW points.
Blueberry Coffee Cake Muffins are another winner! They are another coffee shop dupe and easy to meal prep!
************
My train was 45 minutes late yesterday, so I didn't get to my desk until 9:45 and I had a couple rush documents to do right away. I didn't eat breakfast until 11:30!
The only bad thing about being late? Other than the fact that I hate to be late? Is that I have to make up the time. I worked through lunch so I could leave work on time. My sister had a work lunch, so I didn't miss out on our walk, but still. I ate lunch around 2:30? Leftover chicken parmesan – 7 points of deliciousness.
In the hustle and bustle of my day, it's easy to miss how gorgeous the Chicago skyline is. This is the view from one of my bosses office. Still lots of boats in the water.
Hannah put an order in at Walmart to pick up after work last night – but there was a computer glitch and her order didn't get placed. They managed to scrape up something to eat with leftovers, as did I. My friend Jacky gave me some of her Korean BBQ sauce – holy balls is it delicious! Spicy, sweet, hint of lemongrass. I decided because I had that sauce I would make a leftover pork rib lo mein. The base of my sauce was 1 teaspoon teriyaki sauce, 1 teaspoon hoisin sauce, 1 teaspoon rice vinegar and 1 teaspoon sambal oelek. I finished the lo mein with a drizzle of Jacky's sauce – so good! I literally picked through all the vegetables I had on hand to make this dinner. I am definitely hitting up the farmers market at lunch today.
I used three ounces of cooked pasta (3) two ounces of leftover pork (3) and counted the sauce as 2 points.
Have you guys entered my 10 year anniversary giveaway?? I'll be picking a winner tomorrow. You can enter on this post.
My friend Sam from The Chopping Block is hand crafting a kitchen knife for me to give away – a $185 value!! He texted me last night to let me know that it's ready and I'll be picking it up after work today. I still kind of want to pick my own name for this giveaway!
Happy Thursday friends! It's going to be a busy day because our attorney's are going to a weekend team building retreat this weekend. Just going to keep my head down and power through like I do.
Make it a great day!