I woke up today with a taste for coffee cake. And these blueberry coffee cake muffins taste just like it!
The blueberries I bought last week were on the sour side. By adding them to these sweet muffins, it was the perfect sweet/tart combo.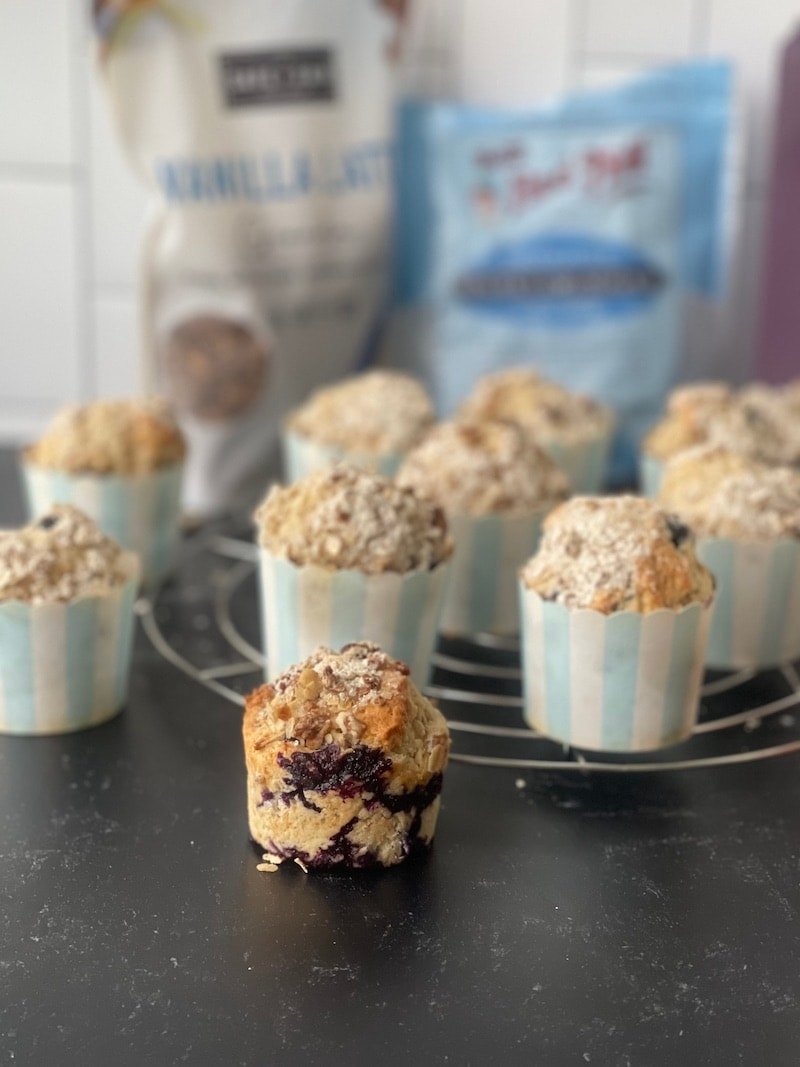 Can you use anything other than regular sugar?
Lately I've been steering away from artificial sweeteners. If you've been following me for any length of time, you know my go to is Truvia when using zero calorie sweeteners. But here's the thing – I wanted to taste coffee cake and I just didn't think I would get that same flavor profile using Truvia. Only 1/2 cup was used between 13 muffins, and these really do taste like coffee cake!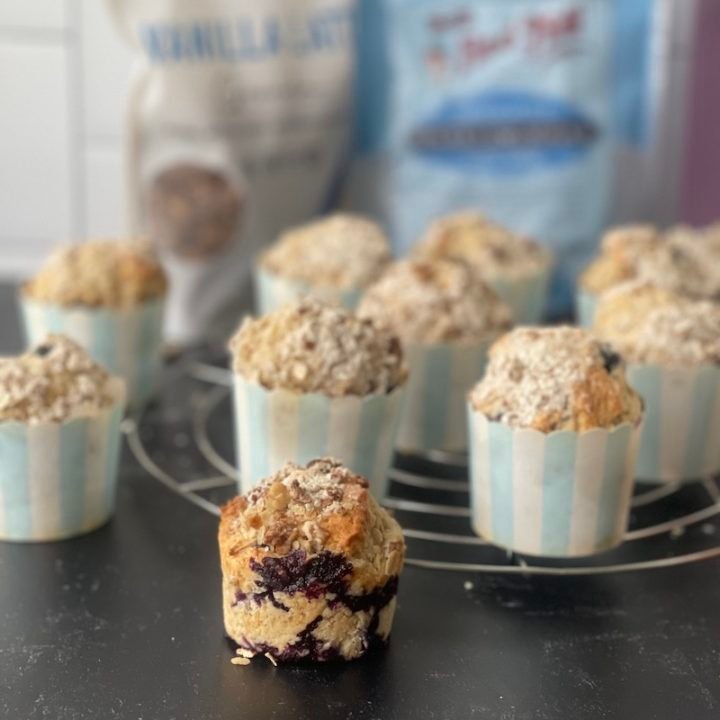 Blueberry Coffee Cake Muffins
If you have a taste for coffee cake, try these muffins - they come in at 6 WW points on all plans, but only 158 calories each.
Ingredients
2 1/8 cups self-rising flour, divided
1/2 cup sugar
1/2 teaspoon salt
2 teaspoons baking powder
2 tablespoons butter, shredded
1/4 cup whipped cream cheese
3/4 cup unsweetened almond milk
1 cup blueberries
1 egg
1 teaspoon cinnamon
1/8 cup oats
1 tablespoons decorative sugar
3 tablespoons granola (I used Safe + Fair Vanilla Latte)
Instructions
Heat oven to 425.
Mix two cups of the flour, sugar, salt, cinnamon together.
Add the shredded butter, then toss in the blueberries.
In another bowl, mix the cream cheese, unsweetened almond milk and egg.
Add the liquid mixture to the flour mixture and mix just until combined.
For the topping - mix the remaining 1/8 cup flour with the oats, decorative sugar and granola.
Divide batter between 13 muffin cups, divide topping on each muffin and bake for 22 minutes.
Notes
These muffins are 6 points on all WW plans, but only 158 calories each.
Nutrition Information:
Yield:

13
Serving Size:

1
Amount Per Serving:
Calories:

158
Total Fat:

4g
Saturated Fat:

2g
Trans Fat:

0g
Unsaturated Fat:

2g
Cholesterol:

22mg
Sodium:

430mg
Carbohydrates:

28g
Fiber:

1g
Sugar:

10g
Protein:

3g
Using the Safe + Fair Vanilla Latte granola on top truly made these muffins.
I have been working with Safe + Fair for almost two years and their products just keep getting better and better. They pride themselves on providing safe allergy free products at a fair price. Right now they have an amazing granola bundle on sale for $39 (before using my discount code Biz20 to save 20% off your order – if your order is over $40 after my discount – you'll also get free shipping!
Birthday Cake Granola – ALL NEW LOOK!
Blueberry Cinnamon Granola
Full Stack Granola – BACK IN STOCK!
Honeycrisp Apple Pie Granola
Key Lime Pie Granola
Pumpkin Pie Granola
Vanilla Latte Granola – MY NEW FAVORITE!
All the granolas are Top 9 allergen free, gluten free, non gmo, vegan, kosher, whole grain, plant based, 0 trans fat, no artificial ingredients, NO FOOD DYES! and preservative free.
So many Mom's thank me over these last two years how thankful they are knowing that they can have packaged foods that are safe for their kids with allergies – especially one woman who said that it was nearly impossible to find safe products for her daughter that didn't have food dyes in them.
How many points for the granola?
For my WW peeps, on all plans each serving is 5 WW points BUT only 130 calories for 1/3 cup serving. You won't find a better tasting granola for that serving size and calorie count – because I've already looked for you and it doesn't exist.
I love using the granola as a sweet snack dry, or on top of parfaits, on top of muffins like I did for this recipe – the possibilities are endless.
I've used several of their products in multiple recipes – you can check out my Safe + Fair recipes here.
I cannot recommend Safe + Fair products enough – and that granola bundle is a steal!