The secret to my vegan tomato soup recipe? Silken Tofu!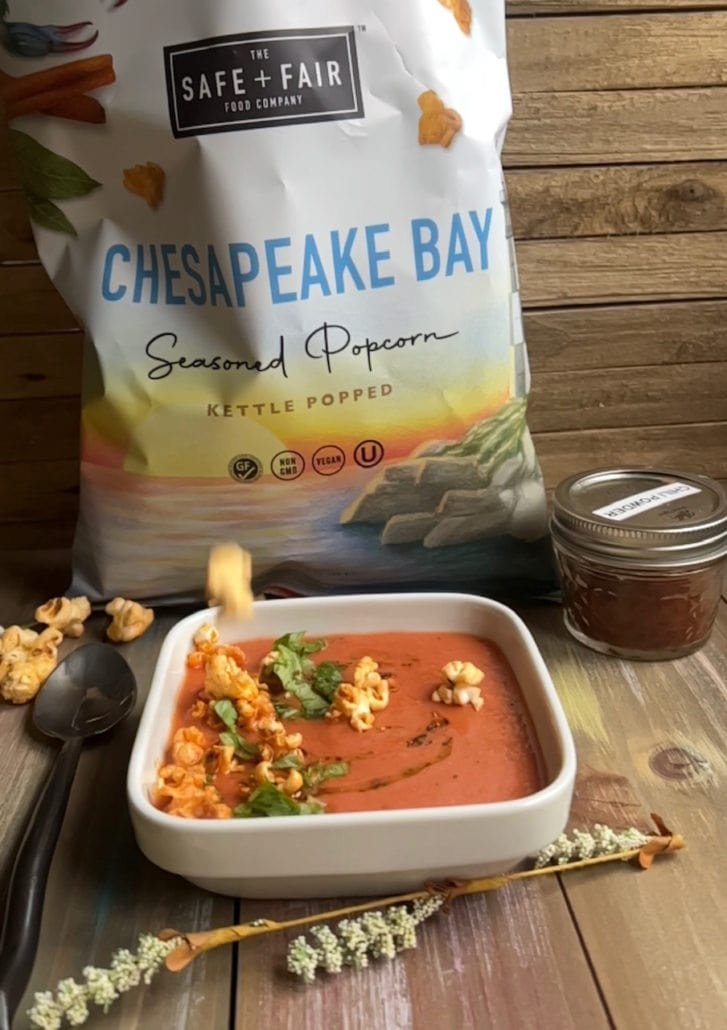 A couple weeks ago I bought silken tofu for a pancake recipe, and I never ended up making it. My lunch out yesterday was 24 points, and I thought for sure I'd be over my healthy range for the day on WW. Nope! This vegan tomato soup was made mostly in my blender, and other than roasting the carrots, this is really about a 5 minute hands on vegan tomato soup recipe.
Never thought to add tofu to soups to make it creamy – best decision evah!
How many calories in vegan tomato soup?
My soup comes in at only 161 calories per serving. Since there are so many vegetables from the tomatoes and carrots, I got FOUR veggie servings in my two cup serving. Winning!
Ingredients for Vegan Tomato Soup
canned tomatoes – I prefer fire roasted tomatoes, but you could also use a pound of cherry tomatoes and roast those with the carrots

carrots – please don't peel your carrots – there is added fiber in the skin. Just be sure to wash them well

garlic – I puffy heart garlic – I buy it already peeled and store them in a ziplock bag in my freezer

vegetable broth – if you don't have to be vegan or vegetarian, chicken broth works well too

seasonings – I like chili powder, crushed red pepper, salt and pepper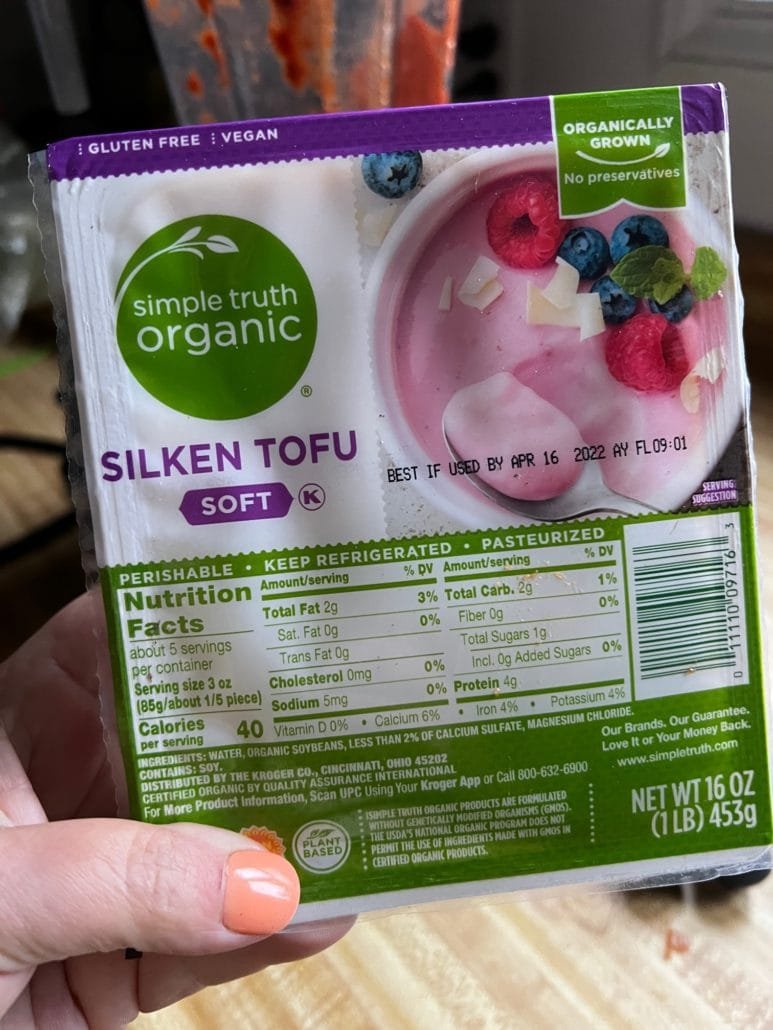 How gorgeous are these roasted carrots?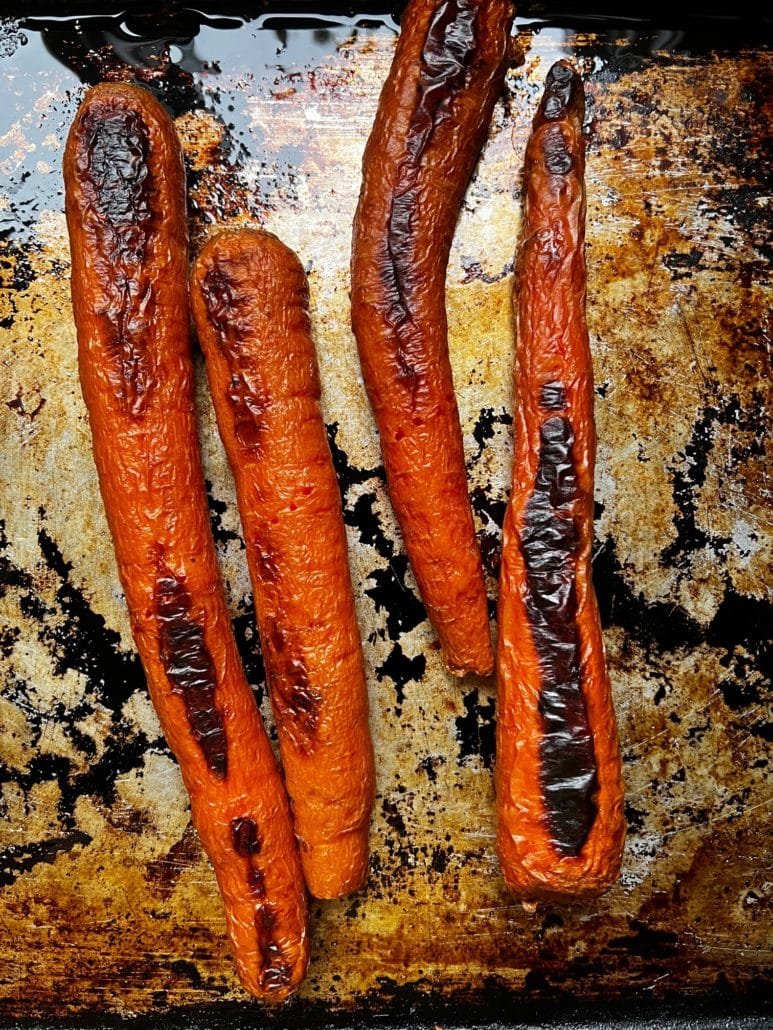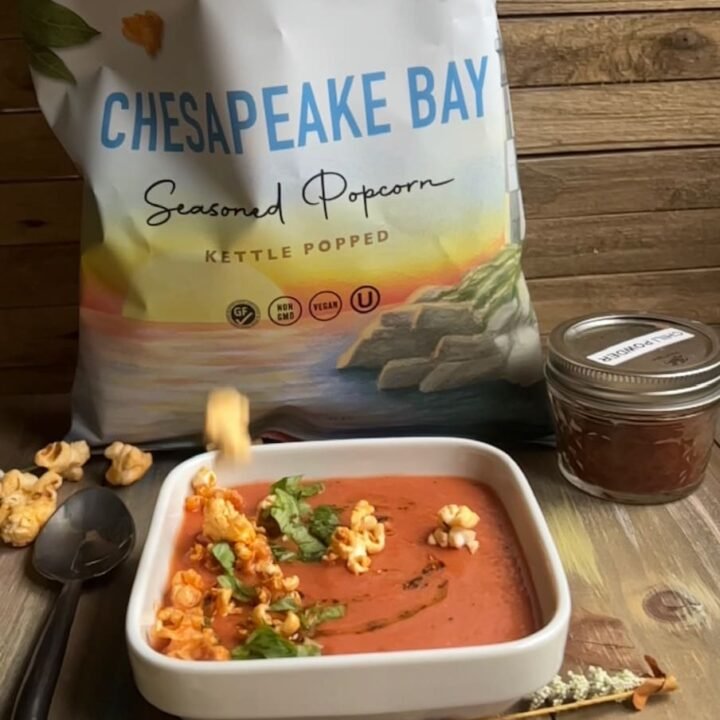 Vegan Tomato Soup Recipe
Yield:
4 servings, 2 cups each
I found a container of silken tofu that needed to be used up and decided to blend it into my tomato soup to make it creamy - so good! And don't worry, you can't taste the tofu!
Ingredients
28 ounce can of fire roasted tomatoes
3 tablespoons tomato paste
2 cups carrots (about 4 large)
6 garlic cloves
1 teaspoon chili powder
1/2 teaspoon crushed red pepper
4 cups vegetable broth
16 ounce silken tofu (drained)
salt and pepper to taste
Instructions
Heat oven to 400. Wash carrots (don't peel) and roast for 20-25 minutes, or until fork tender.
Add all ingredients to a blender and blend until smooth.
That's it!Vegan Tomato Soup Recipe
If you love soup as much as I do, check out some of my other soup recipes: