I posted this spicy black bean soup in my newsletter. Only two things – I never uploaded the photo of it, and I had a typo in the recipe.
So instead of fixing the newsletter and resending it to thousands of people, I am posting it here and on IG.
This literally is the best black bean soup recipe I've ever made. And I've made a lot over the last almost 13 years my blog has been around.
What types of dried chiles should you use?
There are so many types of chiles and I used to have an ethnic grocery store near me that had dozens to choose from. Now I can mostly find New Mexico chiles and Ancho chiles. You can check out this article here for more detail.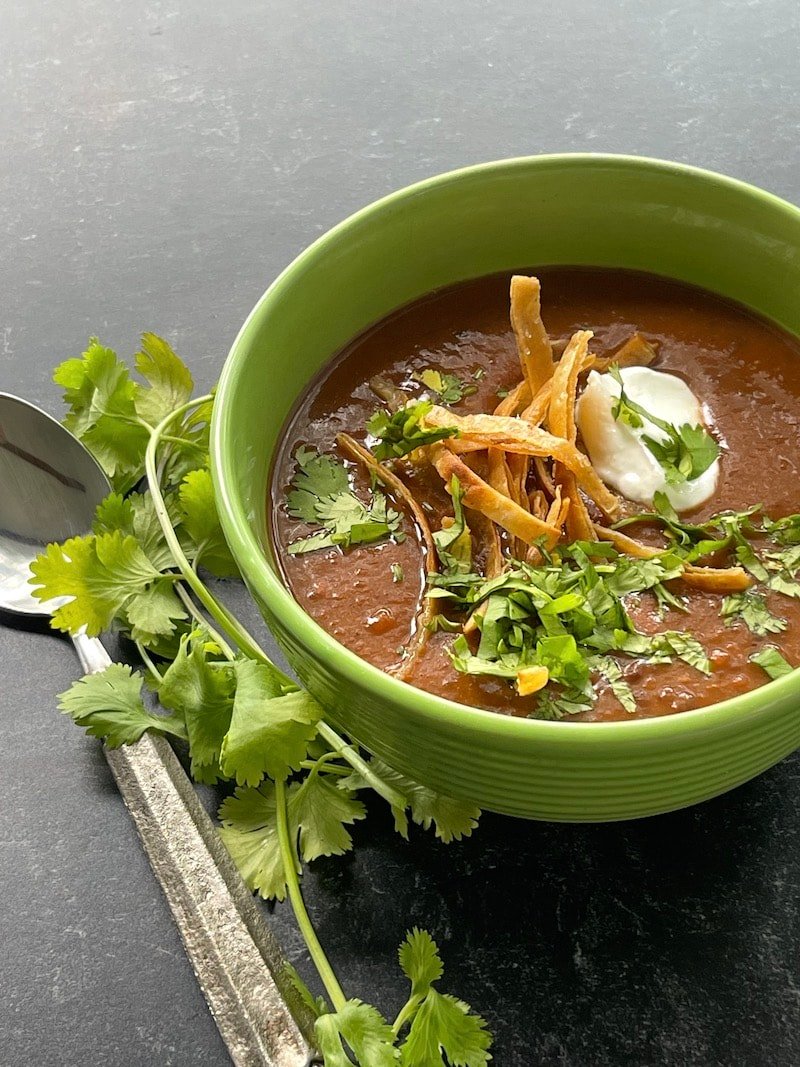 The dried chiles give this soup a smokey flavor, and is flavorful spicy, not knock your socks off spicy. This soup is not only delicious for lunch or dinner, but since it's so low in calories and points, it can be a great go to when you are kind of hungry before a meal, but don't want to eat like an asshole and eat a bag of pretzels instead. Not that I've done that before, I've just read it on the internet.
Spicy Black Bean Soup
Yield:
8 - one cup servings
This is hands down the best black bean soup I've ever made - and I made it with shit I had on hand! Doesn't everyone have a basket of dried peppers in their pantry? 😂
Ingredients
3 ancho chiles*
2 cups hot water
1 red pepper, diced
3 large carrots, diced
4 cups chicken broth
1 can Rotel tomatoes
2 cans black beans, rinsed and drained
Instructions
Soak the ancho chiles in the two cups hot water for five minutes. Remove stem and seeds.
Add the chile water, chiles and remaining ingredients in a large stock pot, and simmer over medium heat for 20-25 minutes (covered) or until veggies are fork tender. Puree with a stick blender or Vitamix until smooth. Garnish with crispy corn tortilla strips, radish, greek yogurt.
Notes
Dried chilis vary with spice level, so soak all three and start with one and add additional chilies until you get your desired spice level.
For me, this soup is zero points. Click this link to see what it is on your personal points plan.
If you count calories or macros, each cup is 67 calories, 1 fat, 10 carbs, 2.6 fiber and 4.8 protein.
Let me know if you make this. If you love black beans as much as I do, check out this low point
black bean dip
– so good!