I had the privilege of grilling at none other than Grillin with Dad's house to make grilled buffalo chicken chili.
It took my OG buffalo chicken chili to a whole new level! Maciek even demonstrated how to spatchcock the chicken so it cooks in about 45 minutes. We bought a Miller's Amish chicken from Mariano's – love that we shopped at our favorite grocery store together!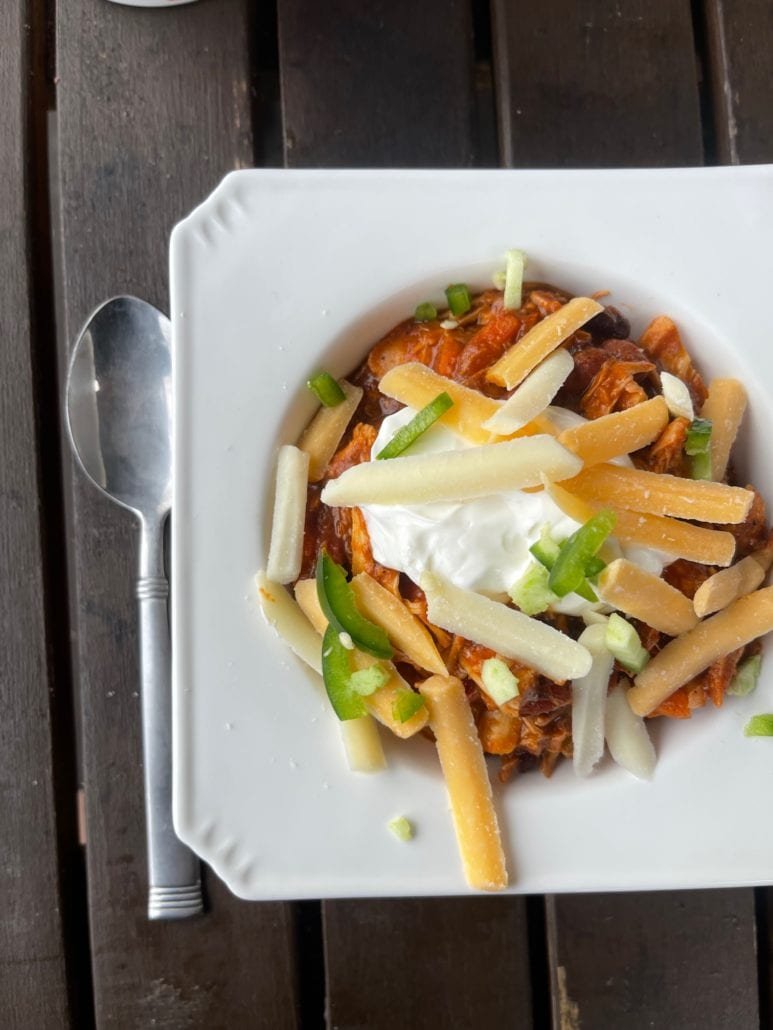 How do you spatchcock a chicken?
Mainly, you take the back bone out of the chicken so that it can lay flat. That way the breast meat and the dark meat cook at the same time. For a chicken around five pounds, it took about 45 minutes for the chicken to reach 160 degrees. Resting the chicken a minimum of 15 minutes after cooking will bring the cooking temperature up to 165.
This recipe obviously skips the part about grinding the chicken breast and grinding the vegetables like the original recipe, but I love this chunkier version. It almost feels like a stew with shredded chicken but has all the taste from my original recipe. You can definitely taste the grilled taste of the chicken in the chili – so good!
The shears he is using in that video are from Messermeister – if you have an avid griller in your family, this would be an amazing gift. You can check it out here.
Maciek has an amazing backyard BBQ set up. So much kitchen space to cook outside. While the chicken was cooking, we put all the ingredients in a dutch oven. Dutch ovens can be expensive, but I have one from
Sam's Club
that I dedicate to the grill. They can usually go up to 500 degrees without any issue.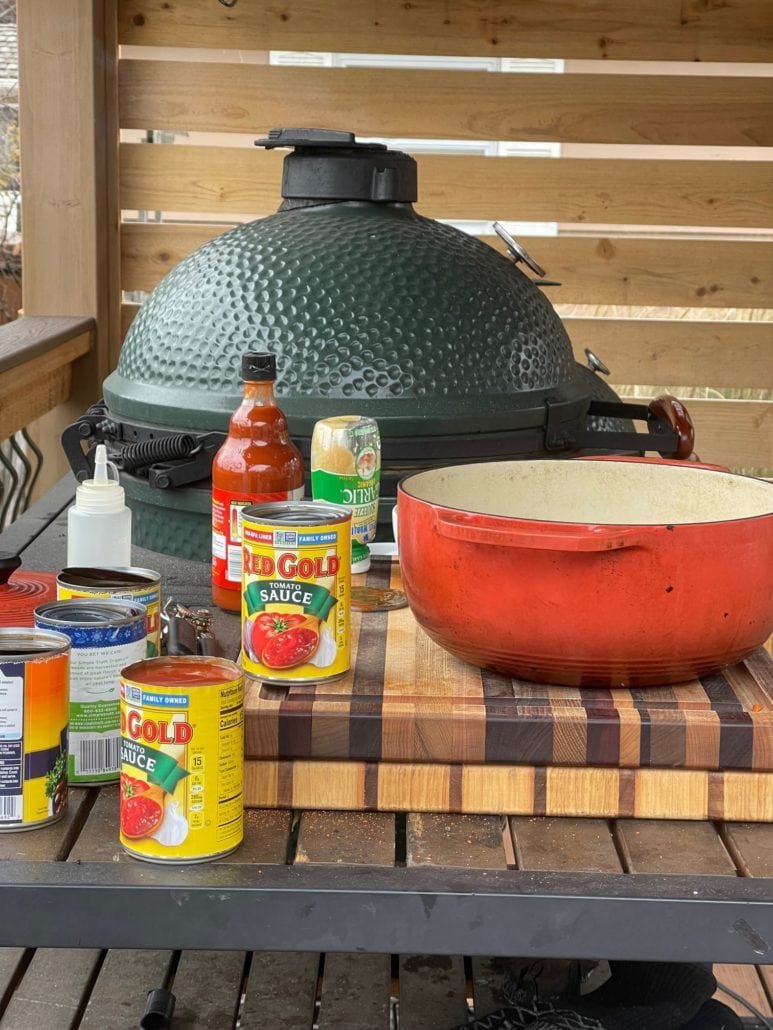 What are chili beans?
I get asked this question a lot when people are making my buffalo chicken chili. The chili beans can be in either a mild or spicy sauce – you dump the whole can into the chili, unlike black beans where you want to rinse and drain them from the can.
If your grill is big enough, you can cook the chili and the chicken at the same time. We opted to cook the chili on the stove for 45 minutes while the chicken cooked. How gorgeous does this look?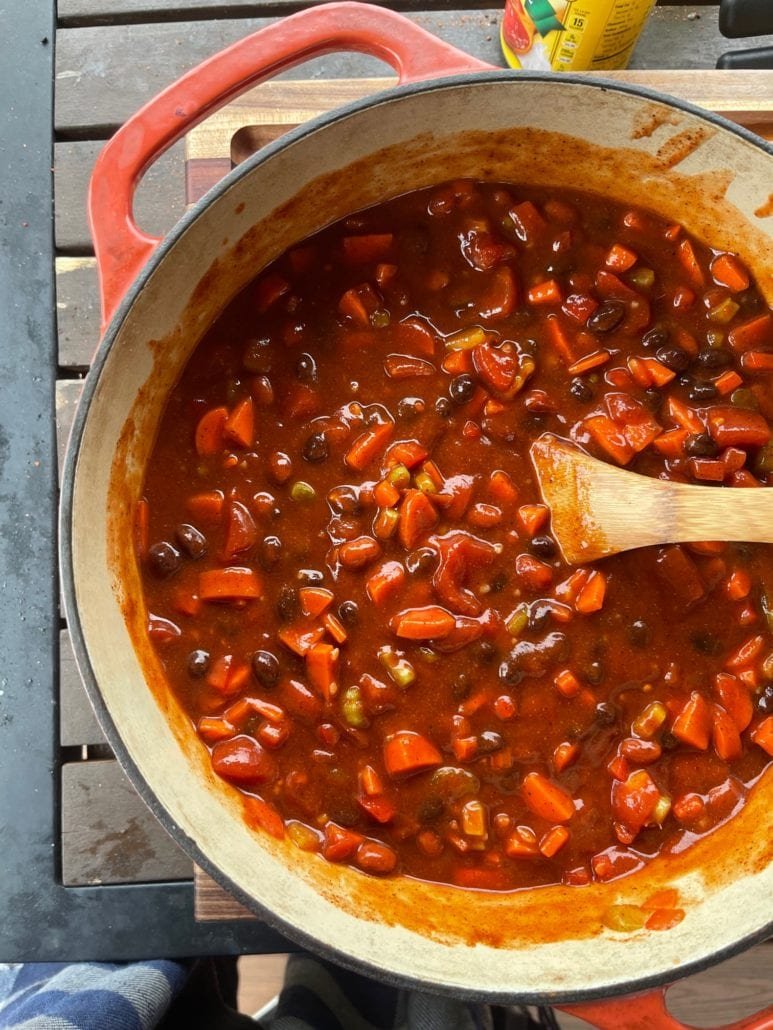 After 45 minutes, here is what the chicken looked like.
Something I learned from Maciek is that he puts on outdoor winter gloves, and puts food safe gloves OVER the winter gloves so that he can pull the hot chicken without burning his hands. Genius!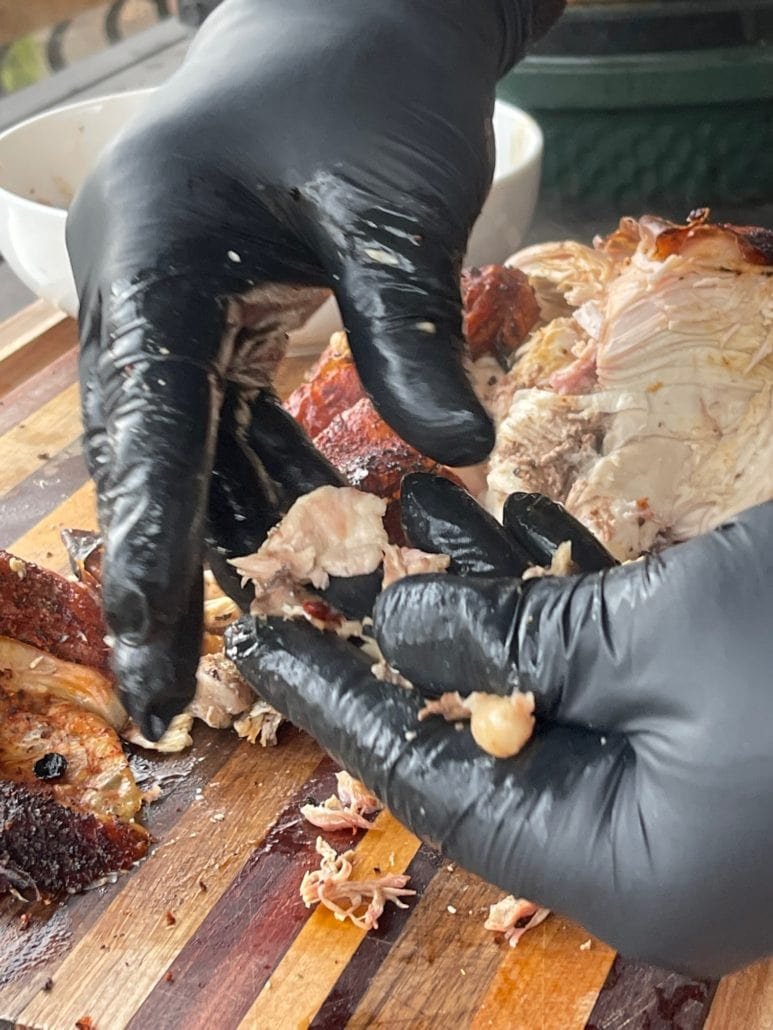 We didn't weigh the meat, but I would guess that it is just over two pounds of shredded chicken. Love that he chopped up some of the chicken skin too – swoon!
The next step is to just mix in the grilled shredded chicken into the chili mixture.
This is a perfect way to make chili when the temperatures start to cool, but it's not too cold to grill. I can't wait to try this on my own grill. Thank you for an amazing day Maciek!
Grilled Buffalo Chicken Chili
Yield:
12 servings, 1 cup each
Total Time:
1 hour
10 minutes
Grilling a whole chicken for my famous buffalo chicken chili brought this chili to a whole new level!
Ingredients
1 whole chicken (about 5 pounds)
1 tablespoon olive oil
3 large carrots, diced
3 stalks celery, diced
1 large red pepper, diced
5 cloves of garlic
5 tablespoons of chili powder
2 tablespoons ground cumin
1 tablespoon paprika
1/2 cup Frank's Hot Sauce
2 (15 oz) cans tomato sauce
1 (15 oz) diced tomatoes
1 (15 oz) black beans, drained
1 (15 oz) chili beans in sauce (do not drain)
salt and pepper to taste
Instructions
Light outdoor grill. Maciek uses a big green egg on indirect heat. View video on how to spatchcock the chicken, season with your favorite bbq rub (he used a Meat Church rub) and when the grill hits 350, place the chicken on the grill.
Because it's spatchcocked, it will take around 45 minutes to cook the chicken, or until it reaches an internal temperature of 160 degrees.
While the chicken cooks, add remaining ingredients to a stock pot and simmer over medium low heat while the chicken cooks.
Once the chicken has rested 15 minutes, shred and add to the chili. Stir until combined. Add the dutch oven back on the grill for 10 minutes.
Serve with sour cream, chopped green onions, jalapeno and cheddar cheese.
If you love chicken, check out my
Top 10 Chicken recipes post
.