My go to "snack" on my way to work on the train was an Otis Spunkmeyer banana nut muffin. Those are 20 WW points! These jumbo zucchini muffins come in at just 8 – whoop!
When I think back to how I used to eat, it was no wonder I got to 211 pounds. With my recent loss this week of another 1.2 pounds, my total loss is 30.6 pounds since January of 2022, and a whopping 50 pounds from my highest weight!
Do you leave the skin on when making zucchini bread?
Absolutely! If you have time, I recommend "sweating" the shredded zucchini. Simply grate the zucchini and place it in a strainer over a bowl. Add about a teaspoon of salt and let it sit for 15 minutes. Rinse several times with water to remove the salt, then place the shredded zucchini in a paper towel or clean dish cloth and squeeze out any excess moisture. However, if you don't want to do this step, no worries – simply grate the zucchini and squeeze dry before placing in the flour mixture.
How many zucchinis make one cup shredded?
Approximately one medium sized zucchini equals one cup shredded. When I go to farmers markets though, I tend to buy the really big overgrown zucchini and freeze shredded zucchini to use later on. If I were to saute zucchini, or for any other dish, I typically look for medium or even small zucchini because they have more flavor.
Ingredients needed for jumbo zucchini muffins:
flour – I use self-rising flour because that's typically what I have on hand, however all-purpose is fine too. If you are gluten free, look for products like Bob's Redmill gluten free flour that uses white rice flour and xanthan gum – I've found the best results with that gluten free flour. Stay away from almond or coconut flour – those produce dense loaves in my opinion.

non-calorie sweetener – I used Splenda for baking, but feel free to use any sweetener you choose. If you use 1 cup of sugar, that bumps up the WW points to 17 points per muffin, FYI.

baking powder – make sure your baking powder is fresh for best results

butter

nonfat greek yogurt

eggs

liquid egg whites

cane sugar (I use a coarse cane sugar)

powdered sugar
How long do you need to let muffin batter set before baking?
If you aren't following Beth – The First Year on Instagram, you need to check her out. I've learned so much from her regarding baking muffins. While she requests that you let your batter sit at least 15 minutes before baking, most professional chefs allow the batter to sit in the refrigerator overnight. While the flour absorbs the moist ingredients in the batter, the starches have a greater opportunity to expand. For this recipe, I only let the batter sit for 15 minutes, but next time will test the overnight method.
While Beth suggests filling the batter to the top of the muffin pan, I was making jumbo muffins and I would have only been able to make 4 muffins out of this recipe. I filled 3/4 full. Since I am using Splenda in the recipe, I like using coarse cane sugar on the top so you get that sugar flavor in each bite.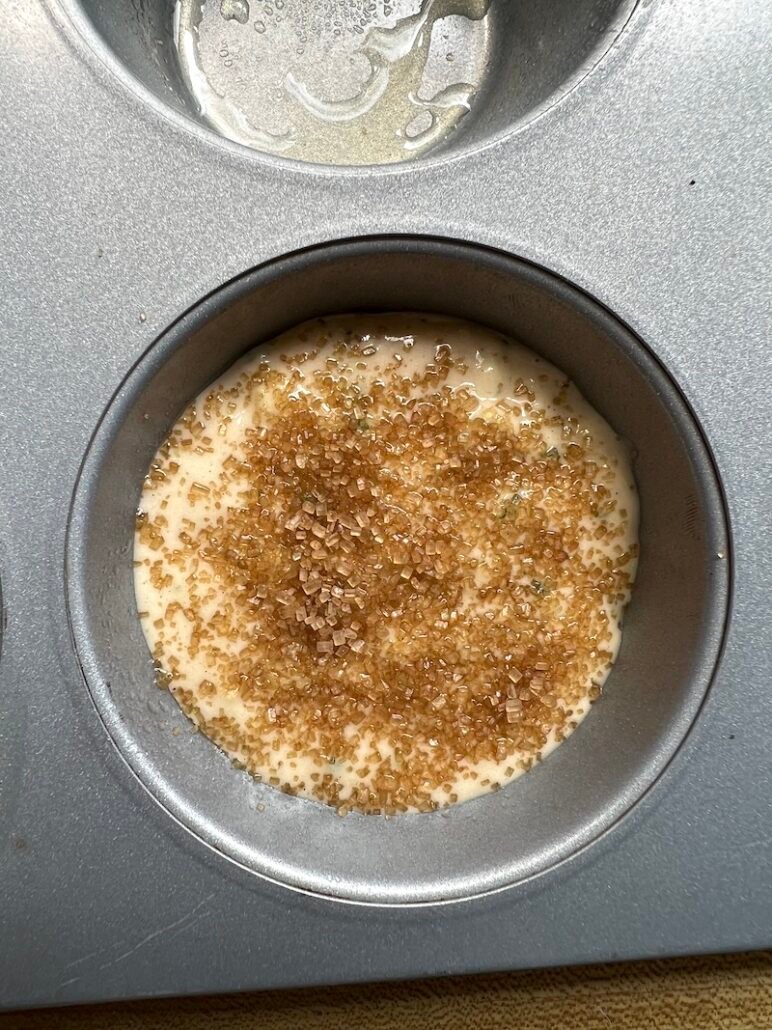 For an extra bump of sugar taste, I also sprinkle just a tablespoon of powdered sugar between the muffins.
How do you store muffins?
Two ways! They will stay fresh in an airtight container for up to 4 days on your counter. To freeze, simply place them individually on a baking sheet, freeze for 30 minutes and then store in a ziplock bag. This way you can pull one out as you need it.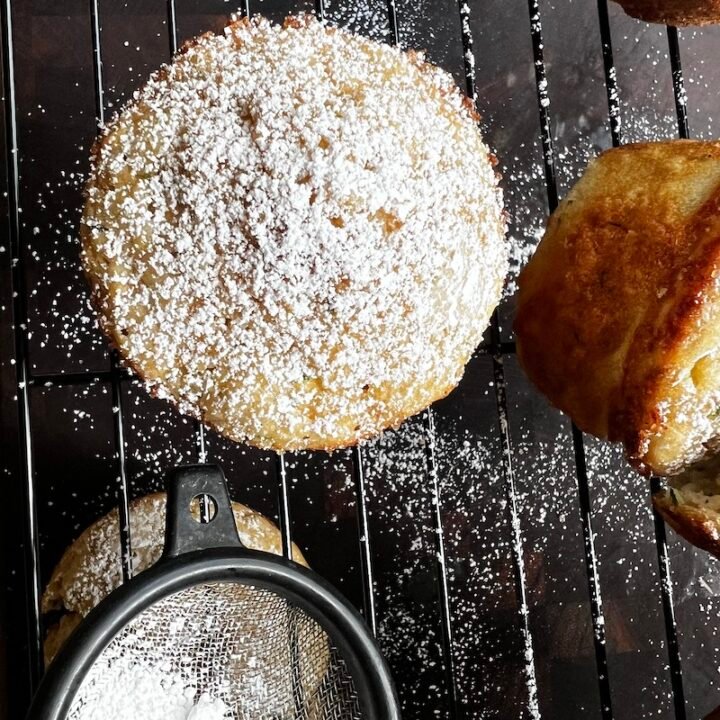 Jumbo Zucchini Muffins
Additional Time:
15 minutes
When zucchini season is in full swing, put these zucchini muffins on this list of things to make. Light, fluffy, not overly sweet - delish!
Ingredients
2 cups self-rising flour (regular flour is fine too!)
1 cup no calorie sweetener of choice (I used Splenda for Baking)
1 teaspoon salt
2 teaspoons baking powder
1 teaspoon cinnamon
2 tablespoons butter, grated
1/2 cup nonfat Greek yogurt
1/2 cup unsweetened cashew milk (or milk of choice)
1 cup zucchini, shredded and squeezed dry
2 large eggs
1/2 cup liquid egg whites
4 teaspoons cane sugar (I used a coarse sugar)
1 tablespoon powdered sugar
Instructions
Preheat your oven to 425°F (218°C) and line a muffin tin with paper liners or grease it with cooking spray.

In a large mixing bowl, combine the self-rising flour, no-calorie sweetener, salt, baking powder, and cinnamon. Mix well to ensure even distribution of the dry ingredients.

Add the grated butter to the dry ingredients and use your fingers to incorporate it until the mixture resembles coarse crumbs. This step will help create a crumbly texture in the muffins.

In a separate bowl, whisk together the nonfat Greek yogurt, unsweetened cashew milk, shredded zucchini, eggs, and liquid egg whites until well combined.

Pour the wet ingredients into the dry ingredients, and gently fold everything together until just combined. Be careful not to overmix; a few lumps are okay.

Spoon the muffin batter into the prepared muffin tin, filling each cup about two-thirds full.

Sprinkle the tops of the muffins with cane sugar (or coarse sugar) for a sweet, crunchy topping.

Bake the zucchini muffins in the preheated oven for 15 - 18 minutes or until a toothpick inserted into the center of a muffin comes out clean.

Once the muffins are done, remove them from the oven and allow them to cool in the muffin tin for a few minutes. Then transfer them to a wire rack to cool completely.

Before serving, dust the muffins with powdered sugar for an extra touch of sweetness.


Notes
Note: You can store any leftover muffins in an airtight container at room temperature for up to 3 days, or in the refrigerator for up to a week. They can also be frozen for longer storage.
You can also make these into regular size muffins. For the jumbo muffins, as of the date of this publication, each muffin is 8 WW points. Click here for the WW link to your tracker.
Need more muffin inspiration? Check out these recipes!