This is the best buffalo chicken chili you'll ever need.
The fall after I originally posted this recipe, I started getting emails from people who said they made this chili and it won their office chili cook-off, block party cook-off – as the months and years went by, I was thrilled that this recipe helped win so many contests!
Well, at the suggestion of my friend Heather, I entered this recipe and it won $5,000 – I won $5,000 and I got to give $5,000 to charity.
You can read about my winning here. Basically it was named the best slow cooker recipe in America! (ha!)
I've made this chili dozens of times since then. I hope you give it a try! Let me know if you do.
I've left the bottom part of this post as it originally posted. Sadly, my husband passed away in 2014 – I miss him!
How do you make the best buffalo chicken chili?
If you have a food processor, I suggest grinding your own chicken breasts. Simply cut into chunks and pulse until it's coarse like ground chicken. It's a fraction of the cost of buying store bought ground chicken, and it's really hard to find ground chicken breast meat where I live.
Is buffalo chicken chili spicy?
I like to call this chili "company" chili because it has a kick to it. My daughter Hannah doesn't like spicy food and she can eat this. But start with 1/2 the chili powder and 1/2 the buffalo sauce and add more to taste.
How many calories are in buffalo chicken chili?
My chili comes in at 278 calories, 9 fat, 18 carbs, 6 fiber and 31 grams of protein per 1.5 cups. This makes a lot!
Can you use fresh tomatoes in buffalo chicken chili?
Yep! I used three pounds of heirloom tomatoes for all the tomatoes in this recipe – simply puree the fresh tomatoes with the carrots, celery, garlic and red peppers.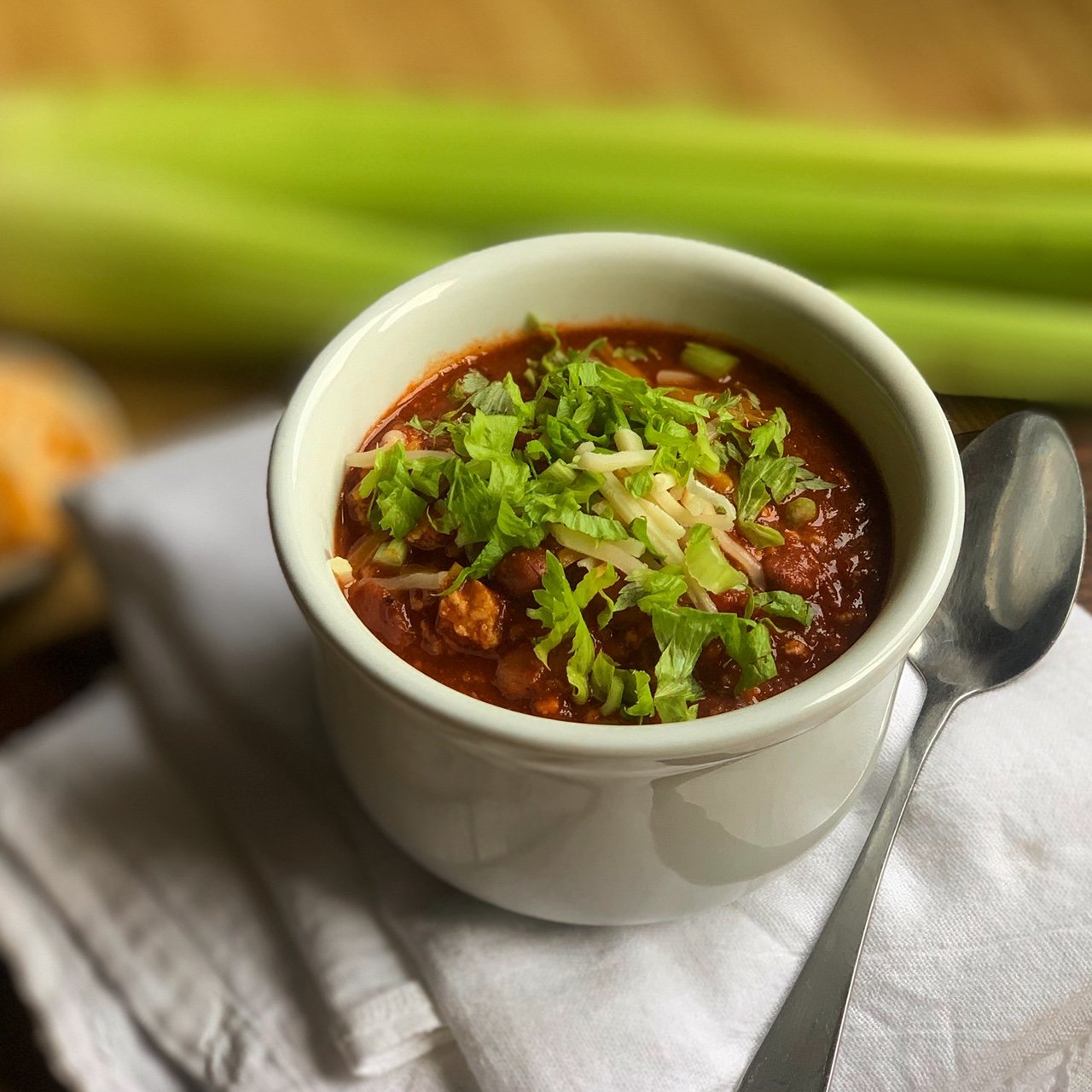 ***************
This Buffalo Chicken Chili!! Tony says that I have to stop patting myself on the back on this one, but EVERYONE said that my chili was the best chili they ever ate! The best part is that this is only ONE POINT per serving. I made this recipe serve 12 people – or about 1.5 cups per serving. For each additional 1.5 cups, it's one more point.
But first I had another repeat breakfast – my sourdough/apple/cheese melt with Chobani and granola. Steve, you have to try the cheese/apple combo – you won't look back!
I suggested a chili party at my office since its Superbowl weekend. Everyone was on the bandwagon! One co-worker brought in corn muffins with jalapeno cumin butter! It was so good! Another person brought in bread, blue cheese and cheddar cheese, and someone else brought in sour cream.
Of course, Tabasco was on the table!
I decided to make three batches of chili and it was almost all gone! I brought home about 2 cups! Two batches filled the crockpot up to the top:
[mv_create key="186″ title="Best Buffalo Chicken Chili!" type="recipe"]
Good points: low in saturated fat, high in fiber, niacin, potassium, vitamin A, vitamin B6 and vitamin C!
This recipe is a keeper! 😀
I put Tony in charge of dinner last night – and even though it was snowing, that didn't stop him from grilling! When I looked at the meat he bought, I saw it was a boston roast, and when I googled that, all the recipes called for cooking low and slow. I was a bit skeptical about doing it on the grill, but Tony is the grill-master – it was so tender! He felt it was a little overdone, but I thought it was perfect!
With baked potatoes and crunchy bread on the side – perfect date night in! 😀 Thanks Tony!
When Tony was at the store, he bought me four of this tiny fruit, but we can't find any information about it! On the label it says "Guataba de Mexico." Does anyone know what fruit this is?
Not sure if you can eat the seeds?
Plans for the Day:
Japanese grocery store
Seigelman's Deli for lunch
menu/meal planning
wash sheets
vacuum living room
mop kitchen floor
Don't forget, you can vote every day for my three recipes on the right side of my blog – thanks to everyone who has voted already! 😀
Happy Saturday! 😀