A week ago I had never even heard of vegan pakora.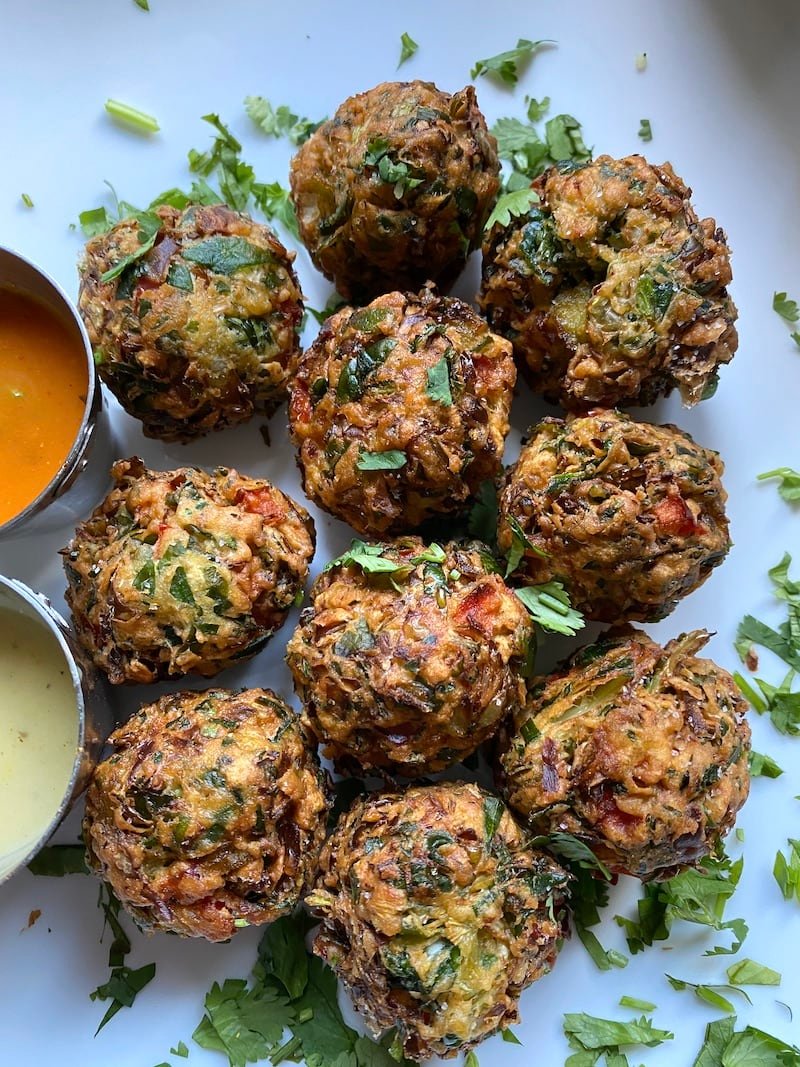 My friend Justin over at Crow Moon Kitchen did a whole series of Indian recipes last week and it inspired me to get outside my comfort zone of pizza, pasta and tacos.
Are Indian spices all spicy?
Nope! While there are some spicy seasonings, this recipe uses garam masala, cumin and caraway seeds. These spices taste warm to me if that makes any sense? The filling for these vegan pakora's can be made with any vegetable you have left at the end of the week that needs using up.
The garlic, ginger and cilantro work so well in this recipe too – just an explosion of flavors and textures.
What is chickpea flour?
Chickpea flour is flour made from dried chickpeas. It's available in most grocery stores, but look for it in the Bob's Redmill section of your store. In one store I go to it's in the same aisle as the regular flours, but in another it's a separate end cap – just ask if you can't find it. With the chickpea flour these almost tasted like falafel? I also think they can be called an Indian hush puppy!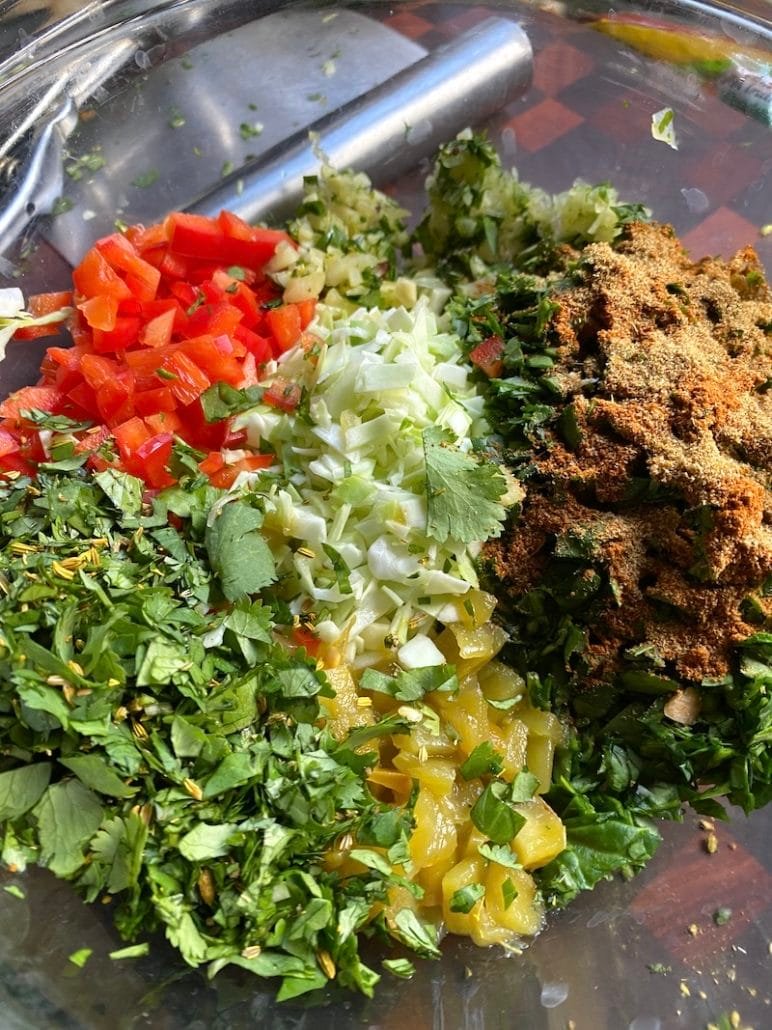 Can Pakora be used for meal prep?
Absolutely! I cooked all 16 and plan to reheat for lunches in my air fryer. Don't forget to preheat your air fryer! Just 5 minutes at 360 degrees before reheating these, and these will reheat in three minutes.
Alternatively, I think you could keep the vegan pakora batter in the fridge for a few days and cook them off as needed.
Vegan Pakora

These vegan pakora are what I like to call Indian hush puppies. Packed with veggies and spices, these are delicious!
1 cup cabbage (chopped)
1 cup red pepper (chopped)
1 cup spinach (chopped)
2 cloves garlic (minced)
4 ounces green chiles
1 tbsp ginger (chopped)
1/3 cup cilantro (chopped)
3/4 cup chickpea flour
1/4 cup self-rising flour
1/2 tsp cumin
1/2 tsp garam masala
1/2 tsp cumin seeds
4 tbsp water
Heat deep fryer to 350 degrees.

Mix the cabbage through cilantro together in a large bowl. Add in the flours and seasonings and mix until the veggies are coated with the flour.

Add the water to the mixture, until the mixture is moist. If it's still a bit dry add a touch more water until it can form into a ball.

Deep fry for 4-5 minutes, drizzling with salt as they come out of the fryer.
These are do good! I bought Thai curry sauces at Walmart – one green and one red – for dipping. This is perfect as a side dish to an Indian dinner, or just eat as a meal like I did!
On all WW plans, each ball is 1 point, or four balls for 3 points. If you count macros the nutrition label is in the printable recipe above.
Do you like Indian food? I am so excited to get out of my wheelhouse of eating the same things over and over. Except pizza – I never get tired of that!
My other favorite Indian dish on my site is my chicken tikka masala. So good! I can't believe that recipe is ten years old already!
Let me know if you try this!