This easy chicken bolognese is so delicious. And easy. Did I mention it was easy?
January 1, 2021. I have no resolutions other than to take joy in my daily routine without the constraints of having to work around clocking into my day job to WAIT to do what I love. I am grateful. That I make just enough money to pay my bills and possibly save a little more. 2020 made me realize that stuff, possessions, a bigger house, a fancy car won't ever bring me the joy I feel when I am standing in my crappy kitchen without cabinets on the doors, because they have all fallen off.
Maybe one day I'll get the open shelving, or a nicer floor, or a better countertop, since that's where I spend the majority of my time. But in the end, I wouldn't mind if it was just me, my kitchen and recipes in a shitty kitchen. It's home. It's where I belong.
Chicken Bolognese Recipe
The biggest tip I can tell you is to grind your own chicken. For some reason where I live it's hard to find ground chicken breast, and the ground chicken in the store is usually dark meat too. For some reason I imagine that they scoop up chicken parts, grind it up and label it ground chicken. Ew.
The only caveat is to not blend this on high speed, otherwise you will have chicken paste, and no one needs that! Just pulse until you get the right consistency. I also cook the chicken first, remove while the veggies cook down, and add it back at the very end. If you leave the chicken in the whole time it will taste like ass.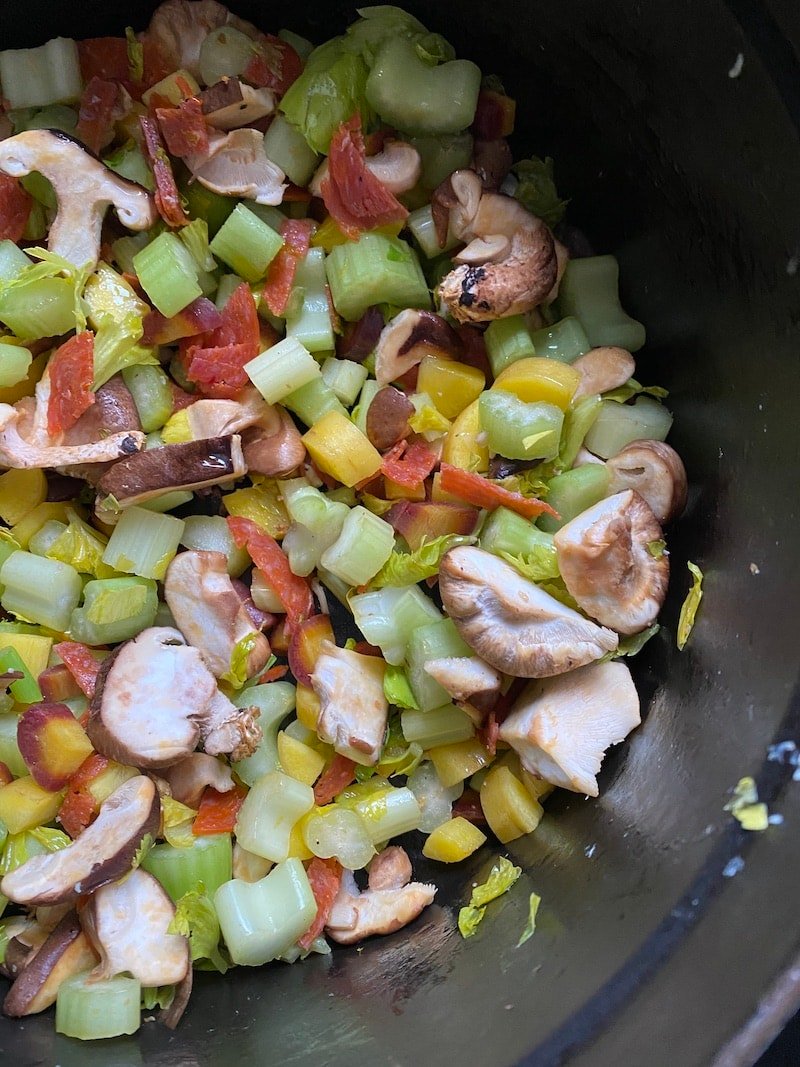 This recipe is a great way to add in a shit ton of veggies – and promise you won't taste that they are in there. So if you have a husband or kids that are picky eaters, make this sauce.
How many calories in chicken bolognese?
Mine comes in at just around 100 calories. Most beef bolognese recipes are around 300 calories for a similar serving size. Just by having that small amount of pepperoni will give such a depth of flavor to your chicken bolognese, making this chicken bolognese easy!
What's the secret to my chicken bolognese?
PEPPERONI! Real deal pepperoni. I saute it with the veggies and only an ounce chopped up makes all the difference. Makes it taste a bit "beefier" if that makes any sense? I also add a cup of beef broth too.
Just simmer for 30 minutes, and use a stick blender to blend smooth.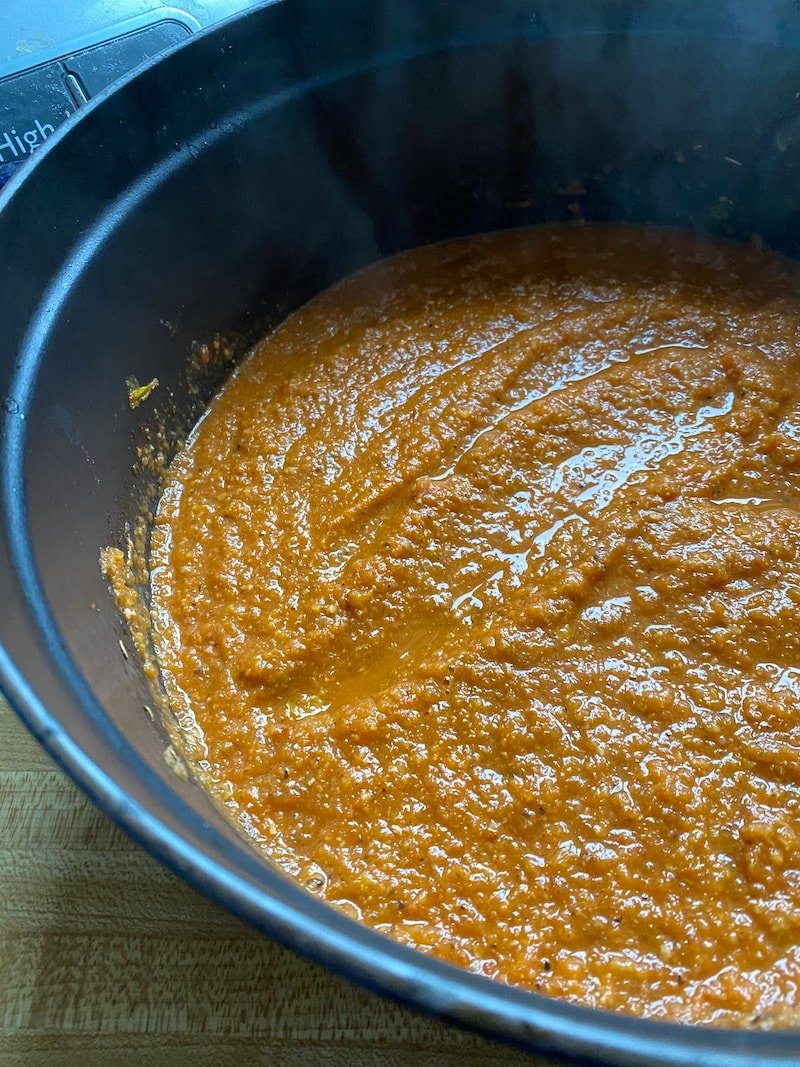 Next add in the cooked ground chicken. Serve over pasta of choice and sprinkle on some chopped baby spinach and some Parmesan cheese.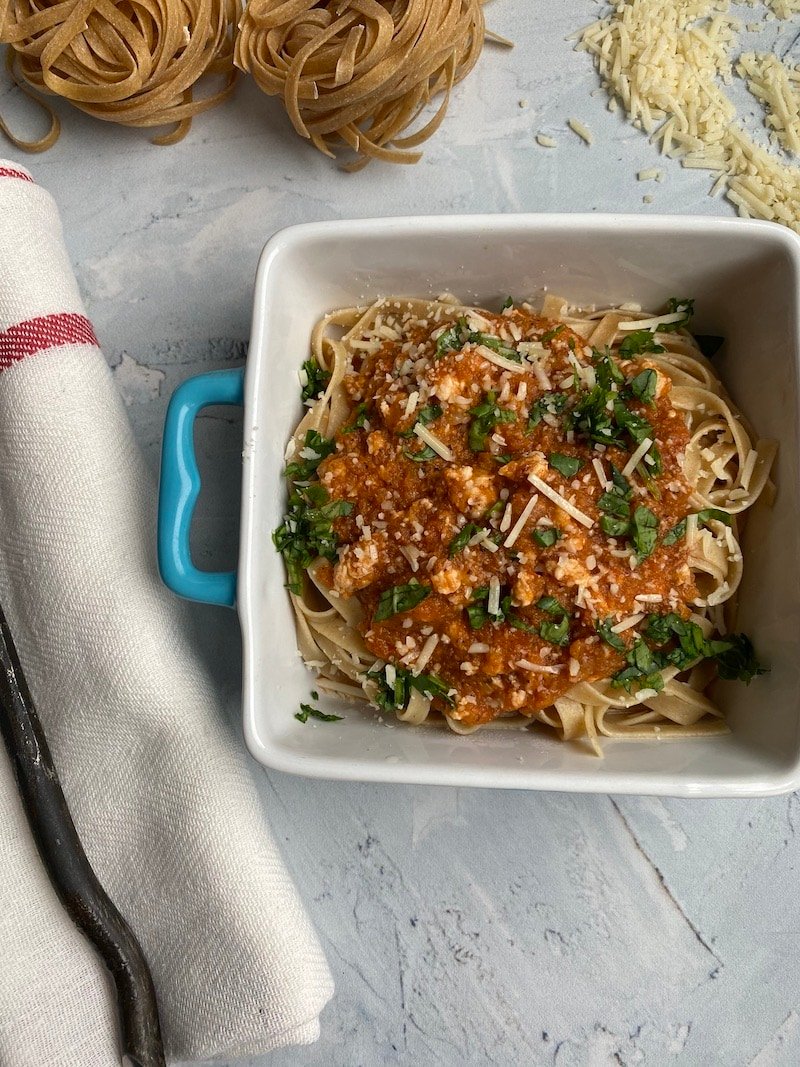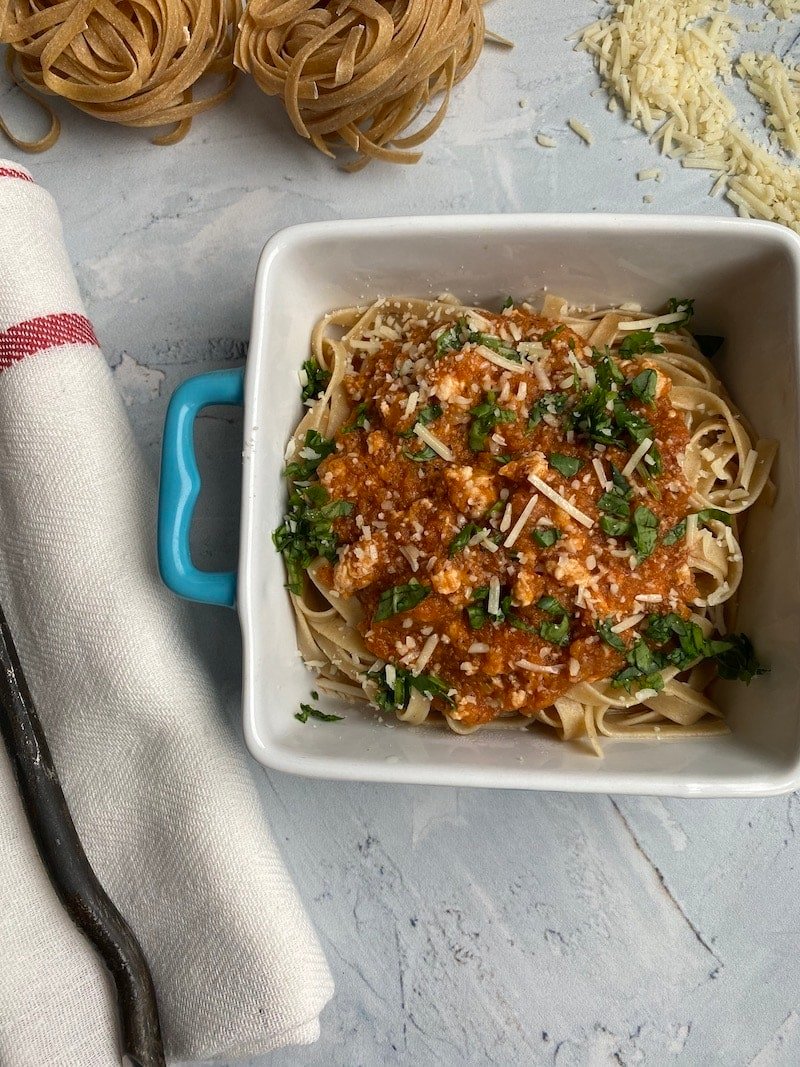 Chicken Bolognese
Yield:
8 servings, 1/2 cup each
If you think that you can't make a flavorful bolognese with chicken, think again. This is light, delish and a perfect dish for spring and summer when you want comfort food but not anything too rich.
Ingredients
8 ounces chicken breast
1 cup carrots
2 cups celery
1 cup mushrooms
1 ounce pepperoni
1 tablespoon garlic
28 ounce canned tomatoes
1 cup beef broth
1 tablespoon oregano
1 tablespoon rosemary
1 teaspoon crushed red pepper
1/2 teaspoon salt (or to taste)
1/2 teaspoon pepper (or to taste)
Instructions
Roughly chop the chicken breast and pulse to get it to the right consistency. It's important not to let it run otherwise you will have chicken paste. (Not that I have done that before, I read that on the internet)
Heat stock pot over medium low heat. Spray with avocado oil spray and cook chicken for 10 minutes. Remove from pot.
Heat the same stock pot over medium low heat. Add pepperoni with the chopped carrots, celery, garlic and mushrooms. Spray with avocado oil spray and cook for about 5-10 minutes. Add in the tomatoes and beef broth with the seasonings and simmer 15-20 minutes, or until the veggies are tender enough to blend. Blend with a stick blender or blender.
Stir in cooked chicken breast and cook for an additional 10 minutes.
Serve over pasta of choice. Garnish with chopped spinach and a sprinkle of Parmesan cheese. Enjoy!
The best part about this chicken bolognese is that I can make several things for myself for the week. Stuffed zucchini boats, I can add chicken broth and turn it into lasagna soup. I could also use the sauce to make a mini lasagna for one. So many possibilities!
Every year on January 1 since 2009 (I started this blog in 2008) I've declared THAT year to be the year that I get the weight off. I've had success throughout the years but seem to always end up at or a bit more than I was the previous January.
So while that is on my list of things to accomplish this year, I hope to incorporate a better work/life balance now that I am working for myself. I am doing a DietBet though that starts on January 11 – I love hosting those! You can check it out here if you are interested.
January also marks my fourth year in a row of doing Dry January. You can join me on that too.
Happy New Year! I will be back to regular blogging now – I've spent the better part of a year fixing my blog and it still has a way to go to be more user friendly for you guys – so that you can actually find the 2000 recipes on this site – ha! Stay tuned – but in the meantime if you are looking for a recipe, just shoot me a comment or DM me on Instagram.
Until next time!