Yes, that's a bold statement, but these are the best turkey meatballs!
My secret? Adding just a bit of pork sausage with the ground turkey – makes all the difference!
How to cook ground turkey breast
If you are making a burger with ground turkey, check out my post for the perfect turkey burger – a pat of butter in between the patties makes the juiciest turkey burger.
For this recipe, I've added just three ounces of pork sausage to add just a bit of fat, but a whole lot of flavor.
How to make turkey meatballs from scratch
The best part about these meatballs is that you basically throw everything into a bowl, mix, refrigerate, then cook. So simple! But here's a lesson I learned long ago. Taste your food as you go. You may be asking yourself "how do I taste raw ground turkey!" Simply pinch off a bit of the meat mixture and cook it. Give it a taste. When I made this I decided it needed more crushed red pepper and a bit of salt. Early in my cooking days, I NEVER tasted as I cooked, and would be so disappointed if something wasn't very flavorful.
Ingredients for The Best Turkey Meatballs:
extra lean ground turkey breast – if you see just "ground turkey" at the store, that has thigh meat added – be sure to look for turkey breast

pork sausage – my grocery store Mariano's sells ground pork sausage in bulk at the meat counter – I asked for 1/3 of a pound, but only used 3 ounces for this recipe

egg

panko bread crumbs – feel free to use regular bread crumbs

garlic

Parmesan cheese

crushed red pepper

basil

salt and pepper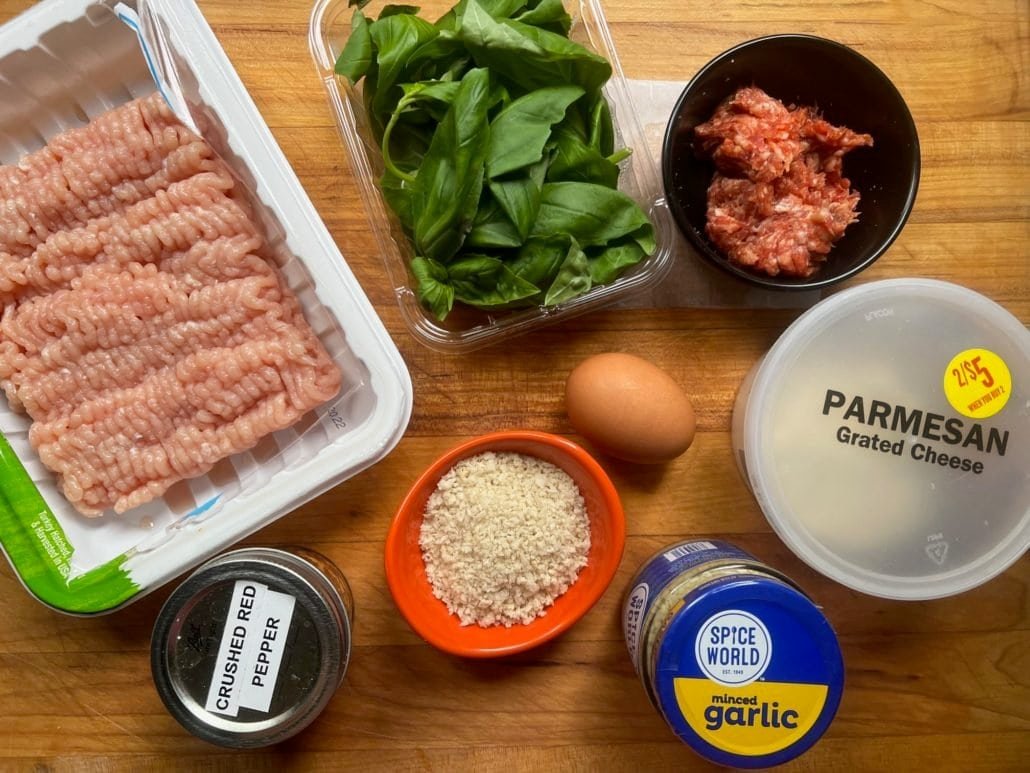 Barilla has a new chickpea pasta out. I bought it because it was only 4 points for a cup (normal pasta is 6 points). Don't buy it. The texture and flavor were weird and I'd rather spend the extra two points on regular pasta.
Once the meatballs were formed, I cooked four for my dinner, then froze the remaining meatballs. This is a great recipe for meal prep because you can make them on the weekend to have later in the week for a quick lunch or dinner. These would be great on a sub roll for a meatball sandwich too!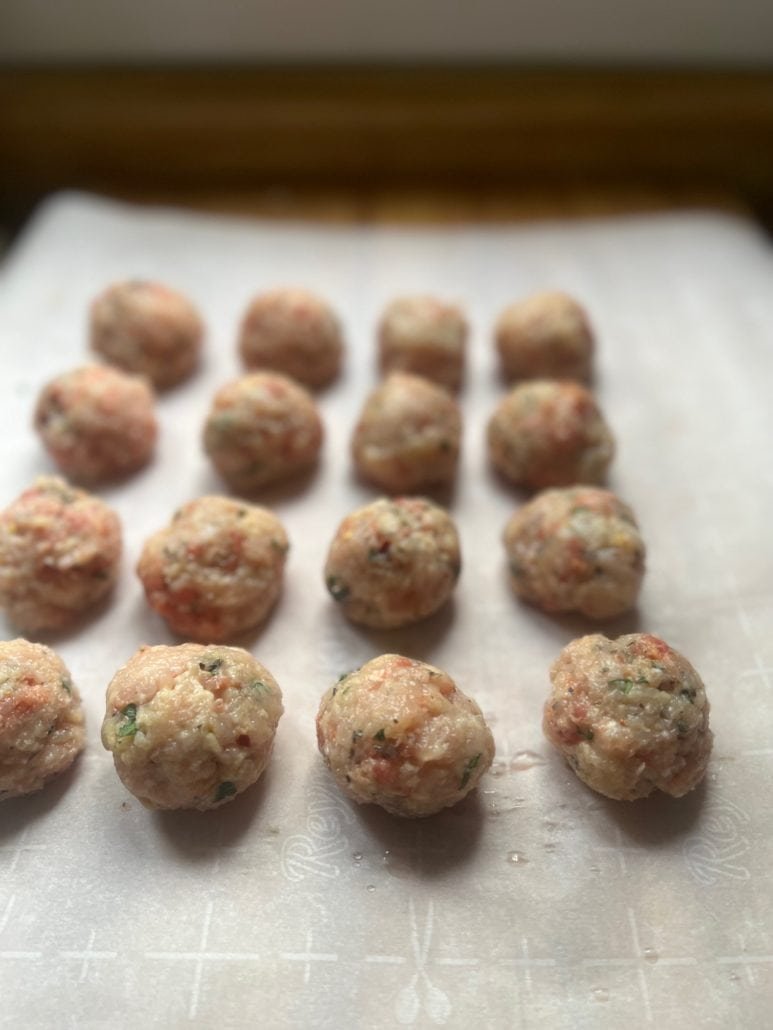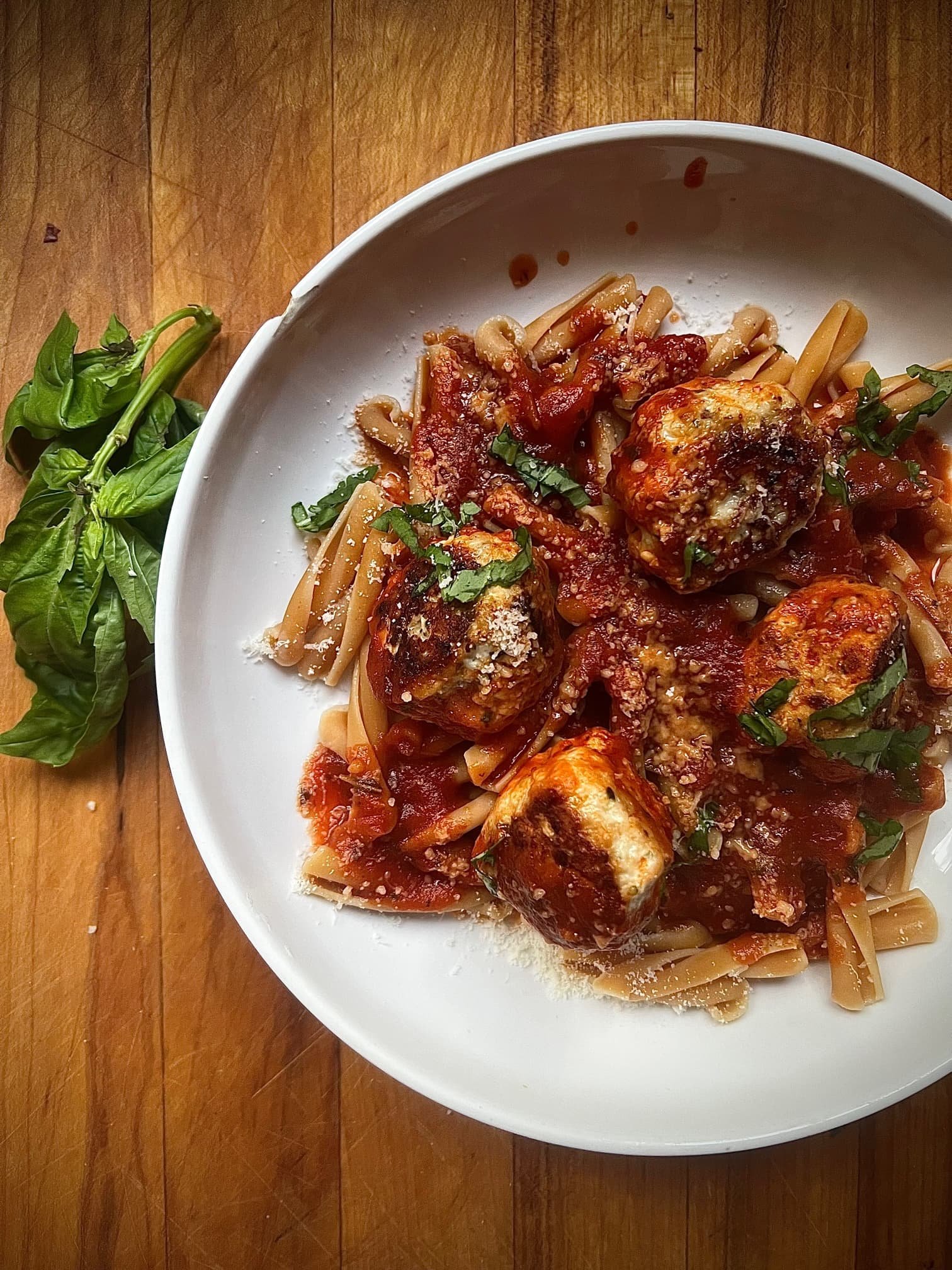 The Best Turkey Meatballs
Yield:
4 servings (4 meatballs)
Additional Time:
15 minutes
The secret to the best turkey meatballs is adding just a small amount of pork sausage to add a bit of fat and a whole lot of flavor!
Ingredients
1 pound extra lean ground turkey breast
3 ounces pork sausage
2 tablespoons grated Parmesan cheese
1 egg
1/4 cup panko bread crumbs
2 tablespoons fresh basil, chopped
1 tablespoon minced garlic
1/2 teaspoon crushed red pepper flakes
1/2 teaspoon salt
1/2 teaspoon black pepper
1 tablespoon Italian seasoning
Instructions
Mix everything together in a bowl. Refrigerate for 15 minutes. The meatballs will hold their shape better when you do this step.
Divide the mixture into 16 meatballs - each meatball for me was 1.3 ounces.
Spray a skillet with avocado oil spray, and in two batches, brown the turkey meatballs on all sides over medium low heat. In about 10 minutes, they should reach an internal temperature of 155 degrees.
In a separate pan, add pasta sauce of choice. Place the meatballs in the sauce to finish cooking to 165, about 5 minutes.
Serve with pasta of choice.
Notes
These meatballs freeze beautifully! I only cooked 4 meatballs for my dinner, so the remaining meatballs went on a cookie sheet into the freezer for an hour. Then I placed them in a ziplock bag - this keeps the meatballs separated and you can pull out as many as you need.
Simply defrost in some pasta sauce on the stove, or defrost in the refrigerator overnight and follow the steps above.
On my WW plan, 4 meatballs is 2 personal points. Click this link to see what the points would be on your WW plan.
Let me know if you try these! Be sure to tag me on IG – @mybizzykitchen
[web_stories_embed url="https://mybizzykitchen.com/web-stories/the-best-turkey-meatballs/" title="The Best Turkey Meatballs" poster="https://mybizzykitchen.com/wp-content/uploads/2022/08/cropped-IMG_1077-1-640×853.jpg" width="360″ height="600″ align="none"]