I never would have thought of zucchini tacos if it wasn't for my friend Alfredo.
Well, I call him my friend, but I've only met him in person once. 😂 He has a giant TikTok following and recently started a recipe blog.
He recently posted a recipe called Tacos de Calabacita, and it looked amazing. I am using zucchini because it is a bit more readily available, but equally delicious.
While I tweaked my recipe to make it a bit more weight watcher friendly, all kudos goes to Alfredo – thank you!
What are crispy taco shells made of?
El Milagro corn tortillas are readily available all across Chicagoland. If you can't find that brand, Mission Brand Extra Thin Corn Tortillas work just as well.
How do you cut zucchini for sauteing?
I prefer crisp tender zucchini, so by slicing the zucchini into quarters, you are able to get a nice char on both the cut sides, but it doesn't fall apart in the taco.
What ingredients do you need for zucchini tacos?
corn tortillas

two medium zucchini

cheddar cheese – I find that 1/2 an ounce of cheddar cheese is just enough to get that taste in each bite

radish

baby spinach

salsa
What kitchen tools do you need to make zucchini tacos?
non-stick skillet

stove top or induction burner

good Chef's knife – my friend Bobby has a great one that's $69. You can check that out here.
Step by Step Instructions
Season the cut zucchini with a tablespoon of Sazon seasoning. This is readily available at most grocery stores in the hispanic aisle. If you can't find that, simply use your favorite dried taco seasoning. Sazon is a blend of coriander, cumin, achiote, garlic powder, oregano, salt & pepper.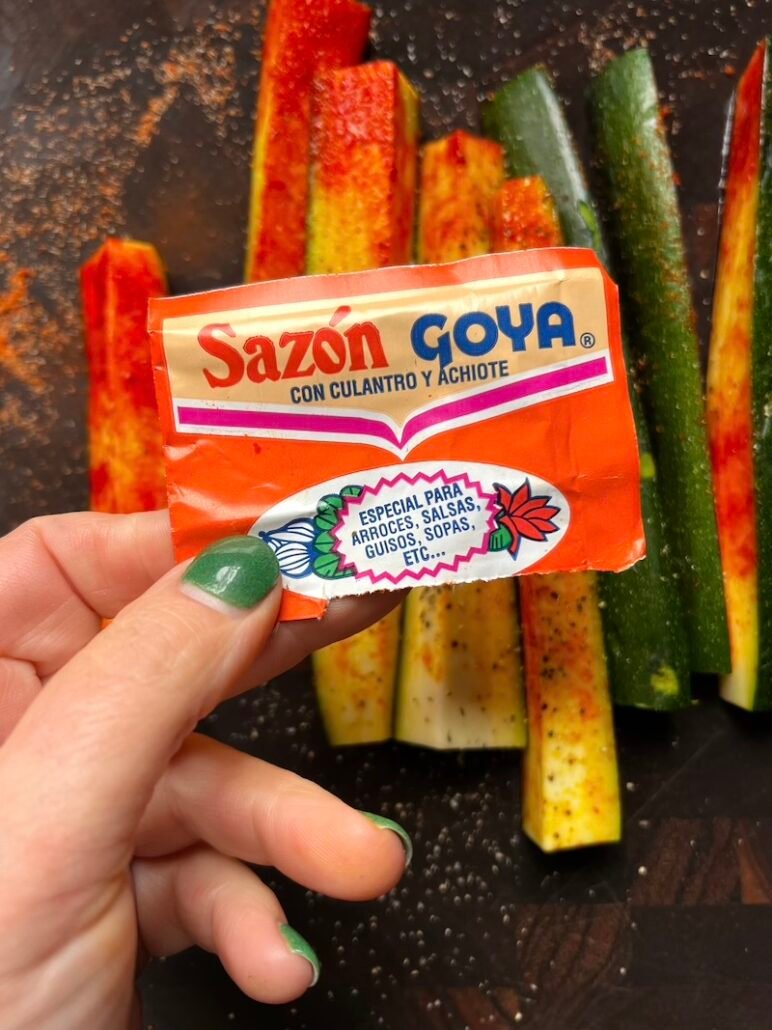 Cook the zucchini for 2 minutes on each cut side. Remove from the pan immediately.
Build the tacos! Be sure to microwave the corn tortillas for 30 seconds so they are pliable so they won't crack when pan frying. I divided the cheese, zucchini, radish and salsa between each tortilla, then fold and place back in the skillet the zucchini were sauteed in, and cook over medium heat for 5 minutes a side.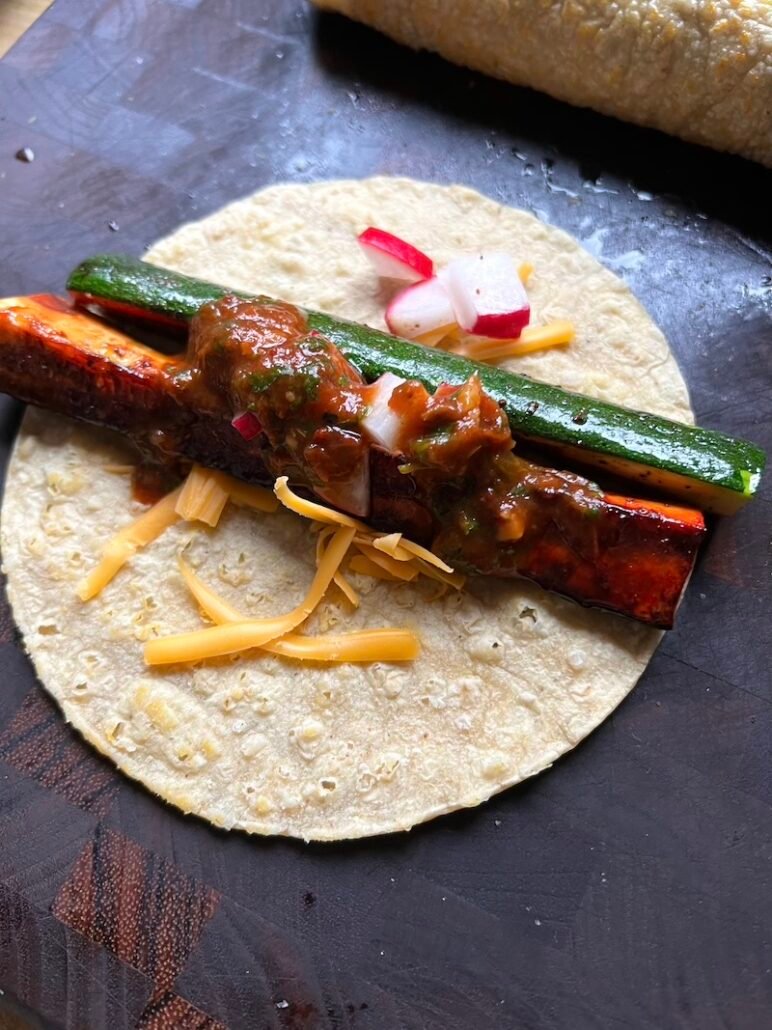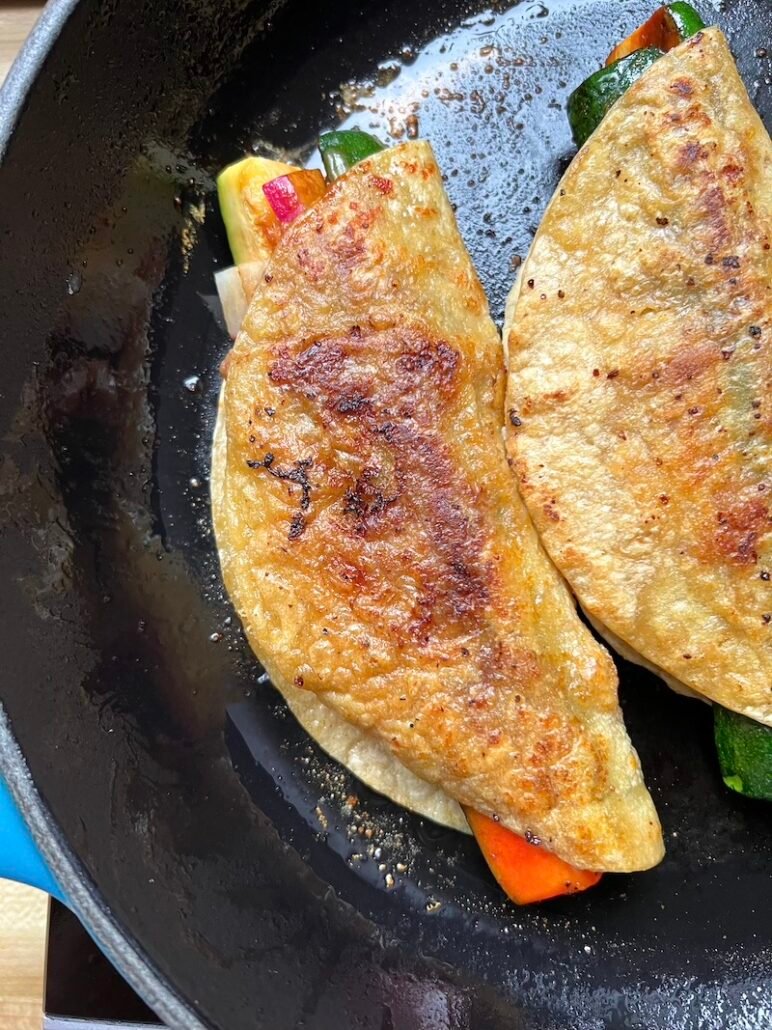 Zucchini Tacos
Yield:
3 tacos, one serving
Freddsters on TikTok (you need to follow!) was the inspiration for these zucchini tacos. Here is my adaption of his recipe - thanks for a great recipe Alfredo!
Ingredients
2 medium zucchini
1 tablespoon sazon seasoning*
salt and pepper
1/2 ounce shredded cheddar cheese
3 corn tortillas
3 tablespoons radish, chopped
1/2 cup baby spinach, chopped
salsa
Instructions
Slice the zucchini into wedges. Season the zucchini with the sazon seasoning, salt and pepper.
Heat skillet to medium heat. Cook the zucchini for 2 minutes a side. Set aside.
Microwave the corn tortillas for 3 minutes. Spray one side with avocado oil spray, flip and build the taco: cheese, zucchini, radish and salsa.
Return to the skillet and cook over medium low heat for 5 minutes per side.
Add the spinach and serve with your favorite salsa and lime.
Notes
Each taco is 2 WW points, so the whole plate is 6 points. Click the link below for your WW tracker.
*sazon seasoning is found in the hispanic section of most grocery stores. If you can't find it, use your favorite taco seasoning.
Nutrition Information:
Yield:

1
Serving Size:

1
Amount Per Serving:
Calories:

292
Total Fat:

8g
Saturated Fat:

3g
Trans Fat:

0g
Unsaturated Fat:

4g
Cholesterol:

14mg
Sodium:

2749mg
Carbohydrates:

47g
Fiber:

10g
Sugar:

9g
Protein:

13g
These tacos were so delicious. My

ancho chile salsa roja

was the perfect salsa for these tacos. I never thought to use zucchini in tacos before, but these will be on repeat.
If you are looking for a vegetarian taco recipe, let this one be it – you can than me (and Alfredo!) later.