This healthy KFC bowl recipe will soon be a family favorite!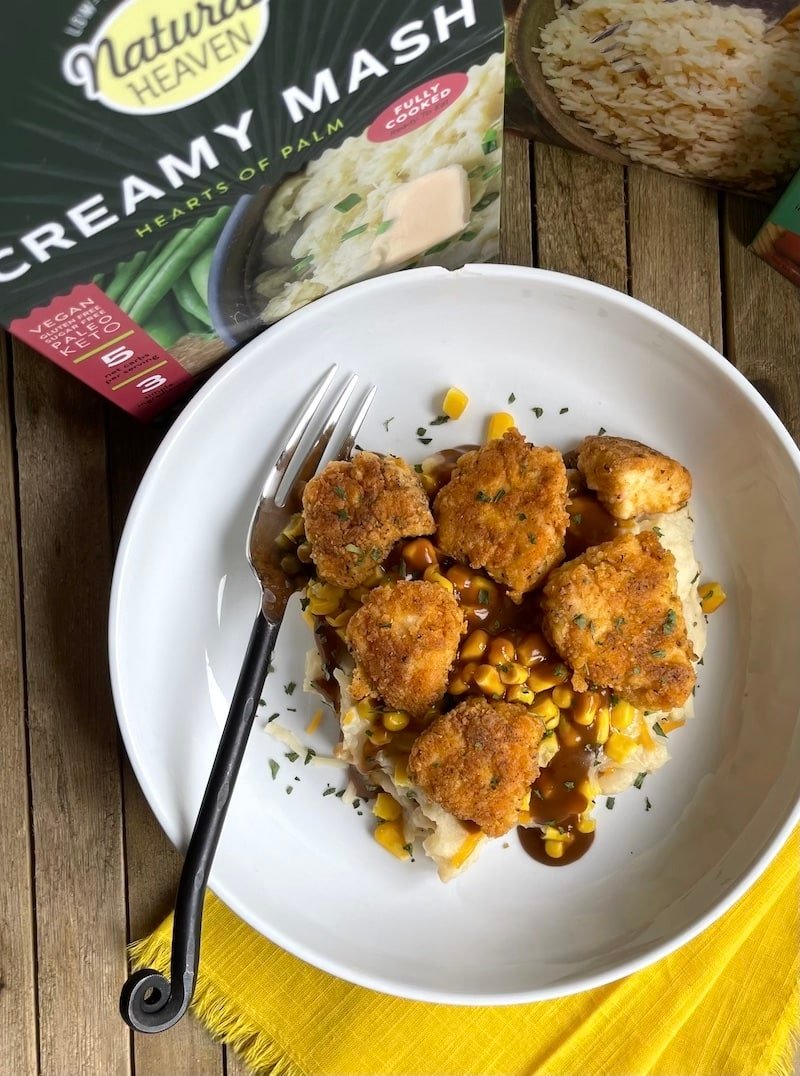 My love affair with Natural Heaven products is going on two years now. Natural Heaven products are made with hearts of palm, which is a vegetable and zero points on any WW plan. Hearts of palm is a very neutral tasting vegetable, so it's really great to use to make in recipes. Take the mashed potatoes I made today with their new product – creamy mash. Eaten alone it tastes like . . . hearts of palm! Which if you love that flavor – great! I however, wanted to get that mashed potato mouth feel and simply added four small canned potatoes to make the easiest mashed potatoes that are ready in under two minutes.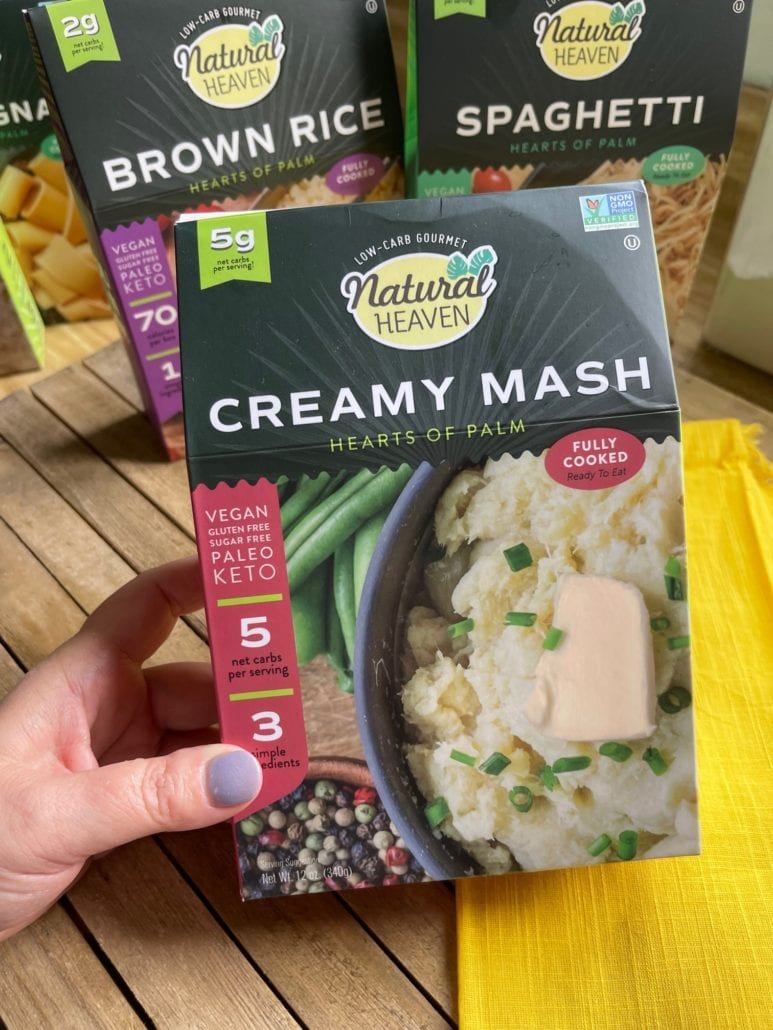 Canned potatoes are always a pantry staple for me. They are fully cooked and can really be added to almost anything from potato hash browns, added to soups and stews. The possibilities are endless.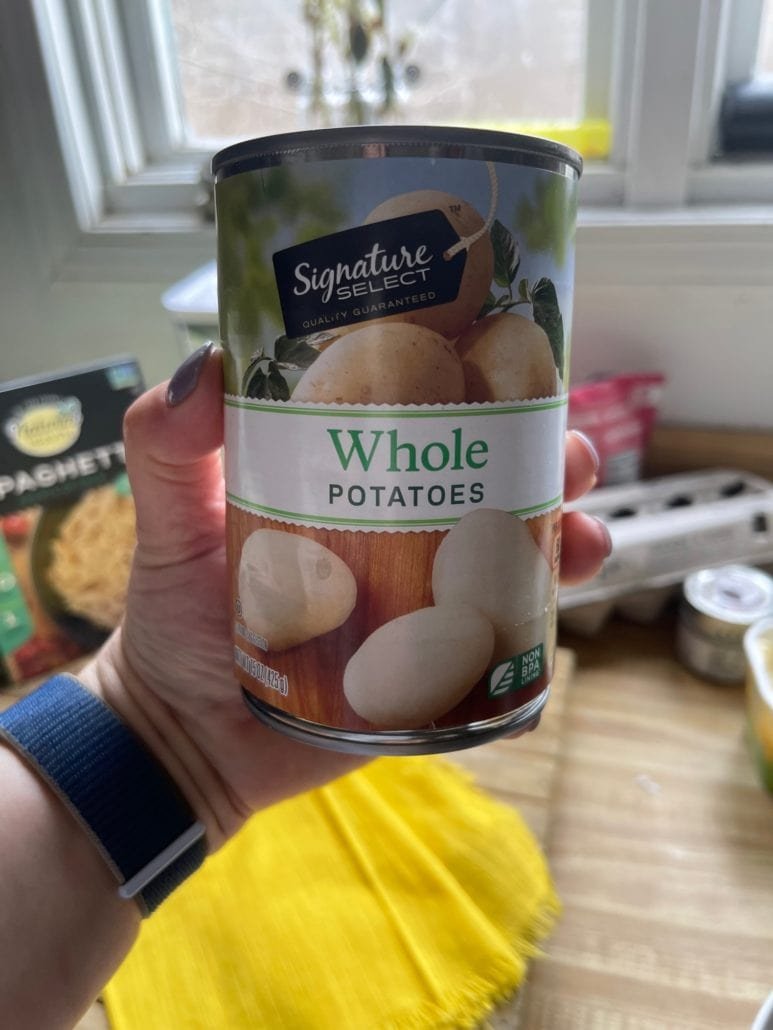 What are the ingredients in a KFC bowl?
Mashed potatoes
corn
brown gravy
cheese
popcorn chicken
For my popcorn chicken, I used my KFC chicken recipe, but rewrote this KFC bowl recipe to serve one. You can obviously double, triple or quadruple the recipe if need be.
Tips and tricks of making this quick KFC bowl?
use packaged brown gravy mix that you can mix together in the microwave. This recipe only needs 1/4 cup of the gravy, so you can save the rest for another dish
the Natural Heaven Creamy Mash and canned potatoes are microwaved for merely 90 seconds before mashing. No need to wait for potatoes to boil to make mashed potatoes
Can you air fry the chicken?
Absolutely – but I realize that not everyone has an air fryer. Simply cook for 6 minutes at 360 degrees, then 4 minutes at 400 degrees, or until the chicken reaches an internal temperature of 165.
Healthy KFC Bowl Recipe
This copycat version of KFC's popcorn chicken bowl is so delicious and a much healthier version. Their original version is 22 WW points! That's nearly one full day of points for me.
Ingredients
4 ounces boneless skinless chicken breast, cubed
1/4 cup self-rising flour (or regular all-purpose flour)
1/4 teaspoon salt
1/4 teaspoon black pepper
1 teaspoon garlic powder
1 teaspoon paprika
1/2 teaspoon cayenne pepper
1 teaspoon baking powder
1 egg
2 ounces almond milk (or any milk of choice)
1/2 cup hearts of palm
1/2 cup canned potatoes
1 teaspoon I Can't Believe It's Not Butter Light
1/3 cup canned corn
13 grams cheddar cheese
1/4 cup brown gravy
Instructions
For the chicken:
Mix the flour, salt, pepper, garlic powder, paprika, cayenne pepper, baking powder in a bowl.
Mix the egg and milk together in a separate bowl.
Toss the chicken in the egg mixture/flour mixture and repeat twice. Heat skillet with avocado oil spray. Cook chicken 3 minute a side over medium heat or until it reaches in internal temperature of 165. Set aside.
While that cooks, microwave the Natural Heaven Hearts of Palm Creamy Mash with 4 canned potatoes and microwave for 2 minutes. Mash with a potato masher, stir in the light butter salt and pepper.
To plate: put the mashed potatoes on the bottom, top with the corn (that you can just reheat in the microwave for 30 seconds), cheese and gravy, and top with the cooked chicken.
You can see I clearly hated it. Ha!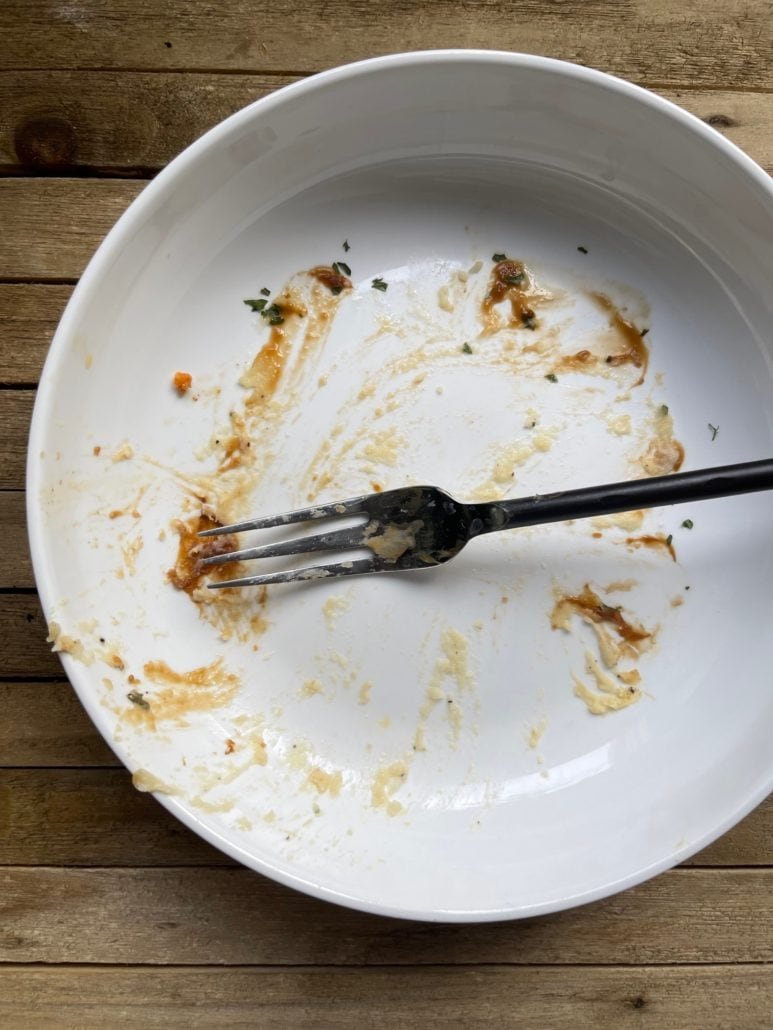 This recipe is not only delicious, but it is super filling. Do you feel hungry in between meals on Weight Watchers? Simply bump up the protein in your meals.
Check out some of the other recipes I've made using Natural Heaven products: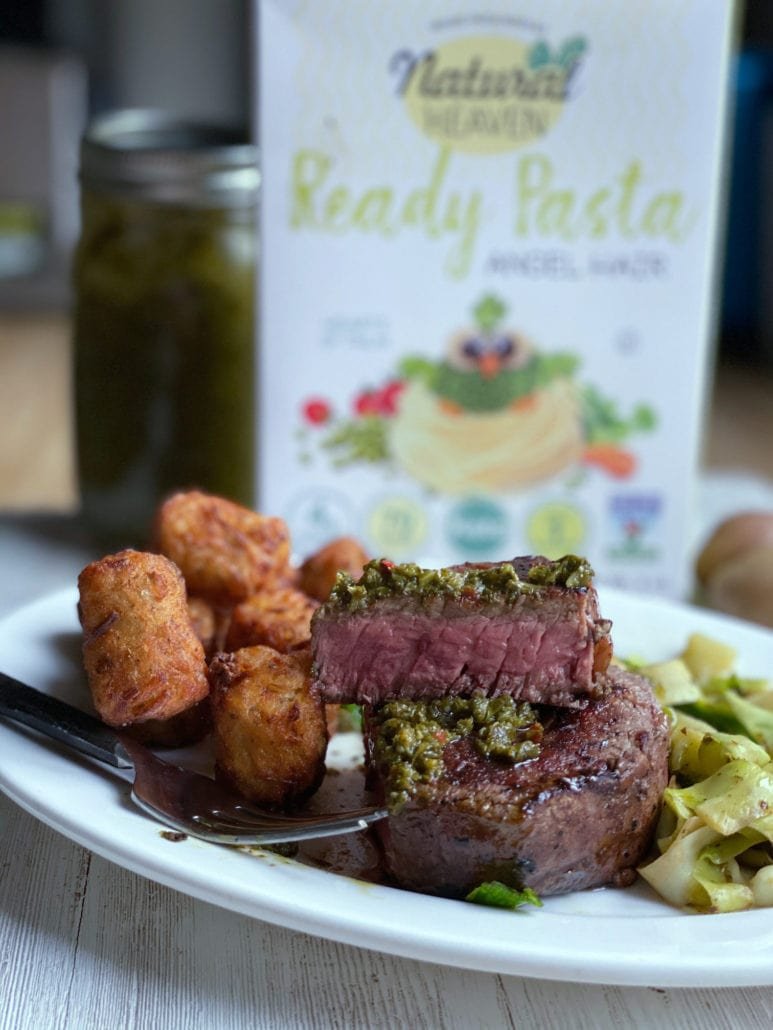 You can check out Natural Heaven Products at some Whole Foods, or use my discount code Biz to save 10% using this link.
Let me know what you think!