I have a new to me product that I need to share. Natural Heaven hearts of palm . . . pasta!
First, one of the number one question I got when I posted this on Instagram was "Biz, does it taste like pasta?" Well, the answer is no – because it's hearts of palm. It absorbs the flavors of the dish. I happen to love hearts of palm. Truth be told that I never knew what hearts of palm were until I worked in a restaurant and we had a hearts of palm salad and it was delicious.
Second, these take only minutes to cook. The whole package, which is two servings, is only 70 calories and zero points on any of the WW plans. I used half a package for this salad.
Third, my salad is zero points, so I made a delicious dressing – 4 points for 2 tablespoons which is plenty. It's vinegary, peanutty and spicy – so good!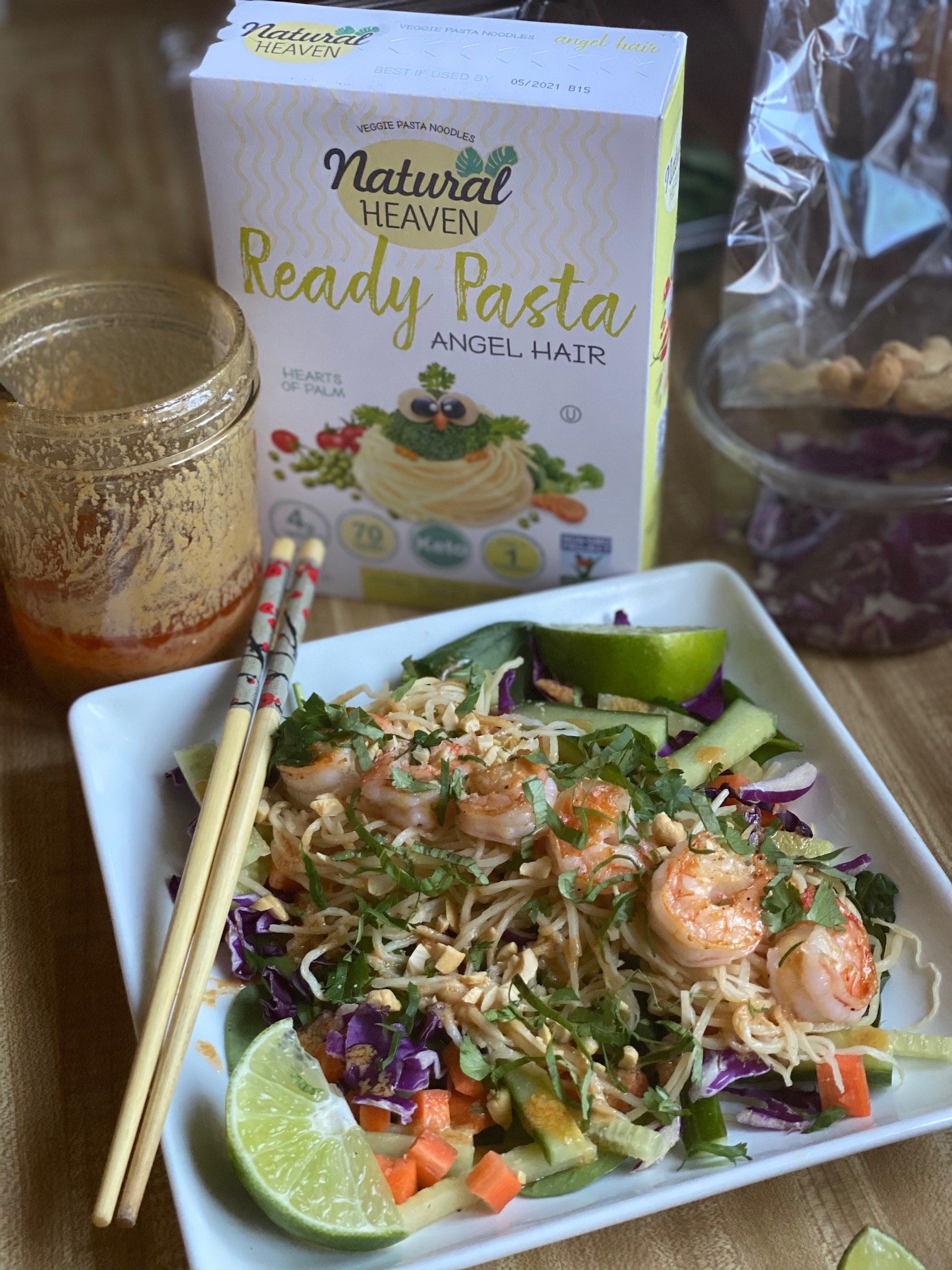 Pad Thai Salad
Natural Heaven palm pasta is the star of this pad thai salad - so quick, easy and ready in less than 10 minutes on a busy weeknight.
Ingredients
3 ounces shrimp
2 cups spinach
chopped red cabbage
chopped carrots
chopped cucumbers
2 cashews, chopped
3 tablespoons rice wine vinegar
1/3 cup peanut oil
2 tablespoons powdered PB Fit
1/4 cup water
1 tablespoon sriracha
chopped cilantro
1/2 package of Natural Heaven palm pasta
Instructions
Salt and pepper the shrimp. Cook over medium low heat for 2-3 minutes, set aside.
In the same pan, add the noodles and 1/2 tablespoon of the dressing and saute for 2 minutes.
Mix the rice wine vinegar, peanut oil, PB Fit and sriracha in a mason jar. This makes a lot - 2 tablespoons is a serving size for 4 points.
Build the salad - really anything can be on this salad - pick your favorite veggies. I did spinach, red cabbage, carrots, cucumber. Bean sprouts would be good too.
Top with the palm pasta, shrimp, the chopped cashews and fresh chopped cilantro.
The second serving was perfect for my lunch yesterday, just didn't dress it until I ate it – delicious!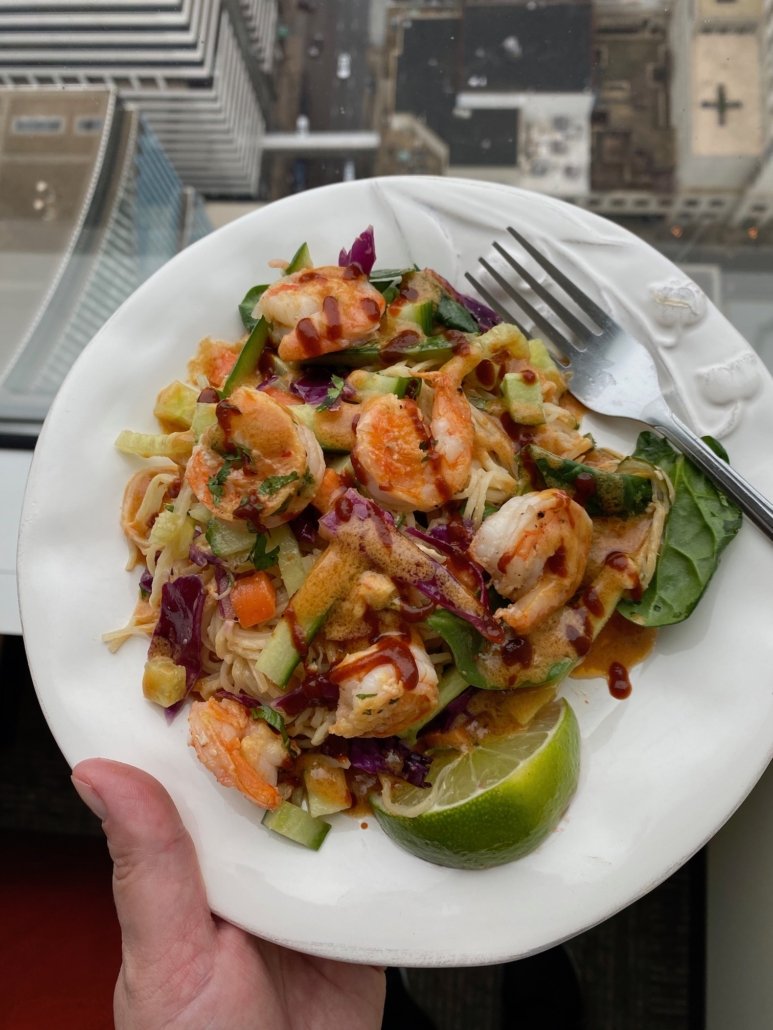 You guys have to come back tomorrow because I made the best sandwich of my life – a pork sandwich with salt and vinegar spinach and cherry peppers – so good! I made a panini last night for dinner. So good.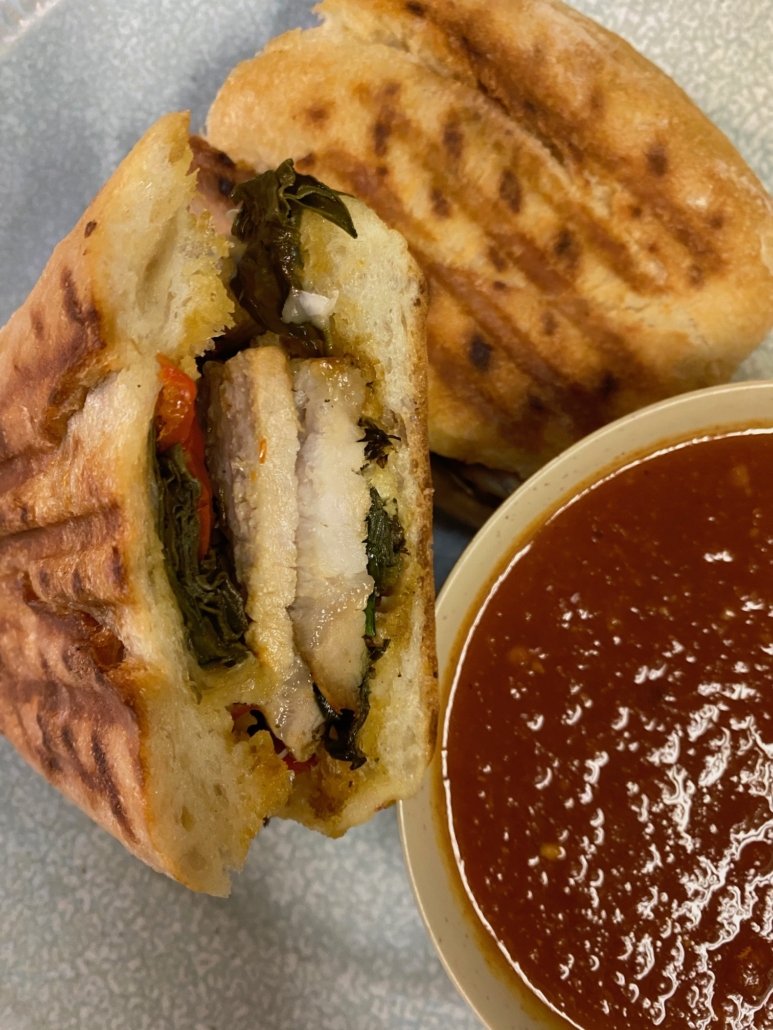 Congrats to my sister who just hit 15,000 followers on Instagram! She's doing an awesome giveaway over there – go check it out.
Happy Tuesday friends – make it a great day!