These chicken souvlaki pita sandwiches are my new favorite sandwich. One reason is that after marinating the chicken, this comes together in less than 15 minutes!
Is this a traditional chicken souvlaki? I am not sure, all I know is that it's delicious.
The star of the show? The pan fried lemon!
Once cooked for about 2-3 minutes per side, the lemon rind becomes super soft and edible and adds just enough citrus notes to the sandwich that if you didn't know it was in there, you would wonder where the punch of acid was coming from. #love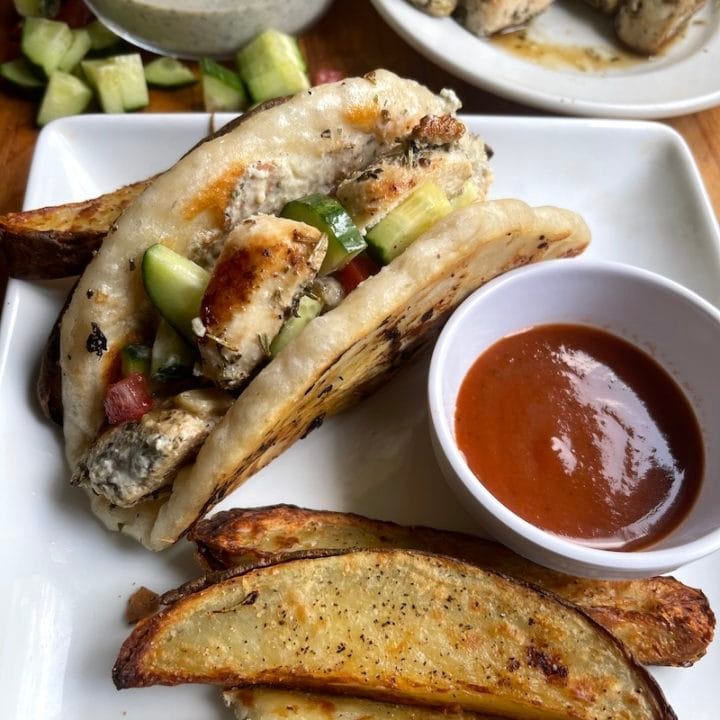 Chicken Souvlaki Pita Sandwiches
I am not sure if these are technically chicken souvlaki but this sandwich is hands down my favorite sandwich to date. The grilled lemon makes this sandwich!
Ingredients
For the chicken:
1 pound chicken breast, cut into bite sized pieces
1 tablespoon grapeseed oil (or any oil)
1 teaspoon dried rosemary
1 teaspoon dried oregano
1 teaspoon garlic powder
3 tablespoons lemon juice
For the pitas:
12 ounces skinny pizza dough (divided into 3 ounce portions)
avocado oil spray
seasoning of choice (I used chopped dried rosemary and a pinch of garlic powder)
For the sandwich:
4 tablespoons hummus
diced cucumber and tomatoes
Ed's ranch dressing (see notes below)
pan fried lemon slices
Instructions
Mix the chicken and all the ingredients through to the lemon juice. Let marinate for at least an hour.
Heat skillet over medium heat. Add avocado oil spray and cook the chicken for about 10 minutes, or until it reaches an internal temperature of 160. Set aside.
Roll out the pizza dough into a 5 inch circle. Cook in a skillet with avocado oil spray, and season with your favorite dry herbs. Cook each side for about 2-3 minutes.
To assemble: one tablespoon hummus, add chicken and top with the cucumbers and tomatoes and drizzle a tablespoon of Ed's ranch dressing.
To make this sandwich EXTRA. After the pitas are cooked, cook two slices of lemon for 2-3 minutes, or until the rind starts to soften. Chop and add 1/2 lemon slice to each sandwich.
To make this sandwich EXTRA EXTRA: spray a skillet with avocado oil spray and fold the sandwich like a taco, and pan fry each side for 2-3 minutes. The outside will be a bit crispy, but chewy in the center.
Notes
On #teampurple and #teamblue this sandwich is 5 points. On #teamgreen it's 7 points.
Nutrition Information:
Yield:

4
Serving Size:

1
Amount Per Serving:
Calories:

542
Total Fat:

20g
Saturated Fat:

3g
Trans Fat:

0g
Unsaturated Fat:

15g
Cholesterol:

98mg
Sodium:

615mg
Carbohydrates:

47g
Fiber:

4g
Sugar:

4g
Protein:

43g
Let me know if you make this sandwich – I loved it so much it's going on one of our cooking classes in August!
Do you know about our cooking class?
My daughter Hannah and I host four zoom classes a month. Each class by itself is $20 for an hour class which includes printable recipes. You can choose to sit back with a glass of wine and watch and the video will be recorded and emailed to you after class. Or you can cook along with us! You'll get the full recipes 7 days before the next class.
Become a member for $40 and save 50% and it's only $10 a class. We have 96 FIVE STAR REVIEWS! Here are just a few recent ones:
It's so fun to see how many things you can make in just one hour. The recipes are always easy and flavorful, and Hannah and Biz are such a joy to watch. I love the cooking classes because there are so many recipes that I would never have thought to try on my own.
I learned more great recipes!! Radishes used as a replacement for potatoes! Yes, please! And it's always so fun with Biz & Hannah!
Biz and Hannah were amazing as always! They are fun to learn with and share SO much extra info!
Kathleen F.
July 25th, 2021
Loved it can't wait to try all the recipes.
As usual, it was a joy to spend time with these ladies!! These recipes were fabulous, and I can't wait to try them!
If you ever have any questions about the cooking class, or a recipe I've posted, you can always reach me at mybizzykitchen@gmail.com.