This movie theater popcorn chicken is next level. Who knew you could use buttered popcorn spray on chicken?!
I wish I was one of those food bloggers who had that act together who prepped food way in advance.
Most food bloggers are already working on Christmas and January recipes. Me? I realized I had a chicken breast that was about to go bad and needed to use it up before I threw it out.
This reminded me of the buffalo chicken at Buffalo Wild Wings. My late husband and I loved going the BBW on the weekend and drinking giant $3 beers, eating wings and playing trivia.
Only one tiny problem with this dish though – I was out of avocado oil spray. Rather, I broke the top off the avocado oil spray and it rendered it useless. So I decided to use my movie theater popcorn spray for this movie theater popcorn chicken!
What kinds of oil sprays can you use in an air fryer?
The best oil sprays you can use are avocado or grapeseed oil sprays. Pam spray doesn't work well because over time the spray coats your air fryer basket and it becomes almost impossible to clean it off after repeated use.
How often should I clean my air fryer?
You should clean it, or at least wipe it clean, after each use. However, that being said, I've gone as long as 10 fries before cleaning it. It involves a bit more elbow grease, so just do a quick clean up after every use. Side note: the air fryer isn't really a fryer – it's just a mini convection oven. 😁
I found this spray at Mariano's in Chicagoland, but I am sure it can be found in most grocery stores.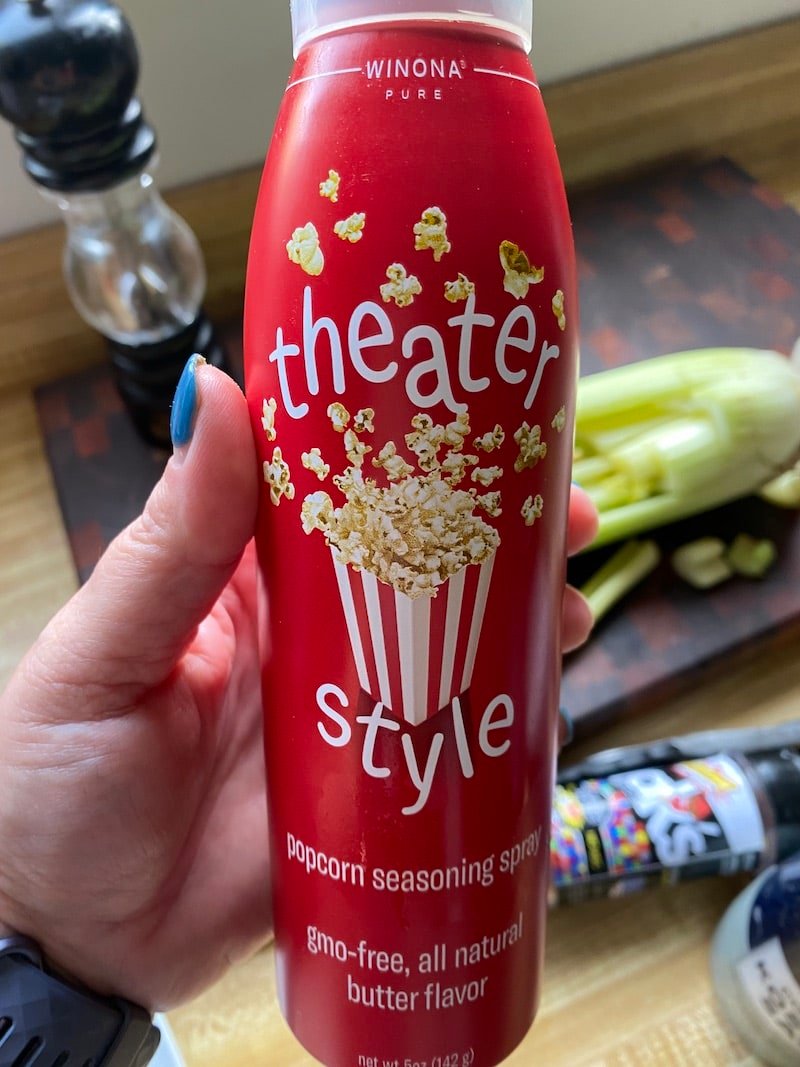 This was a delicious lunch. Because of all the protein (hi 40 grams!) it kept me full for hours.
If you love chicken nugs as much as I do, check out my recipe for grown up chicken nuggets with Parmesan cheese.
What if I don't have an air fryer?
You can follow the instructions above, and bake for 12-15 minutes, or until they reach an internal temperature. You could also do a shallow fry in a skillet on your stove for about 3-4 minutes a side.
Let me know if you make this! So delish!
Until next time!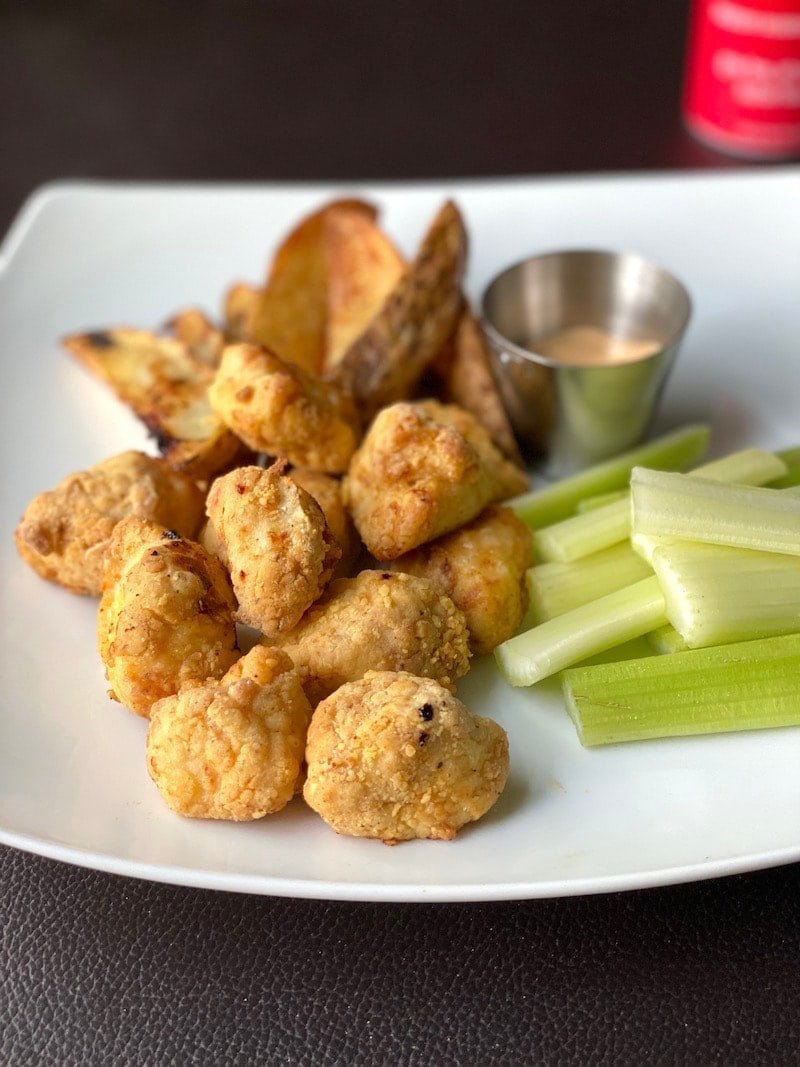 Movie Theater Popcorn Chicken
The movie theater popcorn spray makes these popcorn chicken nuggets next level. If you can't find it, no worries - avocado oil spray works great too!
Ingredients
5 ounces boneless skinless chicken breast, cut into bite sized pieces
1/3 cup self-rising flour (or all purpose)
1/4 teaspoon salt
1/2 teaspoon pepper
1 teaspoon cayenne pepper (less if you don't like it spicy)
1/4 cup unsweetened almond milk
1 tablespoon vinegar
1 teaspoon movie theater popcorn oil spray (or avocado oil spray)
Instructions
Mix the unsweetened almond milk and vinegar together and let sit 5 minutes. Add the chicken and let sit for 5 minutes.
Mix the flour, salt, pepper, and cayenne pepper in a bowl. Toss the chicken into the flour mixture (letting some of the milk drip into the flour mixture for extra crispy bits) and toss to coast. Refrigerate one hour.
Heat air fryer to 360 degrees for 8 minutes. Remove chicken from the fridge. Spray with the movie theater popcorn spray and fry at 360 for 7 minutes, then 3 minutes at 400 degrees, or until the chicken reaches an internal temperature of 165.
Nutrition Information:
Yield:

1
Serving Size:

1
Amount Per Serving:
Calories:

523
Total Fat:

21g
Saturated Fat:

3g
Trans Fat:

0g
Unsaturated Fat:

16g
Cholesterol:

120mg
Sodium:

1129mg
Carbohydrates:

33g
Fiber:

2g
Sugar:

0g
Protein:

49g