You will love this pan seared chuck roast with onion rings. Yes, you read that correctly, I made onion rings!
"Biz, you can't make a chuck roast on a weeknight right when you get home!" But I am here to tell you that yes, yes you can! A chuck roast can go by many names – mine was called a boneless beef shoulder roast, but it can also be called chuck pot roast, chuck blade pot roast, or chuck arm pot roast – it doesn't really matter what it's called, because it's all the same cut of beef.
Can you quick cook chuck roast?
Google any recipe for chuck roast and you'll find loads of crock pot recipes, braising recipes – basically low and slow cooking to break down the connective tissues. I want to let you know that you can get a tender, melt in your mouth, cut with a fork chuck roast in just 40 minutes.
This chuck roast had little marbling and was pretty lean – I am still counting it as 1 point per ounce. I just did a simple seasoning of salt and pepper. However, it's important to know when to salt your beef. Either right before you cook it, or salt it and let the beef rest for 40 minutes. Anything in between will leach out the liquid from the beef before it has a time to get reabsorbed before cooking.
Ever salt a steak and then when you put it on the grill or cast iron skillet and you see pools of liquid on the top of the steak? That means the salt hasn't had enough time to reabsorb, and then when you flip it, either the juice falls off the beef when grilling, or if in a cast iron skillet, it will almost steam your beef and you won't get that nice crust you are looking for.
Yes, I made onion rings. I know, "Biz you don't like onions!" But I do love onion rings. You can pretty much deep fat fry anything and I'd probably like it. The key to getting your breading to stick to the onion rings is to refrigerate them 15 minutes before frying or baking. And if you are really prepping, you could make your onion rings before work – dip them in the yogurt/milk mixture, the seasoned flour, and then put them on a cookie sheet and pop them in the fridge while you are at work. Then when you get home, most of the work has already been done.
I didn't realize how thick my cut of beef was, so I cooked it for a total of 20 minutes and then probed it, and I was only at 80 degrees – pretty much raw in the middle!
So I put it back in my cast iron skillet, and cooked a total of 40 minutes over medium low heat, flipping evenly so that one side doesn't cook longer than the other, until it reached an internal temperature of 115 degrees. I let it rest for 15 minutes before slicing, the residual heat will bring it to 125 degrees – or medium rare.
If you don't have a meat thermometer, go out and buy one – the one I have my Mom gave me for Christmas and it has a range of 100 feet, so I can be inside the house while grilling – I think this was about $25, but there are cheaper digital meat thermometers at Bed Bath & Beyond for $10 that work just as well.
Basically, whatever temp you want your beef – rare, medium rare, etc. – just pull your beef off 10 degrees before your desired doneness, and it will be perfect every time.
Loved the crust the cast iron skillet gave this beef, but it was so tender and juicy. However, I would have liked to rest the beef a bit longer (more like 30 minutes) but it was nearly 8:15 and I was getting hungry.
On the side were some mushrooms and zucchini as my side, and topped my dish with the onion rings. This was so delicious and company worthy if I do say so myself. The kadults? They ordered Chinese food with Jacob's grandpa. I'll be enjoying the leftovers of the beef for the next couple days.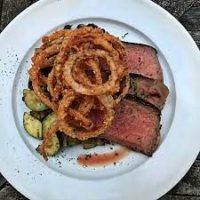 Pan Seared Chuck Roast with Onion Rings
Additional Time:
15 minutes
Yes, you read that correctly - pan seared chuck roast with onion rings! Chuck roast isn't just for low and slow - it is just as good pan seared.
Ingredients
1 2.5 - 3 pound boneless chuck roast
1 large onion
1/2 cup plain Greek yogurt
2 tablespoons soy milk
seasoning of choice*
1/2 cup self-rising flour
salt and pepper
1 medium zucchini, sliced
1/2 cup mushrooms, sliced
Instructions
Heat your cast iron skillet over medium low heat. Right before you begin cooking the beef, salt and pepper one side, and place the seasoned side down. Cook for 10 minutes. Right before flipping, season that side and flip and cook for 10 minutes. It's important to flip evenly so that one side doesn't cook more than the other.
After the first 20 minutes, probe with a meat thermometer and cook another 10 minutes per side, or until it reaches an internal temperature of 115 degrees. Let rest a minimum of 15 minutes, but preferably 30.
For the onion rings:
Mix the greek yogurt and soy milk together. I used creole seasoning in the wet dipping station. For the flour, I added more creole seasoning and toasted sesame seeds.
Slice the onions thin. Dunk in yogurt mixture, then flour mixture and place on a cookie sheet lined with parchment paper. Try not to overlap the onion rings too much otherwise they might stick together.
Refrigerate for 15 minutes before baking or frying.
Notes
I put the onion rings into the Weight Watcher recipe builder and each serving is 4 smart points - 3 for the onion ring batter, and then I added a point for the oil. I had 5 ounces of beef for 5 points, the zucchini and mushrooms were zero and the 4 points of onion rings for a 9 point dinner.
Extreme close up – my lighting sucked because it was almost dark out, but these onion rings were so light and crispy.
And it's going to be a gorgeous day in Chicagoland – I love this weather.
If you love beef, check out my post for making the perfect steak at home!
Happy Wednesday friends, make it a great day!
[web_stories_embed url="https://mybizzykitchen.com/web-stories/italian-turkey-meatball/" title="Pan Seared Chuck Roast with Onion Rings" poster="https://mybizzykitchen.com/wp-content/uploads/2022/04/cropped-pan-seared-chuck-roast-640×853.jpg" width="360″ height="600″ align="none"]