Apple strudel. This apple strudel with cream cheese filling and glaze completely cured my jones for apple coffee cake. I know, those are two completely different things, but on Sunday morning I legit almost made an apple coffee cake with two sticks of butter.
But I remembered that I have goals and I am going to crush this last quarter of 2018. Guess what – this is made with my skinny pizza dough – I know!!
First of all, where has this whipped cream cheese been all my life? So fluffy and only 1 point per tablespoon.
I used 6 ounces of my skinny pizza dough. Just rolled into a long rectangle, then put two tablespoons of the whipped cream cheese in the middle.
I watched a YouTube video on how to do the braid. Thanks internet! I will tell you that this worked best with leftover dough that was cold. So if you have fresh dough, I'd refrigerate for at least an hour before making this so you can cut it. It's not like puff pastry.
Fold the top and bottom up to seal the ends.
Okay, so my braiding skills need a bit of work – I could never braid Hannah's hair when she was little either – I left that to my sister! So let's call this a "rustic strudel."
I brushed with egg wash, and sprinkled with a teaspoon of course sugar. I baked at 375 for 20 minutes.
Okay, maybe I used two teaspoons of sugar 😀
Guys, this was really tasty. Now, it's not going to taste like the puff pastry version with all the buttery layers, but this was a great knock off – loved the tang of the cream cheese and the glaze on top. It was 10 points for the whole thing, or a 2 inch slice for 2 points. I think maybe next time I'll knead a teaspoon of butter in the dough and see if that gives the dough a bit more flakiness.
[sp_recipe]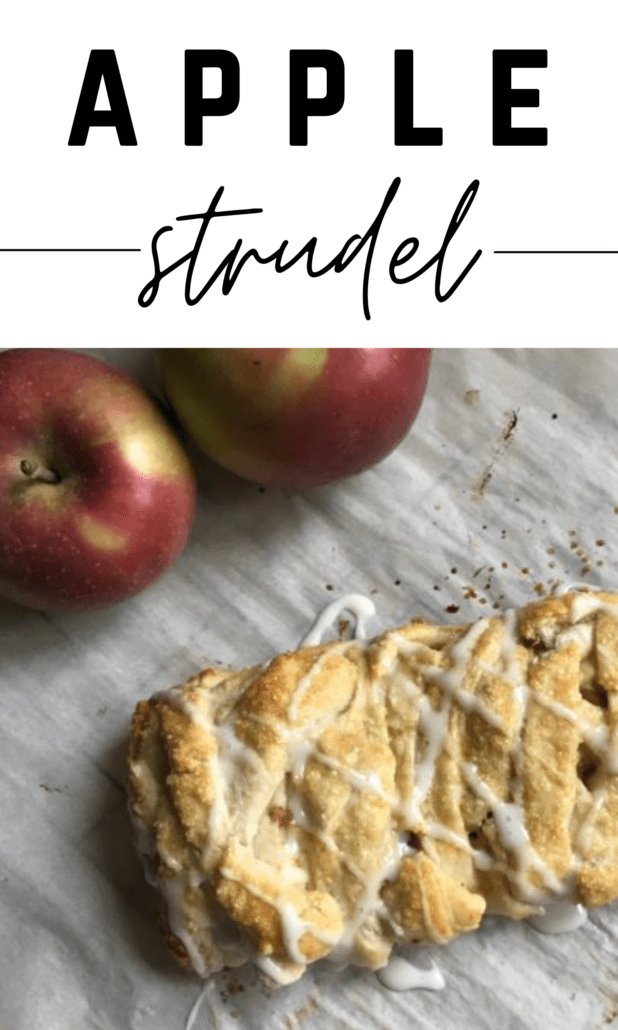 ************
After making sopes Monday night, I was thinking about making a breakfast sope – I brought the sope to work and popped it into my toaster like a waffle to crisp it up. I will say these were best made fresh, but this was still tasty. Three points for the sope, one for the cheese and the rest is free.
Jenn and I walked two days in a row!! Let's hope we can continue the streak today. It was gorgeous – 82 degrees in October! That building is the Merchandise Mart – where my beloved Chopping Block is.
Jenn didn't bring a lunch, so we stopped by Wells Street Market. She got a protein bowl at Fare. When I saw bone broth on their menu, I had to try it. Very interesting! I think all the seasoning and mushrooms were in that tea bag, so the longer the tea bag sat, the more savory the broth. It was delicious, but I don't think I'll drop $7 on this again. I could make two gallons for the same amount of money at home. 😀
I meal prepped egg roll in a bowl. Um, don't do that. Well, at least not three days before you want to eat it. The veggies were soggy, I think I used a bit too much teriyaki sauce – it was just gross. I had apple strudel in my lunch bag, so I had that with a banana for lunch. You win some, you lose some! 😀
I redeemed myself for dinner though. More delicata rings!! I defrosted a filet mignon for Jacob on Monday because he doesn't like ground beef or sopes. What?! But he ate leftover beef stew Monday night, and last night he and Hannah ate some chili that I made over the weekend, so the beef was mine. 😀
I used lemon pepper seasoning in the batter this time – so good, especially since I did a pepper crust on the beef. Double yum.
My blood sugar was 78 at 9 p.m. last night. I was scrolling through Instagram and saw that WW posted a recipe for a microwave "chocolate cake." I am putting that in quotes, because this didn't taste like chocolate cake at all. It was so spongy! It was a banana, egg and 1 tablespoon cocoa powder – mix and microwave for 2 minutes. I tasted the batter and it wasn't sweet at all, so I added a tablespoon of Splenda. That made it taste like a sweet sponge. I am going to tweak this recipe – by adding, I don't know, real baking ingredients like flour, baking powder and salt?! I'll keep you posted.
Happy Wednesday friends – make it a great day!