Skinny pizza dough strikes again . . . Detroit Pizza Style!
Here's the thing though. I've never had Detroit Pizza. My friend Erica said "you've never had Jet's Pizza?" Turns out the closest one is 15 miles away. She told me to try the bold pepperoni with turbo crust. Interesting!
What makes it a Detroit Pizza?
Detroit pizza is made in deep pans. Since I don't own a Detroit pizza pan, I used a 9 inch square baking pan that I normally make brownies in. The other secret to Detroit style pizza is making sure the cheese is on the edges, so as it cooks, the heat from the pan melts the cheese and gets it all crusty. That corner bite is the best!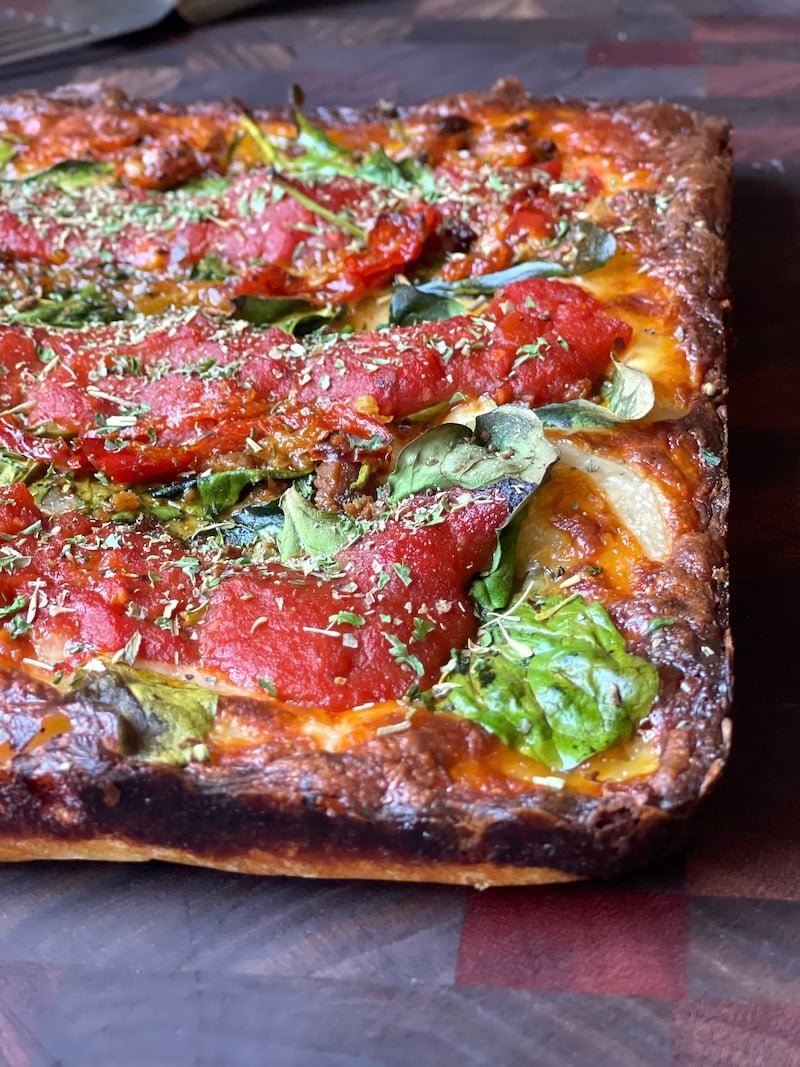 I used three ounces of part-skim mozzarella cheese and started by placing the cheese around the edges first, then in the middle. That way you'll get these delicious crispy bits on the edges. It's everything. You can use pizza sauce, but I was out, so I just used Mid's pasta sauce.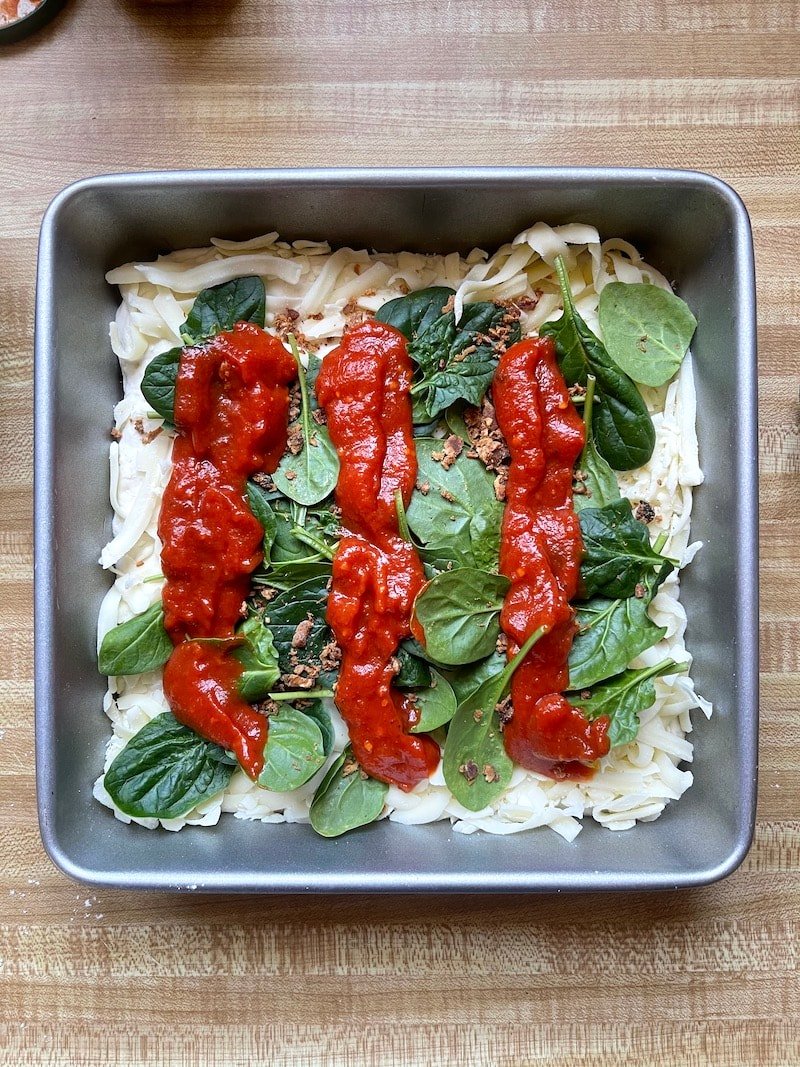 Can we check out the money shot?!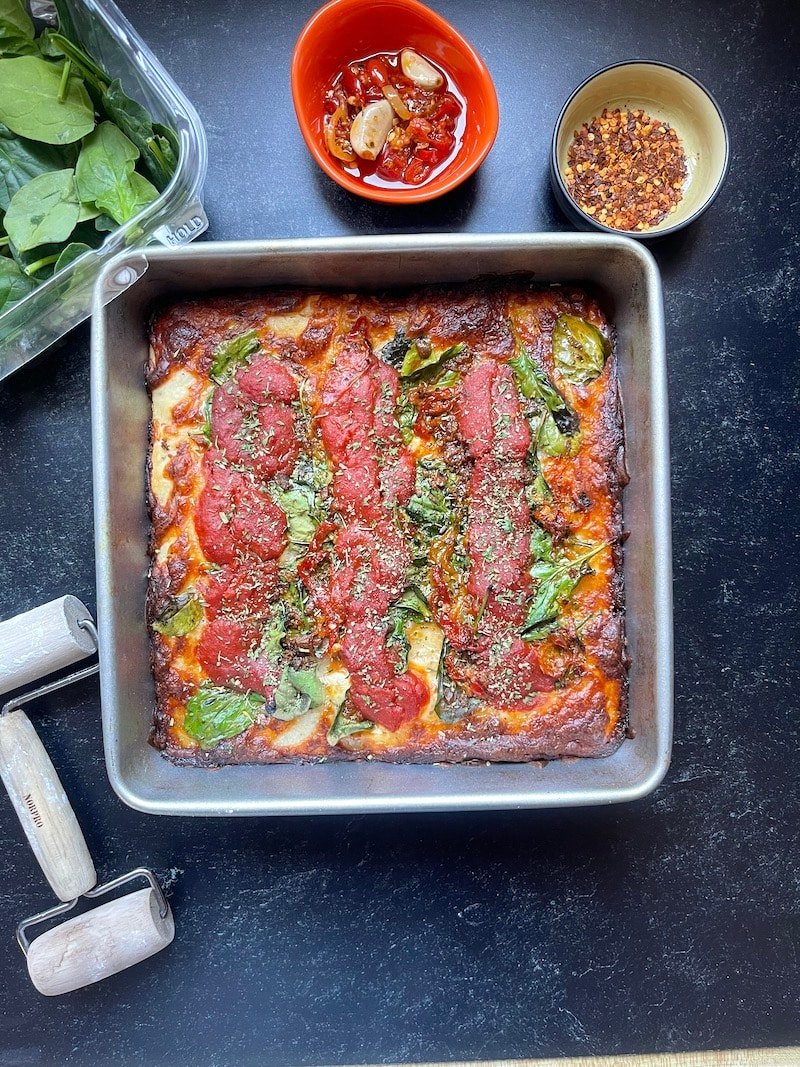 Detroit Style Pizza
Skinny pizza dough turns into this delicious Detroit Style Pizza! While a bit more points, it's totally worth it. Link in Notes below to find out the points for your WW plan.
Ingredients
1/2 ounce avocado oil
16 ounces skinny pizza dough
1 cup baby spinach
2 tablespoons hot peppers
3 ounces part skim mozzarella cheese
3/4 cup pizza sauce (I used pasta sauce)
dried parsley
dried Italian seasoning
Instructions
Heat oven to 500. Full disclosure, I baked this in a square pan on top of my baking steel.
Spread the oil on the bottom of the pan. Add the dough, and using your fingers, press to the edges - try not to get oil on the sides of the pan - this will help the dough stick to the side of the pan.
Spread the cheese on the sides of the pan, then finish spreading the cheese in the middle. Add any toppings you want, I used jarred banana peppers.
Spread the sauce in three lines on top of the pizza. Bake for 20 minutes. Garnish with dried parsley and Italian seasoning.
Notes
This was so good and I will tell you that one piece of pizza was super filling.
Nutrition Information:
Yield:

4
Serving Size:

1
Amount Per Serving:
Calories:

381
Total Fat:

10g
Saturated Fat:

1g
Trans Fat:

0g
Unsaturated Fat:

8g
Cholesterol:

4mg
Sodium:

736mg
Carbohydrates:

58g
Fiber:

4g
Sugar:

5g
Protein:

15g
If you are looking to switch up your Party Pizza Friday game, try this version. Promise it will become a family favorite!
[web_stories_embed url="https://mybizzykitchen.com/web-stories/detroit-style-pizza/" title="Detroit Style Pizza" poster="https://mybizzykitchen.com/wp-content/uploads/2022/04/cropped-detroit-style-pizza-640×853.jpeg" width="360″ height="600″ align="none"]