This Skinny Chicken Souvlaki recipe has been made 100's of times since I first posted it in 2016. Today I updated the photo and added the WW link.
And yes, this was how I used to blog – so many words – ha!
******************
My Mom bought me a pasta roller a long time ago, but my counters are so crappy that I could never get the roller to stick to my counter and it proved much more trouble than it's worth. And while I love the taste of homemade pasta, rolling out the dough with my pizza cutter can take quite a bit of time. So imagine my surprise when I was watching a cooking video (can't remember exactly where!) where the chef clipped his pasta roller to his . . . cutting board! Duh!
I made two batches of homemade pasta – one without spinach spinach and one with. I cheat and use my food processor. You can find the recipe here. For the spinach I just added 1 cup of spinach to the processor. I divided each dough into 6 pieces, which is 5 smart points per serving so I could keep track when cooking. Each pile or fold is one serving – pretty generous considering it really puffs up when it cooks. I was really hungry the other night after a long workout and ate 1 1/2 servings with homemade sauce and turkey Italian sausage. So this whole bowl of pasta goodness is 11 smart points.
*************
I've been doing a new HIIT workout on the treadmill I am really loving it. I love running, but it takes me so long to get into the "zone" that I usually give up before I get to that point. But with this workout, I kind of build up my stamina as I go. It's quite simple 5 minute walk at an incline/5 minute jog – for 60 minutes. Seems like a long time, but it's really only one episode of Property Brothers
For each 5 minute jog I tell myself I have to do it faster, even if it's just going from 5.6 miles an hour to 5.7 miles per hour – but I have to keep jogging the whole 5 minutes. It's kind of a mind game, but I tell myself "you can do anything for just 5 flipping minutes!). My last 5 minute jog was at a 6.5 mph pace – or a 9:14 minute mile. Then the last minute before my cool down, I held a 7.3 mph or 8:13 minute mile pace for a whole minute!
I've also been taking advantage of my exercise on demand – so cold outside still. Yesterday I started out on my walk and I got about 1/2 mile in before I turned around because it was so cold and windy. When I got back I checked weather.com and it said it was 34 degrees, but with the wind chill, felt like 24. Gah. Um, Mother Nature, I am ready for spring over here!
*******************
Chicken Souvlaki
Additional Time:
30 minutes
I love this bright chicken souvlaki - which to be honest, not sure it's authentic but let's call it flavorful lemon chicken and enjoy every bite.
Ingredients
1/4 cup fresh lemon juice (or juice from about 2 lemons)
1/2 cup plain non-fat Greek yogurt
2 garlic cloves, minced
1 tablespoon dried parsley
1 tablespoon dried oregano
1/2 teaspoon black pepper
1/2 teaspoon salt
1 pound boneless, skinless chicken breast, cut into bit size pieces.
Instructions
Mix everything together and marinate for 30 minutes, or up to 8
hours. I sometimes mix this together beore going to work for dinner at night.
Cook in a skillet over medium heat with a teaspoon of grape seed
oil for 8-10 minutes.
If you are using this as a meal plan meal - cook for 7 minutes,
remove from the pan to cool. You can reheat the chicken for about a minute in
the microwave and you'll still have juicy chicken. Just cut into one to make
sure it's cooked all the way through depending on how big your "bite
sized" pieces are.
I made my naan from Skinny Pizza Dough – simply roll out 3 ounces of dough and pan "fry" in avocado oil spray for 2-3 minutes a side – I seasoned mine with everything but the bagel seasoning.
I actually cooked up 8 ounces yesterday – ate one myself and saved the other cooked half for Jacob. The rest I marinated overnight and will probably have that for lunch again today – I'll be interested to see how much more flavor the overnight marinade is.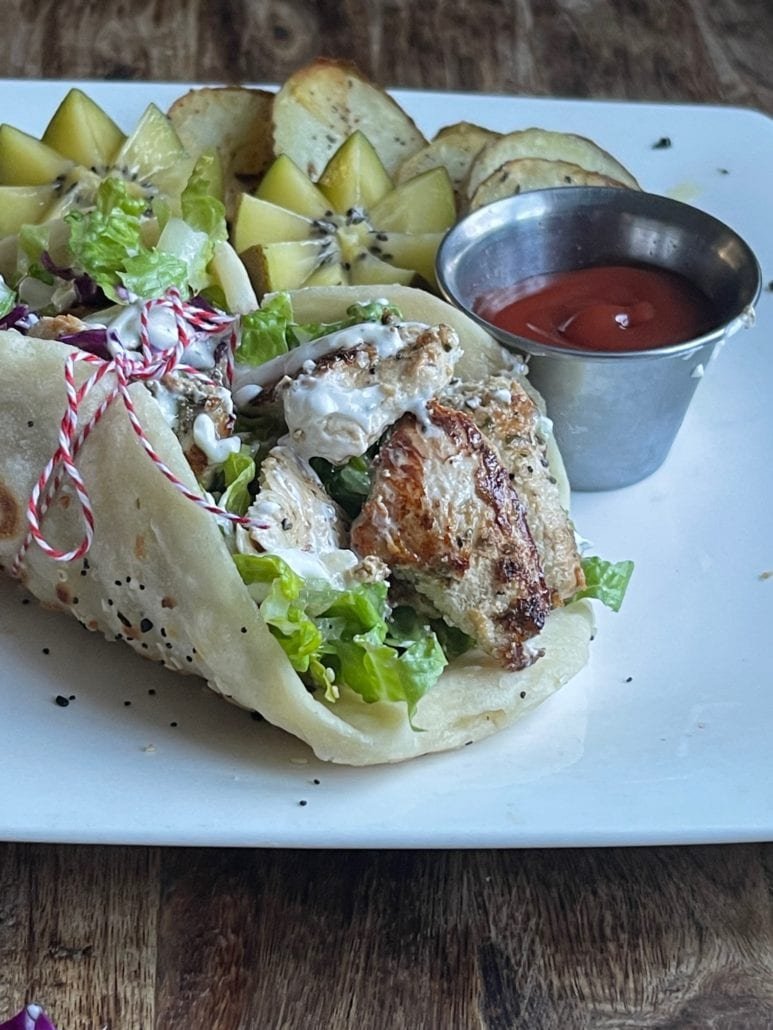 Be sure to check out my Top 10 Chicken Recipes!
I've been saving positive messages during the week to keep my focus in the right direction. Happy to day I've had no night time eating after dinner this week – whoop! I thought I'd share a couple with you today:
Make it a great day!