This pasta fagioli soup is a hug in a bowl!
For whatever reason I've never made this soup at home, probably because I may have mentioned it to my late husband once upon a time, and the thought of having beans in a soup probably turned him off. He didn't even like beans in chili!
Is pasta fagioli recipe easy?
Absolutely! All you need is a blender or stick blender to blend the beans and tomatoes, and the rest of the ingredients simply simmer on the stove for 20 minutes.
Ingredients needed for pasta fagioli:
canned tomatoes (I prefer fire roasted tomatoes, but they can be up to $1 or more per can, so you can use regular canned tomatoes if you like

cannellini beans (or any white bean you prefer)

pinto beans (this was my addition and I loved them in this soup!

canned tomato pasta (I think this adds a richness to the soup)

ditalini pasta (my grocery store sells ditalini pasta as "salad macaroni" – the photo below is what it looks like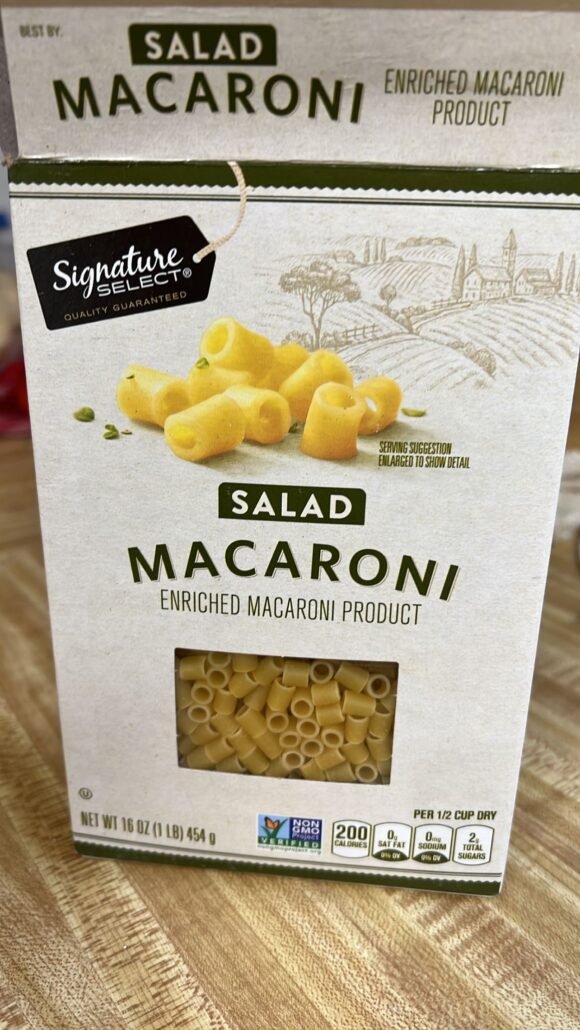 How do you keep pasta in soup delicious?
Simply cook the pasta separately and add it to the soup when reheating or serving. Once I drain the pasta, I spray with avocado oil spray and toss to coat, then store in an airtight container or a ziplock bag. No need to even reheat the pasta, simply add to your bowl from the refrigerator, and once you pour the hot soup on top of the noodles, they will heat through.
Can you freeze pasta fagioli?
Place two cups (which is one serving) of the soup (WITHOUT the pasta) in a quart size ziplock bag, then lie flat in the fridge for up to three months. To serve, simply cook pasta to add to the soup when you defrost the soup.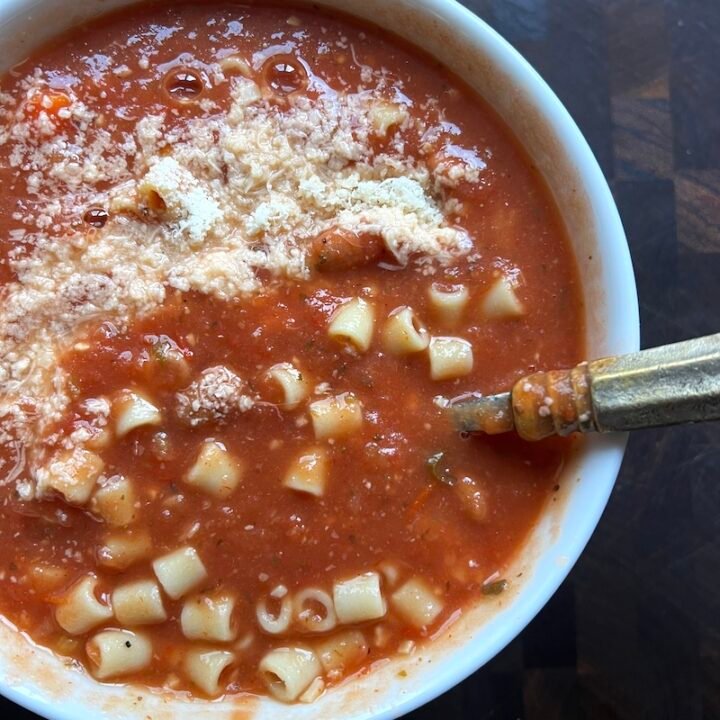 Pasta Fagioli
This recipe was adapted from Skinny Taste. I left out the onions (feel free to add them!) added more carrots, doubled the amount of tomatoes and added tomato paste for a rich, delicious soup. The base of the soup is only 1 WW point, and since we keep the cooked noodles separately, you can decide how much to add to your bowl (1/2 cup is additional 3 points, 1 cup is 6 additional points).
Ingredients
2 teaspoons avocado oil spray
3 tablespoons minced garlic
1 cup celery, chopped
2 cups carrots, chopped
15 ounce can cannellini beans (not drained)
15 ounce can pinto beans (drained)
28 ounce can fire roasted tomatoes
1 tablespoon Italian seasoning
1 tablespoon dried oregano
1/2 teaspoon cayenne pepper (optional)
4 cups chicken broth
8 ounces dried ditalini pasta (cooked according to package directions, drained and stored separately - just rinse with cold water after cooking, drain well, spray with avocado oil spray so the pasta doesn't stick together and store in an airtight container or ziplock bag)
Instructions
Start by heating a large soup pot over medium heat and add the avocado oil spray.

Once the oil is hot, add the minced garlic and sauté for about a minute or until it becomes fragrant.

Add the chopped celery and carrots to the pot. Sauté them for 5-7 minutes, or until they start to soften and the onions turn translucent.

Open the can of cannellini beans but do not drain them. Pour the entire contents, beans, and liquid, into a blender.

Add the fire-roasted tomatoes (undrained) to the blender as well. Blend until you have a smooth and creamy mixture. This blended mixture will provide a creamy base for the soup.

Pour the blended bean and tomato mixture into the soup pot with the sautéed vegetables. Add the pinto beans.

Stir in the Italian seasoning, dried oregano, and cayenne pepper (if you're adding it). Mix well to combine all the flavors.

Add the chicken broth to the pot, and give everything a good stir. Bring the mixture to a simmer.

Allow the soup to simmer for about 15-20 minutes, or until the vegetables are tender and the flavors have melded together beautifully. Taste to see if it needs any additional salt or pepper.

While the soup is simmering, cook the ditalini pasta according to the package instructions. Drain it well, and to prevent sticking, rinse the cooked pasta with cold water and give it a light spray of avocado oil.

Once the pasta is ready, it's time to assemble. To serve, place a portion of cooked ditalini pasta in each soup bowl.

Ladle the creamy pasta e fagioli soup over the pasta in each bowl. The combination of pasta and creamy soup is truly mouthwatering.

Garnish with a sprinkle of grated Parmesan cheese and some fresh parsley if desired.

Serve the creamy pasta e fagioli hot, and enjoy this delicious and hearty Italian classic with the delightful twist of blended cannellini beans and tomatoes.

When is my next cookbook coming out?
My next cookbook is coming out in 2024. Most likely September of 2024. As of now, I have 130 recipes for SOUPS AND STEWS and many of the recipes are from my website that need updated photography. I was going to try to get it out by the holiday's this year, but decided to hold off and take my time. This recipe will be added though!