Is this Thai Basil Chicken recipe authentic? Probably not! But I did use Thai basil and chicken so there's that!
Pre Cooking white rice or noodles will make this dish ready in less than 10 minutes.
What is Thai Basil?
Thai basil is spicy with an anise, or licorice-like flavor, while sweet basil has a more mild peppery and sweet taste. You will know the difference between regular basil because the leaves are shaped a bit differently and the stem is typically purple. It's hard to find in a regular grocery store, but most Asian markets sell it.
Asian condiments to have on hand.
My refrigerator broke while I was on vacation and I had to throw everything out – including all my beloved condiments! I probably had too many to begin with so maybe it was a blessing in disguise to really pair down to what I know I will really use. I will be making a reel soon, but some of the Asian condiments I like to have on hand are:
Thai Basil Chicken
Is this authentic Thai basil chicken? Probably not! But I used Thai basil and chicken and this recipe uses pantry staples that you probably already have on hand.
Ingredients
5 ounces chicken breast, cubed
1 head baby bok choy, chopped (separating the stems from the leaves)
1 tablespoon light soy sauce
1 teaspoon dark soy sauce
1 teaspoon sesame oil
1/2 teaspoon chili paste (or chili oil like chili crisp)
1 teaspoon minced garlic
2 tablespoons Thai basil
1/2 cup cooked white rice (or as much as you'd like!)
Instructions
Heat skillet with avocado oil spray. Add chicken and the stems of the baby bok choy. Cook for 2-3 minutes.
Mix the suy sauces, sesame oil, chili paste and garlic together. Add to pan, tossing to coat. Cook for an additional minute.
Add in the boy choy leaves and Thai basil and cook for 1 minute, or until the chicken is cooked through.
Serve over cooked white rice.
Notes
When I see people eating plain chicken on the WW connect app because it's "zero points" it makes me so sad because chicken is such a versatile protein. This whole dish, including the cooked rice, is only 4 WW points at the time of this publication. Click here for the WW tracker.
Nutrition Information:
Yield:

1
Serving Size:

1
Amount Per Serving:
Calories:

415
Total Fat:

10g
Saturated Fat:

2g
Trans Fat:

0g
Unsaturated Fat:

7g
Cholesterol:

120mg
Sodium:

1672mg
Carbohydrates:

28g
Fiber:

2g
Sugar:

3g
Protein:

50g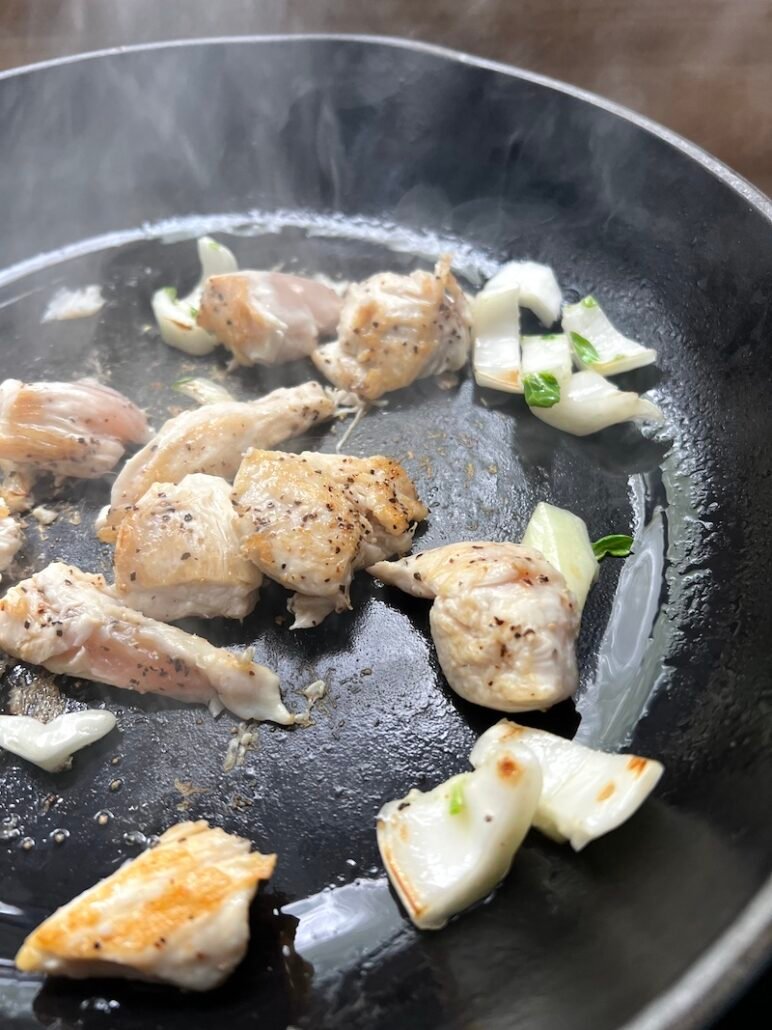 Be sure to cook the stems of the bok choy and the chicken at the same time so they both cook through. The bok choy stems will be crisp tender. When you add the leaves of the bok choy and the Thai basil, it only takes an additional minute for those to wilt.
Let us know if you make this dish! Please don't eat plain, boring chicken because it's zero WW points. Thank you!
Want more inspiration in the kitchen? Check out these other recipes: