I love when I can make one dish and morph it into a few things later in the week, like these pork and mushroom wontons.
I love wontons so much because the possibilities are endless. Have some protein and veggies? Wrap it up in a wonton. I bought 1/2 a pound of ground pork from Mariano's – if you stick to chicken or beef, please try ground pork – so much flavor!
These are the wonton wrappers I use. They seem to be a tiny bit thicker and easier to shape without tearing. You can find wonton wrappers in the produce section of most grocery stores. At Mariano's, they are on the top shelf right above the packaged mushrooms.
If you don't know how to shape wontons, check out youtube. You can basically find out how to do anything on youtube. I am a visual learner and it took me just two tries to get the perfect wonton.
You're welcome for the no bra and tank top. 😀
One of the biggest things I've learned in cooking is: TASTE YOUR FOOD AS YOU GO. Yes, I am shouting because I was the queen of following a cookbook recipe and not tasting a damn thing until I plated it for dinner. So many times I under-seasoned, or over-seasoned, or wish I would have added more spice – you get the idea.
Especially when making a big batch of something (this wonton recipe below makes 44 wontons!) always cook off a tiny bit and give it taste. First go around I was missing both salt, a bit of acid and heat. I sprinkled in a bit more salt, a tiny bit of rice wine vinegar and some sambal oelek to the filling. My second test – perfect!
How pretty is that?!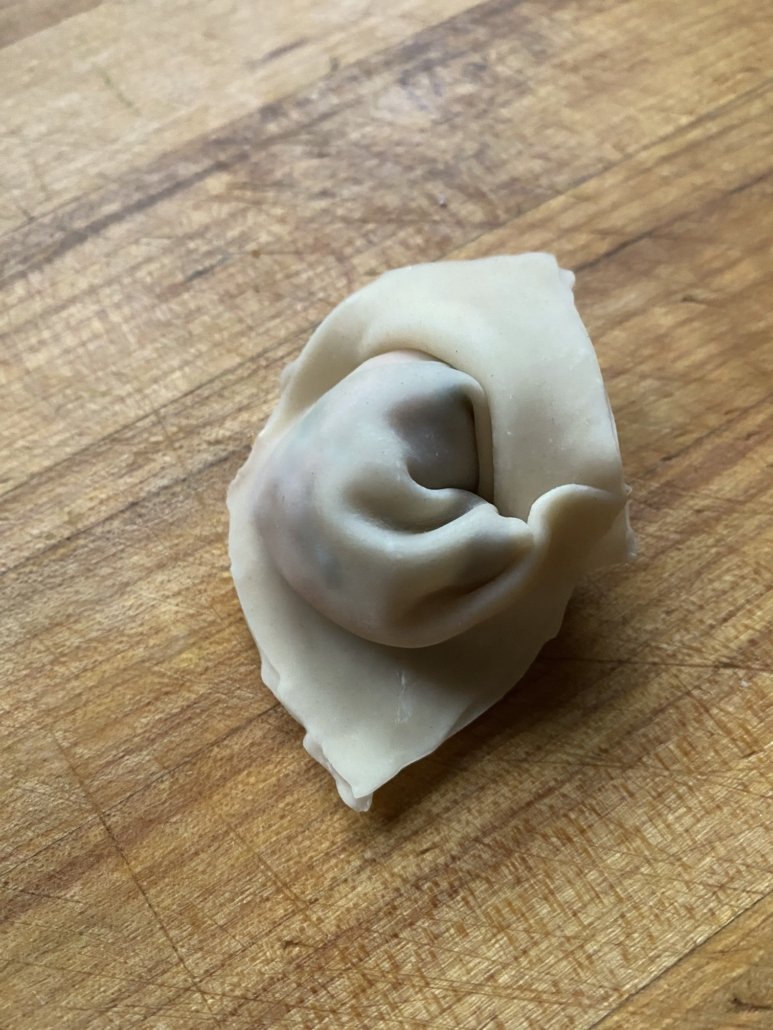 The filling will actually keep in your fridge for a few days, so if you don't have the time or help to make 44 wontons at once, just make as many as you want. I made 7 wontons a serving, but you do you. The first photo above, I brought water to a boil, and then turned the heat down and boiled at a simmer for 3 minutes.
I posted the first picture of the boiled wonton, and the immediate response was "hey Biz, how would you air fry those?" Um, I had no idea! The next day I formed the wontons above (not boiled) and sprayed with avocado oil spray and air fried at 360 for 6 minutes. Crunchy, delicious and tasted like the best appetizer you could have at a restaurant.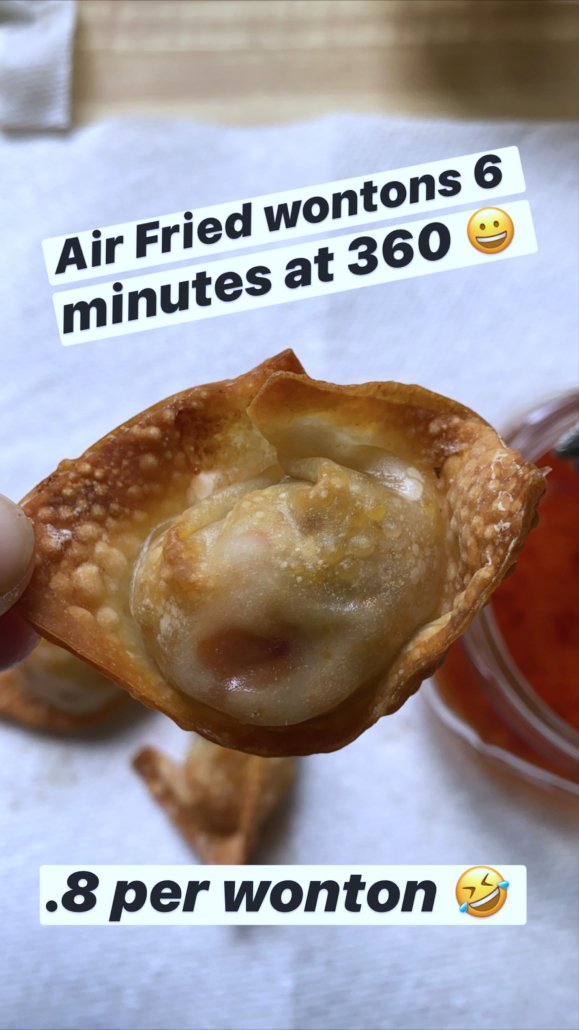 The day after I made the wontons, I decided to make wonton soup for dinner. The broth recipe will be in the recipe box below, but holy balls was this packed with flavor. Sautéed mushrooms and garlic were added to spicy broth, then add in the pork wontons and a drizzle of sweet chili sauce – #swoon. I could probably eat that for lunch every day and not get sick of it.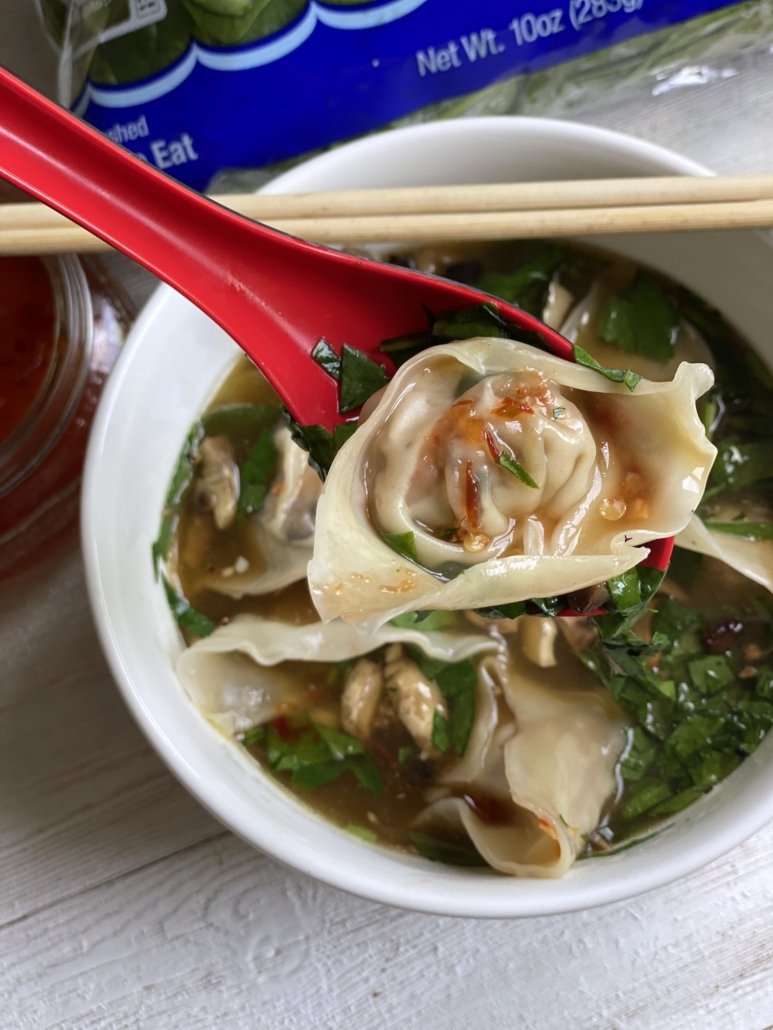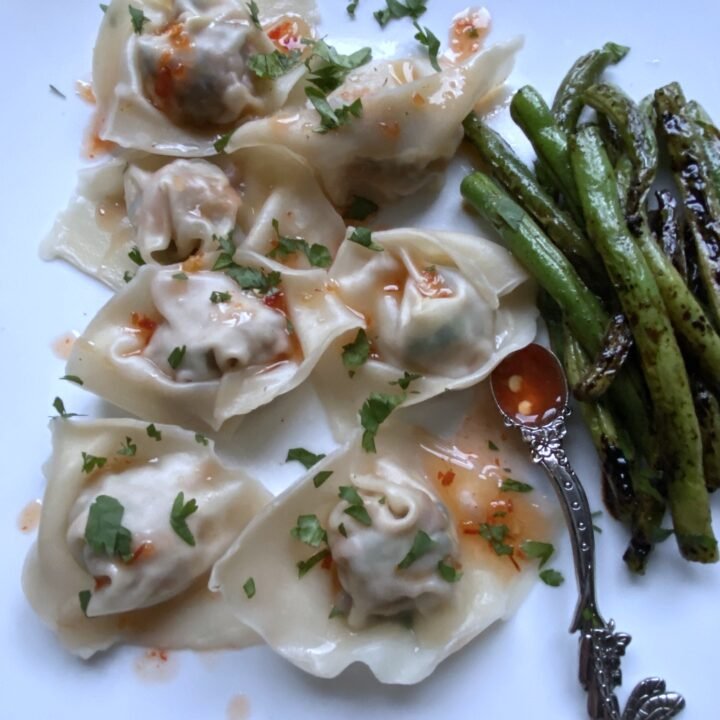 Pork and Mushroom Wontons
These pork and mushroom wontons could really be filled with anything you have in your fridge - wonton wrappers are so versatile and cheap!  I can buy a 50 count wonton package for $1.99 at Mariano's - found on the top shelf near the packaged mushrooms.
Ingredients
44 wonton skins ( used @friedasproduce wrappers found in the produce section @marianosmarket)
Instructions
Saute the mushrooms and garlic for 4-5 minutes. While that cooks, make the dipping sauce. Let mushroom mixture cool and chop. Add remaining ingredients and use one teaspoon of filling per wonton. Fold in half like an envelope, then, wet the corners of the folded end and bring together and crimp. Bring water to boil, then lower temp and boil the wontons for 3 minutes.
To add the wontons to soup:
Wonton Broth For Two:
4 cups chicken broth
1 teaspoon chicken base
1 teaspoon sambal oelek (crushed red pepper is a good substitute)
1/2 teaspoon szechuan peppercorns, crushed
1 tablespoon mirin
1 tablespoon rice wine vinegar
1/2 cup mushrooms that are sauteed with 1 teaspoon minced garlic
In a skillet, saute mushrooms and garlic for 5-6 minutes. Roughly chop and set aside. Add the chicken broth through rice wine vinegar and cook for 10 minutes over medium low heat. Add in the garlic mushrooms.
To serve: put 1/2 cup chopped baby spinach in your bowl, add in 2 cups of the wonton broth and add your steamed wontons to the bowl. Enjoy!
Nutrition Information:
Amount Per Serving:
Calories:

0
Total Fat:

0g
Saturated Fat:

0g
Trans Fat:

0g
Unsaturated Fat:

0g
Cholesterol:

0mg
Sodium:

0mg
Carbohydrates:

0g
Fiber:

0g
Sugar:

0g
Protein:

0g
I hope you give these a try. Leave me a comment and let me know if you would prefer the steamed or fried version! It's pretty much a tie for me, but I now have thoughts on making fried crab rangoon wontons – stay tuned for that!