Who doesn't love a jumbo muffin? These Jumbo Banana Ginger Muffins are great for meal prep for the week.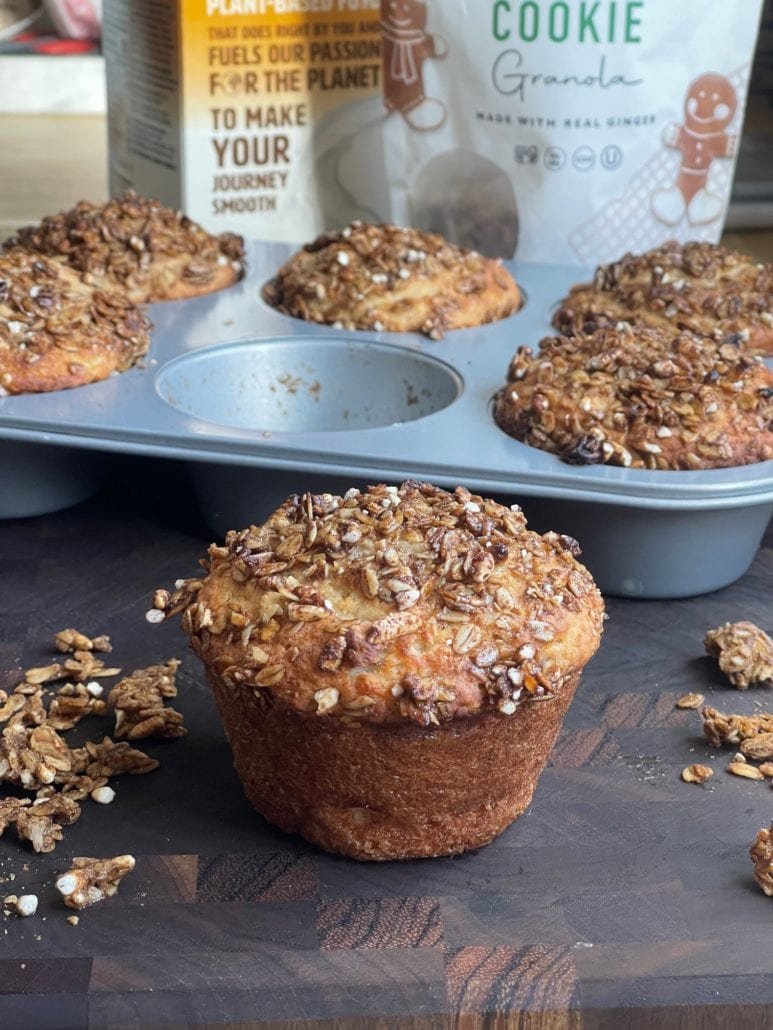 The star of these muffins is the Safe + Fair Gingerbread Cooking granola. Right now they are on sale – the combo of the Gingerbread Cookie and Chocolate Candy Cane are bundled for only $11.00 for both. Use my discount Biz20 at Safe + Fair and you'll save even more!
Side note: if you spend $40 after my discount, you'll also get free shipping. I am obsessed with their kids protein powders.
Can jumbo muffins be healthy?
Absolutely! Back in the day my go to muffin was Otis Spunkmeyer's Banana Walnut Muffin. But it was nearly 600 calories and 25 WW points. My recipe brings the calories to 252, and on my WW personal plan only 8 points.
Why do we need to separate dry ingredients from wet ingredients?
I used to be the QUEEN of dumping all my muffin ingredients at once, mixing, then going straight to the muffin tin. The reason why you should separate the wet from dry ingredients is that you have the ability to truly disburse the salt, seasonings, etc. in the dry mixture before incorporating the wet ingredients. With my previous method, I'd slice into a muffin and I'd find pockets of flour that were never incorporated into the batter. Gross!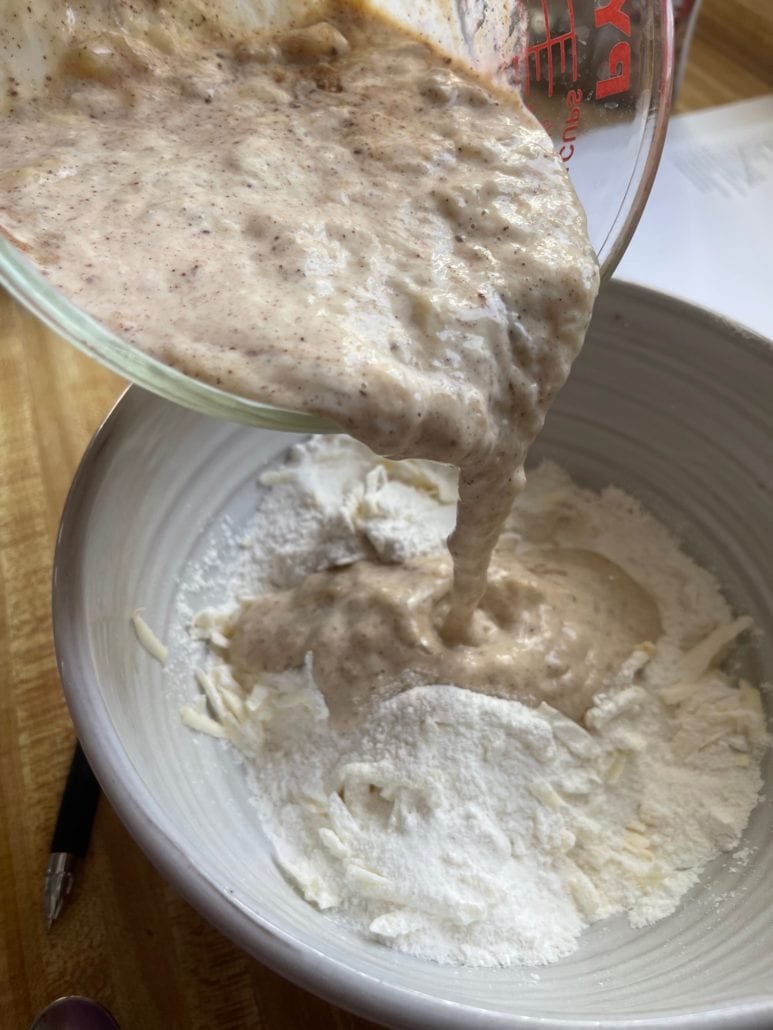 Instead of my traditional streusel topping, I decided to add one tablespoon (10 grams) of Safe + Fair's Gingerbread Granola. Because I added ginger to the batter, it was the double punch of ginger that pairs so well with the banana.
These muffins are not overly sweet, which is why I love them. Just make sure to press the granola into the top of the batter before baking.
What temperature should you bake muffins at?
There are many schools of thought. Some have you bake at 425 for the first 5 minutes, then reduce the heat to 350. Some recipes call for 350 from beginning to end. I love 425 for the duration of the cook. I tend to get a good muffin top that way.
What do you need to make jumbo muffins?
jumbo muffin pan
two bowls – one for each of the wet/dry ingredients
melon baller/cookie scoop – I use this for all my muffin recipes – for a regular muffin tin I do two scoops – for jumbo muffins, I do three scoops.
Please wait ten minutes before removing the muffins from the pan after they come out of the oven. They will hold their shape better as they cool.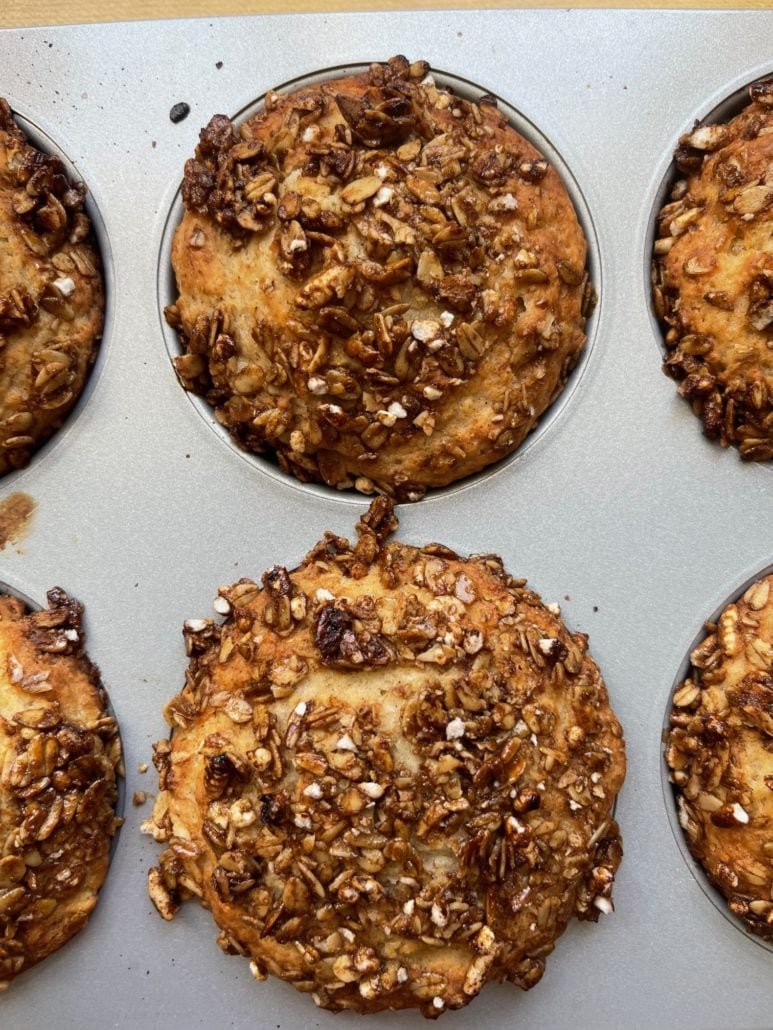 Considering I used no sugar in this recipe at all, I love the crumb! I used a new to me product – Splenda with Monk Fruit. I love how it tastes like sugar to me, yet these muffins aren't too sweet.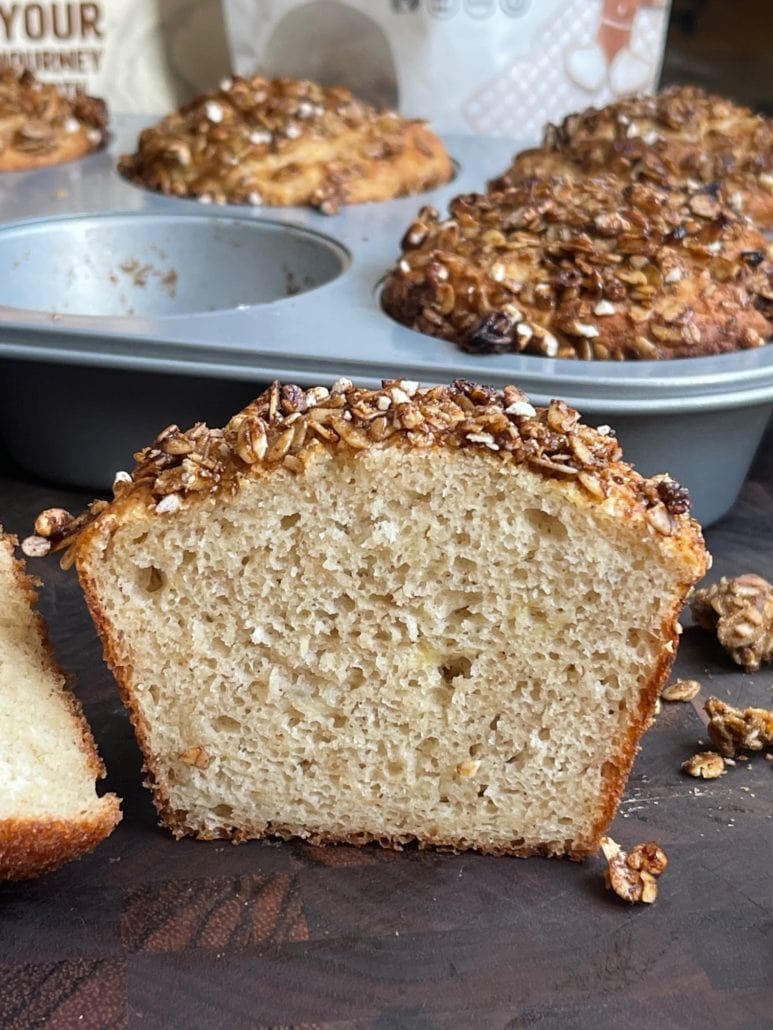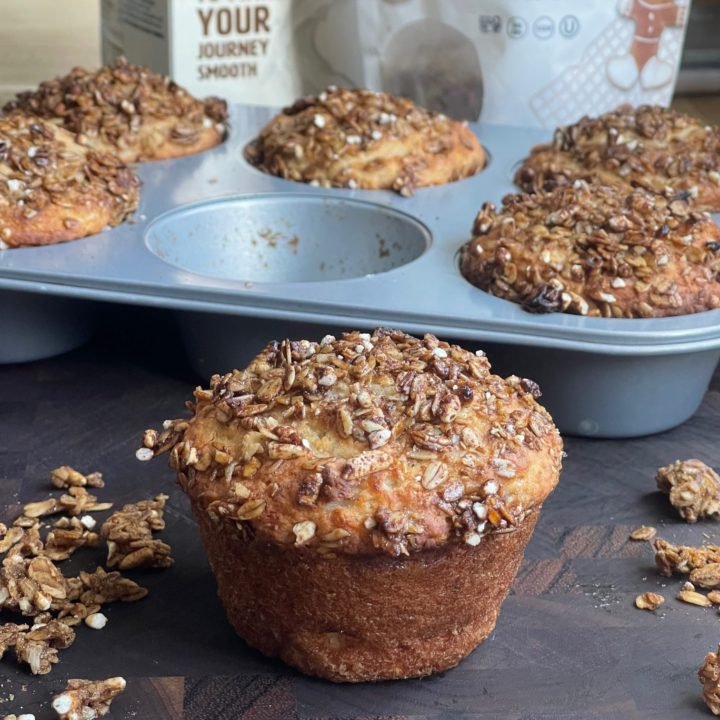 Jumbo Banana Ginger Muffins
Cook Time:
25 minutes
20 seconds
Total Time:
30 minutes
20 seconds
While I love tiny food, once in a while I just want a jumbo muffin! Back in the day my go to muffin was Otis Spunkmeyer - but those have 25 points!
Ingredients
2 cups self-rising flour
3/4 cups Splenda with Monk Fruit
1/2 teaspoon salt
2 teaspoons baking powder
1 teaspoon cinnamon
1 teaspoon ground ginger
2 tablespoons butter, shredded
1/2 cup nonfat Greek yogurt
1/2 cup unsweetened cashew milk (any milk works)
2 ripe bananas
1 egg
6 tablespoons Safe + Fair Gingerbread Cookie Granola
Instructions
Heat oven to 425.
Mix the flour, Splenda, salt, baking powder, cinnamon and ginger together in a large bowl.
In a separate bowl, mix the yogurt, milk, bananas and egg and mix just until combined.
Add to the dry mixture and mix just until combined.
Divide mixture into 6 jumbo muffin tins. Add 1 tablespoon (10 grams) of gingerbread granola on top of each muffin, pressing slightly to stick.
Bake for 20 minutes. Let cool in pan for 10 minutes before removing.
If you love muffins as much as I do, check out my
banana pumpkin pancake muffins
– so good! When you make these, be sure to come back and give the recipe a review – I would appreciate it!