Nearly 5 years ago I wrote a recipe for mini veggie quiches. That recipe called for 2 tablespoons of butter Crisco.
The recipe was due for a makeover, so I subbed in just one tablespoon of salted butter and the result is these biscuit quiches. The crust tastes like biscuits!
This is perfect for meal prep, because you can make them over the weekend. My best reheating results were in a skillet with avocado oil spray and a lid over medium low heat.
In about 5-6 minutes, the crust tastes like a biscuit just came out of the oven and the quiche was heated through.
Is there a low calorie pie crust?
Yes! My pie crust is just 141 calories, or 5 WW points. The reason the crust is 5 points is because of the saturated fats of the butter. For best results, refrigerate the dough 30 minutes before baking.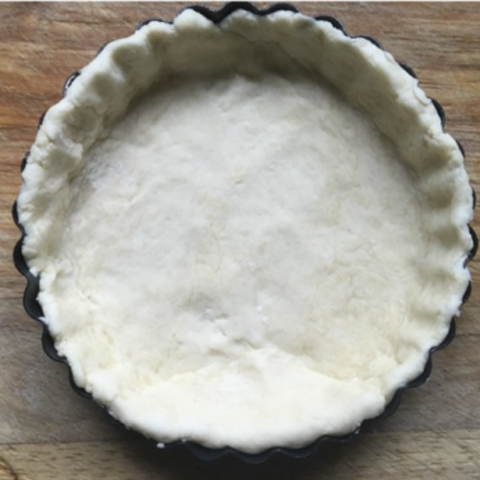 Do you cook veggies before putting in quiche?
The quick answer is it depends on what veggies you use. If you were to add potatoes, I would use previously baked potatoes. In this recipe, I used shredded zucchini (which was squeezed dry) and jarred roasted red peppers, which I added to the quiche raw before baking.
What kind of cheese do you use for quiche?
Your favorite cheese works great in this recipe. Gruyere, swiss cheese, goat cheese. I liked goat cheese in the quiche, then topping with a mere 1/4 ounce of sharp cheddar when reheating.
Ingredients you'll need for biscuit quiche:
eggs

milk of choice (I used unsweetened cashew milk)

cheese (I used goat cheese and cheddar)

veggies of choice (I used zucchini and roasted red pepper)

butter

flour

salt

sugar
What kind of tart pans did you use?
The pans are Wilton brand 4 inch tart pans. Previously bought a 6 pack at Bed Bath & Beyond, but sadly that store is out of business. You can find them at kitchen supply stores, or on Amazon here.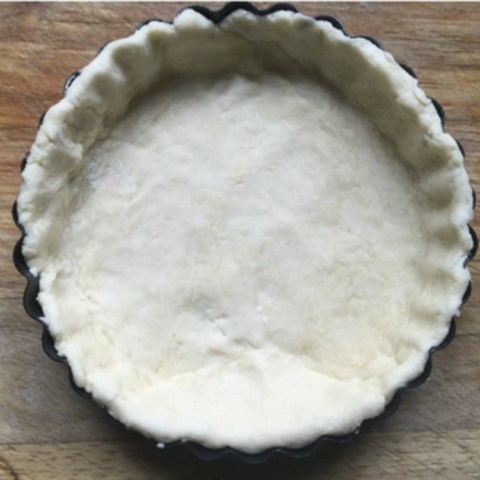 Simple Pie Crust
A classic (but WW friendly!) simple pie crust for desserts, quiches, or anything else your heart desires. It's flaky, buttery, and the whole batch makes 4 servings of mini pie crusts.
Ingredients
1 cup flour
1 tablespoon butter
1/2 teaspoon salt
1/2 teaspoon sugar
1/2 cup water
Instructions
Combine everything in a bowl and mix well so everything is evenly incorporated.
Refrigerate for at least 30 minutes, or overnight. This can be made days in advance.
To cook the crust alone, bake at 350 for about 10-15 minutes until golden.
Or use this dough to make the veggie quiche below.
Nutrition Information:
Yield:

4
Serving Size:

1
Amount Per Serving:
Calories:

141
Total Fat:

3g
Saturated Fat:

2g
Trans Fat:

0g
Unsaturated Fat:

1g
Cholesterol:

8mg
Sodium:

289mg
Carbohydrates:

24g
Fiber:

1g
Sugar:

1g
Protein:

3g
Biscuit Quiche
These mini veggie quiches are great for meal prep. Use whatever combination of veggies you like!
Ingredients
1 batch of simple pie crust above
1.5 cups mixed vegetables
4 eggs
1 ounce goat cheese
1 ounce grated sharp cheddar
1/3 cup cashew milk
salt and pepper
dash of paprika
1 tablespoon dried parsley, optional
Instructions
Divide dough into 4 sections. Using mini tart pans, place the dough into the tart pans.
Heat oven to 400 degrees.
Divide the vegetable mixture between the tart pans. Mix the eggs, goat cheese, cashew milk, salt, pepper and paprika. Divide the egg mixture between the tart pans. Add parsley if using.
Bake for 25-30 minutes.
TO REHEAT: Remove from tart pans. Place in a skillet sprayed with avocado oil spray. Top with 1/4 ounce cheddar cheese and cook over medium low heat for 5-6 minutes, with a lid on, until the cheese is melted on top, and the crust is crispy.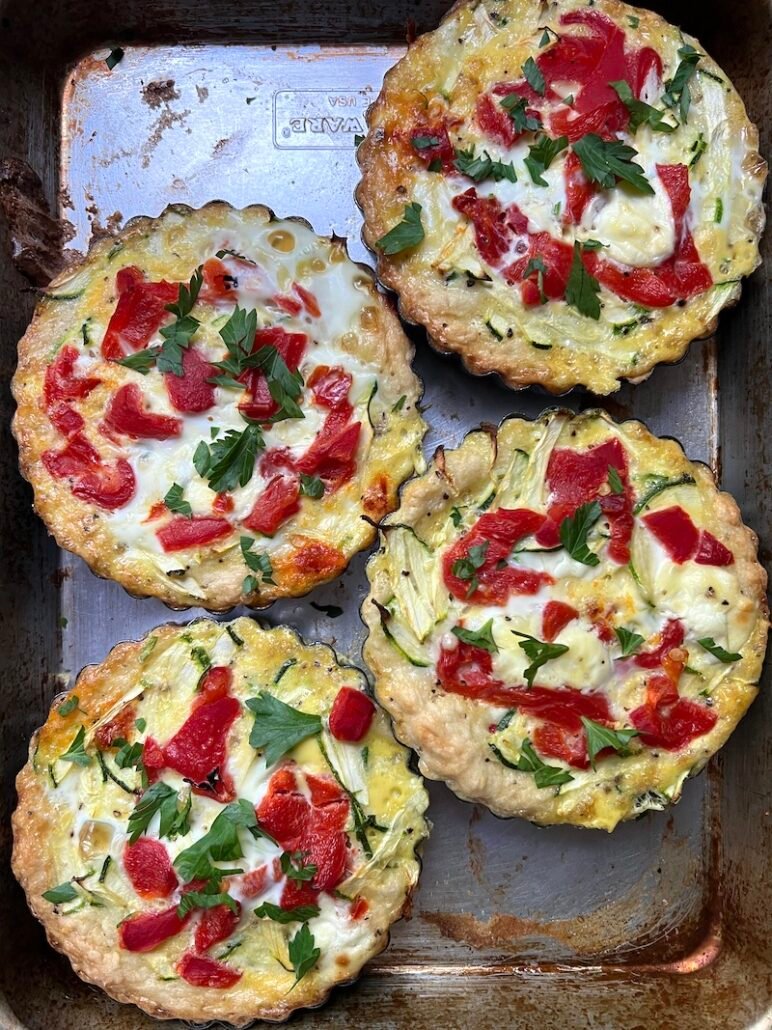 Can we look at that biscuit pie crust?!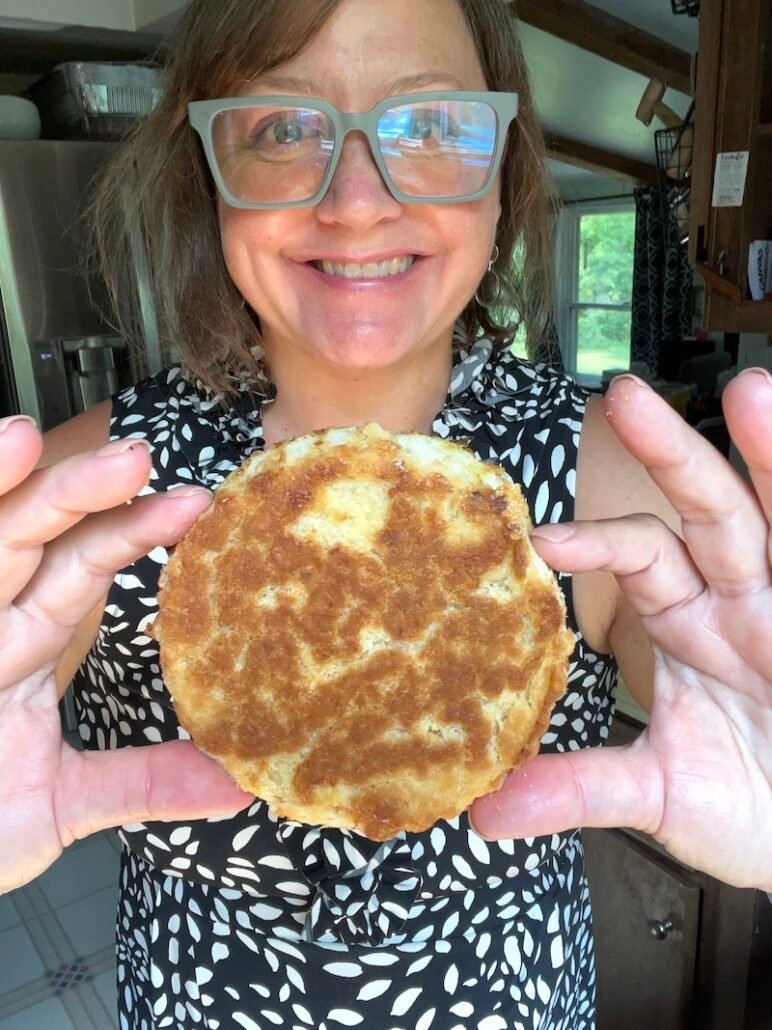 These turned out delicious and it was a happy accident that they tasted like biscuits on the bottom. Let me know if you make these!
Looking for more breakfast inspiration? Check out my Top 10 Pancake recipes!