This hominy macaroni and cheese may be the best macaroni and cheese I've ever made. The hominy makes it!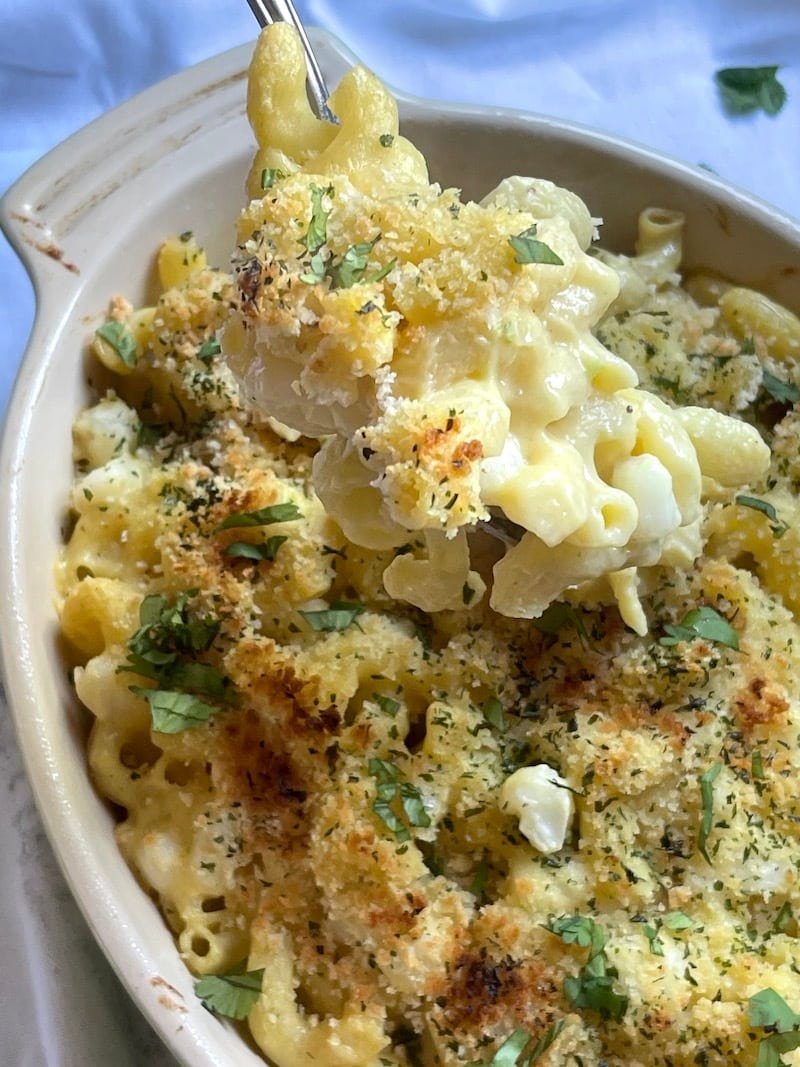 What is hominy?
Full disclosure, I had to look this up! "Hominy is made from whole corn kernels that have been soaked in a lye or lime solution to soften the tough outer hulls. The kernels are then washed to remove the excess solution, the hull, and often the germ. You can find ready-to-eat hominy in cans." Thanks for the info The Kitchn!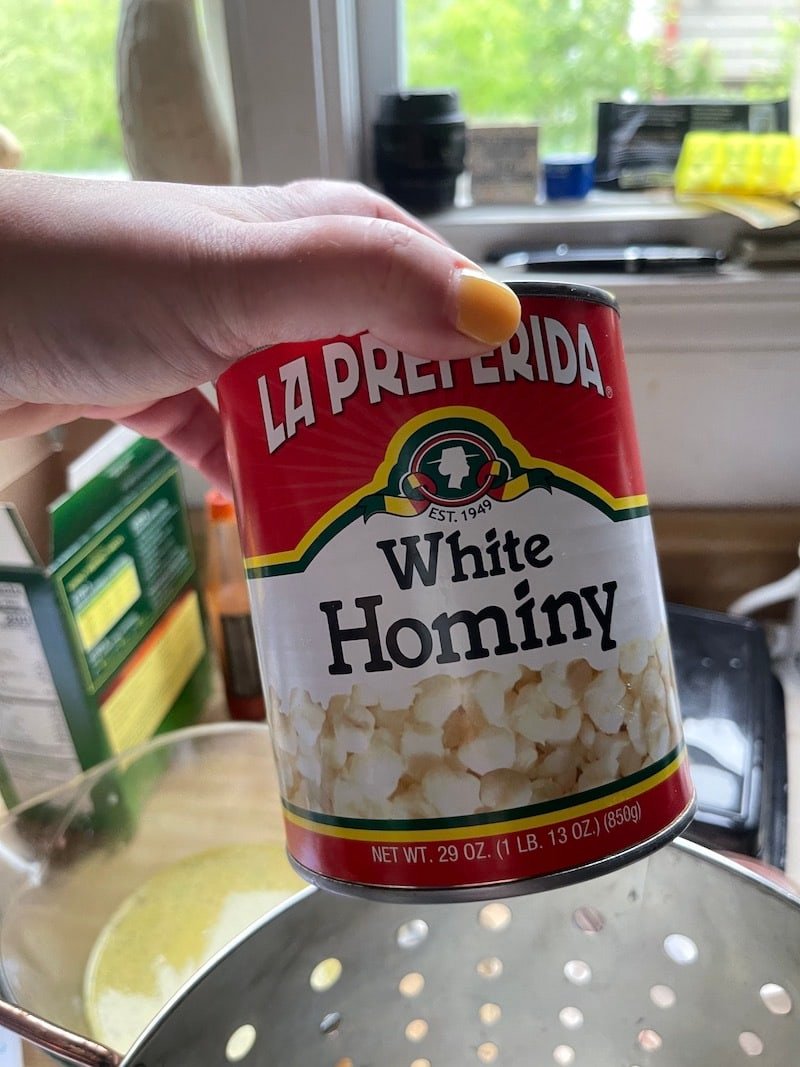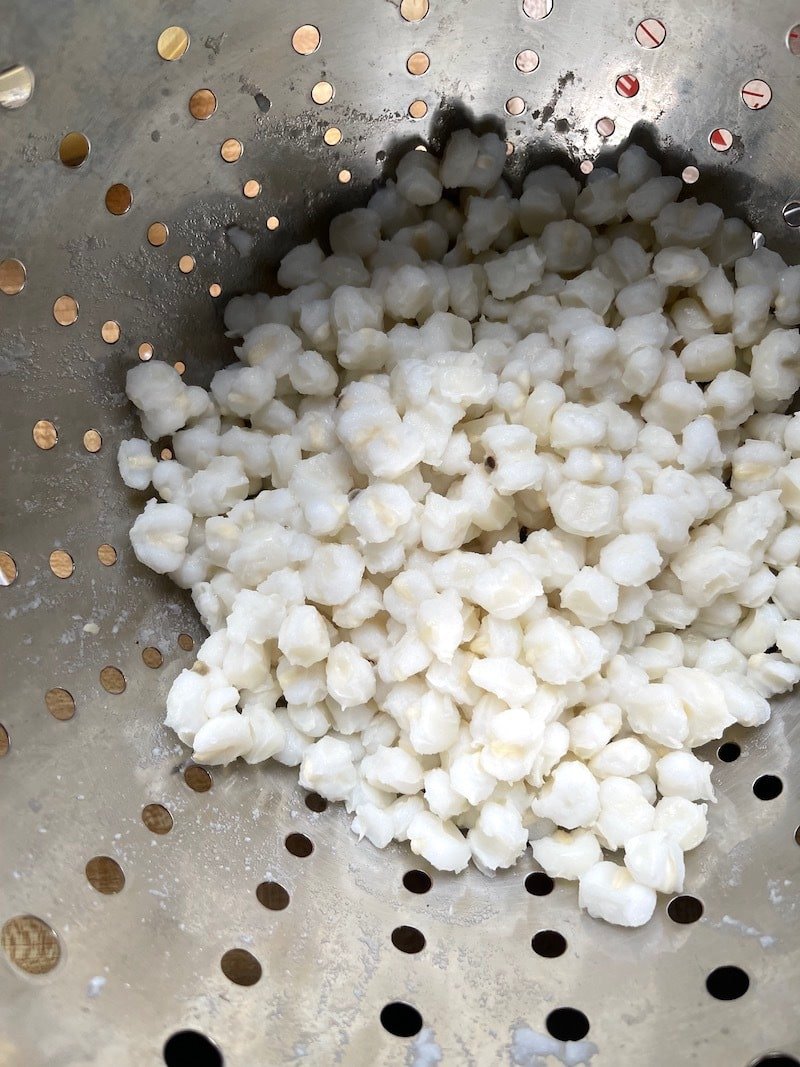 The flavor of the hominy kicks up this macaroni and cheese, and adding the grated jalapeno really spiced it up. I also added crushed red pepper, so if you don't like spice, you can totally leave those out.
Hominy Macaroni and Cheese
Hominy Mac N Cheese. Guys, I think this is my favorite mac n cheese to date!
Ingredients
3 cups hominy (canned, drained)
224 grams pasta (dry)
2 tablespoons light butter
2 tablespoons flour
3 ounces cheddar cheese
1 egg
1/4 cup half and half
1 cup chicken broth
1 tablespoon dijon mustard
1 tablespoon cornstarch
1/2 jalapeno, grated
salt and pepper to taste
1 teaspoon crushed red pepper
1/4 cup panko bread crumbs
cilantro for garnish
Instructions
Heat oven to 375.
Cook pasta to al dente (that was 8 minutes for cavatappi) and drain. Drain hominy in same colander.
In a bowl, mix the egg, half and half, broth, dijon mustard, cornstarch, salt, pepper, crushed red pepper and jalapeno.
In a skillet, melt the butter. Add flour and stir for one minute. Slowly add the liquid to the pan, stirring constantly, for about 5 minutes until sauce is thick and can coat the back of a spoon.
Remove from heat. Stir in cheese. Stir in pasta and hominy and mix until combined. Put in a casserole dish and top with panko bread crumbs and spray with avocado oil spray. Cook ten minutes, then broil for 3-4 minutes.
Garnish with cilantro.
Notes
If you make this 8 servings of 2/3 cups: each serving is 5 WW points.
If you make this 6 servings, each one cup serving is 8 WW servings.
Here is an OG recipe from my blog from 2010 – an ancho chile pork and hominy stew which I remember to be absolutely delicious.
Have you tried hominy before?
I can't wait for you guys to try this one!