These Banana Bran Muffins were inspired by my grandmother's bran muffin recipe.
Her original recipe called for a whole cup of sugar as well as a cup of oil. I thought because they were bran muffins that meant they were healthy, and would happily eat multiple in one sitting!
On the flip side, there have been plenty of bran muffins I've tried that tasted like ass. For some reason, "bran muffins" screams dry, fiber-packed pucks to a lot of people – but I assure you this recipe will heal any wrongdoings your previous dry bran muffins have done to you!
At only 120 calories per muffin, these bites of heaven are the perfect addition to your breakfast rotation. Not too sweet, super moist with a crunchy topping, and that hint of maple make these a great addition for Fall. These are also freezer-friendly and a simple, healthy option for feeding crowds over for brunch.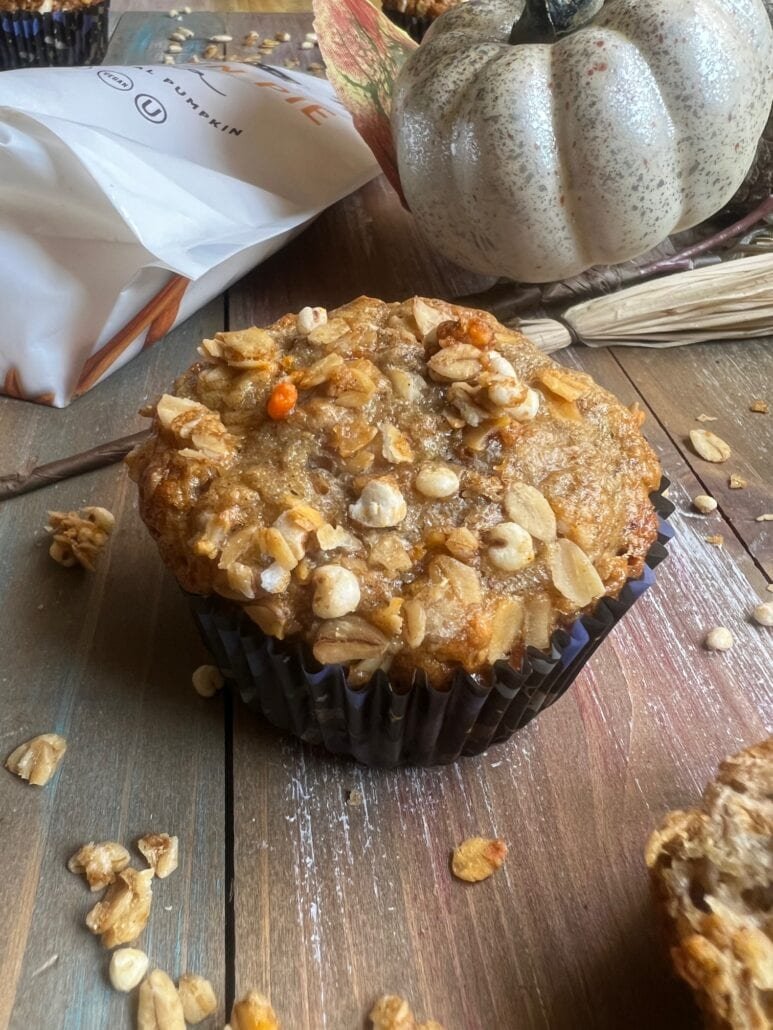 Common Questions about Bran Muffins
Are Bran Muffins healthy?
Yes! These muffins are low sugar, low calorie and rely mostly on bananas for sweetness. They are also high in fiber!
Why are my bran muffins dry?
They are probably over-baked! As every home kitchen is different (different stoves, different altitudes, etc.) try reducing the cooking time by a few minutes. You can always bake them longer if needed.
Is butter or oil better for muffins?
Because the bananas add the moisture we need to the muffins, we actually don't need either oil nor butter for these – and you won't miss it!
What you'll need to make these Banana Bran Muffins:
Flour

Baking soda

Baking powder

Salt

Cinnamon

Ground Ginger

Bananas (I freeze my bananas whole and then defrost on my counter for 15 minutes before adding to the batter)

Splenda

Eggs

Nonfat Yogurt

Bran flakes

Safe + Fair Pumpkin Pie Granola (This is a seasonal item – use my code BIZZY20 for 20% off your purchase! Spend over $40 and you'll also receive FREE shipping!)

Maple syrup


Serving and Storage
These muffins are great not only as a snack, but part of your breakfast paired with scrambled eggs and your favorite breakfast sausage.
These will stay in an air tight container for 5 days on your counter, or for 6 months if frozen in an air tight (zip-top) bag. To freeze, place the cooked muffins on a baking sheet, freeze for 30 minutes, and then store in your container of choice. This way, you can take as many as desired out when needed and they won't be stuck together.
I would also recommend slicing them in half and giving them a quick toast if you like them warm before layering your favorite butter on top and letting it melt into the muffin.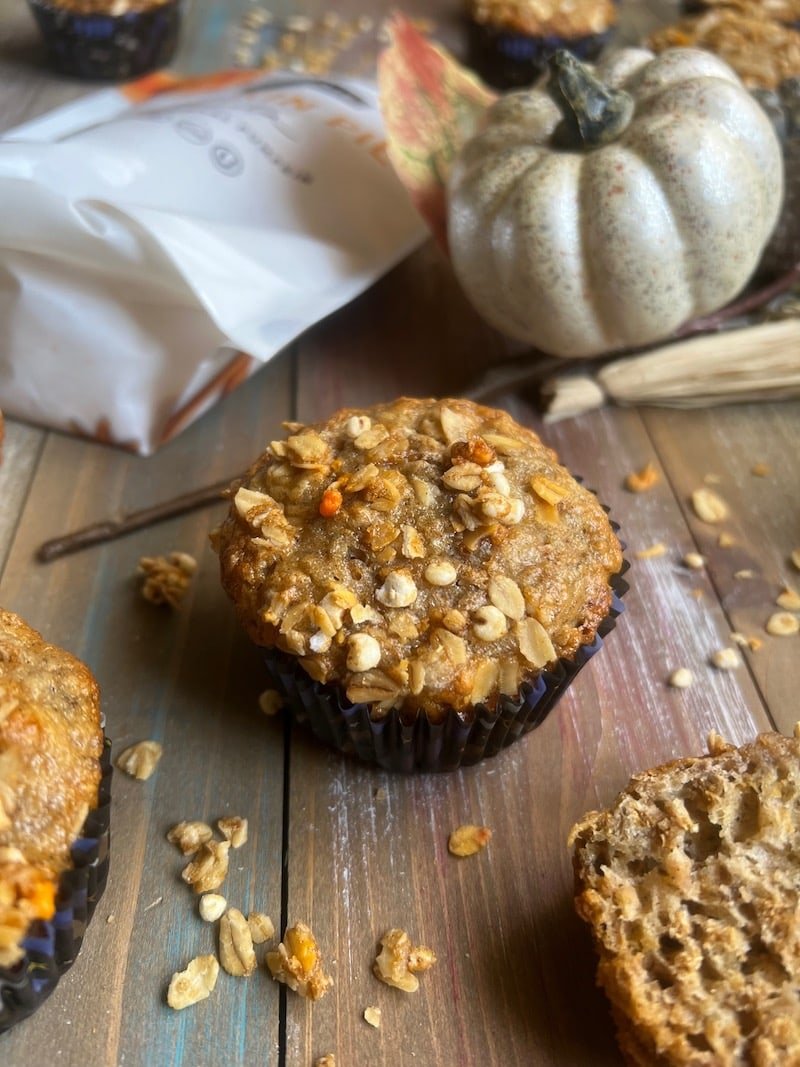 Banana Bran Muffins
A mildly sweet, super moist addition to your breakfast rotation. The granola gives this the perfect crunchy topping and the syrup adds just enough maple to leave you wanting more!
Ingredients
1.5 C flour
1 t baking soda
2 t baking powder
1/2 t salt
1 t cinnamon
1 t ground ginger
3 bananas
1/2 C Splenda
2 eggs
1/2 C nonfat yogurt
1 C bran flakes
2/3 C pumpkin pie granola
2 T maple syrup
Instructions
Heat oven to 400F.
Mix the flour, baking soda, baking powder, salt, cinnamon, ginger, bran flakes, and Splenda until combined.
In the same bowl, add bananas, eggs, syrup, and yogurt. Mix everything until well combined. Divide mixture between 18 muffin cups (you will have to bake in two batches).
Sprinkle each muffin with a bit of granola on top.
Bake at 400F for 13 minutes.
Nutrition Information:
Yield:

18
Serving Size:

1
Amount Per Serving:
Calories:

120
Total Fat:

2g
Saturated Fat:

1g
Trans Fat:

0g
Unsaturated Fat:

2g
Cholesterol:

23mg
Sodium:

239mg
Carbohydrates:

22g
Fiber:

2g
Sugar:

7g
Protein:

3g