These are your new favorite organizational printables that you didn't know you needed!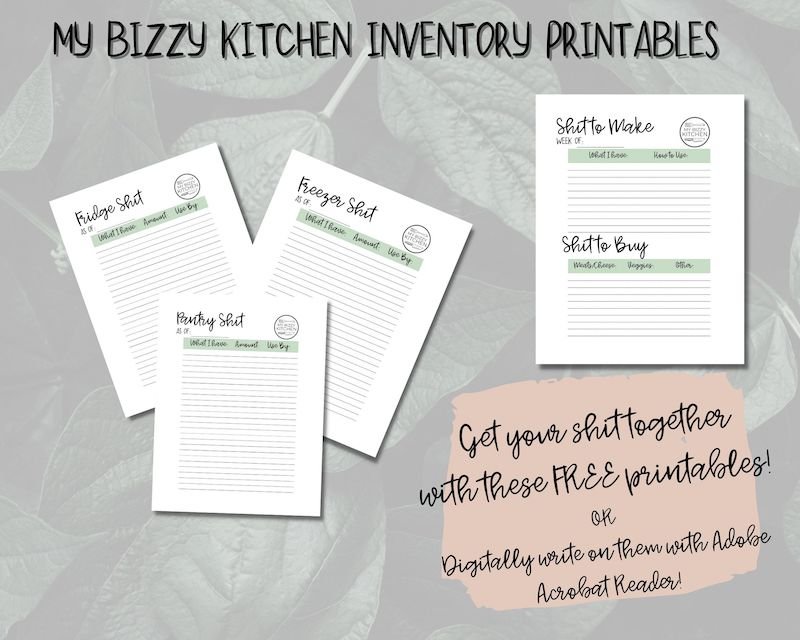 One thing that's worth taking the time to do for both your sanity and your wallet is to utilize these inventory printables. How many times have you gone to the store and purchased something thinking you were out – only to later find you already had 3 of them?! Guilty!
Here's the deal: if you're going to be cleaning out your fridge, freezer or pantry anyways, it only makes sense to keep a list of what you have and what you need to make sure you're using what you have first. We're not only going to save money by not buying multiples of what we don't need, but we will be able to create menus and grocery lists based off of our existing items to use first. It's a double win!
I promise you it's worth the extra few minutes. Even though I oogle the Mariano's weekly sale flyer, I look away because I know I have tons of protein at home already thanks to these handy lists.
If you're new to my channel, my daughter Hannah is very type A. One of her first ideas when joining team MBK was to put together some printables for organizing kitchen shit. These printables are just that! An easy way to track what we have and plan of attack for utilizing all of it! It's never too late to get your shit together, especially in the kitchen.
We hope that you enjoy these FREE, simple printables to make your life a little easier in the kitchen. You can also digitally write on them without needing to print them out by using Adobe Acrobat Reader (which is also free to download if you don't already have it). Let us know what you think! We left them without categories to keep it simple and inclusive for all diet types, but we can customize more in the future – just let us know!
Click the link below to grab them!!
Updated G rated version below:
Happy Organizing!
Love,
Biz & Hannah