You must put these banana bread pancakes on the top of your list to meal prep this week. So delicious!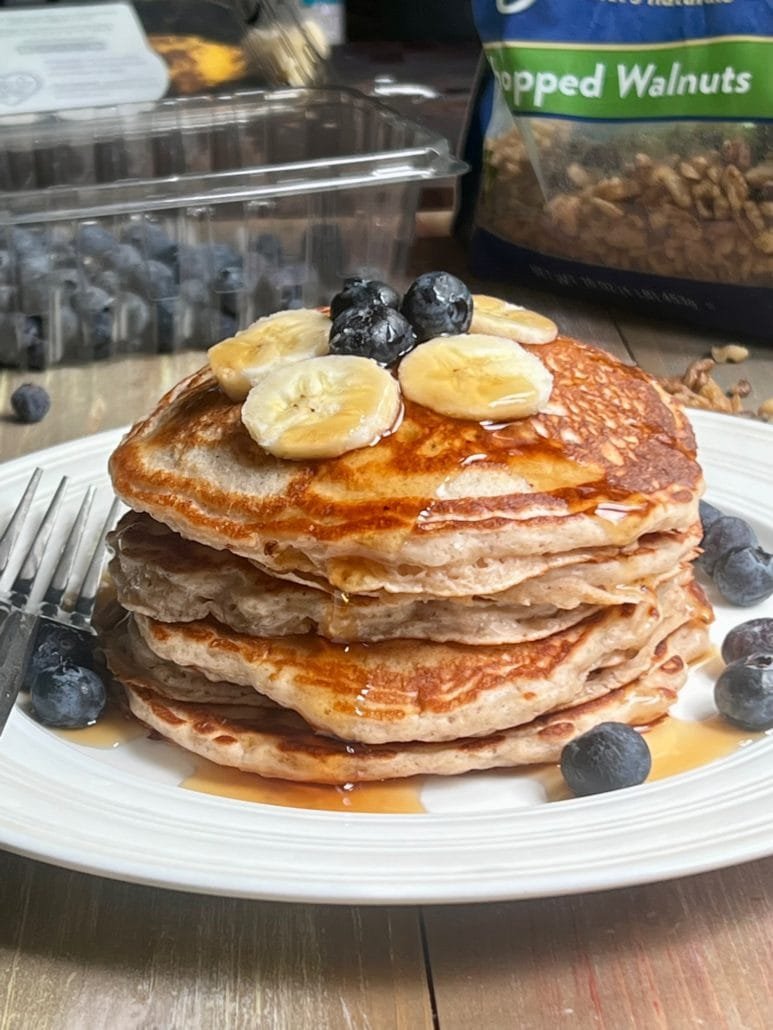 For whatever reason lately, once I buy bananas, if I don't eat any the day I buy them, the next day they are basically ready to use as banana bread. When my son-in-law lived here, I made so many things with bananas because Hannah wouldn't touch a banana if it one tiny brown spot on it. If I made blueberry muffins he'd ask "is there banana in there?" To which my answer was always yes! And Greek yogurt – ha!
What type of nuts are good for diabetics?
According to www.activebeat.com:
"Perhaps the "King" of the nut family due to the amazing amount of nutritional value, walnuts are a must for any type of diet. Walnuts contain all the typical components of most nuts like protein, antioxidants, and omega-3 fatty acids. They also contain a number of other things that you won't find in every nut, like Ellagic acid, a cancer-fighting substance usually found in fruits like pomegranate and strawberries."
How long should pancake batter rest?
Ideally, 30 minutes. This allows the flour to absorb the liquid, and you'll be rewarded with light, fluffy pancakes every time. It also allows the baking powder to do its magic. See all those gorgeous bubbles!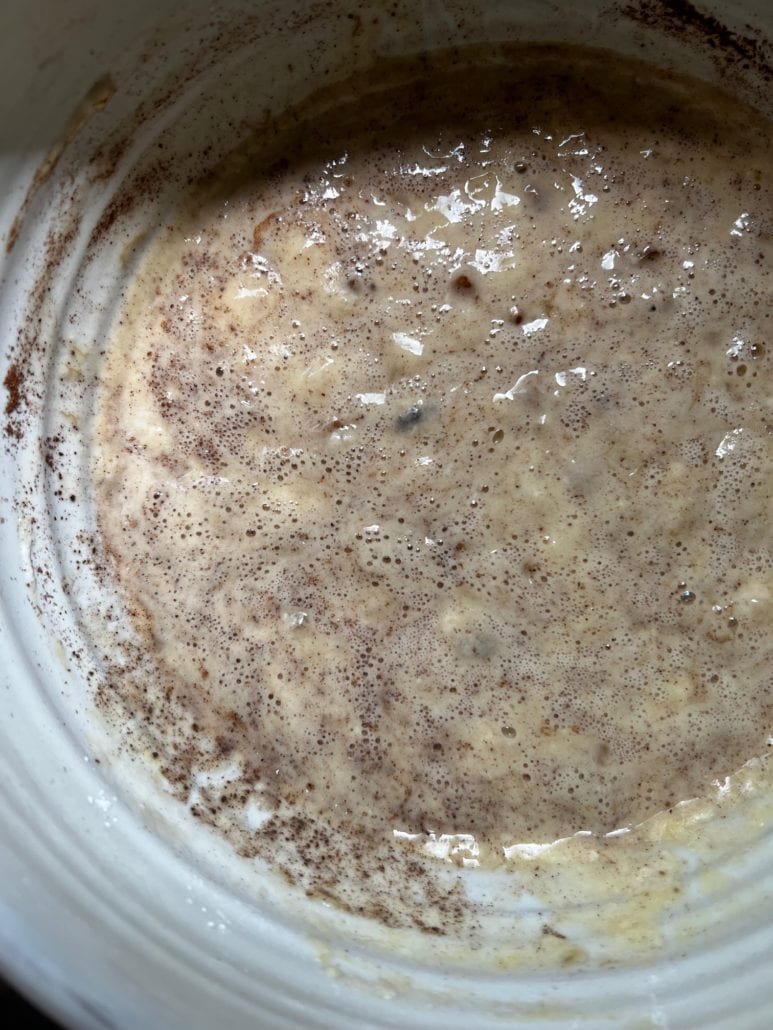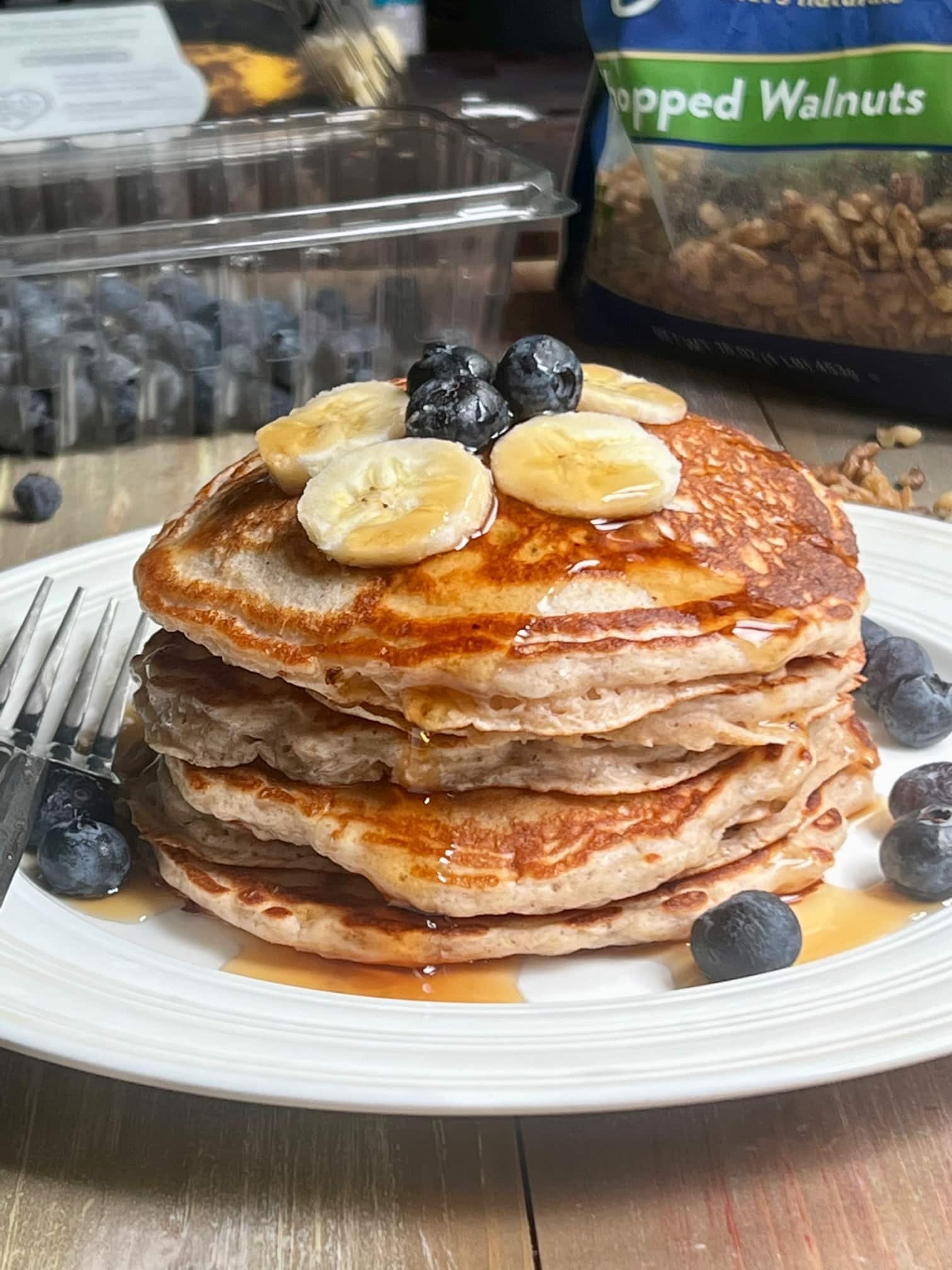 Banana Bread Pancakes
These banana bread pancakes are perfect for weekly meal prep. These are not overly sweet which is why I love them so much.
I made this 6 servings, so you can decide how many to eat - for me one was 3 points, or two or 6 points - and two were plenty filling!
Ingredients
3/4 cup flour
2 teaspoons baking powder
1 pinch of salt
1/2 teaspoon ground cinnamon
1/4 cup walnuts
2 large eggs
1/2 cup nonfat Greek yogurt
1 medium banana, ripe
Instructions
In a large bowl, mix the flour, baking powder, salt, cinnamon and walnuts together.
In a separate bowl, mix the eggs, yogurt and banana and mash until combined.
Add the wet batter to the dry batter.
Let the batter sit a minimum of 30 minutes.
Using a 1/3 measuring cup, cook over medium low heat for about 2 minutes a side, or until golden brown.
Notes
On my WW plan, each pancake is 3 points, but I am diabetic and have to count points for fruit.
Note, there is no sugar in these pancakes - only the sweetness of the banana. With the sugar free pancake syrup and blueberries, this breakfast is just sweet enough for my taste.
Nutrition Information:
Yield:

6
Serving Size:

1
Amount Per Serving:
Calories:

143
Total Fat:

5g
Saturated Fat:

1g
Trans Fat:

0g
Unsaturated Fat:

3g
Cholesterol:

63mg
Sodium:

215mg
Carbohydrates:

20g
Fiber:

1g
Sugar:

5g
Protein:

6g
If you love pancakes,
check out my round up of my 10 top pancake recipes on my site
. I may just need to add these to the list!