These Italian Turkey Meatballs are perfect for meal prep for the week!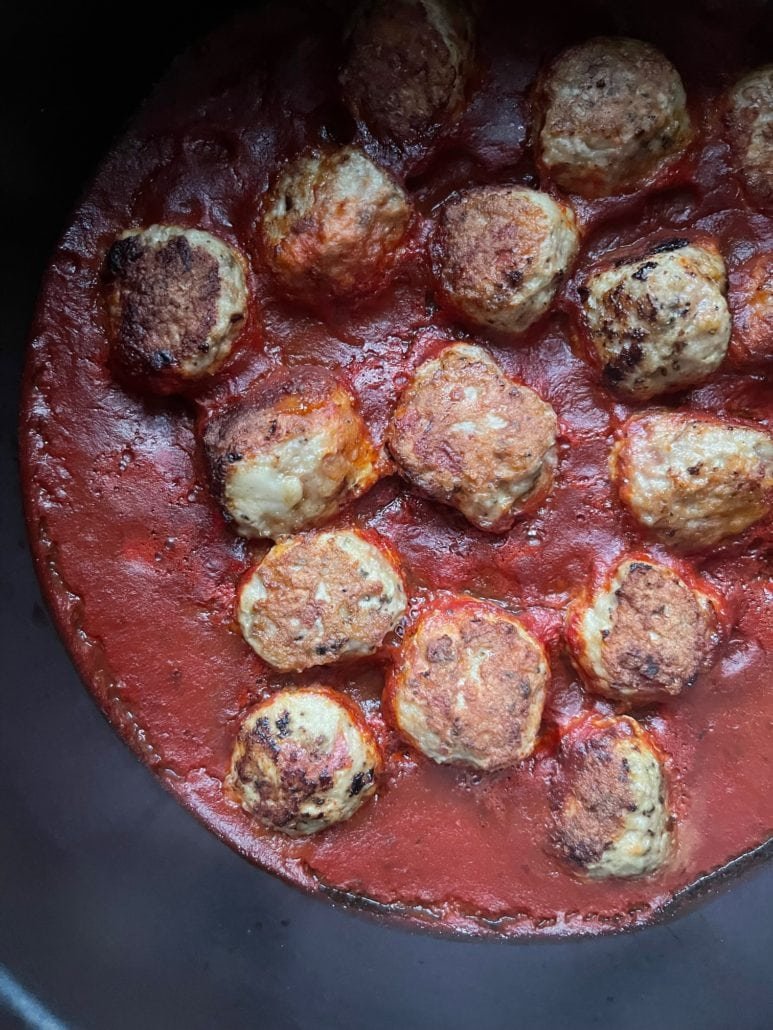 Truth be told I used to give ground turkey the stink eye. We never ate ground turkey growing up so it was out of my wheelhouse and one of those foods I just told myself I didn't like. But I love these turkey meatballs! Side note – one of my favorite pots is a Lodge cast iron 5 qt. dutch oven. You can find one at Walmart for under $40. (not sponsored!)
How to make turkey meatballs
Because I am using ground turkey with dark meat, these meatballs have more flavor, but my secret is adding chopped pepperoni to add a bit of fat and flavor to these meatballs. If you like turkey burgers, check out my recipe for juicy turkey burgers using ground turkey breast – my secret in that recipe is just a tiny pat of butter in the middle of the burger. So good!
What ingredients do you need to make meatballs?
Protein of Choice. You can use ground turkey breast, ground turkey, beef or pork. My grocery store sells a mix called "meatball mix" and it's a combination of beef, pork and veal.
Flavor Enhancer. For me, adding in just an ounce of pepperoni to turkey meatballs makes all the difference.
Bread Crumbs. Bread crumbs help keep the the meatballs together – it binds the meatballs together so they don't fall apart when cooking.
Seasonings. My go to seasonings for meatballs is crushed red pepper, Italian seasoning, salt and pepper.
How long do you cook turkey meatballs?
Searing the meatballs gives an added depth of flavor to the meatballs, so don't skip that step. Once the sides of the meatballs are seared, finish cooking in pasta sauce. You want to reach an internal temperature of 165. If you are making these meatballs as part of your meal prep to reheat later, cook to 155. When you reheat the meatballs they will be the perfect temperature and not dry at all.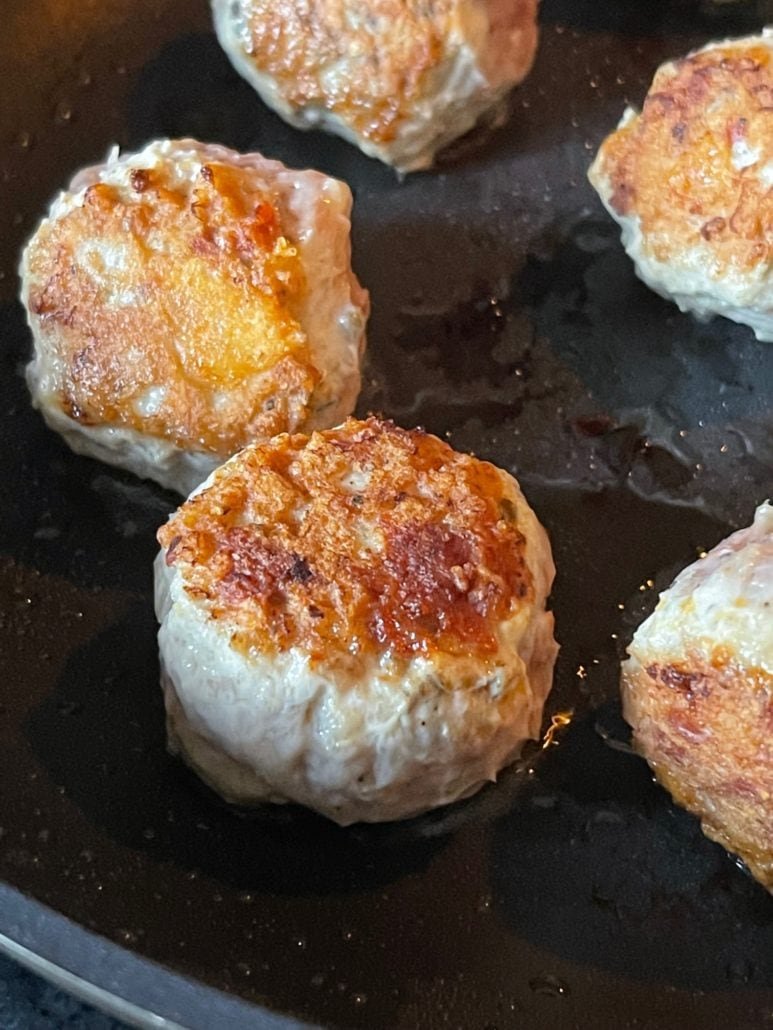 How to season turkey meatballs
The biggest mistake I made early in my cooking days was not tasting food as I was going along with a recipe. My magazine or cookbook would be open on my counter, I would follow the recipe to a T and then take a bite at the dinner table and think "dang – this needs more salt, or crushed red pepper, or whatever . . . " Especially when making meatballs, take a portion and cook it off and taste it and adjust as needed. This makes all difference to taste your food as you go.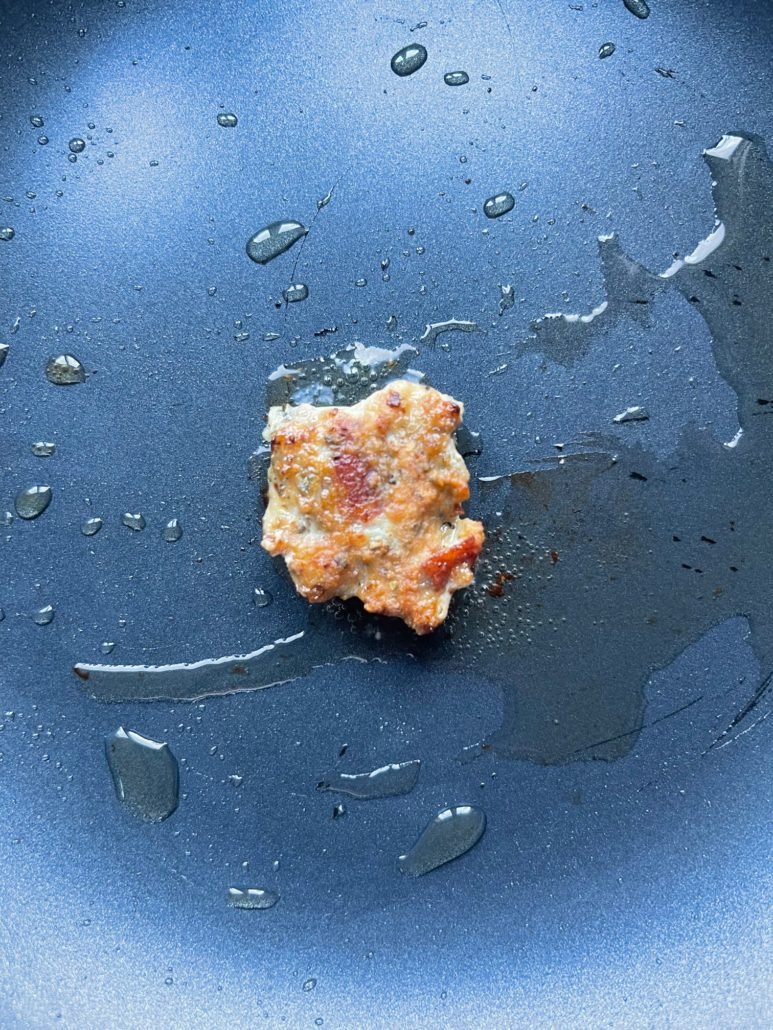 Italian Turkey Meatballs
I love to see how many balls I can get in my mouth - ha! I used ground turkey that has dark meat in it so these meatballs are full of flavor. Feel free to substitute all ground turkey breast if you like.
Ingredients
1 pound ground turkey
1 ounce pepperoni, chopped
2 tablespoons Parmesan cheese
2 tablespoons panko bread crumbs
1 egg
1 tablespoon Italian seasoning
1 teaspoon crushed red pepper
1 teaspoon salt
1 teaspoon cracked pepper
3 garlic cloves, minced
Instructions
Add all ingredients to a bowl and using your hands, mix just until combined.
Each meatball weighed 1.2 ounces, and I got 17 meatballs out of this recipe.
Heat skillet with avocado oil spray over medium heat.
Brown the meatballs (I did in two batches) on all sides for about 6 minutes.
Place pasta sauce of choice in a stock pot over medium low heat.
Add the browned meatballs to the sauce and cook for 8-10 minutes, or until the meatballs reach an internal temperature of 165.
Notes
On my WW plan, each meatball is 2 points each because I used ground turkey that has dark meat and that is higher in saturated fat.
If I used ground turkey breast for this recipe, on my plan I could get 4 meatballs for 1 point. So you decide which meat you want to use. This is based on the fact that I have ground turkey breast as a zero point food.
Click this link to see what the points would be on your plan.
Nutrition Information:
Yield:

17
Serving Size:

1
Amount Per Serving:
Calories:

89
Total Fat:

6g
Saturated Fat:

2g
Trans Fat:

0g
Unsaturated Fat:

4g
Cholesterol:

41mg
Sodium:

195mg
Carbohydrates:

1g
Fiber:

0g
Sugar:

0g
Protein:

8g
Things to make with leftover meatballs:
Let me know if you make these! I'd love to see.