These hazelnut and dried cherry biscotti will be a hit at your next brunch, or great for gift giving!
One of the first baking recipes on my blog was from October 2008 was a pistachio and dried cranberry biscotti.
I remember walking through my yard looking for a garnish (why?!) and landed on a branch from my pine tree, because doesn't that go perfectly with biscotti?!
This recipe I am posting today is morphed from that original recipe. I am happy my food photography skills have improved.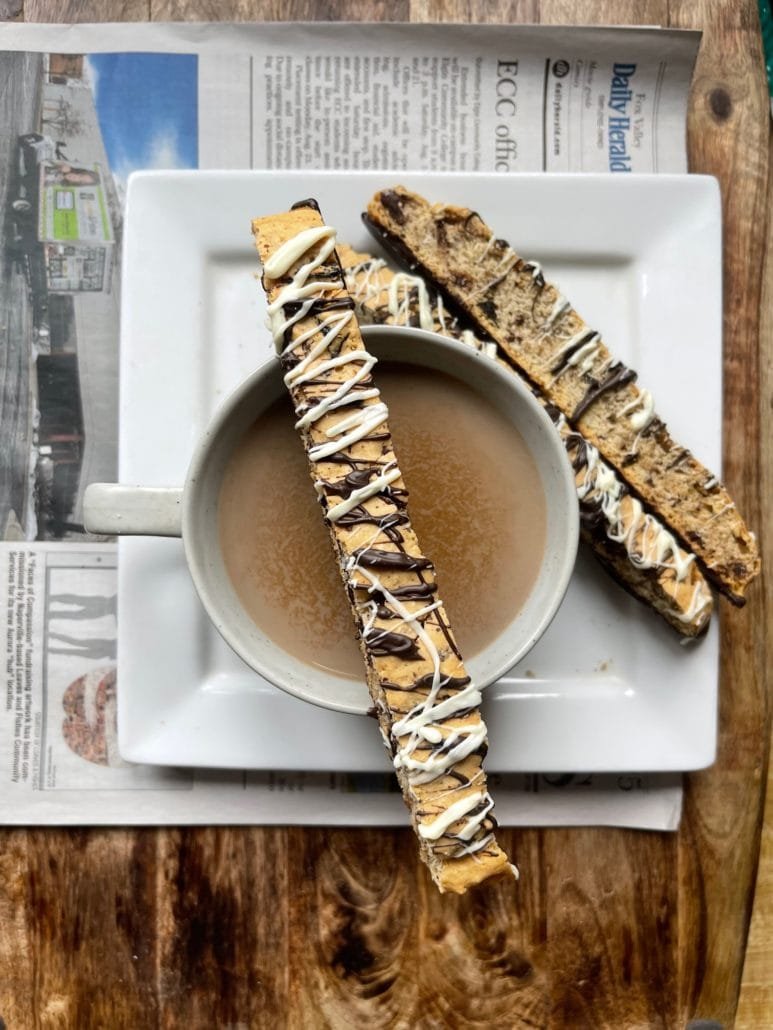 Circa 2008: And yes, my love affair with snowmen was strong in 2008 too!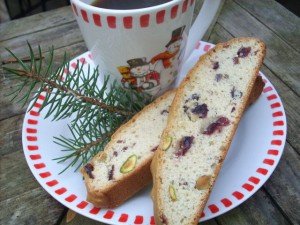 What is biscotti?
Biscotti are Italian "biscuits" and means "twice-baked." The second bake gets you that dry, crisp texture. My biscotti are crispy and hold up to dunking into a hot cup of coffee. It's my favorite way to eat them.
What kind of ingredients do you need to make biscotti?
The possibilities are endless, but nuts are traditional. I used dried cherries that I had from a trip to Michigan this summer, but you can use dried cranberries, golden raisins. Macadamia nuts would be delicious too!
Is biscotti dough supposed to be sticky?
Yep! I know, you will take one look at the dough and think you need to add more flour, but trust me, this dough works. Simply pour the dough onto a parchment lined cookie sheet, wet your hands and shape into a rectangle. Note, the dough will spread when baking, so make sure you use a big enough cookie sheet.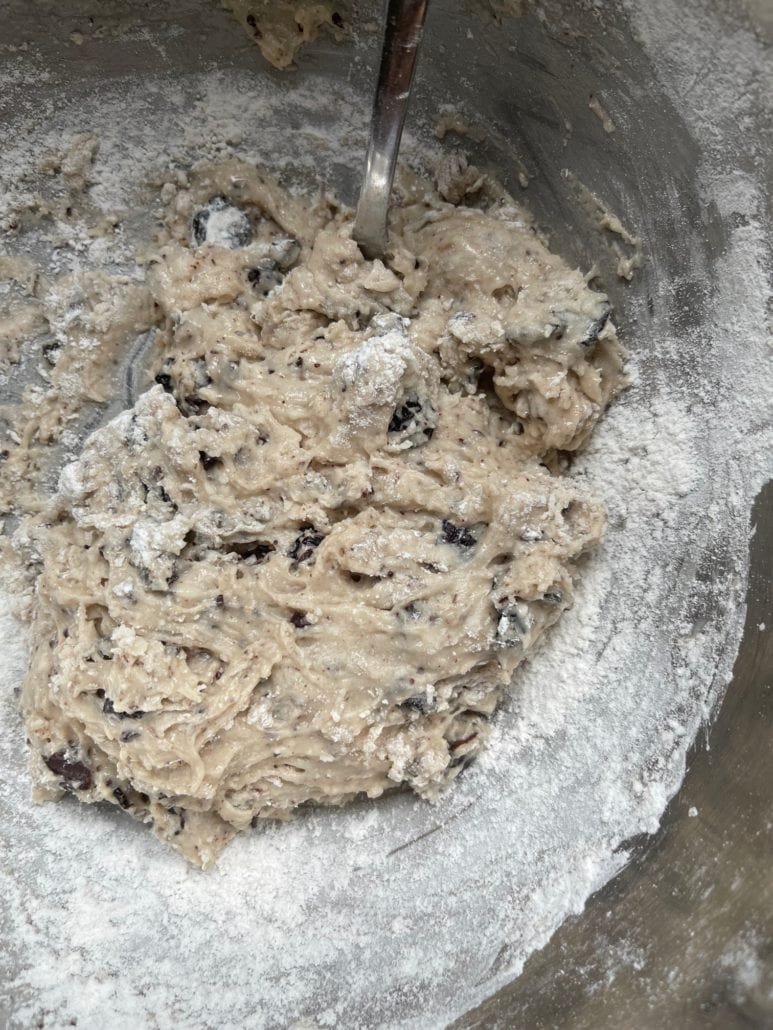 Hu Hazelnut Butter Chocolate is what I used in this recipe, but you could easily substitute chocolate chips.
It's important after the first bake to not let it cool longer than ten minutes. That way you'll be able to get clean cuts and it won't be crumbly.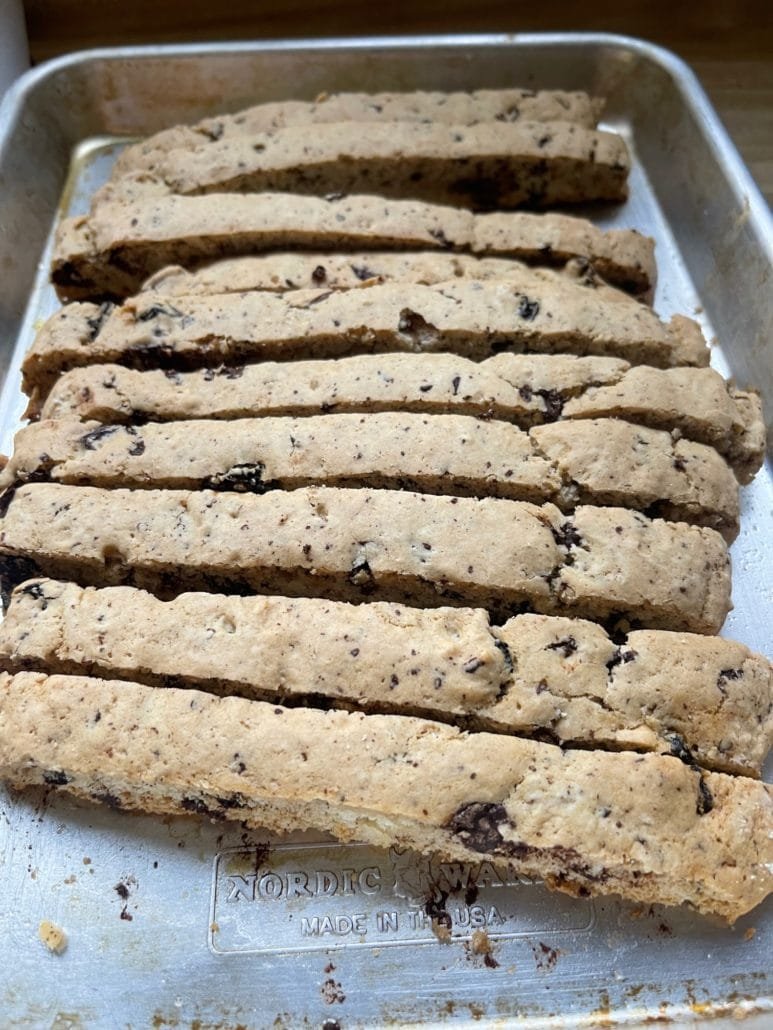 After the second bake, cool completely before melting the chocolate for the dip and drizzle. The chocolate hardens in about ten minutes.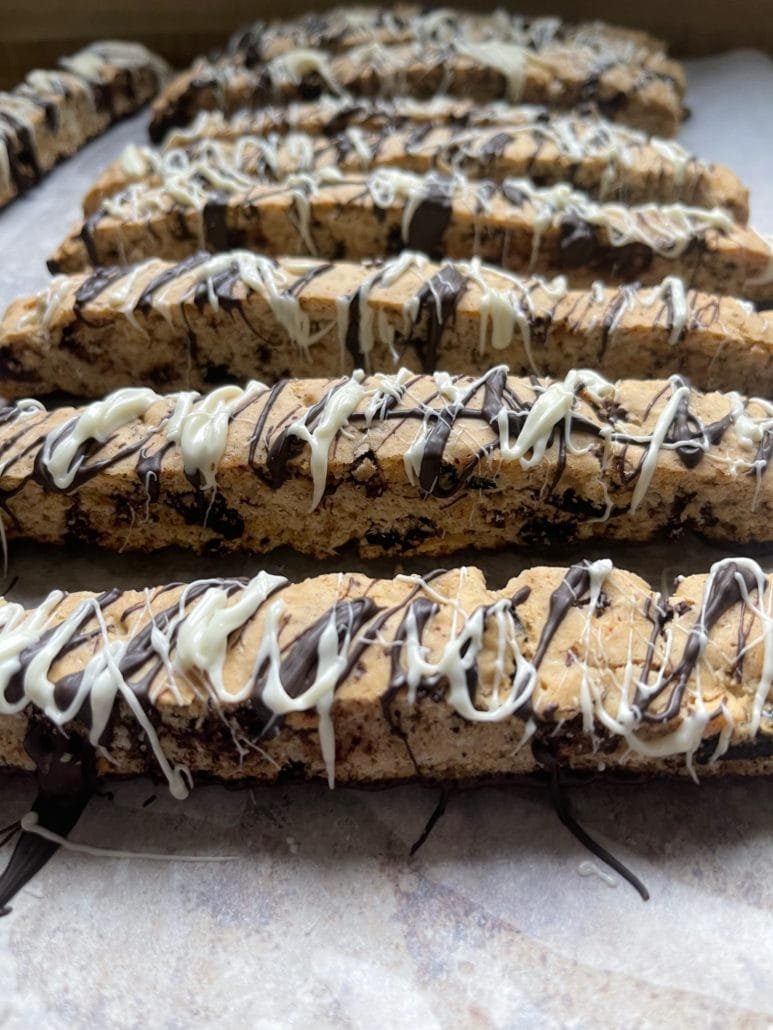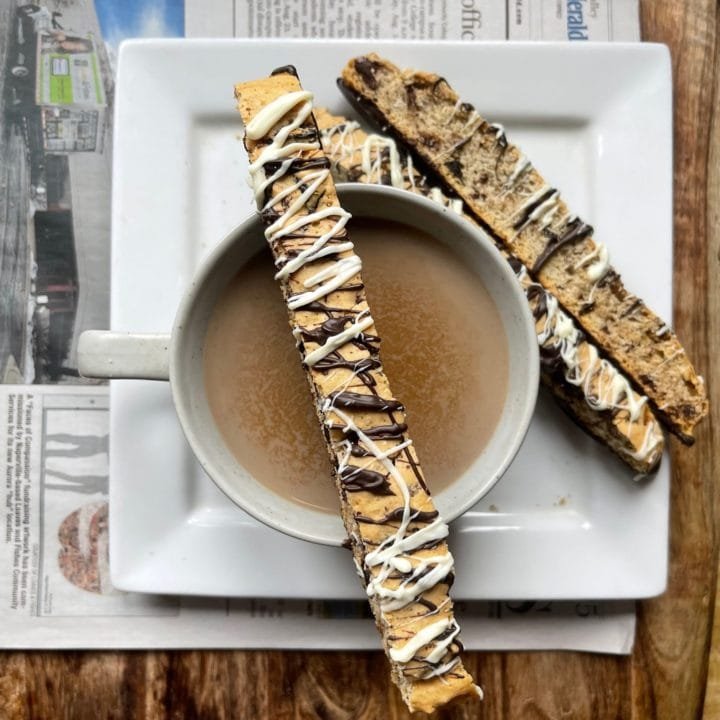 Hazelnut and Dark Cherry Biscotti
Cook Time:
25 minutes
20 seconds
Total Time:
30 minutes
20 seconds
Biscotti done right is crispy, but not hard. I love that mine can still withhold a dunking in coffee for that perfect bite.
Ingredients
2 egg whites
pinch salt
1/2 cup sugar
2 cups all-purpose flour
2 tsp. baking powder
1 tablespoon olive oil
1 teaspoon vanilla extract
4 tablespoons unsweetened almond milk (any milk will work!)
1/3 cup dried cherries, chopped
2 ounces hazelnut chocolate bar, chopped (I used Hu brand)
1/2 cup chocolate wafers (dipping chocolate)
1/4 cup white chocolate wafers (dipping chocolate)
Instructions
Preheat oven at 350 degrees. In a large bowl, beat egg whites with a pinch of salt until they just hold stiff peaks. Gradually beat in the sugar while constantly mixing it.

Sift the flour and baking powder and add this mixture and whisk.

Blend in the olive oil, milk, chopped chocolate, dried cherries and vanilla and mix well to get a sticky dough. This is a sticky dough - don't worry! Pour the dough onto a parchment lined paper, and using your hands, shape into a rectangle.


Bake for 25 to 30 minutes. Remove and let sit for at least 10 minutes to cool.

Now slice into biscotti-sized thick bars and return to the pan, lining them up side by side, but allowing room for them to get crispy, and return to oven for 20 more minutes at a reduced temperature of 300 degrees.

To melt the chocolate wafers: I put the chocolate on a paper plate, and at 50% power, microwave the chocolate in 30 second increments, until you can stir the chocolate to smooth.

Dip each biscotti in the chocolate and place on a second parchment lined paper. Use remaining chocolate to drizzle over the top.

Repeat with melting the white chocolate wafers, and once melted, drizzle over the biscotti.

The chocolate will harden within ten minutes. Store in an airtight container for up to a week.


Nutrition Information:
Yield:

12
Serving Size:

1
Amount Per Serving:
Calories:

217
Total Fat:

6g
Saturated Fat:

1g
Trans Fat:

0g
Unsaturated Fat:

5g
Cholesterol:

1mg
Sodium:

146mg
Carbohydrates:

36g
Fiber:

1g
Sugar:

16g
Protein:

4g
Let me know if you give these a try! On my WW program (the WW link is in the notes section of the recipe card) each one is 7 points. This recipe made 12 biscotti.
Have you made biscotti from scratch before?
[web_stories_embed url="https://mybizzykitchen.com/web-stories/hazelnut-and-dried-cherry-biscotti/" title="Hazelnut and Dried Cherry Biscotti" poster="https://mybizzykitchen.com/wp-content/uploads/2022/09/cropped-hazelnut-dried-cherry-biscotti-640×853.jpg" width="360″ height="600″ align="none"]