These rainbow bagels were a food memory blast from the past. I used to make rainbow bread for Hannah when she was little.
My friend Sam posted about a place in Chicago called Taste of New York that had rainbow bagels, and I thought I needed to make a batch of rainbow bagels with my skinny pizza dough.
Best decision evah!
Now, this is a bit time consuming, but mostly hands off. How much food coloring you use is up to you, but I found that a tablespoon was perfect.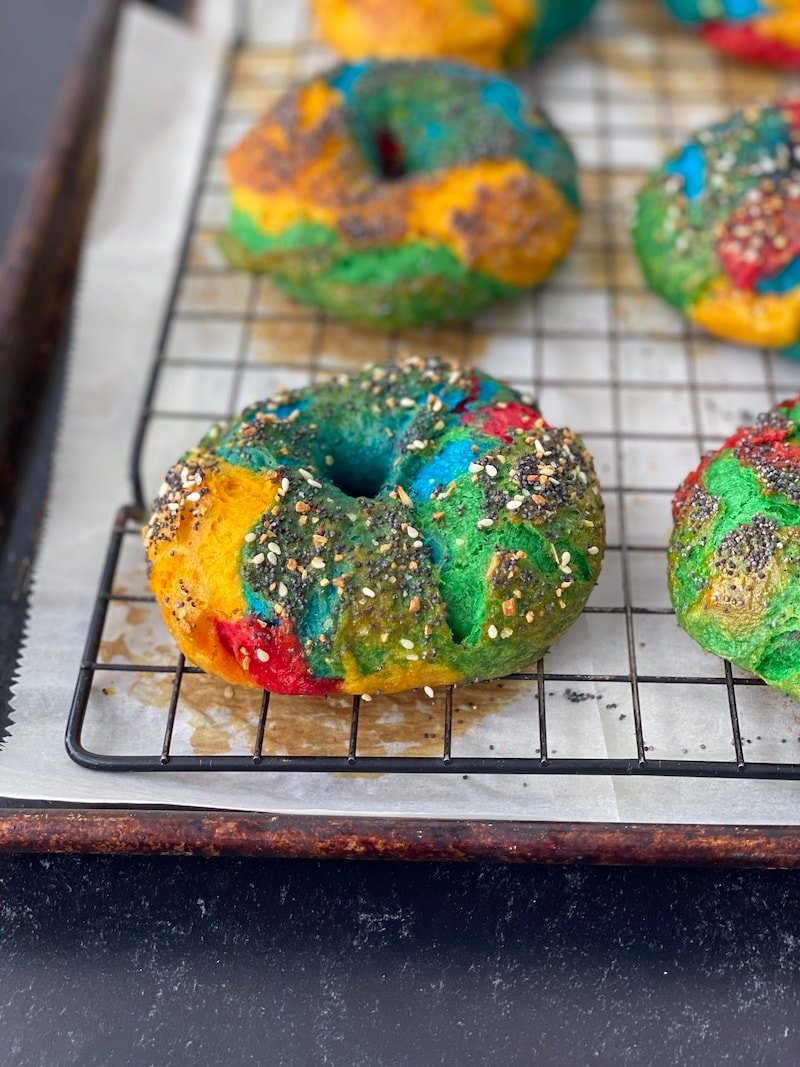 This skinny pizza dough is amazing that it can morph into so many things. You can't skip the boiling with baking soda step though!
Why do you need to boil bagels?
Boiling the bagels starts the cooking process, so you get that iconic texture that you get from a bagel. The longer you boil the bagels, the chewier the bagels become. I prefer just one minute a side. If you skip this step, your bagel will taste like bread if that makes sense?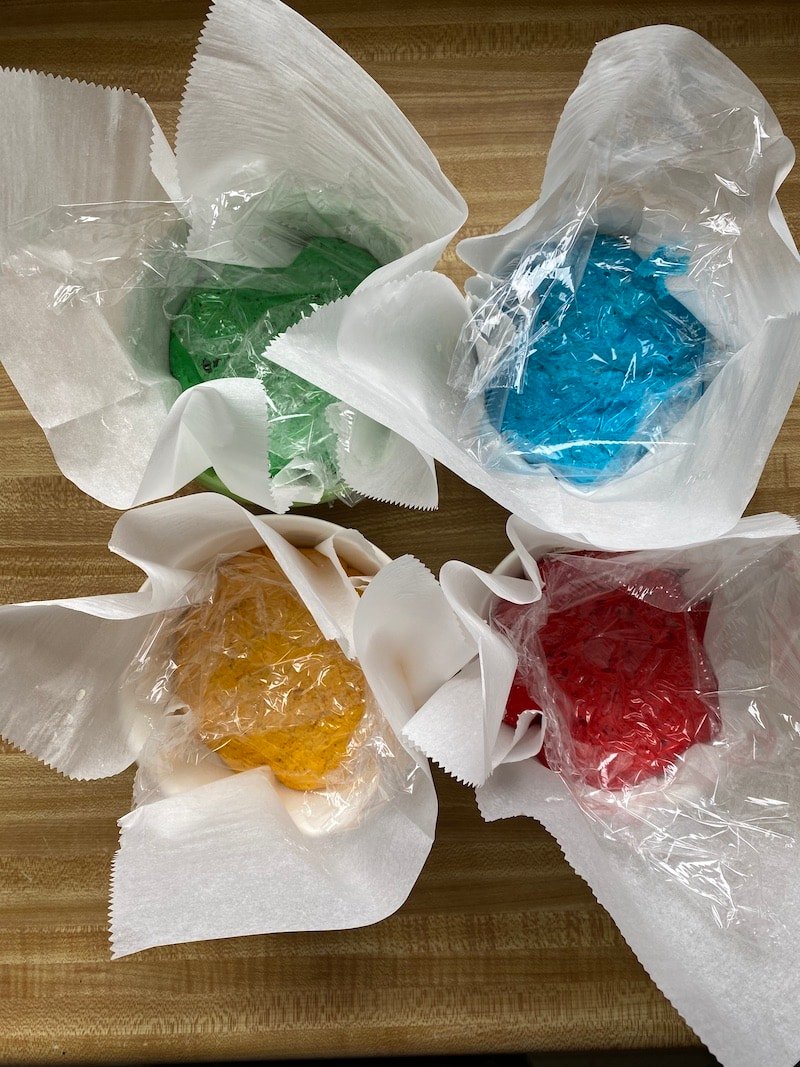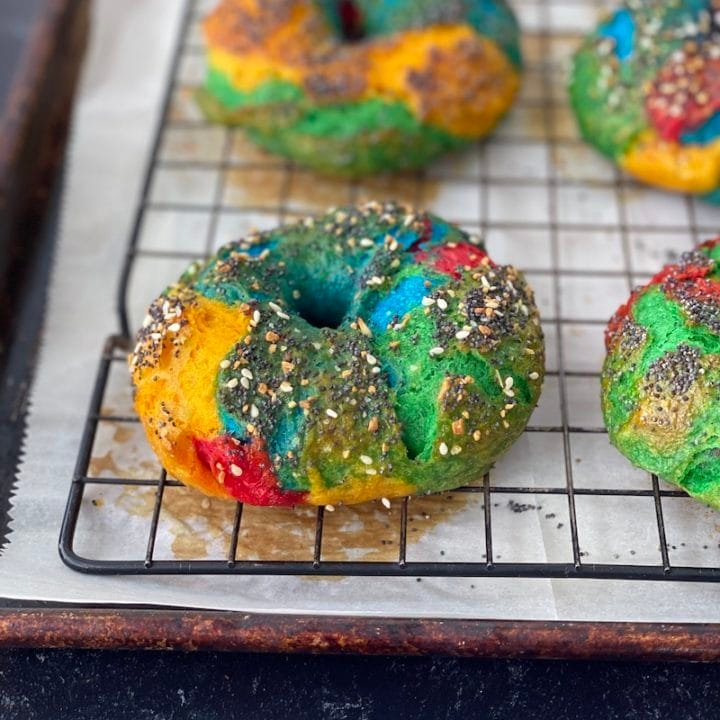 Rainbow Bagels
My skinny pizza dough makes the best bagels - you can't skip the boiling step - that's what gives these bagels their iconic taste.
Ingredients
I made each batch of dough it's own color - I made a dough of red, blue, green and yellow.
For each color:
1 cup self-rising flour
1/2 teaspoon yeast
1/2 teaspoon salt
1/4 cup nonfat Greek yogurt
1/4 cup water
1 tablespoon food coloring
For the water bath:
Pot of water
1/4 cup baking soda
Egg wash: one egg yolk mixed with one tablespoon water
Instructions
Mix the flour, yeast and salt together. Stir in the yogurt. Mix the food coloring with the water and add that to the dough. I pulsed in my food processor just until combined. I repeated this step for each color.
Place each colored dough ball in a bowl, lightly cover with saran wrap and let rise overnight.
Bring water to a boil. Once boiled, reduce to simmer. Right before adding the bagels, add the baking soda - make sure you leave room in your pot because the water puffs up after you add the baking soda.
Take one ounce of each color dough. Roll into a ball and put your thumb in the middle to stretch and make a hole.
Dip the bagel into the water bath and cook for one minute a side. The longer you boil the bagel, the chewier the bagel becomes.
Brush the bagels with the egg wash, and add toppings of choice - I did poppy seed, everything but the bagel seasoning, and kosher salt.
Bake at 425 for 20 minutes.
Let cool completely before slicing.
Notes
On all WW plans, each bagel is 4 points. The food coloring I used is the same that you use for coloring Easter eggs. You can find it in the baking aisle of most grocery stores.
While the outside gets browned after baking and mutes the colors a tiny bit, the inside is gorgeous!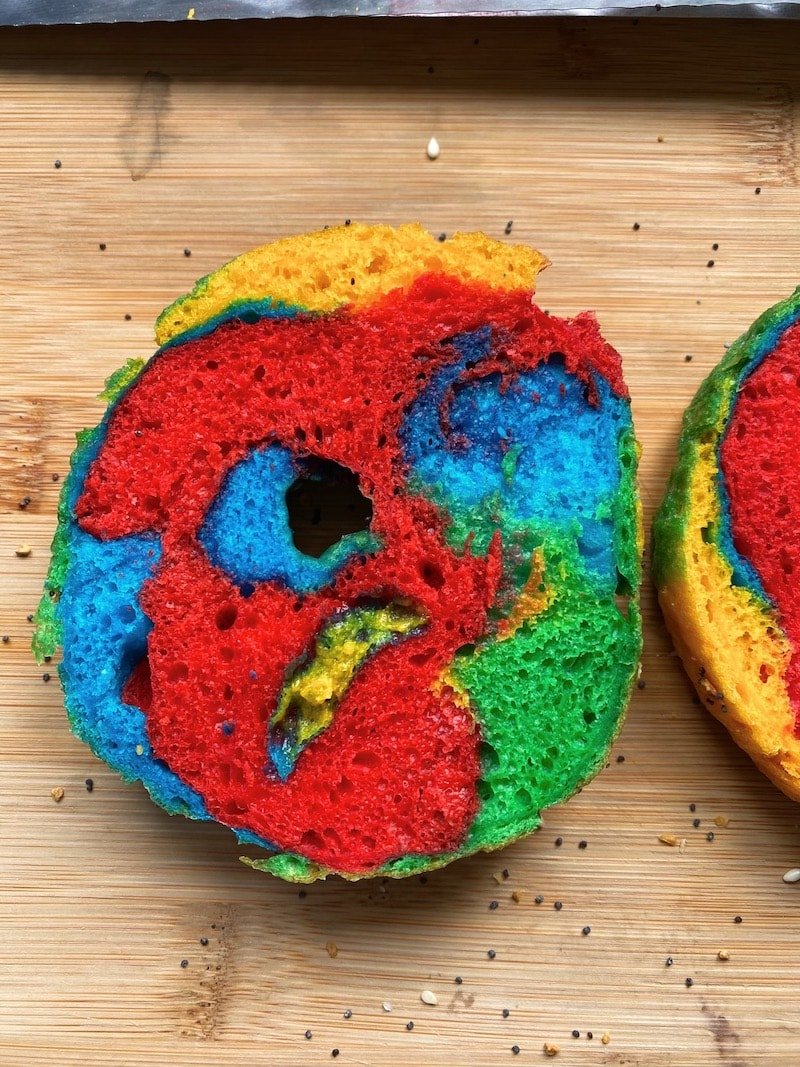 This would be such a fun project for kids. I made myself a bagel sandwich with an egg, 14 grams of cheese and ham for a 7 point bagel sammie that kept me full for hours.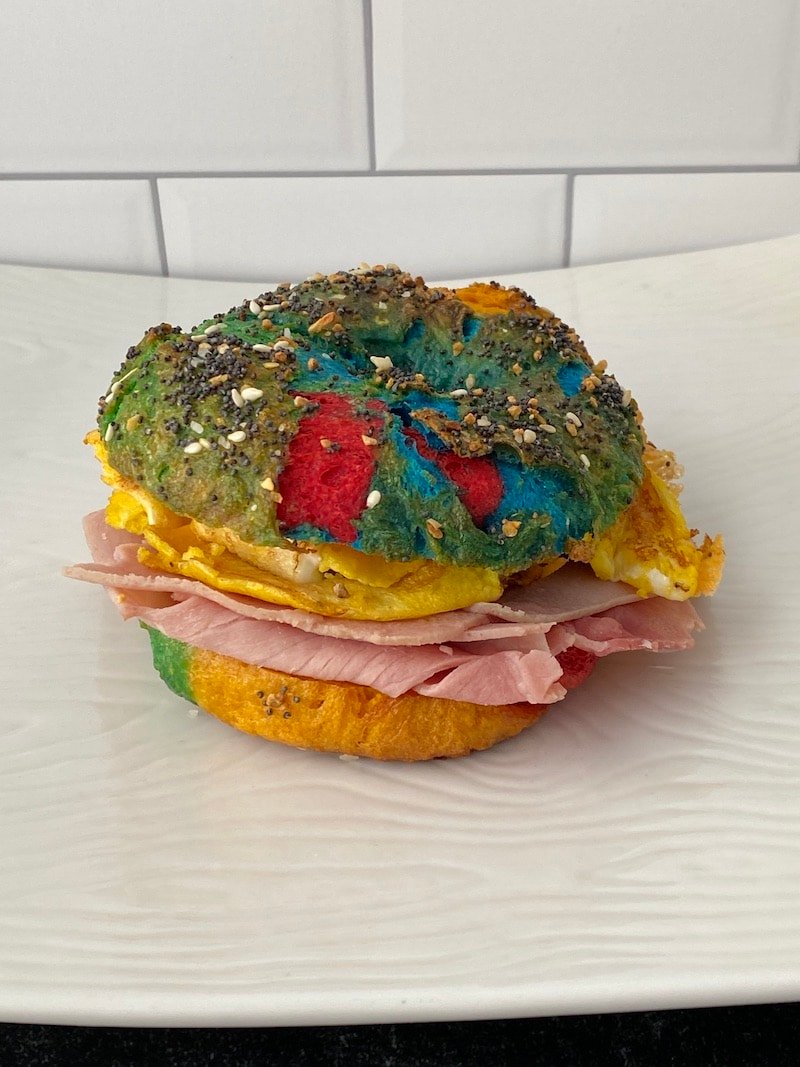 I hope you give these a try! If you are on Instagram, I have a highlight saved "RainbowBagel" with the video of how I made these. Be sure to tag me if you do – I'd love to see it!