As soon as I got Marion's Kitchens new cookbook, I knew I wanted to make Marion's Kitchen Fried Chicken Bao Buns.
I adapted her recipes to make them a bit more WW friendly, but the end result is still delicious.
How do you make bao buns?
Truth be told, that was the part of the recipe that intimidated me the most, but it was simple! I don't have a steamer basket, but I had a metal steamer basket that you can find at Bed Bath & Beyond for under $8.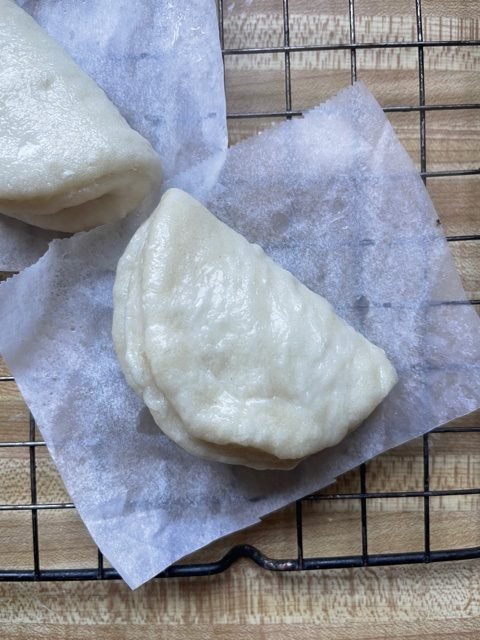 For Marion's sticky sauce, her original recipe called for 1/3 cup sugar, with blew the roof not only the calories but the points. I simply substituted the sugar for Truvia's Sweet Complete brown sugar. The sticky sauce is still plenty sweet with this substitution.
Lastly, her recipe called for sliced cucumbers, and I thought they needed to be pickled. OMG – these cucumbers are so flavorful! If you make nothing else, please make these pickles.
Marion's Kitchen Sticky Sauce
Marion's Kitchen sticky sauce recipe called for 1/3 cup of sugar, which totally bumped up not only the calories, but the points! My version is only 16 calories a teaspoon (which WW wants me to count as 1 point - stink eye!)
Ingredients
1/3 cup soy sauce
1/3 cup no calorie brown sugar (I used Truvia Brown Sugar Complete)
2 tablespoons apple cider vinegar
2 tablespoons gochujang
2 tablespoons ketchup
3 garlic cloves, finely chopped
1 teaspoon cornstarch (I added to thicken the sauce)
Instructions
Add all the ingredients together in a saucepan, bring to a simmer and cook for 5 minutes.
Set aside to cool.
Sweet and Sour Pickles
Total Time:
1 hour
5 minutes
These pickles are packed with flavor! Great on their own, but perfect on fried chicken bao buns.
Ingredients
1 large English cucumber
1 cup rice vinegar
1/2 cup no calorie brown sugar (I used Truvia Brown Sugar Complete)
1 teaspoon crushed red pepper
1 tablespoon fresh ginger, finely chopped
Instructions
Place the rice vinegar, brown sugar, crushed red pepper and ginger in a stock pot. Bring to a boil.
Meanwhile, thinly slice an English cucumber. Pour hot vinegar mixture over the cucumbers. Let cool. Store in the refrigerator for up to two weeks.
Notes
These are zero points on any WW plan.
Marion's Kitchen Bao Buns
Cook Time:
1 hour
30 minutes
Additional Time:
12 minutes
Total Time:
1 hour
47 minutes
These bao buns are so easy to make. It's a simple dough - you let it rise 90 minutes and it's so fluffy and amazing.
Ingredients
360 grams all-purpose flour
4 grams baking powder
5 grams instant dry yeast
35 grams sugar
35 grams vegetable oil
200 grams water
Instructions
Put the flour, baking powder, yeast and sugar in a large bowl. In a separate bowl, mix the oil and water.
Add that mixture to the flour mixture, and using a fork, mix together until combined.
Place on counter and knead for 5 minutes. Cover and let rise for 90 minutes. (I use my oven with the oven light on).
Transfer the risen dough to your counter and knead an additional 5-10 minutes.
Using a rolling pin, roll the dough to 3/8 inch thickness. Cut out rounds (I used a 4 inch coffee cup).
Fold rounds in half and flatten slightly with a rolling pin. Place on a square of parchment paper. Repeat with remaining buns and let rise an additional 30 minutes.
With a wok one-third full with water place over high heat. When the water is boiling, place the steamer in the wok and steam for 12 minutes. Turn off heat (don't lift lid) and let the buns rest over the hot water for 5 minutes.
Buns can be made up to a day in advance and steamed to reheat (or microwaved for 15 seconds).
Marion's Kitchen Fried Chicken
Cook Time:
7 minutes
5 seconds
Total Time:
9 minutes
5 seconds
Marion's recipe called for a cup of cornstarch and she deep fried them. I made one serving for myself and was able to reduce the cornstarch down to 2 tablespoons. Chicken is a "zero" point food on my WW plan, so my "fried" chicken comes in at 2 WW points.
Ingredients
4 ounces chicken breast, cut into bite sized pieces
1/4 teaspoon salt
1/4 teaspoon black pepper
2 tablespoons cornstarch
avocado oil spray
Instructions
Season the chicken with salt and pepper and let sit for 5 minutes.
Toss in the cornstarch.
Pan fry in avocado oil spray over medium heat for 6-7 minutes, or until crisp and cooked to an internal temperature of 165 degrees.
To assemble the sandwich, simply open the bao bun, brush with the sticky sauce, add the pickled cucumbers, fried chicken and more sticky sauce. On my WW plan, each bun is 7 points and worth every single one.
Have you made bao buns from scratch before? If you have been hesitant like me, go for it – you'll be surprised how easy it is.
Marion also has a YouTube video on this whole recipe as well if you want to check it out.
If you haven't tried it yet, check out my zero point stirfry sauce – it's so good!