Sneaking vegetables into your diet is easy with this pumpkin pancake recipe!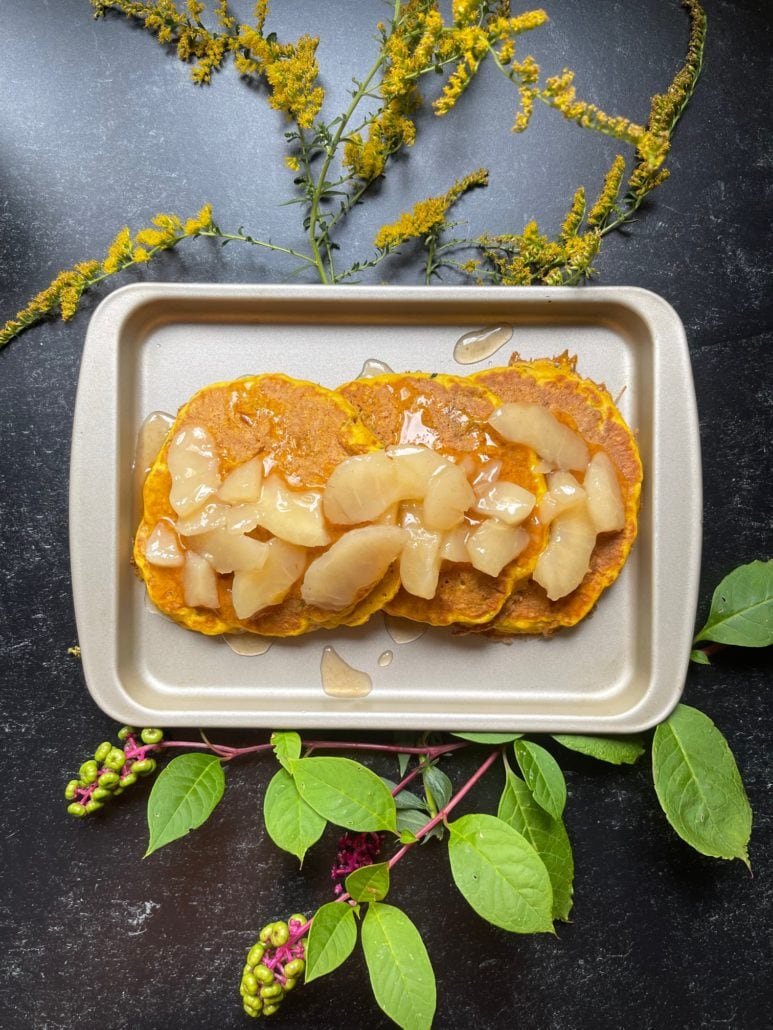 Recently I met with a nutritionist. First, she wanted me to track my grams of sugar each day, which was around 20 grams per day (a little higher if I ate more fruit). Secondly she suggested that I eat more vegetables. I know I am not alone in this problem, so I've been trying to think of creative ways to sneak them in as if I am a toddler. This pumpkin pancake recipes is a great example.
What is the secret to fluffy pancakes?
The key to fluffy pancakes is allowing the baking powder a chance to do it's magic. Simply let the batter sit at room temperature for 30 minutes before cooking. That's it!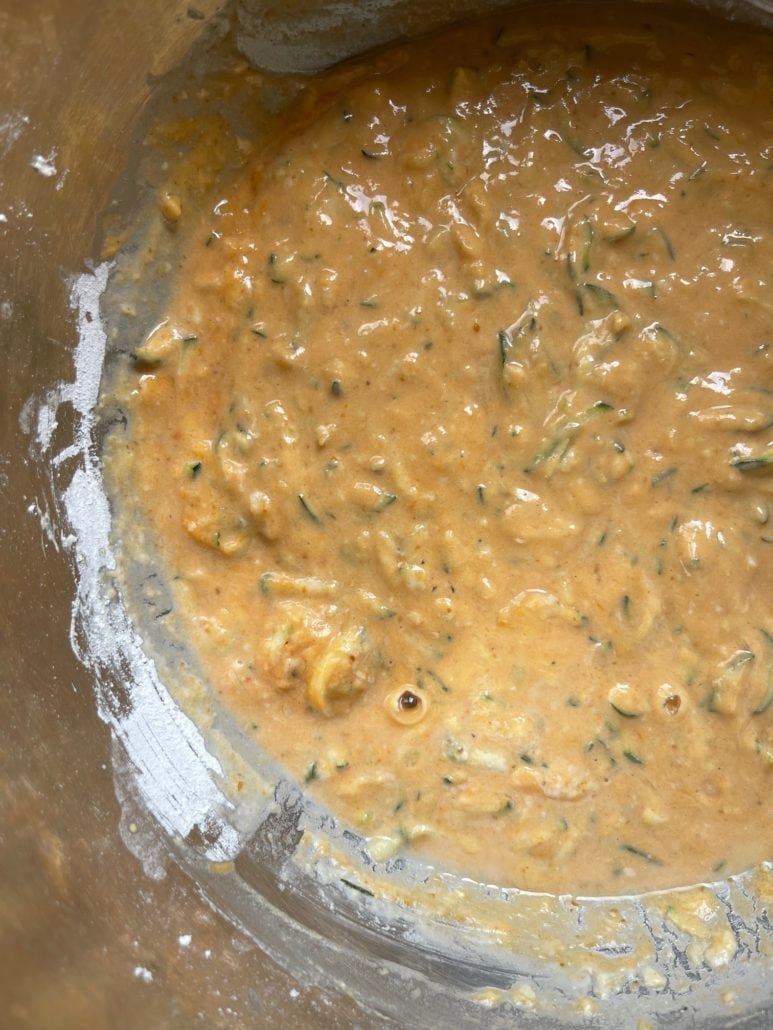 How do you know when to flip pancakes?
After you let the batter sit for 30 minutes, using a 1/3 cup measure per pancake, place the batter in a non-stick skillet. As soon as you see bubbles start to form on the top of the pancake, it's ready to flip.
How to add more vegetables to your diet?
Recently I asked that same question to my followers on Instagram and love all the ideas!
Adding a salad to one meal a day.
Vegetable stirfry.
Using cauliflower rice in place of brown/white rice.
Adding frozen spinach to smoothies.
Using sauteed veggies like mushrooms, carrots and celery to pasta sauce – once blended, you'll never know!
Roasting vegetables at the beginning of the week to add to omelets or a quick side dish.
Making vegetable soup with veggies you have on hand.
Ingredients you'll need for these pancakes:
flour (I used self-rising but regular flour works!)
salt
baking powder – the key to fluffy pancakes!
baking soda
cinnamon
ginger (I used a tablespoon of fresh ginger, but 1 teaspoon of ground ginger works)
canned pumpkin (not to be confused with canned pumpkin pie filling)
zucchini
almond milk (any milk works)
eggs
non-calorie sweetener (I used Truvia)
Zucchini Pumpkin Pancakes
Trying to sneak veggies into your diet? This one has both zucchini and pumpkin and pinky swear your family won't taste the zucchini.
Ingredients
1.5 cups self-rising flour (regular flour is fine too!)
1/2 teaspoon salt
1 teaspoon baking soda
1 teaspoon baking powder
1 teaspoon ground cinnamon
1 tablespoon fresh ginger, finely chopped (or 1 teaspoon ground ginger)
1 cup canned pumpkin puree
2 cups shredded zucchini
3/4 cup unsweetened almond milk (or your favorite milk)
2 large eggs
1/3 cup Truvia no calorie sweetener (or any non-calorie sweetener of choice)
Instructions
Mix everything together. Don't overmix.
Let the batter sit 30 minutes to let the baking powder do it's magic.
Cook over medium low heat, using 1/3 cup measure per pancake, and cook 2-3 minutes a side.
I only use one skillet so it takes me about 20-30 minutes to make a batch.
These keep in the fridge for up to a week. They can also be frozen. Freeze the pancakes on a cookie sheet for 30 minutes. Store in a ziptop bag. You can go straight from freezer to a toaster to reheat.
Notes
On all WW plans, these pancakes are 2 points each no matter how many you have. If you count calories or macros, each one is 94 calories, 1.5 fat, 16.5 carbs, 1.3 fiber and 3.6 protein.
These pancakes are light, fluffy and delicious. For the topping I heated 1/4 cup sugar free pancake syrup with 1/3 cup
no sugar added apple pie filling.
This is the perfect breakfast after apple picking – it screams fall!
Can pancakes be frozen and reheated?
Absolutely! This pumpkin pancake recipe will stay fresh in the fridge for up to five days. To freeze, lay the pancakes on a cookie sheet in a single layer and freeze for 30 minutes. Next, place the frozen pancakes in a ziptop bag – that way they won't stick together and you can pull out as many as you want. Simply go from freezer to toaster and run the toaster twice to thaw and reheat. They will literally taste like they were freshly made.
If pancakes are your jam, check out some of my other pancake recipes!
What's your favorite pancake?