You guys are going to love these Starbucks Copycat Sous Vide Bites!
When my late husband was going in and out of the hospital, eating on the go was crucial.
So many followers at the time sent me Starbuck's gift cards to pick up coffee and/or food and at one point I think I had over $400 to spend.
The protein box was one of my favorites and then when sous vide bites came on the menu, those were delicious too. I never paid attention to the cost until I had run out of gift card money – ha!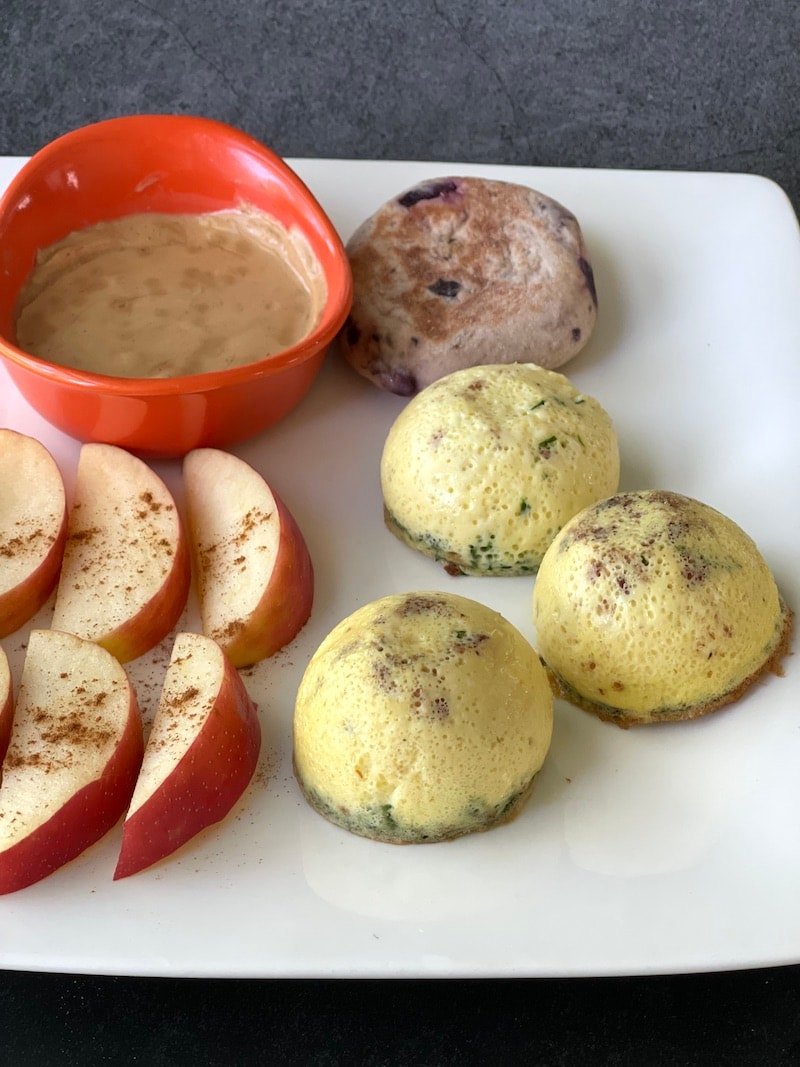 What vegetables should I put in sous vide bites?
The sky's the limit but I have a few tips. Don't blend roasted red peppers or spinach in with the egg mixture, otherwise the bites come out pink and green – they taste amazing, but it's not appealing.
So you need a sous vide machine to make Starbucks Sous Vide Bites?
Nope! When my son-in-law lived with me, he had a sous vide machine. But you could bake these in the oven at 400 degrees for 10 minutes. Just put the silicone egg mold on a cookie sheet to get it in and out of the oven easier. This is the one I have from Amazon. (I don't use affiliate links, FYI).
Another tip is to not fill the molds all the way to the top – 3/4 works best.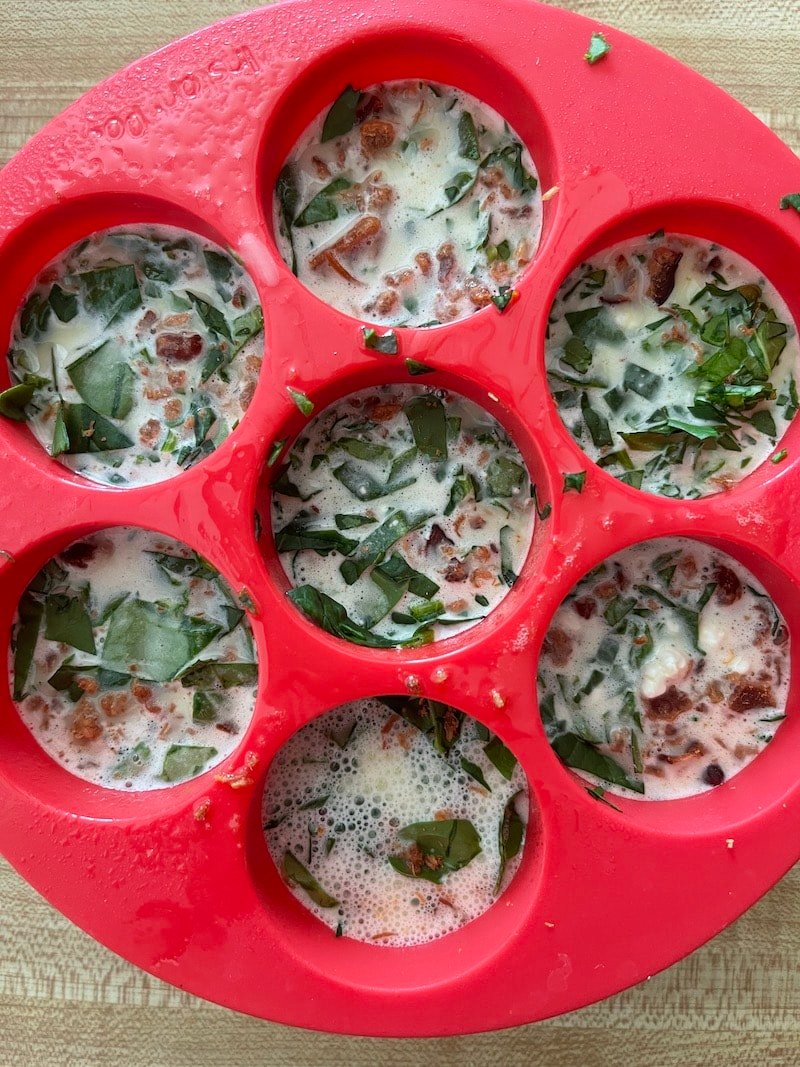 Starbucks Copycat Sous Vide Bites
These Starbucks Copycat Sous Vide Bites are so light and fluffy - almost taste like mini egg souffles!
Ingredients
4 large eggs
1 ounce feta cheese
1/2 cup spinach
2 tablespoons real bacon bits
2 tablespoons half and half (or milk of choice)
1/2 teaspoon crushed red pepper
salt and pepper
Instructions
Preheat air fryer for 5 minutes at 360.
In a blender, blend the eggs, feta, crushed red pepper, salt and pepper.
Chop up the spinach.
Spray silicone egg bites mold with avocado oil.
Divide the spinach and bacon between the cups. Pour in the egg mixture.
Bake for 11 minutes. Let cool two minutes before removing
So this plate is a mashup of the protein box and sous vide bites from Starbuck's. I have made a copycat recipe of the Museli bread from Starbuck's – you can check out that recipe here. I used powdered peanut butter, but I mix 2 tablespoons of the powder with 1 tablespoon water and 1 tablespoon sugar free pancake syrup and add a pinch of salt.
The rounds were found at Walmart – 2 points each on any WW plan – so tasty!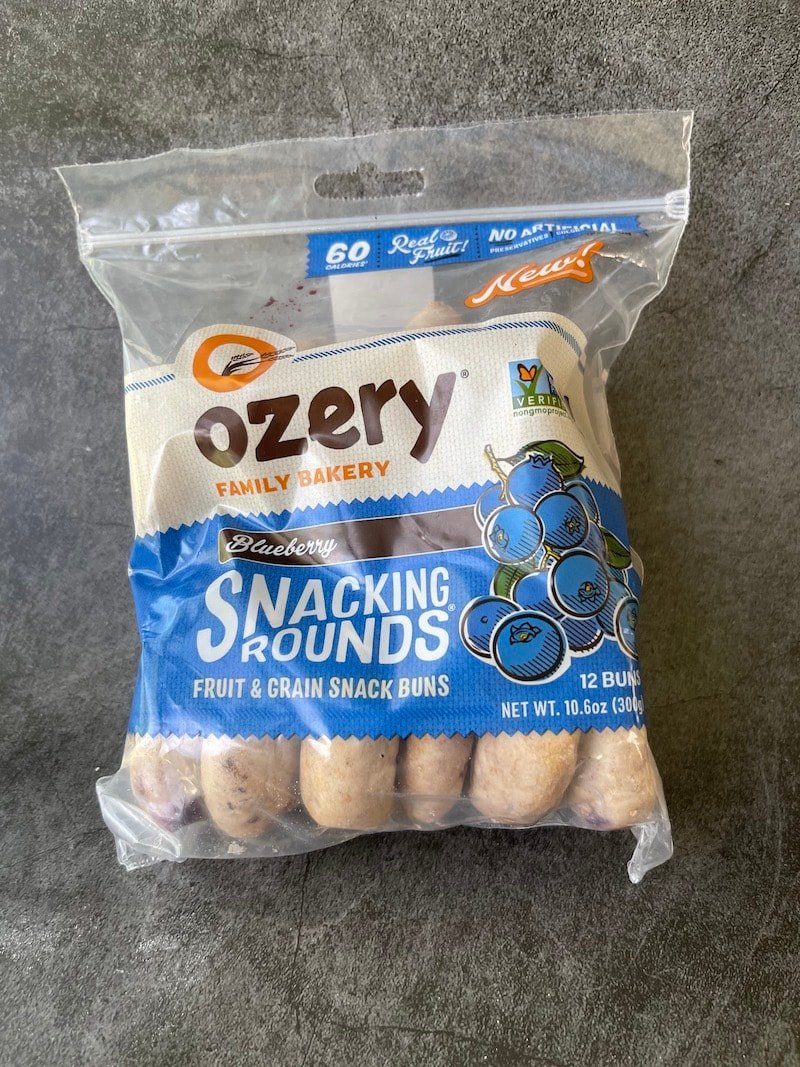 My plate comes in at 6 WW points on #teampurple.
Let me know if you give these a try!