UPDATE: 2/1/2021 – the recipe plug in for this Starbucks Copycat Muesli Bread was missing, so now I've updated the recipe card and updated the photos as well – enjoy!
Thanks for all your kind comments to Tony's letter yesterday. I know that it means a lot to him and rest assured, he read every single one!
I've been so blessed to get so many people to give me a Starbucks gift card while Tony is in and out of the hospital – it means so much! I puffy heart the protein box.
So last week I did a quick google search and the first recipe that popped up was from Minimalist Baker. (Awesome site by the way!) I adjusted it a bit – I think the bread in the protein box is slightly sweet, so I added 2 tablespoons of sugar. My filling was 1/2 cup chopped mixed nuts and 1/2 cup craisins.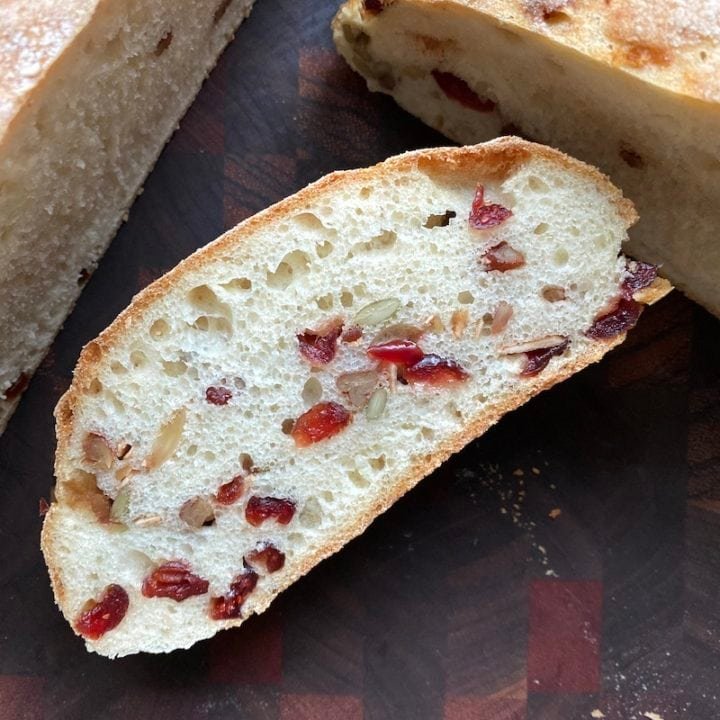 Starbucks Copycat Muesli Bread
Total Time:
2 hours
35 minutes
I love the protein boxes from Starbucks that have the muesli bread in them. What I don't love is the price tag! This tastes just like the bucks and it's super easy to make too!
Ingredients
1.5 cups warm water
3.25 cups flour
1/2 tablespoon salt
2 tablespoons sugar
3/4 tablespoon fast acting yeast (about one package0
1/2 cup dried cranberries (like Craisins)
1/2 cup mixed nuts, chopped
Instructions
In a large bowl, combine the water, flour, salt, sugar and yeast and mix until combined. The dough will be sticky and wet - you'll be tempted to add more flour at this point, but please don't. Trust me. Put some plastic wrap on your bowl and let rise two hours. I keep a cold house, so I heated my oven to 170 (waited 5 minutes) turned the stove off and set the dough in the warm oven. People told me the light bulb trick would have worked though too - just leave the oven light on while the dough proofs.
Heat oven to 450. Place a cast iron skillet on the bottom rack of your oven.
When you are ready to bake, put the dough on the counter with a bit of flour, and knead for one minute. Add in the toppings to the dough and knead for a few more minutes, trying to keep the add-ins on the inside of the dough, or else they'll get too crispy when baking.
Place dough on parchment lined cookie sheet. Slash the top 2-3 times with a knife, making a cut about 1/2 inch deep.
Place bread in oven and carefully pour one cup hot water into the cast iron skillet - it will steam so be very careful! Close the door quickly.
Don't open the oven door! Bake for 30 minutes, or until deep, golden brown and it sounds hollow on the bottom.
Remove from the oven and cool completely on a rack before slicing. I know it's hard, but it's worth the wait!
Notes
I made this 16 slices for the whole loaf. On all WW plans each slice is 4 points. If you are counting calories or macros, each slice is 134 calories, 2 fat, 23.6 carbs, 1.2 fiber and 3.6 protein. This is for the exact products I used. The nutrition generator is a bit higher in calories, but that uses generic items to calculate.
Nutrition Information:
Yield:

16
Serving Size:

1
Amount Per Serving:
Calories:

141
Total Fat:

3g
Saturated Fat:

0g
Trans Fat:

0g
Unsaturated Fat:

2g
Cholesterol:

0mg
Sodium:

215mg
Carbohydrates:

26g
Fiber:

2g
Sugar:

5g
Protein:

4g
I also didn't have any parchment paper, but non-stick foil worked just fine. I heated up my baking stone my MIL gave me along with a small cast iron skillet to pour the hot water in when you add the bread to the oven. BE VERY CAREFUL because the hot water pops as soon as it hits the pan – and shut the door as quick as possible, you want to keep all the steam in the oven.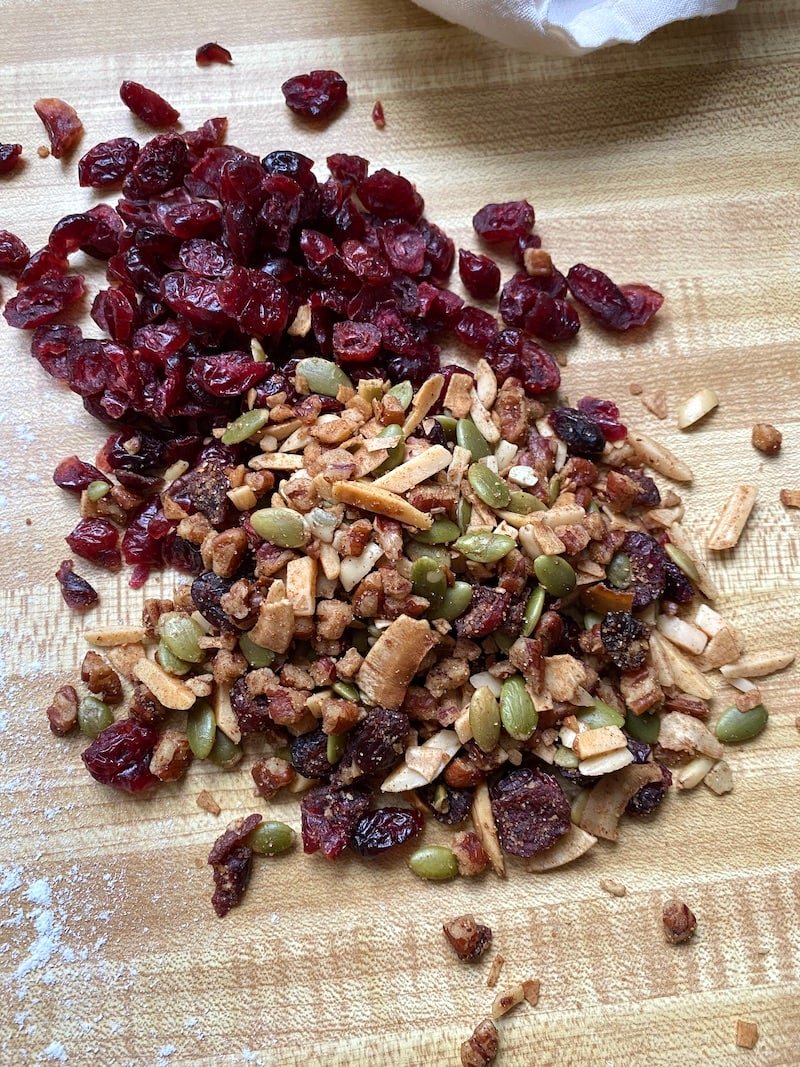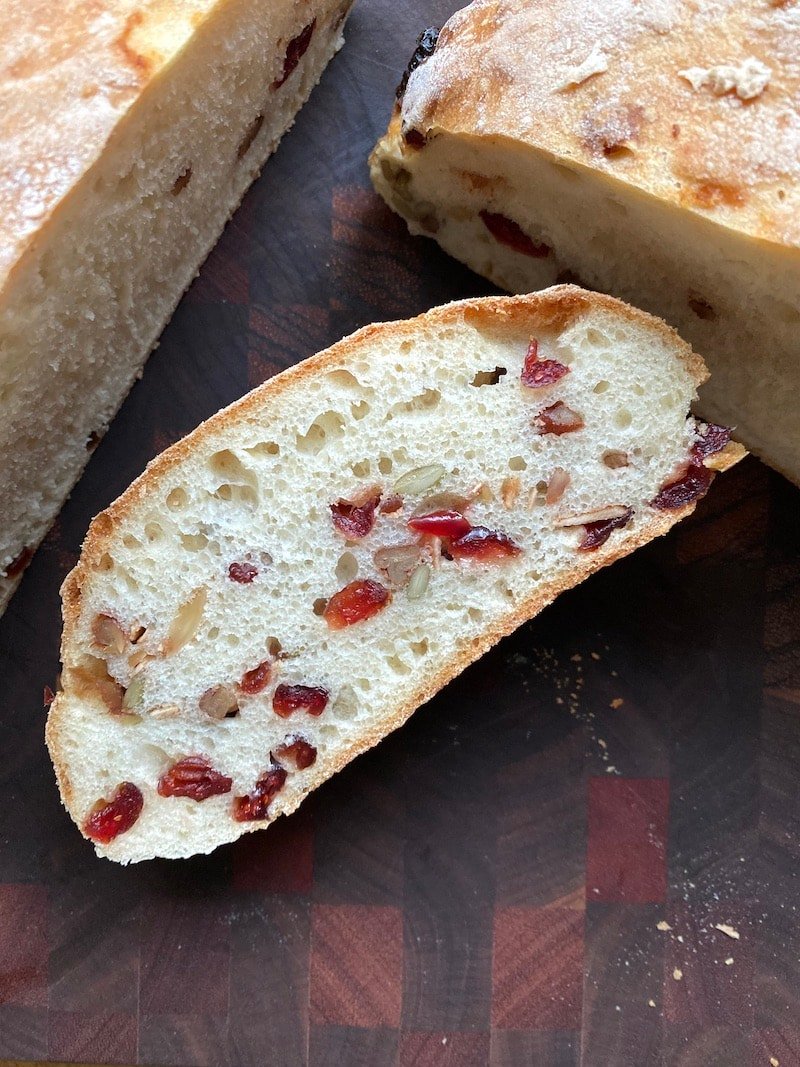 If you love Starbucks lemon loaf, check out my copycat recipe here!
This was so good. While the crust was super crunchy right out of the oven, it did get soft as it cooled. When I brought it to my co-worker I decided to toast her up a piece and she loved it. My mock protein breakfast:
This kept me full for hours! Sadly, I wasn't able to go to the gym – both of the secretaries were out sick yesterday, just leaving me so I couldn't leave the phones. Over the weekend I did make a zucchini lasagna, loosely based off of Skinny Tastes. Only I had fresh lasagna sheets, so I didn't do the roll ups like she did. Next time I think I'll follow her directions because my filling was too thin. Each piece only came in at 375 calories though which isn't too bad – the flavor was there, just needed more filling. And the fresh noodles on the sides didn't really cook right so they were a bit crispy.
I drizzled my cucumbers with Annie's goddess dressing – I am almost out! Need to hit up Big Lots and see if they have more.
Tony told me that a box had been delivered to me that weighed at least 50 pounds – it sure was heavy! It's my new canning machine!
I cannot wait to read the instructions for this. I am partnering with Fresh Preserving for International Can it Forward Day which is August 16. They hope to get everyone excited about canning again with this state of the art canning system. IT SELLS FOR $299! Wowza! They are also letting me give away some Ball Jars – check out this blog post to leave a comment for a chance to win. A winner will be picked on International Can it Forward Day – Saturday August 16. Good luck!
How to make tomato soup with cheese tortellini.
Tony didn't have much of an appetite for dinner. I had plans to make these sesame potstickers, only with ground pork instead of chicken. I know Tony likes potstickers and I was going to make his fried rice on the side, only using low sodium soy sauce. But once he decided on a plain grilled cheese sandwich, I went to Biz food. I had cheese tortellini in my freezer and I had these two can of Rold Gold tomatoes in my pantry, so a spicy tomato soup was born.
This soup is so easy – really the longest part is getting the water to boil for the tortellini. This makes 4 generous servings, I haven't figured out the nutrition yet, but it can't be more than 300 calories even with the tortellini.
Spicy Tomato Soup with Cheese Tortellini
2 cans Red Gold tomatoes with chiles
2 cups chicken broth
1 teaspoon ground cumin
1/4 cup heavy cream
1 teaspoon crushed red pepper
salt and pepper
9 ounce bag of tortellini
chopped cilantro to taste
Bring water to boil and cook tortellini according to package instructions. Mine took 6 minutes once the water came to boil. Since these tomatoes were chunky out of the can, once I added everything but the tortellini to the pot, I used my stick blender to puree the soup. By the time the tortellini were cooked through, my soup was hot. Just add 6 tortellini to each bowl of soup and top with chopped cilantro.
Here's a tip – if you put a wooden spoon over the top of your boiling water, it will never overflow.
Let me tell you, this soup has a ton of flavor going on even with so few ingredients. The Red Gold tomatoes with chiles really packs a heat punch, but not too much. And I like the cilantro with tomato soup!
Well one secretary has already called in sick again today – hope I get at minimum a 45 minute walk in. I did manage to get 6000 steps yesterday just in the office, so that's not too bad.
I am bringing my blueberry vanilla pancakes for breakfast this morning – I'll be sharing that recipe with you tomorrow. Make it a great day!