My friend Justin posted a ramen soup yesterday and I decided to make my version of that soup. Salt and Pepper Tofu Ramen!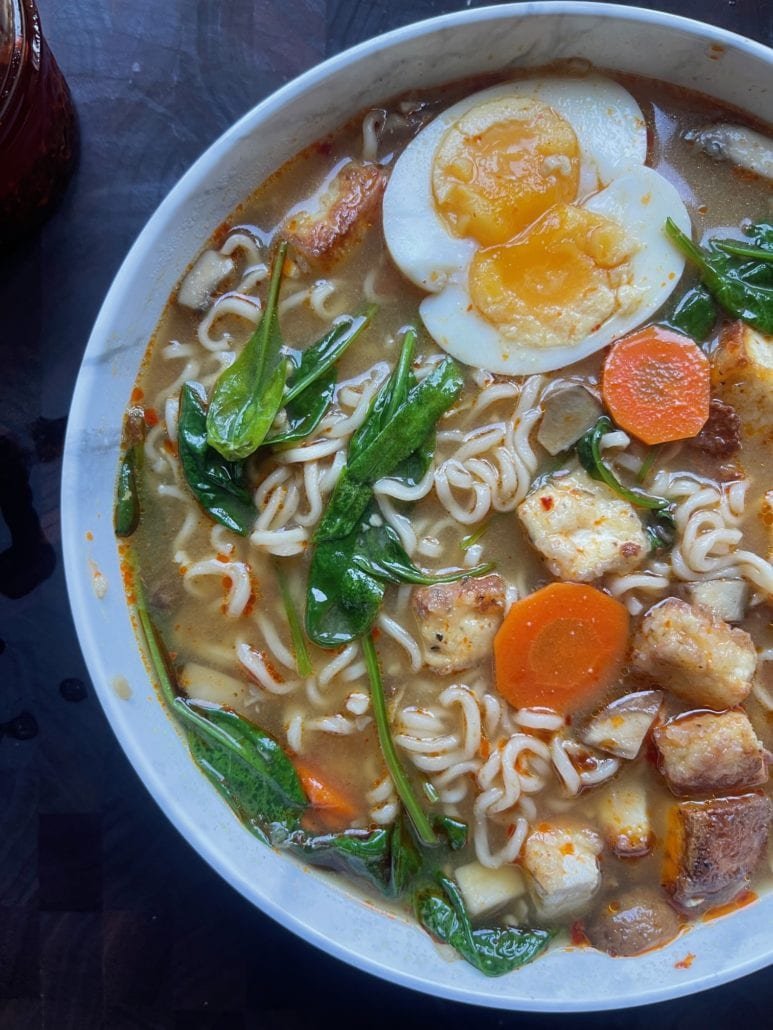 Justin turned me on to white miso pasta a couple years ago, and it gives this broth such a rich flavor, that it only tastes as if the broth took two days to make. Typically ramen broth requires pork bones to be simmered for up to 18 hours to extract fat, protein and calcium. This miso version is ready in less than 20 minutes from beginning to end.
How do you make ramen broth?
This vegetarian version calls for:
white miso paste

garlic

ginger

chili oil
Tofu is such a blank slate, so making a fried salt and pepper tofu to go in my ramen was a great idea. It only took about 4 minutes and added an extra level of texture to this ramen. A restaurant in Chicago called Imperial La Mian had THE BEST salt and pepper tofu, but unfortunately they did not survive the pandemic and have been closed for over a year.
How long should you press tofu?
While this dish is ready in 20 minutes, it does require a bit of preparation. Pressing the tofu for a minimum of 30 minutes will release the water in the tofu and give the fried tofu a better texture. Simple wrap the tofu in paper towels and lay something heavy on top, like a cast iron skillet of can of tomatoes.
A tablespoon of cornstarch doesn't seem like it's enough, but keep tossing the tofu in the cornstarch/salt and pepper mixture until covered on all sides.
Simply cook in some avocado oil spray, tossing a few times until the tofu is crispy.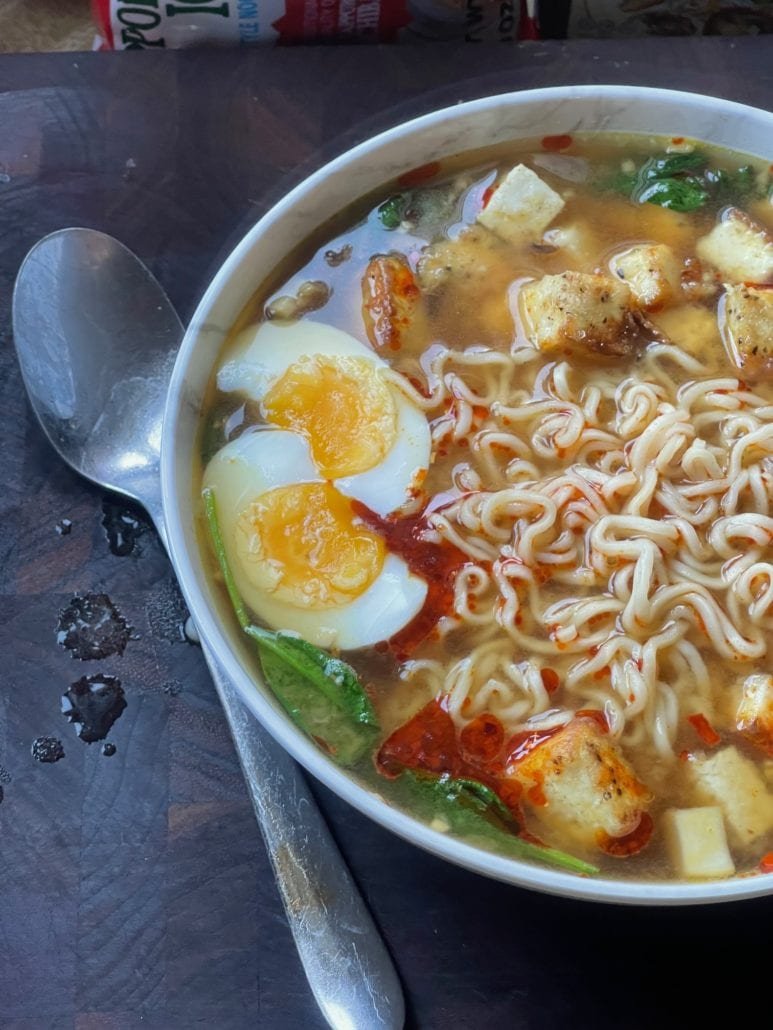 Most of the calories of this dish come with the ramen noodles. I used half a packet of dried ramen, but if you subbed in hearts of palm pasta, or zoodles, the calories would only be about 187 for the whole bowl.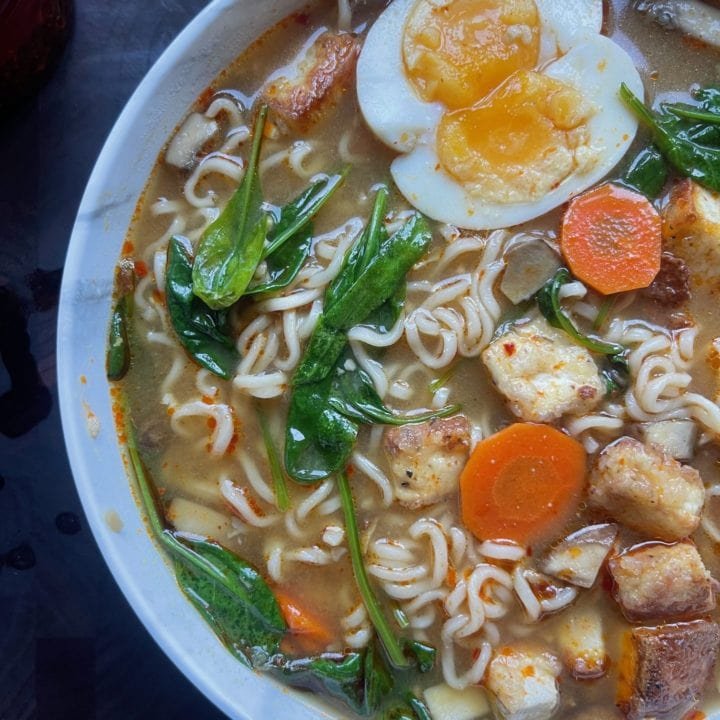 Salt and Pepper Tofu Ramen
This is my take on my friend Justin's miso ramen. I forgot the tablespoon of soy sauce in the photo, so when you make it your broth will be a bit darker.
Ingredients
4 ounces extra firm tofu
2.5 cups broth (I used a mixture of chicken and vegetable)
1 heaping teaspoon of white miso paste
1 tablespoon soy sauce
1 tablespoon garlic, minced
2 teaspoons fresh ginger, finely chopped
1/2 package of ramen noodles, flavor packet removed
1/3 cup mushrooms, chopped
1/2 cup carrots, sliced
1 cup baby spinach
1 teaspoon chili oil
3 ounces tofu
1 tablespoon cornstarch
pinch of salt
pinch of black pepper
1 soft boiled egg
Instructions
Heat 3 cups of water. Cook ramen according to package directions after water boils. Mine only took 3 minutes. Set aside.

While the ramen cooks, cut the tofu into cubes, and toss in the cornstarch, salt and pepper. Heat skillet with avocado oil spray, and pan fry the tofu for 4-5 minutes, or until crispy. Set aside.

In the same skillet, add more avocado oil and add the carrots, mushrooms, garlic and ginger. Saute for 4 minutes. Pour in the broth and miso paste, and whisk until combined. Let simmer over medium heat for 5 minutes.

Remove from heat. Add the carrot/mushroom mixture back in and toss in the baby spinach to wilt.

Spoon into a bowl (you'll need a big one!) and add in the cooked ramen and tofu. Drizzle with chili oil and garnish with soft boiled egg.

Thanks to www.crowmoonkitchen.com for the inspiration for this dish! If you leave out the egg, and use all vegetable broth, this ramen would be vegan.


You can watch my jenky Youtube Video here.
If you love tofu, check out my lemon pepper tofu.
If you try this, can you come back and rate this recipe? I would appreciate it!