Can you believe I am giving you a Meatless Monday recipe? These Jackfruit Pulled BBQ Sandwiches are so good.
If you haven't tried jackfruit, it's available at Trader Joe's. Be careful because some are canned in a brine and some in a sweet brine – don't get the sweet one.
What is jackfruit?
Jackfruit is actually a member of the fig family – it's a giant fruit, when peeled gives you something that sort of resembles pineapple, but you can shred it, so it looks like pulled pork.
Do you have to cook jackfruit?
Apparently you can eat it right out of the can, but I find that cooking it for 15-20 minutes will give so much flavor to the jackfruit. In my recipe, I used Zen of Slow Cooking Smoky BBQ seasoning – holy balls is this delicious!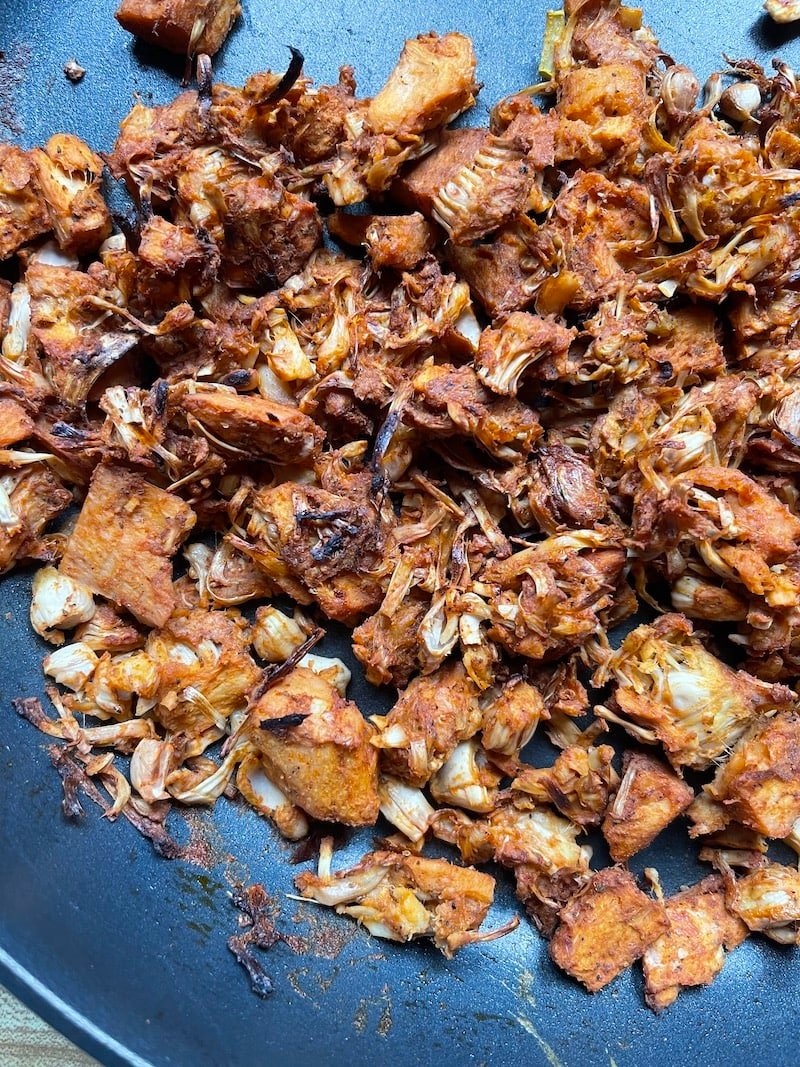 This seasoning has: light brown sugar, smoked paprika, mustard powder, smoked sea salt, black pepper, celery powder, garlic powder, onion powder and cayenne – wow! If I were to buy all these seasonings separately I'd have to spend about $24.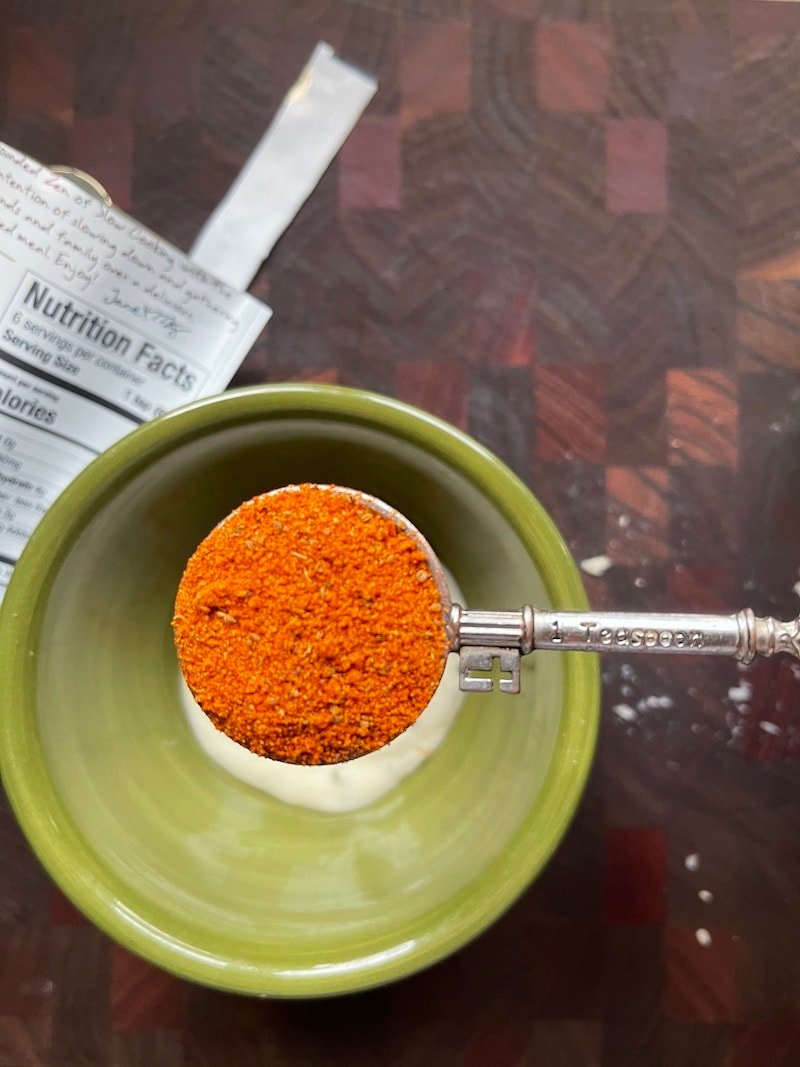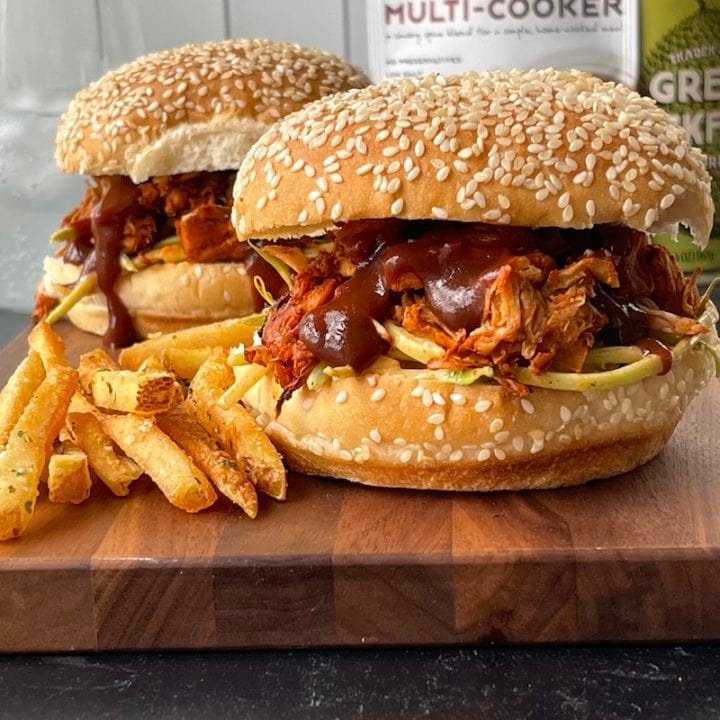 Jackfruit Pulled BBQ Sandwiches
These jackfruit pulled pork sandwiches are perfect for meatless Monday. The star of the show is the seasoning - Zen of Slow Cooking Smoky BBQ seasoning - it has brown sugar, smoked paprika, smoked sea salt, black pepper, celery powder, garlic powder, onion powder, cayenne and mustard - whew! Packed with flavor!
Ingredients
20 ounce can jackfruit, drained and squeezed dry
2 tablespoons Zen of Slow Cooking BBQ sauce seasoning
6 tablespoons BBQ sauce, divided
4 good hamburger buns
For the slaw:
2 cups broccoli slaw
4 tablespoons light ranch dressing
2 teaspoons white vinegar
2 teaspoons Dijon mustard
2 teaspoons Zen of Slow Cooking BBQ Sauce seasoning
1/2 teaspoon salt
Instructions
Drain the jackfruit. You will see that there are seeds in the cut jackfruit. Pop those out and set aside. Place the jackfruit in a clean dish towel and squeeze dry - this will help with the shredding and also texture.
Mince the seeds and add the seeds to the jackfruit. Add to a skillet sprayed with avocado oil spray, and sprinkle the jackfruit with the 2 tablespoons of Zen BBQ seasoning and cook on medium low heat for 15 minutes. Add 2 tablespoons of the BBQ sauce the last five minutes.
To make the slaw: combine the ranch, vinegar, mustard, Zen BBQ seasoning and salt. Add in broccoli slaw and mix until combined.
To plate: Toast buns - add slaw on the bottom, divide the BBQ jackfruit on top of the slaw, add an additional tablespoon of BBQ sauce and serve with fries or fresh fruit.
Notes
To track this to your WW app or check out the points for your plan, click HERE!
Zen of Slow Cooking has given me a discount code (Biz2) to save 10% off their already very reasonable seasoning packets. With my discount, you can get a set of six seasoning packets for around $3. I only used half a packet to make these four sandwiches!
These seasonings have also been on the WW Loves page. FYI, my discount code will save you more money than on the WW online store.
If you aren't doing meatless Monday, check out my North Carolina Pork BBQ. So good!