Drop the mic on this North Carolina Pork BBQ sandwich. It ticks all the boxes for me: juicy pork, with crispy bits, cheddar cheese, crisp red cabbage, pickles #swoon.
I was told by quite a lot of people that my North Carolina BBQ sauce is actually a western style.
North Carolina takes their BBQ very seriously, so since mine has ketchup (or tomato based) this sauce is western style.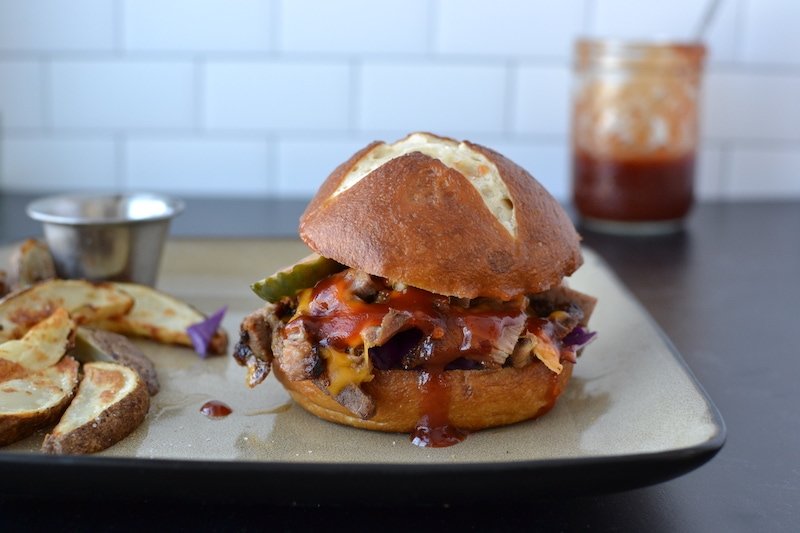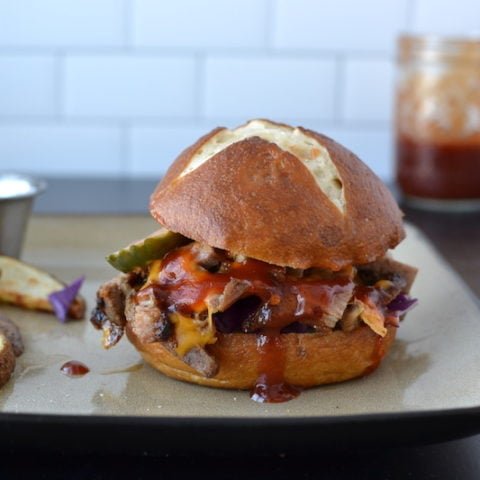 North Carolina Pork BBQ Sandwich
Additional Time:
5 minutes
Total Time:
4 hours
15 minutes
This is hands down the best sandwich I've ever made. The star of the show is Butcher Box's pork shoulder. Slow cooked in the oven, then pan fried with cheddar cheese right before serving on a pretzel bun and my homemade North Carolina BBQ sauce. Perfect for your next game day or family get together!
Ingredients
For the pork shoulder rub:
1 tablespoon paprika
1 tablespoon brown sugar
2 teaspoons salt
1 teaspoon chili powder
1/2 teaspoon cumin
1/2 teaspoon black pepper
1 teaspoon crushed red pepper
5 pound pork shoulder
For the BBQ sauce:
1 cup vinegar (I used champagne)
2 tablespoons honey
4 tablespoons brown sugar
2 cups ketchup
1/2 teaspoon cayenne pepper
1 teaspoon crushed red pepper
1 teaspoon salt
1 teaspoon pepper
For the sandwiches:
pretzel buns
chopped red cabbage
1/2 ounce cheddar cheese per sandwich
good dill pickles
drizzle of the BBQ sauce
Instructions
Heat oven to 450.
In a cast iron or non-stick skillet, sear the pork shoulder on all sides, fat side down so you don't need to add any oil to the pot.
Mix the rub ingredients and sprinkle over all sides of the pork.
Cook at 450, uncovered for 20 minutes.
Reduce heat to 325 and bake an additional 3 1/2 to 4 hours, or until it reaches an internet temperature between 190 and 200 degrees. Let cool completely. Remove the bone.
Make the BBQ sauce: mix all the ingredients in a stock pot and simmer for 15 minutes. That's it!
To make the sandwich: In a cast iron or non-stick skillet, place 3 ounces of pork in a flat layer. Add cheese and place a lid on top. Cook 3-4 minutes, or until the pork gets crispy and the cheese melts.
Toast the buns, place cabbage on the bottom bun, top with the crispy pork, pickles and drizzle of BBQ sauce.
Be a rockstar and make this for your family or the next game night.
Notes
On all WW plans, this sandwich is 12 points and worth every one. If you are counting calories and/or macros: each sandwich comes in at 582 calories, 26 fat, 52 carbs, 2.4 fiber and 31 protein.
This is a great recipe for a crowd because you can roast the pork shoulder up to three days before you make these sandwiches. To reheat, I suggest that you do the skillet method. Simply add three ounces of pork, top with the cheese and place a lid on it. You'll get these gorgeous crispy bits of pork, and don't even get me started on the melty cheese.
How long does it take to roast a bone in pork shoulder?
I didn't put an exact cooking time, because meat should be cooked to temperature, not for a specific length of time. I was looking for a temperature between 190 and 200. And you may ask "but Biz, I thought you cook pork to 145 degrees?" And that is true, if you are cooking a pork chop. A pork shoulder or pork butt is a whole different cut, and there are connective tissues and fat that has to render down, and you have to cook the pork shoulder that amount of time to get the perfect pork bbq. If you don't have a meat thermometer, you need to get one. I use this instant read one for cooking indoors. It's cheap – use your 20% coupon from Bed Bath & Beyond. I know you have a stack of them laying around your house somewhere! They also sell them at Target.
How do you make dutch oven pork shoulder?
You guys will laugh, considering how much cooking I do. But truth be told, I 95% of the time grill my pork shoulder, so how to cook it in my stove was a bit of a challenge yesterday. A cast iron skillet seemed the obvious choice, but I had no lid for it, and for the life of me, could not find the 100 square foot roll of tin foil to save my life. So I inverted a cast iron dutch oven and that worked! My stove came with a built in meat thermometer, but I don't 100% trust it, so that's why it's still handy to have an instant read thermometer.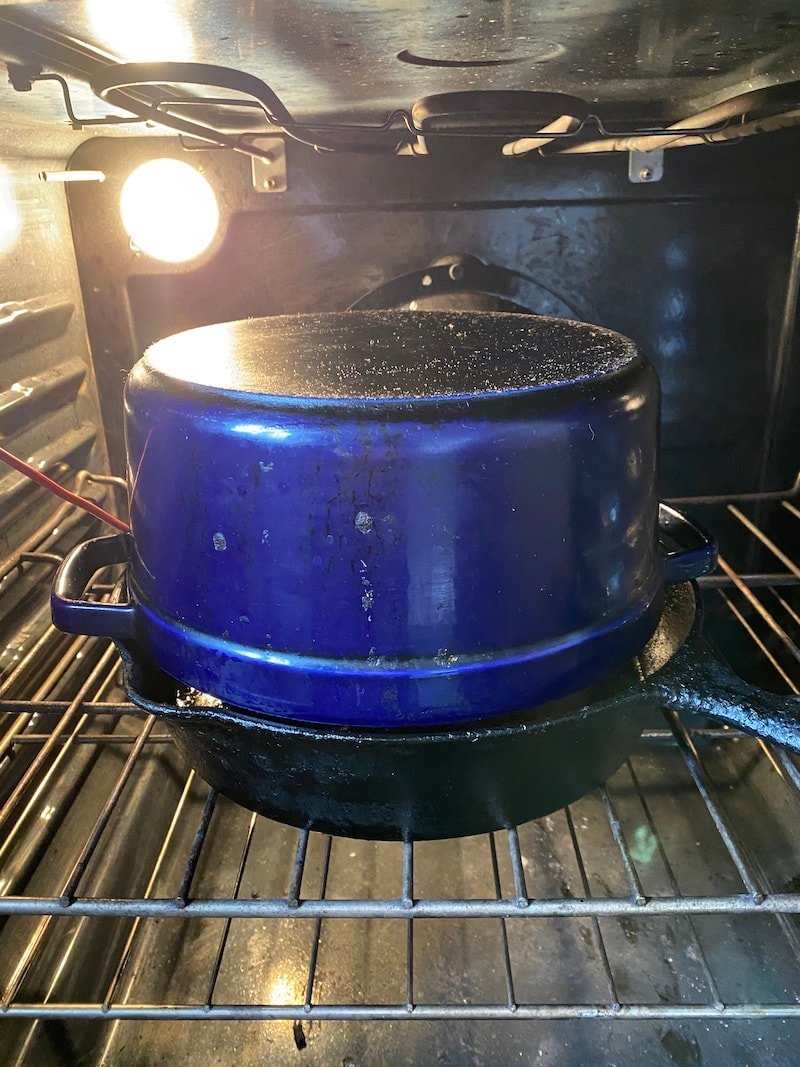 Note to self: deep clean the oven. 😂
If you have never tried cooking a pork shoulder before, I hope you make this North Carolina Pork BBQ sandwich. Promise this will be perfect for you the first time you make it. If you are new to Butcher Box, they have a promotion from now until February 7. Simply order your first box, and you'll get a slab of St. Louis ribs, a package of pork bbq AND free bacon with your first box. You can customize as you want – if you don't like salmon or chicken legs, don't get those! I always get beef and pork in each of my boxes. You can get the free meat deal using this link.
If you are more of a pork chop person, try out my pork medallions over cheesy grits!
Until next time, be well, be fearless and have hope!
Love, Biz