These blueberry vanilla latte muffins turned out delicious. But it was because my first recipe sucked ass. 😂
Pretty sure you can tell which muffin worked out. This is why baking is foreign to me. When I am cooking something, I can taste as I go. With baking you pretty much have to wait until it is cooked. My thought process was that by adding 1/2 cup of whipped egg whites would make these muffins fluffy. Um, turns out it made them spongy! The flavor was amazing, but the texture, not so much.
Moving on to Plan B! By bringing back butter (I used coconut oil in the first recipe) taking out the coffee, and adding Greek yogurt to the new batch. What a difference!
The crumb topping was the same on both though. Safe + Fair has two new granola flavors. One is full stacked (like stacked pancakes!) and the second is vanilla latte. OMG. Both are amazing! (My discount code is Biz20 to get 20% off your order, FYI.)
How can you tell muffins are cooked?
You can do the old fashioned toothpick trick, simply put it down the center of the muffin, and if the toothpick comes out clean, they are done. Alternatively, you should be able to press down on top of the muffin and it will bounce back, and you'll notice that the muffin has pulled away from the side of the muffin tin.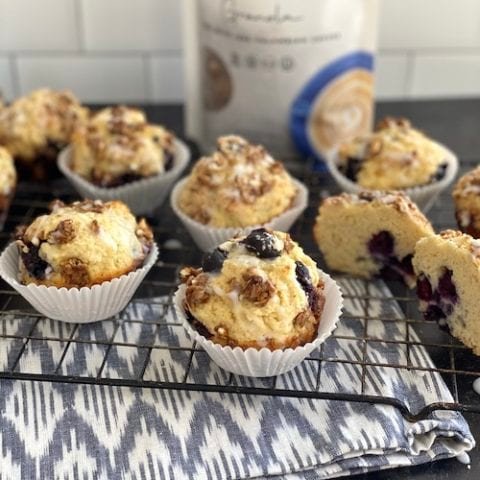 Blueberry Vanilla Latte Muffins
These muffins taste like blueberry coffee cake and I am not mad about it! The new Safe + Fair vanilla latte crumble on top bring these over the top.
Ingredients
For the muffins:
2 cups flour
2 tablespoons Truvia (or other no calorie sweetener)
2 tablespoons sugar
1/2 teaspoon salt
2 teaspoons baking powder
3 tablespoons butter, shredded
1/2 cup nonfat Greek yogurt
1/2 cup unsweetened almond milk
1 egg
2 teaspoons vanilla
1 cup blueberries
For the crumble:
1/3 cup Safe + Fair vanilla latte granola
1 tablespoon flour
1 tablespoon sugar
1 tablespoon butter, shredded
For the glaze:
2 tablespoons Truvia confectioners sugar (found on the baking aisle at most grocery stores)
1 teaspoon almond milk
Instructions
Heat oven to 425.
In a large bowl, mix the flour, Truvia, sugar, salt, baking powder and blueberries. Toss the blueberries in the flour mixture. Add the shredded butter and toss until coated.
In a separate bowl, mix the yogurt, unsweetened almond milk, egg and vanilla. Whisk. Add to flour mixture and stir just until combined.
Mix the crumble mixture and divide evenly over the top of each muffin. Bake for 15 minutes.
Cool completely.
Mix the glaze together and drizzle over the top.
Notes
These muffins are 4 points on #teampurple and #teamblue. On #teamgreen they are 5 points. If you count calories or macros, each one is 142 calories, 5.1 fat, 22 carbs, 1.1 fiber and 4.5 protein.
These blueberry vanilla latte muffins taste like mini coffee cakes. The muffins aren't overly sweet, but with the crumble and glaze, perfection! Hope you give these a try. I am kind of a muffin whore – so many recipes!