These turkey burger parmesan sliders will soon go on your list of things to make. If you think your family doesn't like turkey burgers, I promise this recipe will convert them.
How do you make a juicy turkey burger?
Add fat. Ha! No seriously, just a small pat of butter in the middle of the turkey burger patty makes all the difference. I also added four sliced of chopped pepperoni to this batch, and it was delicious. Just added another depth of flavor.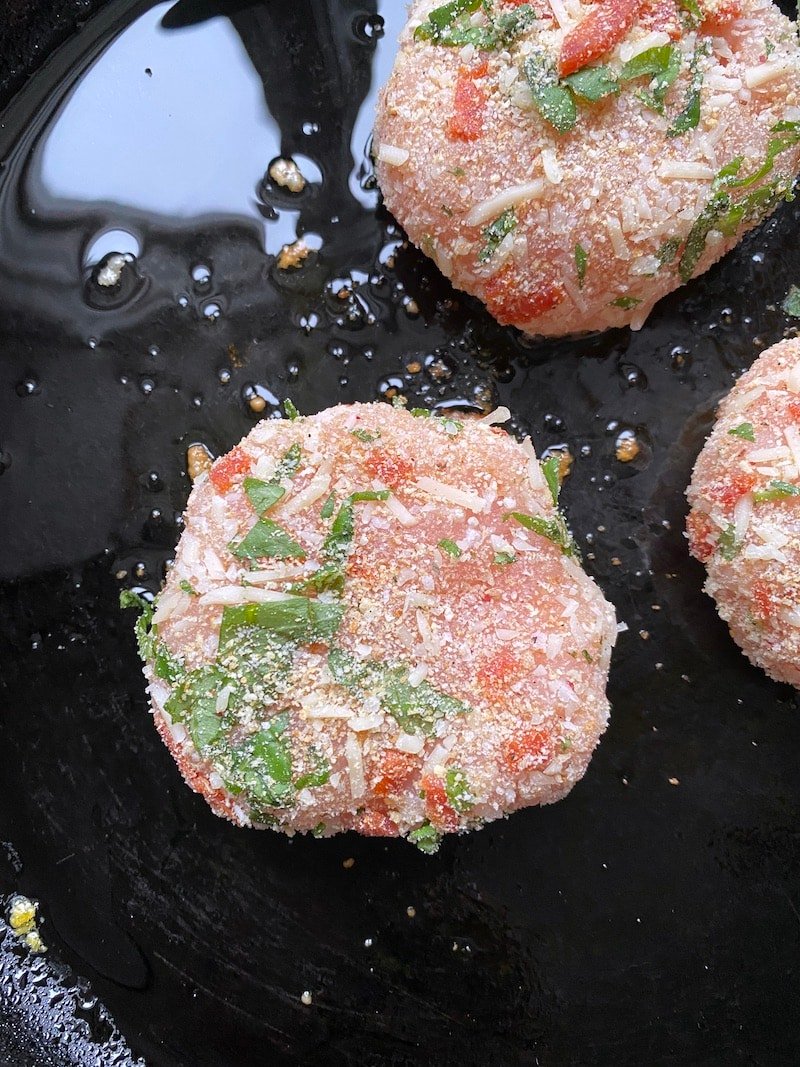 What temperature should you cook turkey burgers?
145 is the magic number. These turkey burger parmesan sliders were small sliders, so after the first flip (about 3-4 minutes) simply add the meat thermometer in after the flip. As soon as it reaches 145 degrees, get it out of the pan. Look at that gorgeous crust!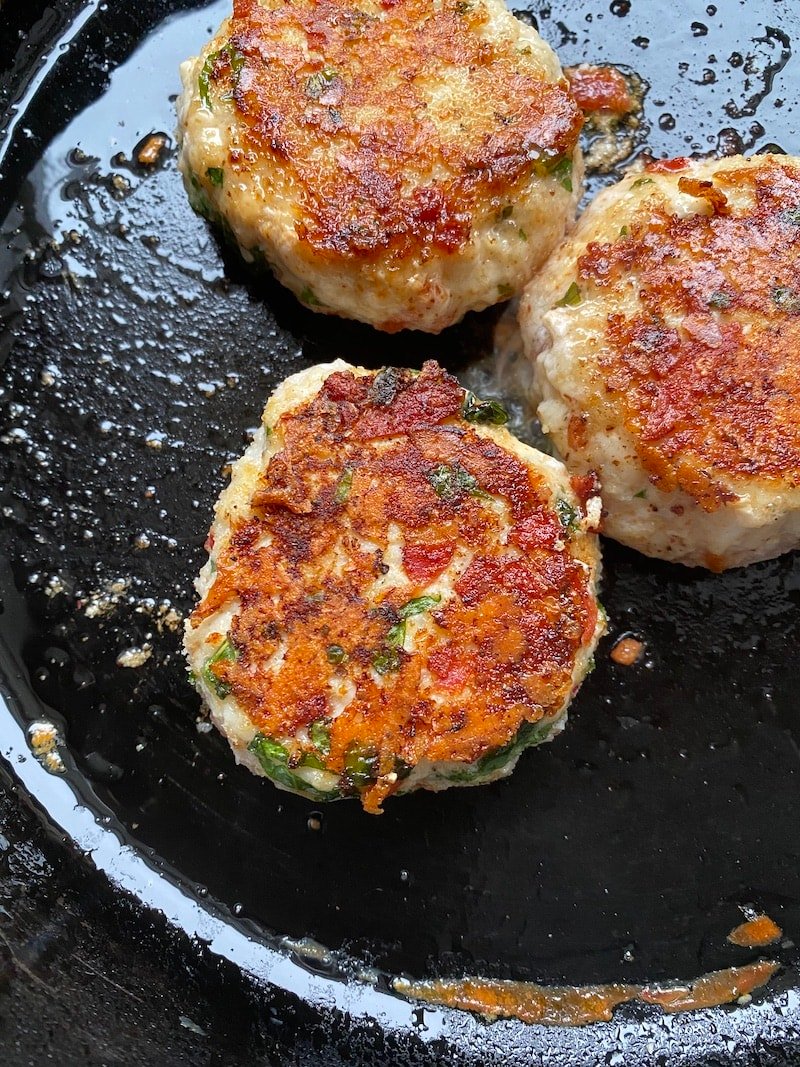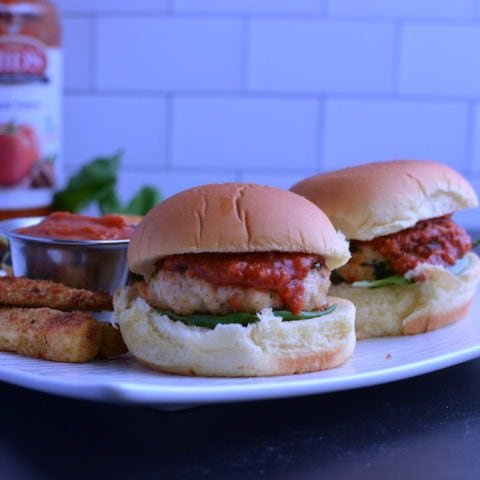 Turkey Burger Parmesan Sliders
If your family doesn't like turkey burgers, this recipe will convert them - pinky swear!
Ingredients
8 ounces ground turkey breast
4 small pats of butter
2 tablespoons chopped basil
1/8 cup panko bread crumbs
1/8 cup shredded Parmesan cheese
pinch of salt
pinch of pepper
pinch of crushed red pepper
4 slider buns (I used Martin's potato sliders)
1 cup pasta sauce (I used Mid's Pasta Sauce)
Instructions
Heat cast iron or non-stick skillet over medium heat. Divide the turkey breast into four, two ounce balls. Split each ball in half. Place a slice of butter on one side, top with the other, and shape until they come together and the butter is encased in the burger.
Mix the basil, bread crumbs, Parmesan cheese, salt, pepper and crushed red pepper in a bowl. Dip each slider into that cheese mixture, covering all sides, and cook over medium low heat for about 3-4 minutes on one side, then flip and continue to cook another 4-6 minutes, or until the burgers reach an internal temperature of 425 degrees. Remove from pan immediately.
To plate: Bottom bun, add more basil, top with burger, 1/4 cup of the heated Mid's pasta sauce, a sprinkle of Parmesan cheese and top with remaining bun.
Notes
Click HERE to check on the WW points for your plan!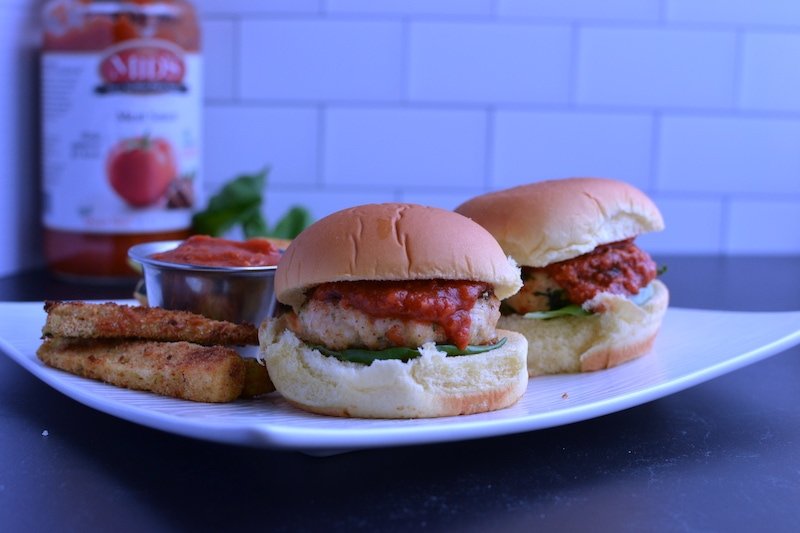 These burgers remind me of 8th grade. Every Friday a small group of my friends and I would go to Burger King for lunch. My family didn't each out that much, and I didn't even know what to order at Burger King. The girl in front of me (Karen Good – still remember her name) ordered the chicken parmesan sandwich. Huh. I ordered the same thing, even though I was a super picky eater back then. Guess what – I loved it! This turkey burger parmesan slider brings back that same memory, but I think my version is a tad bit healthier.
If you love burgers, check out my turkey burger sliders on pretzel buns.