When my husband was alive, I tried to "trick" him into eating healthier things under the guise of something else. Like these buffalo cauliflower bites I made the other night – I may have attempted to pass them off as chicken!!
My favorite story though is when I thought I could trick my husband by adding red quinoa into his meatballs and spaghetti. I literally thought that the red quinoa would kind of blend in with the minimal amount of meat I was using – ha! It was also served it with spaghetti squash. Okay – I just looked it up and I posted that quinoa meatball recipe in December 2009! You can check that recipe here and ignore the shitty food photography.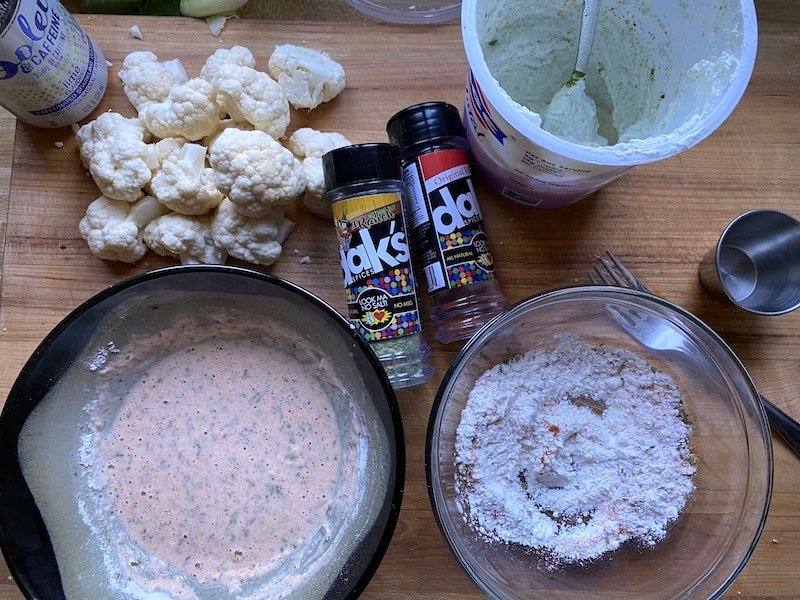 My intentions of being able to double dip the cauliflower but turns out not only did I not need to do that, but I would have run out of both the wet and dry dipping stations trying to do that. I used Dak's seasonings, but use any seasonings you like!
Yes, I deep fried these. Could I have done it on an air fryer or the oven? Probably. But I haven't tried that yet so I can't recommend a way to do that – well, I lied – if you air fried them just make sure the flour batter is on the outside and spray heavily with avocado oil spray before air frying – my guess would be 400 for 8 minute? Total guess tough!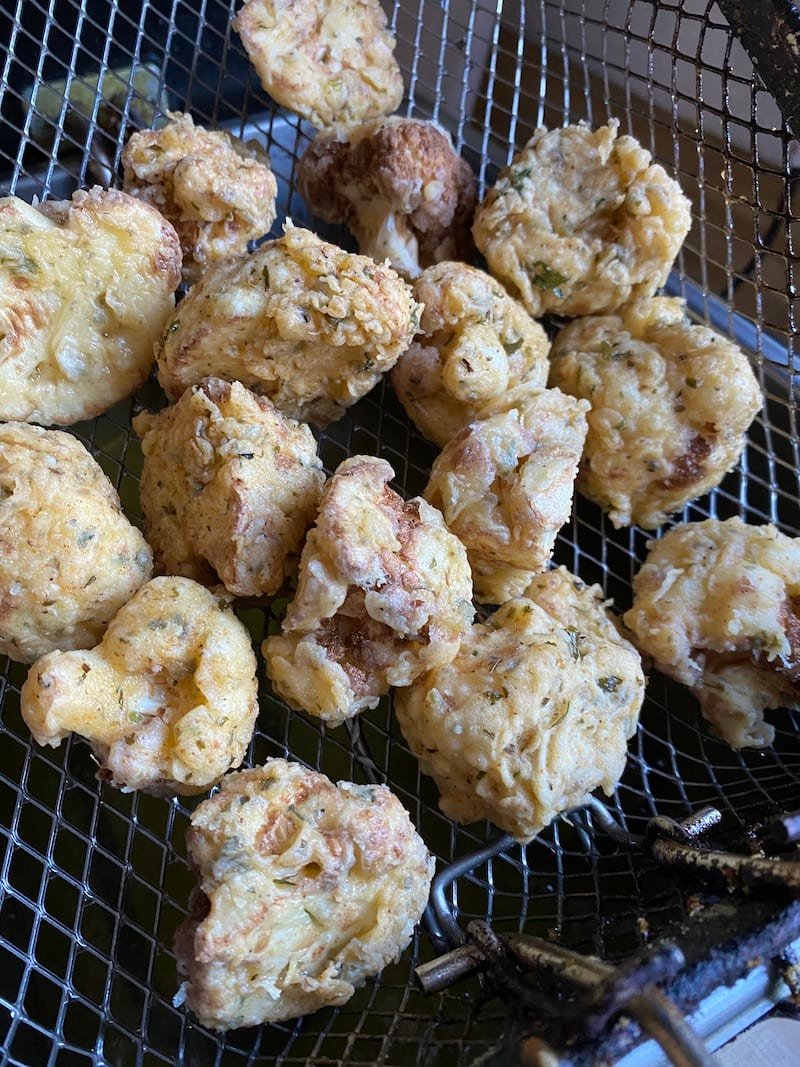 At first glance though, doesn't that look like it could be chicken! I thought this recipe would be one serving, turns out I could only eat half a serving. I count one teaspoon of oil when counting points and calories, but I will defend my deep fryer because it holds the temperature perfectly.
How to deep fry at the right temperature.
Unlike when you heat oil on the stove, unless you have inches deep of oil that you can then insert a thermometer to see how hot the oil is, you end up either having the heat too low, then the food absorbs the oil, or too high and it burns the outside before the inside is cooked.
I am not advocating you to buy a deep fryer, but I use it probably 4 times a month and it does make some tasty food.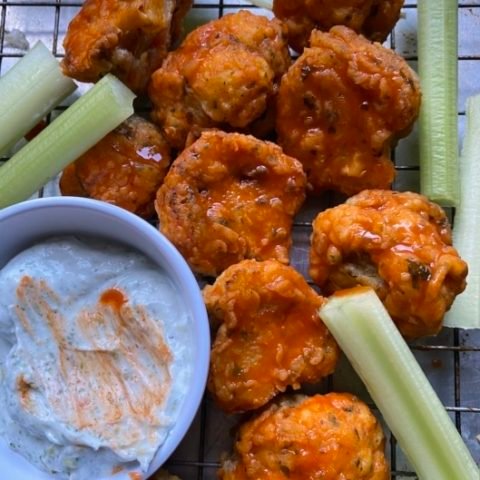 Buffalo Cauliflower Bites
Cook Time:
6 minutes
5 seconds
Total Time:
11 minutes
5 seconds
These buffalo cauliflower bites are great as an appetizer or also for dinner. My tip is to not toss them in the hot sauce until just before eating, so they stay crunchy.
Ingredients
2 cups cauliflower, cut into bite sized pieces
1/2 cup self-rising flour, (divided) regular flour is fine too
1 teaspoon paprika
1 tablespoon dried parsley
1/2 teaspoon salt
1/2 teaspoon pepper
1/4 cup seltzer
4 tablespoon Frank's hot sauce
Instructions
Heat deep fryer to 350 degrees. This is a wet batter so I have not tried this in the air fryer.
Mix the paprika, parsley, salt and pepper together. In a bowl, mix 1/4 of the flour with 1/2 of the seasoning mix and add seltzer. Stir until combined.
In a second bowl, mix the second 1/4 cup flour with the remaining seasoning. Dip the cauliflower in the wet batter then the flour mixture. I put the flour mixture in a large ziplock bag and tossed the cauliflower that way - so much less mess!
Deep fry for 5-6 minutes, or until the cauliflower is fork tender and the batter is crispy. Toss in the hot sauce right before eating.
Notes
When I originally posted this recipe, I made it four servings, but I decided to make it two. I ate half of this recipe and it was the perfect amount. To check the points on your WW plan, click here!
I deep fry my food at the right temperature, but I add 1 point or 40 calories to account for the deep fryer (even though I know a whole teaspoon of oil isn't absorbed in the food).
I could literally eat this every week and not get sick of it. I may have Hannah do a farmers market run for me this weekend. I still have a cough and my COVID test results could still be another week away, so I am hunkered down for the time being.
Stay tuned though because I made THE BEST pancakes based on my friend Justin's recipe. I even used vegan eggs – what?!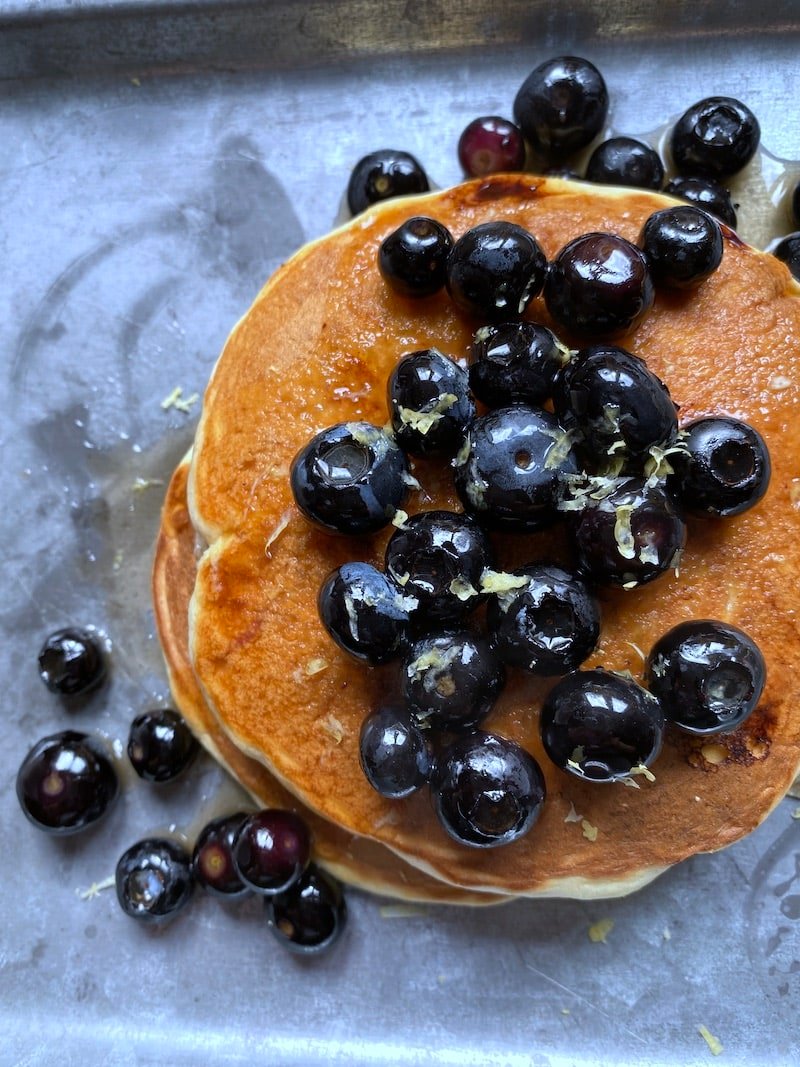 I'll post the recipe for that soon – stay tuned!
My weekly weigh in is tomorrow. I've been tracking both points and calories for the last few weeks and it's been interesting! Take yesterday – I ate those pancakes above, this lunch below – a turkey and ham wrap with chips and cucumbers and hummus:
Then ate the cauliflower above for dinner, and I was at 19 points with my coffee creamer and a 90 snack of gummies, and was at 967 calories for the day. So crazy! I am not working out because of my cough, but last night after I tallied my food I was like "should I eat more before I go to bed??!!"
Until next time, be kind – be well! Love, Biz