This spicy tomato soup is delicious. Best part is that it doesn't taste like pasta sauce which used to happen to me in my early cooking days.
Fun fact about me though is that I hate tomatoes. Sliced on a cutting board with the seed guts spilling out – ew!
But I love tomatoey things. Pasta sauce, pizza sauce and one of my favorite soups – tomato soup! And I love spicy tomato soup.
My late husband HATED tomato soup, and when I didn't feel well all I wanted was a bowl of Campbell's tomato soup with saltine crackers. I can remember hearing him almost throw up in his mouth while making it for me – true love!
He told me once that he went on a date and the woman invited him over for an Italian dinner. She literally heated up a can of tomato soup, added Italian seasoning to it, and called it pasta sauce. He was forever scared.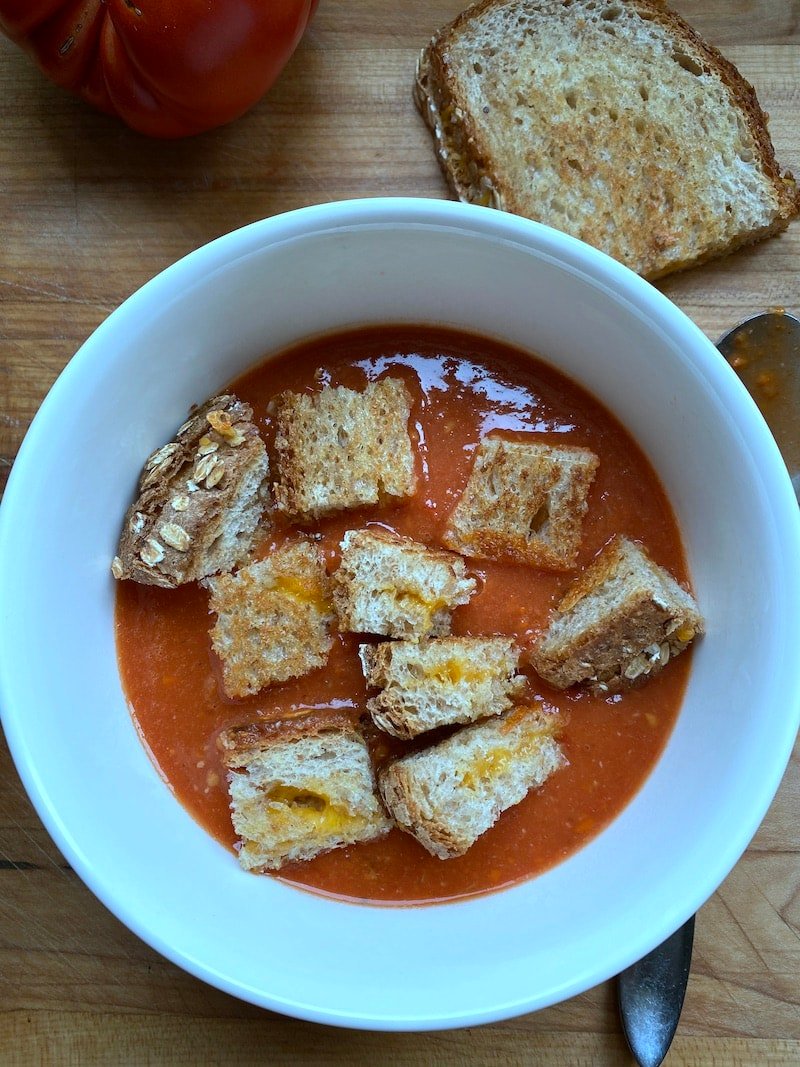 To me, tomato soup is a giant hug in a bowl. My friend gifted me with some of the tomatoes from her garden. Thank you Alison and Cameron!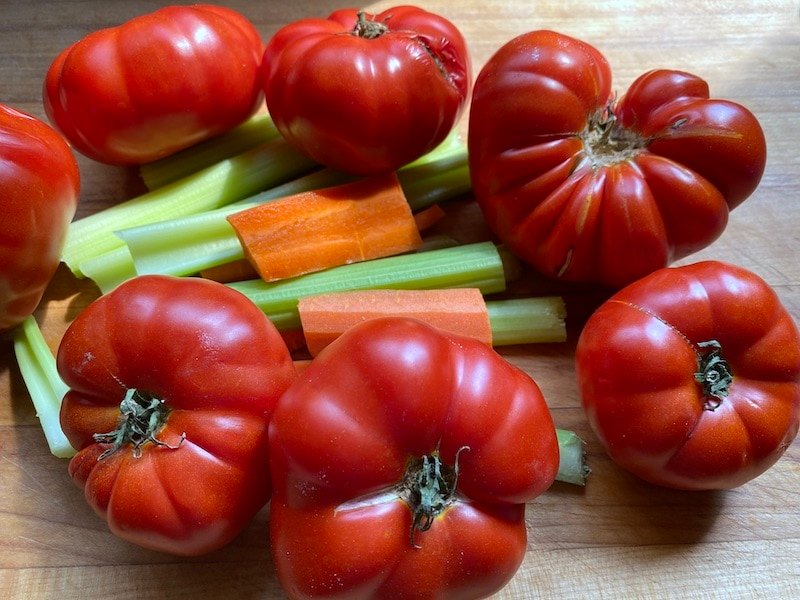 I used flour to thicken the soup instead of heavy cream.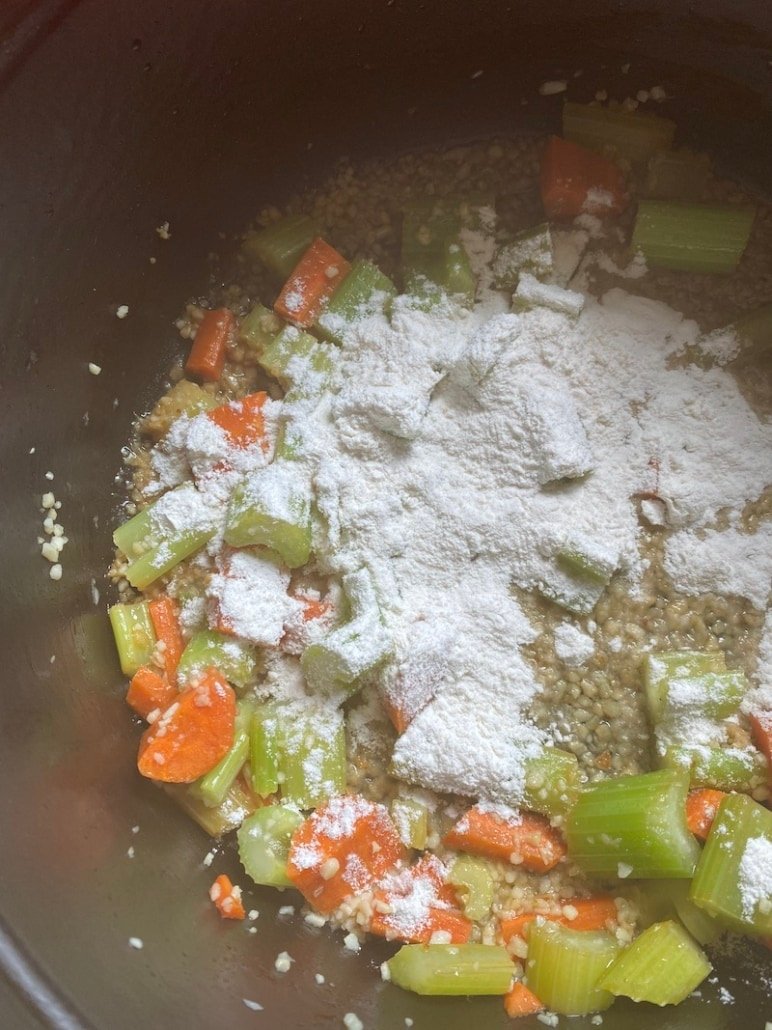 Can I used canned tomatoes?
Absolutely! I used two pounds of fresh tomatoes which was 32 ounces, but a 28 can of whole plum tomatoes would work just as well.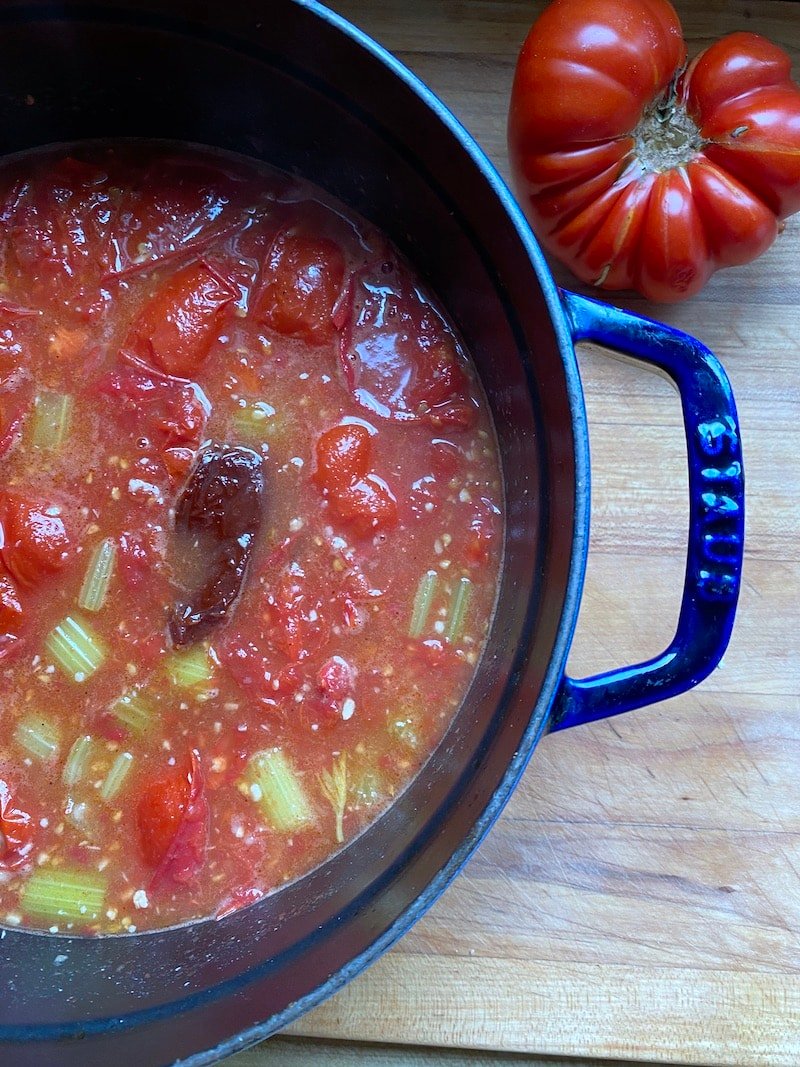 A tip about chipotle peppers:
Not all chipotle peppers are created equal. I've learned this the hard way. I've added way to many to a recipe, and simply put, you can always add more, but you can't take it back. I originally had two peppers in the soup, but pulled one out and I am glad I did because this was flavorful spicy, not knock your socks off spicy.
Spicy Tomato Soup

When summer's bounty gives you tomatoes, make this spicy tomato soup!
2 pounds tomatoes (roughly chopped)
1 cup celery (chopped)
1 cup carrots (chopped)
2 tbsp garlic (minced)
1/4 cup flour
1 tsp chili powder
1 large chipotle pepper ((from a can))
1/2 tsp salt
3 cups beef broth ((sub in veggie or chicken broth too))
Spray a stock pot with avocado oil spray. Add the garlic and cook for 2 minutes, just until it starts to get color.

Add 1/3 cup of the broth to the pan, add the carrots and celery and cook 5 minutes. Add in the 1/4 cup flour and cook for one minute.

Add remaining ingredients and simmer for 25 minutes with a lid on.

Using a stick blender, blend to puree.
On all WW plans, each 1 cup serving is 1 smart point.
Since my soup was so low in calories and points, I made a grilled cheese sandwich on the side, using a low carb bread found in the Chicago area that is only 100 calories, 2 points for two slices. I cut up half of the sandwich and made grilled cheese croutons, making my lunch 6 points of deliciousness.
What's your favorite kind of soup? I think a close second would be this copycat Panera lemon orzo soup.
I could eat soup 365 days a year. 😁
Until next time, Be Kind, Be Fearless, Have Hope.
Love, Biz