This copycat Panera chicken orzo lemon soup is one of my favorite soups of all time. Sadly the Panera lemon chicken orzo soup is discontinued.
My daughter used to work at Panera and I loved Panera's chicken orzo lemon soup and had dreams of her in the back of the house, chopping up celery, etc. and hopefully I would learn how to make that soup at home.
Real life at Panera? They ship all their soups in frozen bags and they defrost them. So, here is my greek lemon orzo soup copycat version.
Tip About Pasta, Orzo or Noodles in Soups:
Always cook them separately and add them only when you serve. Otherwise if you leave them in the soup they will soak up all the liquid and taste like ass when you reheat it. I usually store the orzo for this soup in a ziplock bag and place it on top of the leftover container of soup.
Ingredients needed for this lemon orzo soup recipe:
olive oil – it doesn't have to be expensive – you can even substitute avocado or grapeseed oil
garlic – I prefer fresh here, but feel free to use the jarred minced garlic
celery – an often underused vegetable in soup in my opinion!
chicken broth – feel free to use boxed broth, or even jarred chicken broth base
orzo – found on the same aisle as the pasta
seasonings – Italian seasoning, crushed red pepper, oregano, salt and pepper
chicken breast – this is a perfect soup to use rotisserie chicken
baby spinach – add just at the end do it doesn't wilt too much
I also add one of of the cut lemons to the broth while the orzo is cooking – I think it leaches out some of the lemon oil in the skin to give it that extra zing, but leave that part out if you like. Just remove before storing any leftovers. This copycat Panera chicken orzo soup is so bright with the addition of lemons! Here is another copycat recipe I have for Starbuck's Lemon Loaf!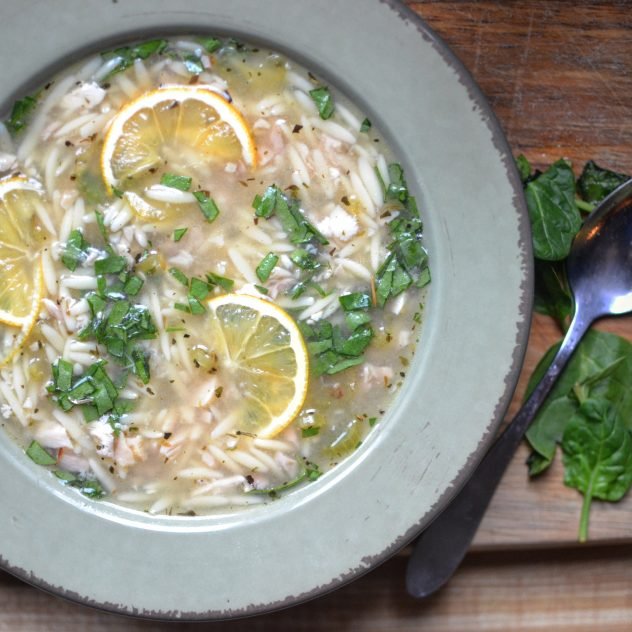 Copycat Panera Chicken Lemon Orzo Soup
My daughter used to work at Panera. I was so sad when she told me they ship in their soups frozen and weren't made in house! This is my copycat version.
Ingredients
1 teaspoon olive oil
3 cloves garlic, minced
1 cup celery, sliced thin
6 cups chicken broth
2/3 cup dry orzo
3 tablespoons lemon juice
¼ teaspoon salt
½ teaspoon pepper
1 teaspoon Italian seasoning
1 teaspoon dried oregano
8 ounces cooked chicken breast, chopped
2 cups baby spinach, roughly chopped
Instructions
In a large pot, heat the oil. Add the garlic and
celery and cook for a few minutes. Add the chicken stock and orzo, and
cook for 9-10 minute, or according to your package directions.
When the orzo is cooked, add in the rest of the
gang: the lemon juice, lemon zest, salt, pepper, Italian seasoning, dried
oregano and the chicken. Remove from heat and put a lid on for a few
minutes to warm up the chicken. Add chopped spinach to each bowl and
ladle in the soup – I add sliced lemon for garnish
Nutrition Information:
Yield:

4
Serving Size:

1
Amount Per Serving:
Calories:

282
Total Fat:

5g
Saturated Fat:

1g
Trans Fat:

0g
Unsaturated Fat:

3g
Cholesterol:

56mg
Sodium:

1598mg
Carbohydrates:

33g
Fiber:

2g
Sugar:

3g
Protein:

26g
Let me know if you make this Panera chicken orzo lemon soup – just tag me on Instagram @mybizzykitchen!
If you love orzo, check out my recipe for this Orzo Salad – perfect for spring and summer! You can find the recipe here.