This is the best orange tofu I've ever made.
Last week I made this orange sauce on a whim. I bought a pork shoulder steak last week from Mariano's – on sale for $1.99 a pound – score! I was on the train home and was trying to thinking of something different to do with the pork and thought "what about an Asian sauce?"
Hannah and I love the Trader Joe's Orange Chicken that comes frozen in a bag. As I am typing this I was about to say that the Trader Joe's is in a direction that I never go in, but realize Hannah drives by there every day on her way to and from work! I'll have to have her pick some up.
This orange sauce in literally two minutes, took one lick, and didn't need to change a damn thing. Love when it turns out as I thought or in this case, even better!
After I made the orange pork dish, I couldn't get the idea of doing an orange tofu dish. You do have to plan a bit ahead on this – the tofu has to be pressed to get all the liquid out. I literally took it out this morning before my WW meeting at around 8 a.m., and made this dish in less than 15 minutes at 3:30 in the afternoon.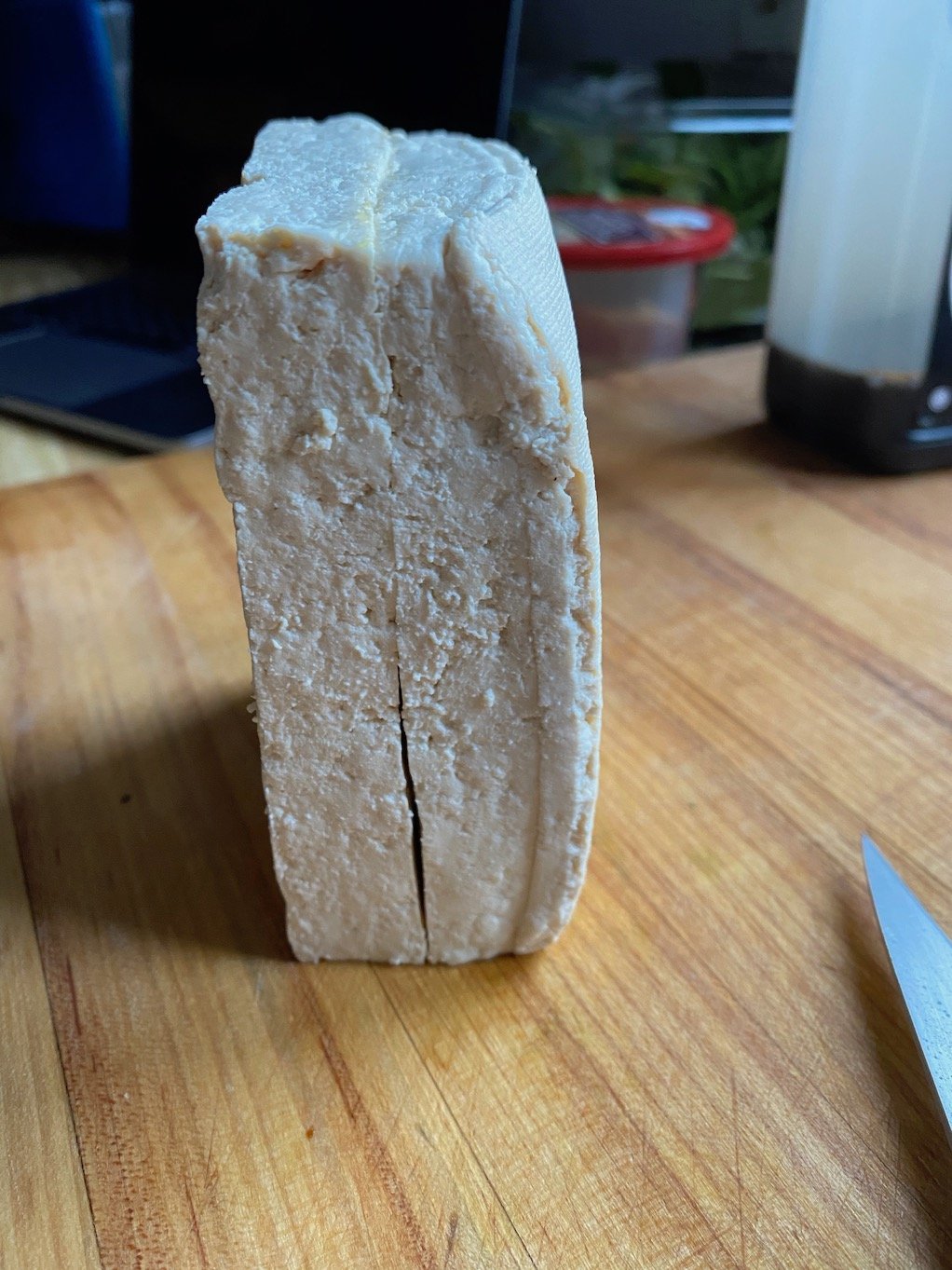 I used half a block of tofu for this dish – which was 6 ounces. To cut into cubes, slice in half sideways, then cut into cubes.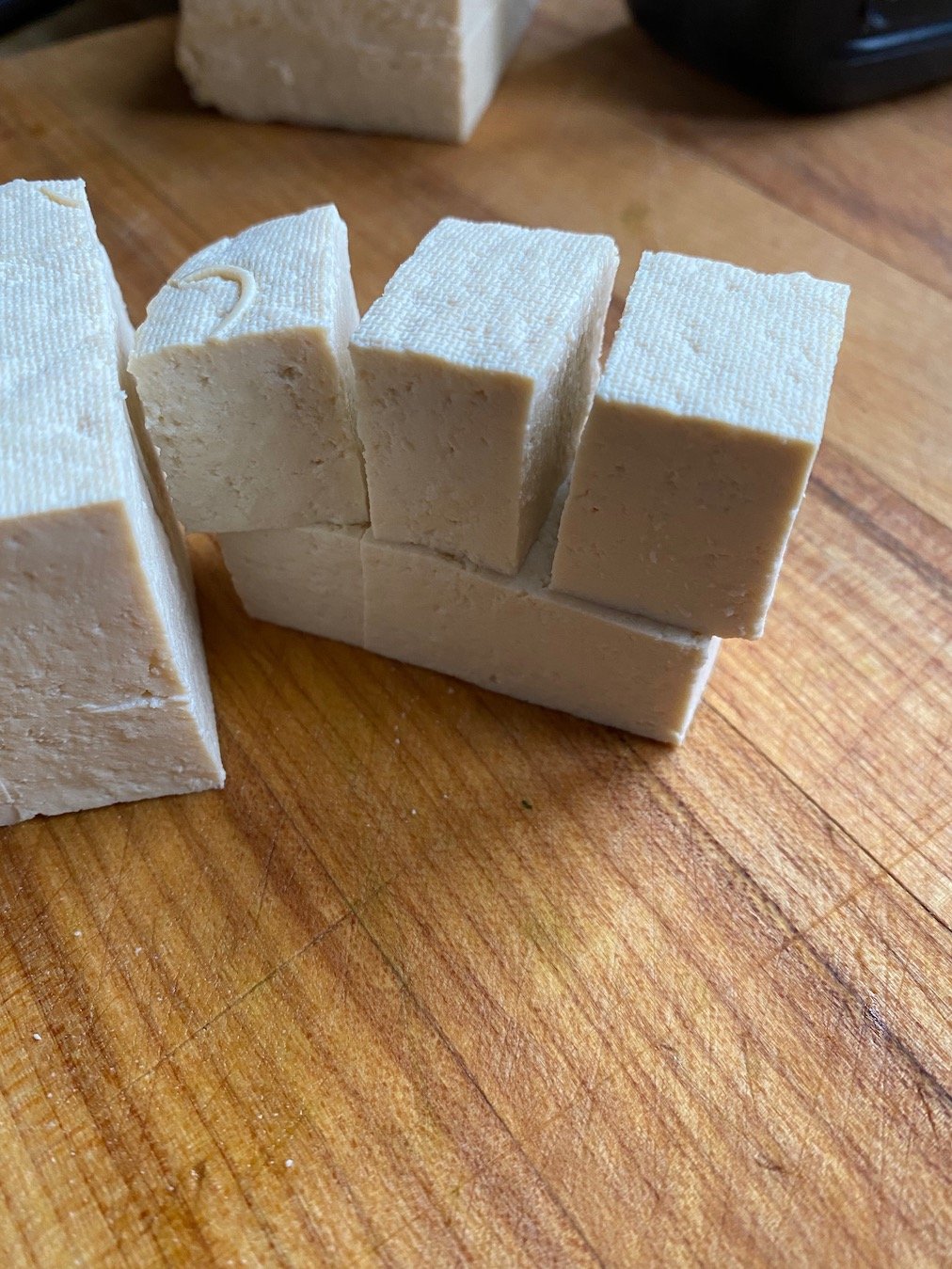 How to Make Crispy Tofu
There is a restaurant near my office called Imperial Lamian and they make the most amazing salt and pepper tofu. The last time I went to get some on one of my solo walks, they told me they didn't have it on the menu at the moment. WTF? So that was the idea for the base of this recipe – just toss the tofu in 1 tablespoon of cornstarch mixed with salt and pepper, then a quick pan fry in coconut oil and avocado oil spray.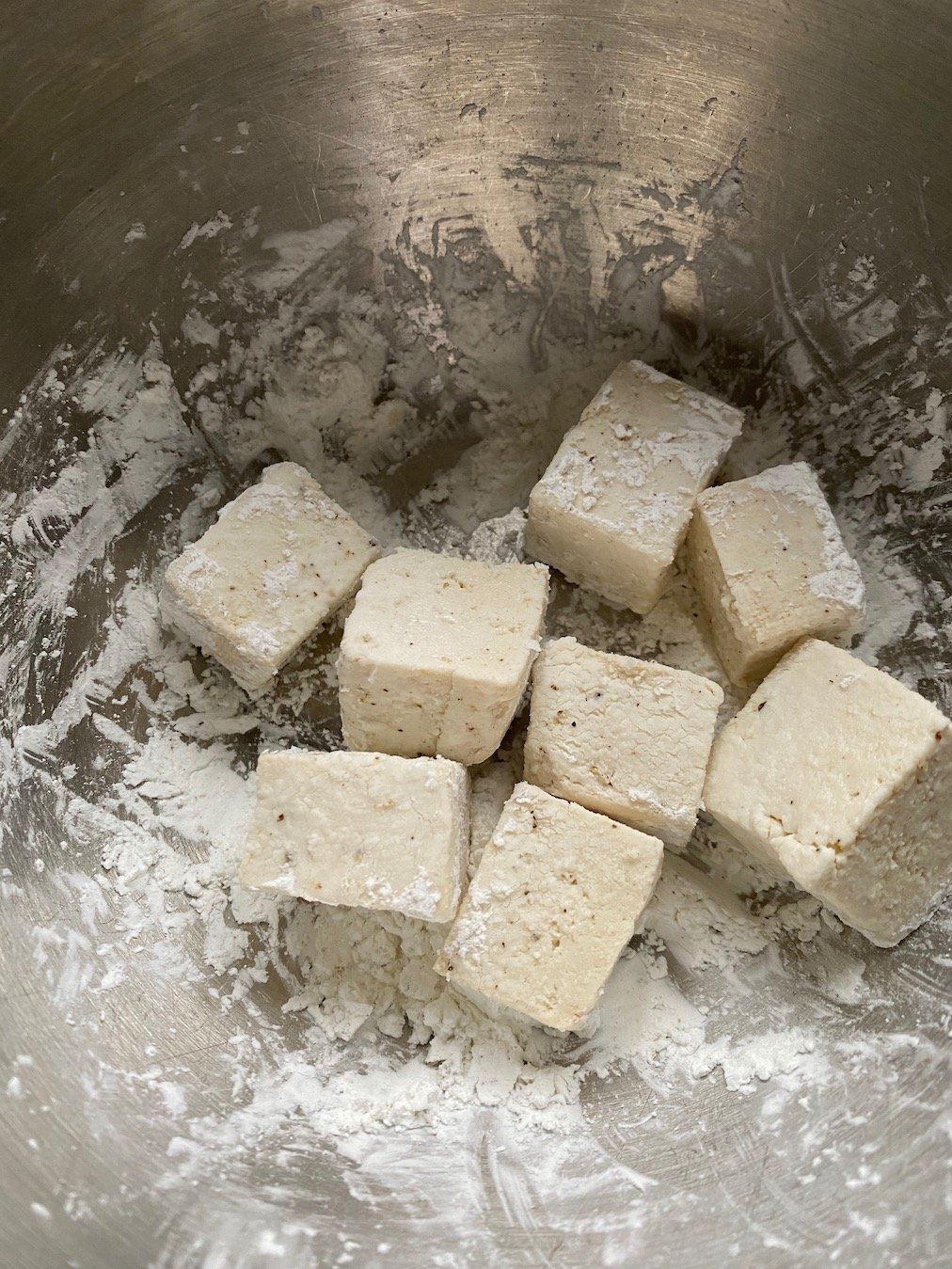 The pan fry took about 10 minutes over medium low heat – I did in two batches so as not to crowd the pan. I tossed it around so that it got crispy on all sides. This won't have a golden color, and that's fine – you will feel when it's crispy and the sound is crispy. You don't want to overcook – the outside will be crispy but the inside is so creamy. #swoon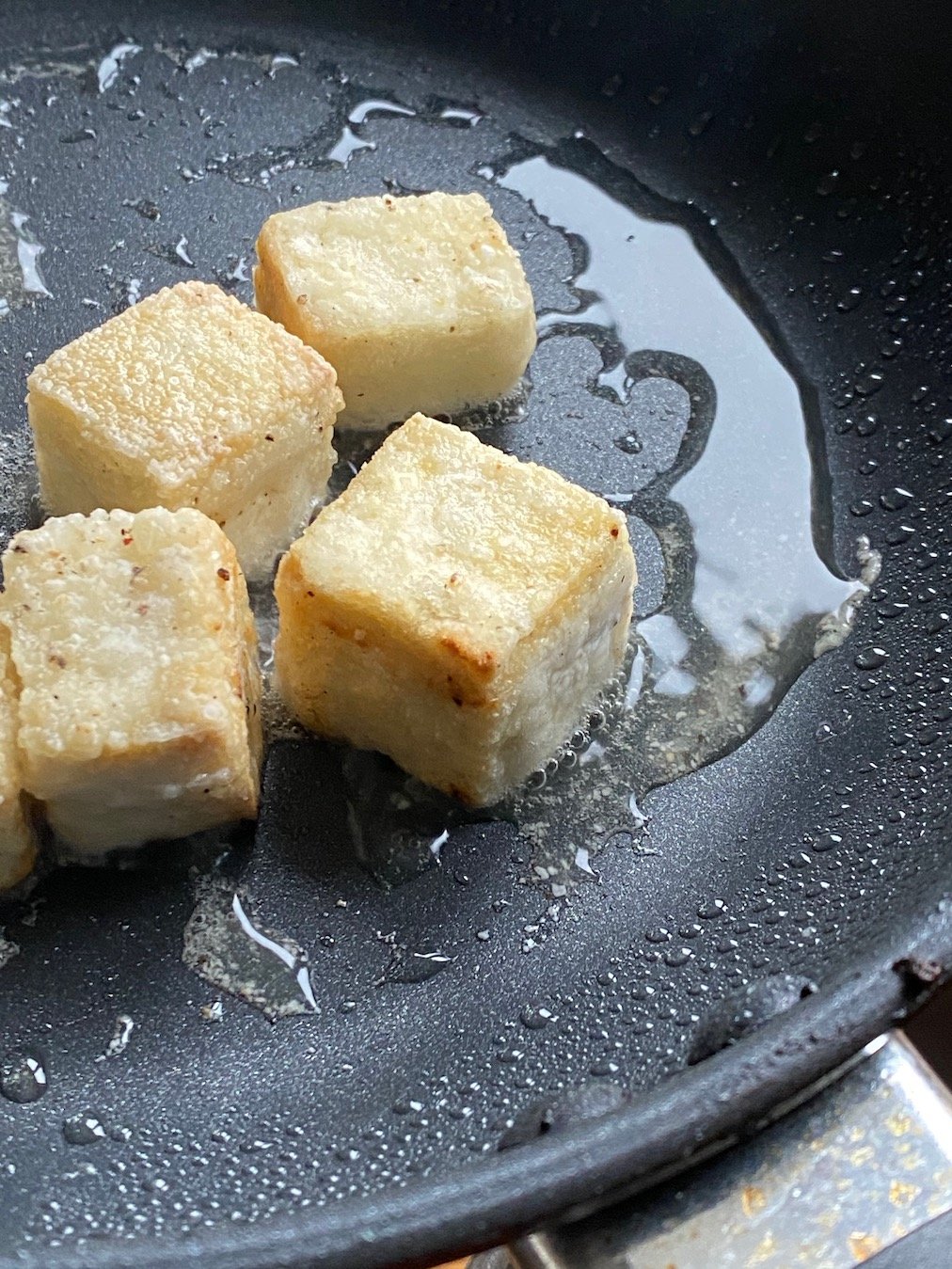 While the tofu cooks, mix the orange sauce together, and cook in a skillet or pot in my case because I was too lazy to go in the basement and get a different pan, and cook for two minutes. Then add all the cooked tofu to the skillet and pour the prepared sauce over top.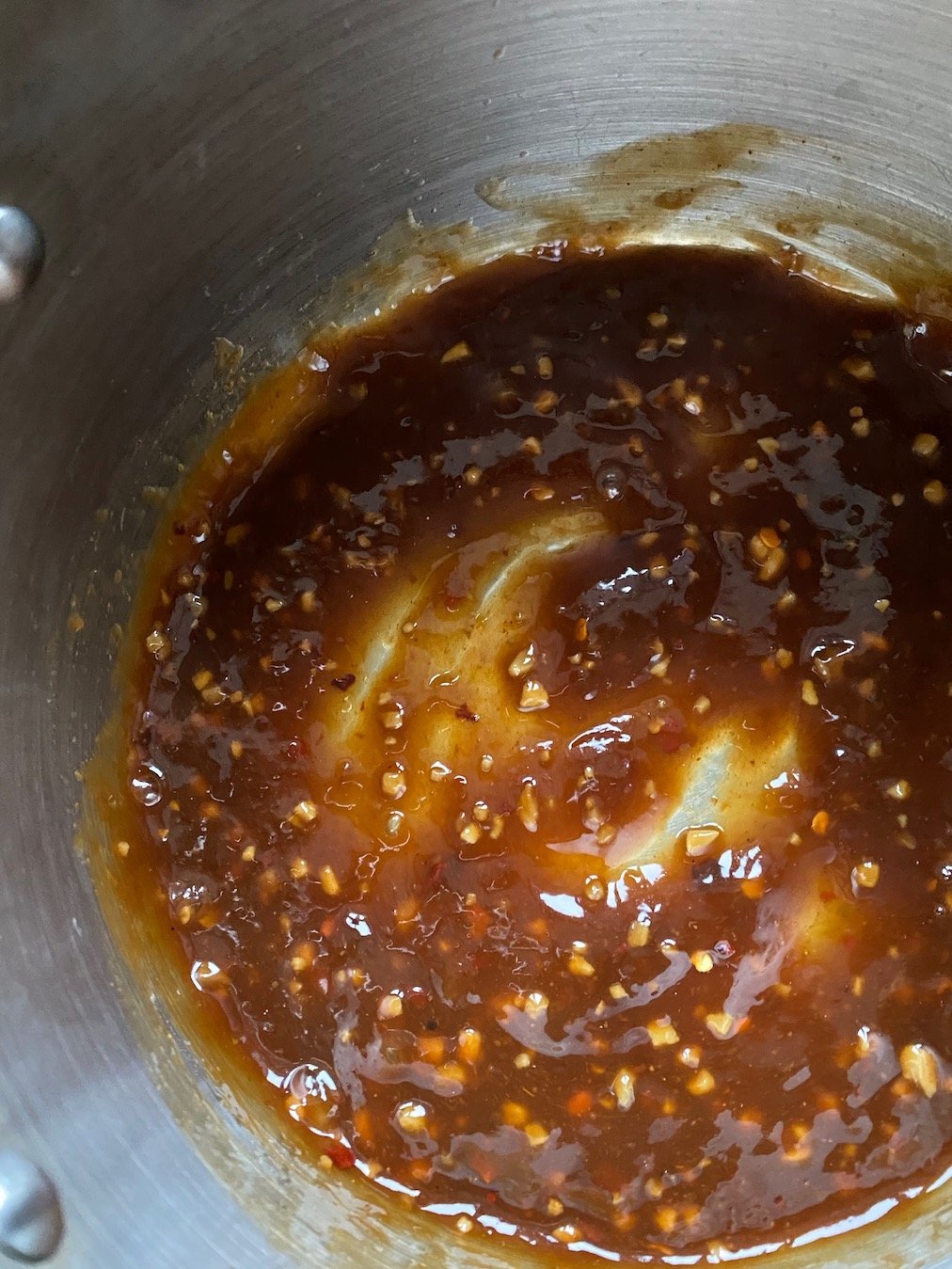 The whole sauce recipe is only 1 point. I literally am trying to think of all the ways I could use it. It would be great even for a dipping sauce for egg rolls!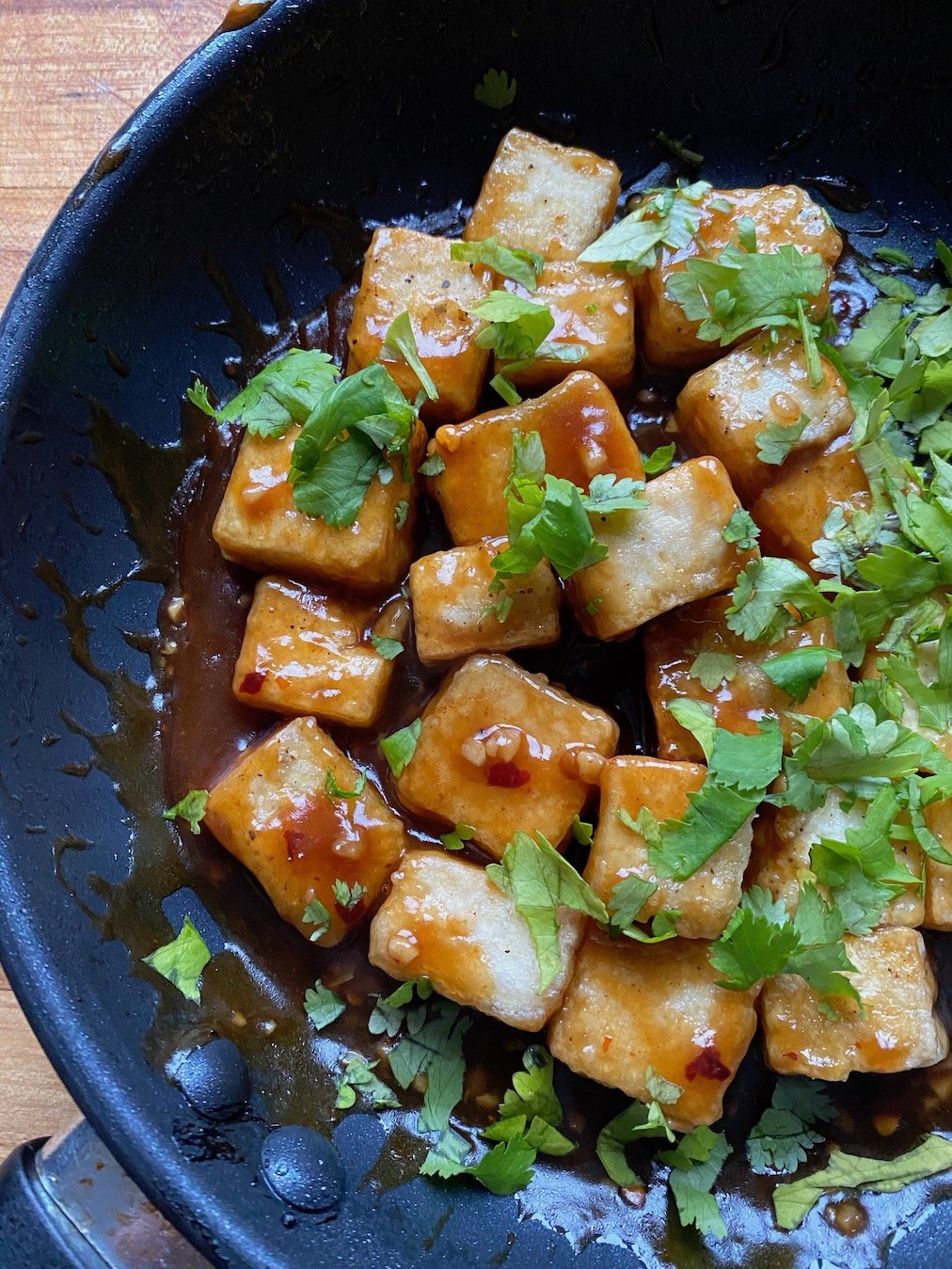 This was served with steamed green beans that I seared in a cast iron skillet. Perfect on a weeknight dinner when you are low on time. Just press the tofu and keep it in your fridge, and mix the orange sauce and keep it in a mason jar in the fridge until you are ready to make dinner.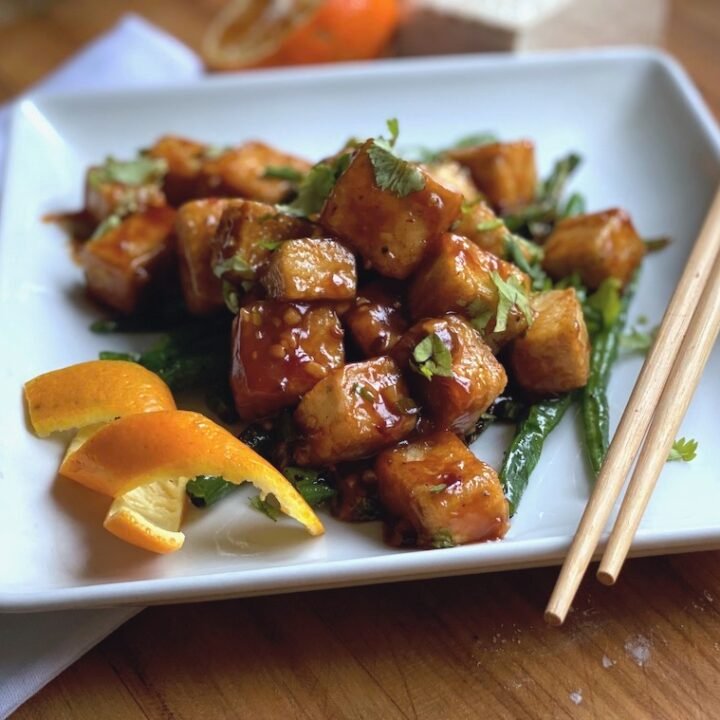 The Best Orange Tofu
If you love orange chicken, you will love this orange tofu.  Even if you don't like tofu, promise you will love this recipe!
Ingredients
For the orange sauce:
1/3 cup orange juice (juice from one orange)
1 tablespoon soy sauce
1 teaspoon garlic
1/2 teaspoon sambal oelek
1 teaspoon hoisin sauce
1 teaspoon corn starch
1 tablespoon water (if needed)
For the tofu:
6 ounces of pressed, extra firm tofu, cut into cubes
1 tablespoon corn starch
1/4 teaspoon salt
1/4 teaspoon cracked pepper
avocado oil spray
Instructions
UPDATE! The next time I made this tofu, I put all the sauce ingredients into a one cup glass measuring cup and microwaved it for one and a half minutes. Then poured that over the cooked tofu - time saver!
Mix the orange sauce ingredients together. Heat a non-stick skillet over medium heat. Pour the sauce in the pan and stir, two minutes, until thickened. If too thick, add the tablespoon of water to thin it out a bit.
Slice the pressed tofu in half, then into cubes. In a bowl mix the cornstarch, salt and pepper, and toss the tofu to coat on all sides.
Heat a skillet with the avocado oil spray. In two batches, pan fry the tofu for about 5 minutes for each batch or until crispy on all sides.
Toss in the prepared orange sauce, and garnish with chopped cilantro or green onions. Serve with fresh veggies (I did steamed green beans) and rice if you want make a complete meal.
Nutrition Information:
Yield:

1
Serving Size:

1
Amount Per Serving:
Calories:

369
Total Fat:

23g
Saturated Fat:

3g
Trans Fat:

0g
Unsaturated Fat:

19g
Cholesterol:

0mg
Sodium:

1552mg
Carbohydrates:

25g
Fiber:

2g
Sugar:

10g
Protein:

19g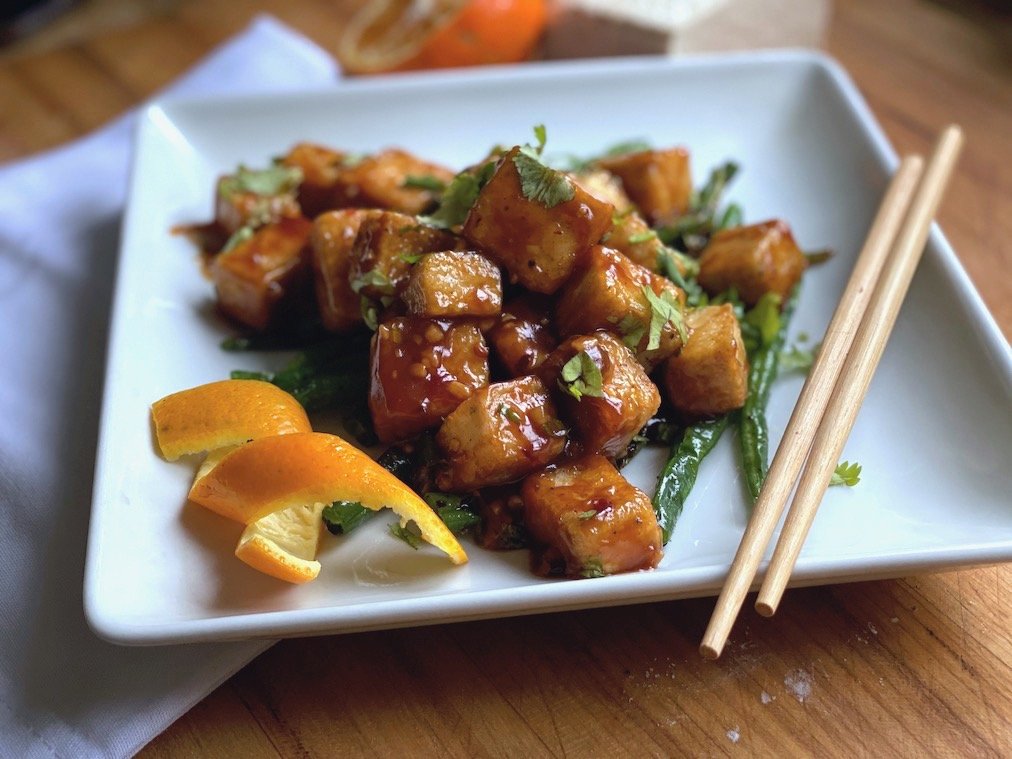 Do you have any other ways to use this orange sauce, I am all ears!
If you aren't a fan of orange sauce, then check out my lemon pepper tofu – so good!
Please tag me on Instagram if you make this, or use this orange sauce in a different way – I'd love to see it!
*****************
My blog is slowly coming together and I plan on being back to regular blogging soon. But it may not be every day or on a regular schedule. Thank you for your patience!
Huge shout out to Michelle from Very Michelly for her web design and being the liaison between the backend developer. I never would have been able to do it on my own. THANK YOU! And you need to give her blog a follow, she has amazing recipe!
And I need to thank my niece, Sarah, for all of her work on fixing all the shit I did wrong on my blog for years: no key words, not pinning recipes to Pinterest, not adding featured images to my blog posts. You are the best hire ever and I appreciate all you do for me – love you! Check out her blog here – great recipes, tips on organization, etc. I love you!
Now go make this dish 😀